Coleman, de Jong and Bell most-targeted politicians by lobbyists, Three powerful cabinet ministers are lobbied more often than the premier by Chad Skelton, April 17, 2013, Vancouver Sun
B.C. cabinet ministers Rich Coleman, Mike de Jong and Pat Bell are targeted by lobbyists more often than any other politicians in Victoria, according to an analysis of lobbyist registry data by The Vancouver Sun. The three Liberals — whose portfolios include key files like energy, jobs and taxes — are each listed more often in B.C.'s lobbyist registry than their boss, Premier Christy Clark. Lobbyists in B.C. are required to register with the Office of the Registrar of Lobbyists whenever they have lobbied, or intend to lobby a politician or government official. That registry is searchable online in various ways, such as by lobbyist name, organization or the person being lobbied. However, there's no simple way to see which organizations are doing the most lobbying in B.C. or which politicians are being lobbied the most. To help answer those questions, The Sun asked Registrar Elizabeth Denham for a copy of the raw data behind the registry, which she provided earlier this month. A detailed analysis of that data reveals that, among lobbyists active in B.C. on April 1, Coleman, the minister of energy, mines and natural gas, was listed as a lobbying target 367 times. … Registry staff tell The Sun they faced considerable challenges, especially in the registry's first year, in getting lobbyists to record their information in a consistent and accurate way. … In a phone interview, Coleman said he was a bit surprised his name was listed so often, but noted his ministry deals with many big resource companies. "It's a busy portfolio," he said. "There are a lot of government relations people specifically in the oil and gas sector. And I'd imagine they'd all be registered."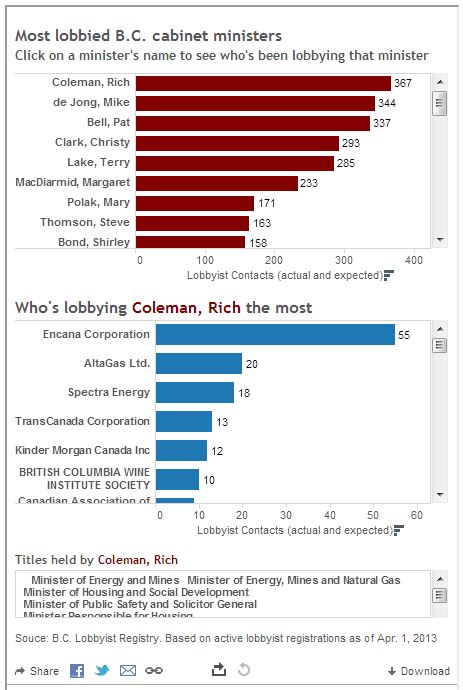 SNC-Lavalin to replace chairman, directors in board revamp by Sophie Cousineau, April 4, 2013, BNN
The scandal-plagued SNC-Lavalin Inc. is revamping its board with the surprise departure of its chairman and the addition of three directors that underscore the Quebec Inc. roots of the Montreal engineering firm. Ian Bourne, who has been on SNC's board since 2009 and who acted as interim chief executive officer following the departure of Pierre Duhaime in March of 2012, will replace Gwyn Morgan as chairman. Mr. Morgan has been on SNC's board for the past eight years.
Mr. Bourne would be joined by former Alcan president Jacques Bougie, ex-Microcell Telecommunications president Alain Rhéaume, as well as the former head of the Forest Products Association of Canada Lise Lachapelle. They would succeed to former Metro boss Pierre Lessard and two company directors, David Goldman and Edythe (Dee) Marcoux. Should these three Quebec nominees be elected at the firm's shareholder meeting, on May 2, SNC-Lavalin will have replaced half of its 12-member board since the engineering firm first uncovered $56-million in improper payments. SNC's problems have grown incrementally since then, with the arrest of Mr. Dumaine and Ben Aïssa, the former head of SNC's construction division who is currently detained by Swiss authorities. Both men stand accused of fraud, conspiracy and forgery in relation to the $1.3-billion contract to build the McGill University Health Centre's new super-hospital. There are also swirling allegations that SNC-Lavalin bribed foreign officials to land contracts abroad, although none of these allegations have been proven in court.
SNC's management proxy circular also reveals that Mr. Duhaime's successor, Robert Card, earned $6.4-million in 2012 even though he only joined the engineering firm in October. Only a small proportion of this amount, or $225,000, comes from his yearly base salary of $900,000. Most of his compensation or $5.8-million came in the form of share-based awards. [Emphasis added]
[Refer also to:
From fracking to SNC-Lavalin: The truth about corporate kingpin Gwyn Morgan
Gwyn Morgan
The devil is in the details – an unofficial compilation of news stories relating to Gwyn Morgan (and the Fraser Institute by association)
Legal counsel for SNC Lavalin chairman Gwyn Morgan, issues cease and desist letter to website bearing the same name by Laila Yuile, April 18, 2013 This news came ironically, on the same day the World Bank announced that SNC Lavalin Inc., had agreed to be banned from bidding on any World Bank financed projects, globally, for 10 years following investigations into allegations of bribery on a World Bank financed project. http://business.financialpost.com/2013/04/17/snc-lavalin-bribery/
Gwyn Morgan has served as the chairman of SNC Lavalin Inc for many years, but it was announced recently that he was stepping down and being replaced following the AGM in May.
Shareholders have been critical of Morgan and the board, because as one shareholder stated: "the board failed in its oversight duties as certain members of senior management hatched agent payment schemes that should have come to light sooner."   http://business.financialpost.com/2013/04/04/snc-lavalin-says-chairman-three-other-directors-to-be-replaced-at-may-meeting/
Gwyn Morgan has also been an advisor to Premier Christy Clark, a role that has been the subject of much controversy because SNC Lavalin had ongoing business contracts and bidding opportunities outstanding with the province of British Columbia. ]
Bribery probe reaches former spy watchdog by Greg McCarthur and Les Perreaux, February 28, 2013, The Globe and Mail
In the fall of 2008, Arthur Porter stepped into a limousine in Montreal and set off for Rideau Hall. There he was sworn in as a member of the Queen's Privy Council, a designation that would allow him to sit on the committee that monitors Canada's spies and how they gather secrets. But six weeks later, Dr. Porter is alleged to have hatched a conspiracy with two former executives of blue-chip engineering firm SNC-Lavalin Group Inc. to use the largest health-care infrastructure project in Canada to defraud the government of millions of dollars and enrich himself. Now he stands at the point of contact where two criminal probes converge at the highest levels of power in Ottawa – the investigation of corruption and cost overruns in Quebec public-sector construction and a foreign bribery probe at SNC-Lavalin.
On Wednesday, Quebec's special anti-corruption task force laid 13 fraud and corruption-related criminal charges against Dr. Porter – who, during his seven years in Montreal, networked his way into several prominent appointments, including the chairmanship of the civilian committee that oversees the Canadian Security Intelligence Service. Investigators allege that, as the chief executive of the McGill University Health Centre, Dr. Porter and hospital administrator Yanai Elbaz plotted with former SNC-Lavalin executives Pierre Duhaime and Riadh Ben Aissa to steer the $1.3-billion contract for Montreal's new hospital complex to SNC. Central to the alleged scheme, sources close to the investigation say, was a company called Sierra Asset Management, which is incorporated in the Bahamas, where Dr. Porter now resides and runs a private cancer clinic. Sierra doesn't have an operational office, nor is anyone publicly identified as an employee, and its official address is the Nassau branch of a Swiss bank, Compagnie Bancaire Helvétique. But on May 1, 2009, in the midst of an intense competition for the contract to build the new hospital complex, SNC-Lavalin signed a consultancy contract with Sierra and eventually transferred $22.5-million to the company. Bahamian law does not require private companies to list their directors or shareholders publicly, but sources close to the probe say investigators suspect Dr. Porter and Mr. Elbaz are two of the principals behind the company. Nassau businessman Jeremy J. Morris – who was also charged with nine fraud and corruption-related charges on Wednesday – has been listed as the company's official representative in documents reviewed by investigators, one source said. Dr. Porter has declined to answer questions from The Globe and Mail about his alleged ties to Sierra Asset Management. On Wednesday, he issued a five-sentence statement denouncing the police, alleging that they did not inform him of the charges before they were laid and that no one in a position of authority in Canada has contacted him about the probe. "Whilst I am certain there is no basis in fact, I have yet to see any documentation. Since I left Montreal in 2011, I have been subjected to scurrilous and scandalous allegations in the media," he said.
Since becoming a permanent resident of the Bahamas – where he lives in an affluent gated community in a house called "Petit Bleu" – he has said in several media interviews that he has inoperable lung cancer. But that has not stopped his critics in Quebec. The provincial health ministry accused him in a report of wide-spread financial mismanagement and appointed a special financial overseer to monitor the McGill health centre's finances. McGill University was recently awarded a default judgment for $252,000 against Dr. Porter after he failed to pay back a low-interest loan. On Wednesday, that criticism extended to Parliament Hill, where opposition party members demanded to know how and why Prime Minister Stephen Harper twice appointed Dr. Porter – first to serve on the Security Intelligence Review Committee, again in 2010 to chair the committee. (These appointments, which gave Dr. Porter access to any material no matter how classified, were the reason he was sworn in as an officer of the privy council, which permits him, among other things, the right to refer to himself as the Honourable Dr. Arthur Porter.)
When the question was raised in the House of Commons, Public Safety Minister Vic Toews shot back, highlighting the fact that the leaders of the NDP and Liberals at the time consented to the appointments. "The allegations that Dr. Porter is facing have nothing to do with his former responsibilities," Mr. Toews said. The idea that the opposition played a role in Dr. Porter's appointment is "ridiculous," said Liberal leader Bob Rae, who explained that the parties were given three or four days to review Dr. Porter's past before responding. Mr. Rae said the government should be forced to explain its rationale because it "has a monopoly on all the facts." Dr. Porter's most vocal supporter from Conservative party circles, former senator David Angus, said he did not want to comment on the charges against Dr. Porter because he knew too little about them. Mr. Angus chaired the board of directors that oversaw Dr. Porter and the network of six hospitals, but said he was flummoxed as to how anyone could have influenced the awarding of the contract given the number of eyes on the deal. "I don't know what it's all about. As long as I was working with Dr. Porter, I thought he was a first-class operator and a very straight shooter, so if that's not the case, that's a shame. Let's follow the rules that apply – the man is innocent until proven guilty." Canada has an extradition treaty with the Bahamas, but it is unclear what steps have been taken to have Dr. Porter or Mr. Morris extradited. SNC-Lavalin, which has recently been accused of paying bribes, or offering bribes, in countries such as Libya, Bangladesh and Algeria in an international crackdown on corruption, issued a brief statement saying that it is co-operating with authorities. Both Mr. Ben Aissa and Mr. Duhaime left SNC in 2012 after forensic auditors enlisted by the company's board uncovered the payments to Sierra. [Emphasis added]
Fired executive sues SNC-Lavalin, says he always acted on 'orders' by Sophie Cousineau and Greg McArthur, February 13, 2013, The Globe and Mail
SNC-Lavalin fired Stéphane Roy, vice-president and controller of its construction division, almost a year ago to the day along with his superior, Mr. Ben Aissa. Mr. Ben Aissa is currently detained by Swiss authorities, who suspect he laundered tens of millions of dollars and bribed public officials in North Africa. In Canada, in a separate case, he is accused of defrauding the McGill University Health Centre in relation to the construction of its new super-hospital. Mr. Roy, however, has never been charged. But the RCMP suspect he took part in a scheme to extract Saadi Gadhafi and his family from Libya during that country's revolution in 2011, according to a search warrant that was recently unsealed. Police believe he conspired with others to smuggle the third son of the late Libyan dictator to Mexico. None of these allegations have been tested in court. In his lawsuit in Quebec's Superior Court, Mr. Roy states that SNC-Lavalin created a "corporate culture where it was common practice to do everything that was necessary including the payment of 'commissions' and other benefits to obtain contracts, including in Libya." SNC-Lavalin's top level executives, he goes on to claim, "had made it known to him that he had to follow their orders to satisfy their expectations." Mr. Roy states he did what he was asked to do "according to the morals and the requirements" of the Montreal-based company. Mr. Roy believes he was made to be a "scapegoat" when he was fired with cause in February 2012 and that SNC tarnished his reputation when the firm described him as a "rogue executive." He is claiming more than $930,000 from SNC in lost salary and benefits as well as moral damages. Mr. Roy is also asking for the return or the payment of his SNC shares that are held in the company stock option plan, which were worth over $270,000 when he claimed them unsuccessfully last September. SNC-Lavalin stands by its decision to fire its former controller, its senior vice-president for global corporate communications, Leslie Quinton, wrote in an e-mail. "Mr. Roy was terminated with cause for actions that were considered unacceptable and outside the scope of his official duties for the company," Ms. Quinton stated before adding that SNC intends to vigorously defend its interests.