Chlorine water spill shuts down fishing in west-central Alberta rivers by Ryan Rumbolt and Yolande Cole, Sept 21, 2018, Calgary Herald
The Alberta Energy Regulator is investigating what's being called a "large" chemical spill posing a major threat to marine life in a region of west-central Alberta.
Spokesperson Monica Hermary said the regulator was made aware of a chlorine water spill on Sept. 10 after a temporary water storage tank belonging to Calgary-based Westbrick Energy Ltd. collapsed around 50 kilometres southwest of Drayton Valley.
The regulator ordered Westbrick to "notify other regulators, First Nations, local government and other stakeholders" of the spill and the company is required to complete "an environmental assessment to determine the impacts to aquatic life, and also to develop an action plan to respond to the release."
"We are continuing to work with the company as well as local and federal authorities … to monitor the impacts of the release and to make sure that the company completes and carries out this action plan," Hermary said.
Ken McCagherty, Westbrick's CEO, said the tank was storing 4,000 cubic meters of chlorinated water that was going to be used for a future fracking project.
He also said the amount of the chemical in the water at the time of the spill was "negligible," adding the company is co-operating with investigators.
"Chlorine degrades rapidly in a very short period of time, it also disperses really quickly. The amount of water that potentially went into the river was so small, relative to the river volume waters," McCagherty said.
"What we do know is there's no issue today and we're working to figure out what, potentially, the chlorine content of the water is over time."
A government source called the spill "significant" and, as a precaution, Alberta Environment and Parks issued an advisory and suspended all fishing on the Nordegg River, all of its tributaries and downstream of the Brazeau River.
Matt Dykstra, spokesperson with Alberta Environment and Parks, said the spill doesn't pose a danger to humans or communities in the area.
Environment ministry biologists are on scene assessing the impact to the local fish population. The ministry also has a team of inland water scientists working to measure the damage to riverbeds.
Hermary said it's too early to say what the results of the investigation will be, but added Westbrick could face "anything from a notice of non-compliance … to prosecution."
In recent years, millions of litres of oil and waste materials have leaked onto Alberta lands and waterways.
[After this comment below was posted by Diana Daunheimer, the article was revamped as above and Diana's comment removed at the Herald and Edmonton Journal.]
Diana Daunheimer
It was Westbrick Energy, happened 10 days ago, details available from the AER compliance dashboard:
20182905
"2018-09-10 Westbrick Energy Ltd.
Lodgepole (34 km SW)
Facility
Chlorinated Water
No emergency phase
Notification Date: 2018-09-10
Volume: 4000 m3
Summary:
Due to a mechanical failure a holding tank collapsed, release of chlorinated water occurred into a creek which flowed into the Nordegg River. An environmental impact assessment is underway.
[The Alberta Environment and Parks advisory referenced in the Sun and Herald stories is not on their websites!
http://aep.alberta.ca/news/advisories.aspx
https://www.albertaparks.ca/albertaparksca/advisories-public-safety/advisories/ ]
Westbrick Energy : http://www.westbrick.ca/default.htm
Top Junior Producer and Proud Sponsors of: https://www.canadaaction.ca/
"Significant" chemical spill shuts down fishing in west-central Alberta rivers by Post Media news, Sept 20, 2018, Calgary Herald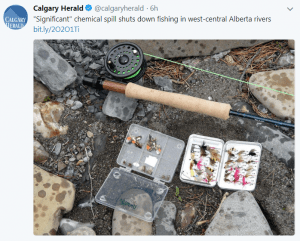 [In the media 10 days after the spill was reported to the AER, or, has there been another "significant" chlorine water spill? Why show fishing tackle for a photo with the article when reporting a significant chemical spill by an oil company? Why not show the public the massive frac water and waste storage infrastructure haphazardly installed by companies and enabled by "regulators" in Canada?
Like this one NW of Calgary, http://www.frackingcanada.ca/fracking-rocky-view-county/: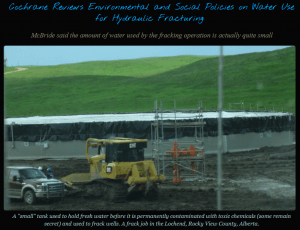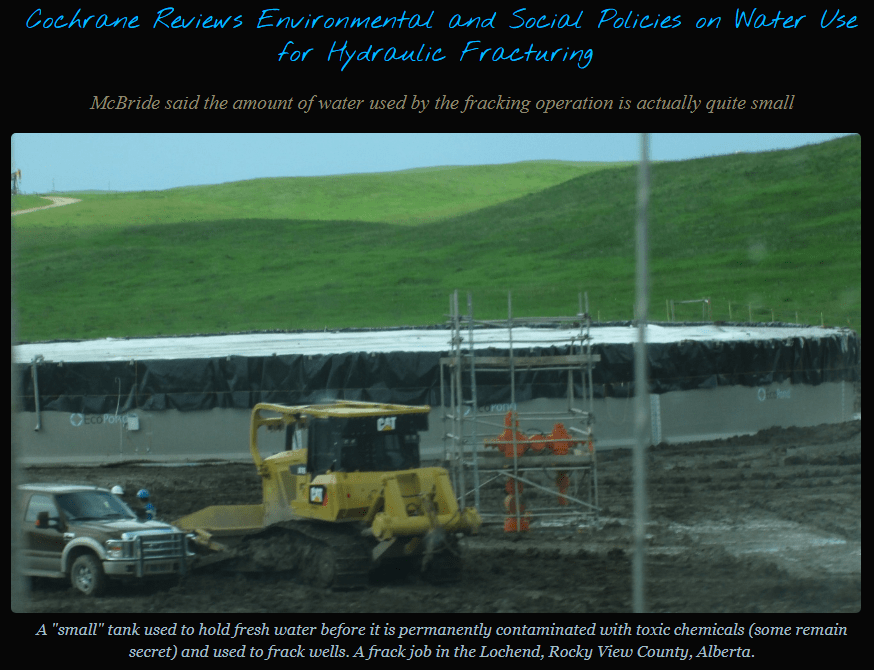 Or this leaking frac water dam, photo by Will Koop, BC Tap Water Alliance https://ernstversusencana.ca/synergy-alberta-strikes-bc-17-groups-including-bc-tap-water-alliance-join-call-for-frac-regulations-calling-for-regulations-gives-industry-social-licence-to-frac-us-all/ :


Better yet, why not show a photo of the failed tank? Surely Westbrick Energy Ltd have plenty to choose from.]
What's being called a "large" river chemical spill poses a major threat to marine life in a region of west-central Alberta, say provincial government officials.
A government source said what's believed to be a "significant" spill of chlorine water has occured in an area northwest of Calgary around Nordegg.
An Alberta Environment and Parks crisis team is now dealing with the spill, said the source. [Where's the AER? Helping the company cover it up, as usual?]
All fishing on the Nordegg River, its tributaries and the Brazeau River downstream of the Brazeau Reservoir has been suspended indefinitely, states an advisory being issued by Alberta Environment and Parks.
"The following closures are due to a chemical spill and the extreme risk to the sustainability of fish populations," says the advisory. [What other chemicals in the company's "chlorinated" water? ]
It's believed the spill originated from a company operating in the area. [Why report doubt when the company reported their spill to the AER 10 days ago (refer to spill report filed w AER below, thank you Stewart)]
Government officials aren't expected to comment on the situation until Friday and there's limited information on it at this time.
In recent years, millions of litres of oil and waste materials have leaked onto Alberta lands and waterways.
Subject:
Big Spill
Date:
Sun, 16 Sep 2018 13:46:01 -0600
From:
Stewart Shields <

email hidden; JavaScript is required

>
To:
Inquiries <

email hidden; JavaScript is required

>, Ministre / Minister (EC) <

email hidden; JavaScript is required

>, Alberta NDP <

email hidden; JavaScript is required

>, goodale <

email hidden; JavaScript is required

>
CC:
AB. Premier <

email hidden; JavaScript is required

>, brian mason <

email hidden; JavaScript is required

>,

email hidden; JavaScript is required

, Doreen Mueller <

email hidden; JavaScript is required

>, innisfail <

email hidden; JavaScript is required

>, mccallum <

email hidden; JavaScript is required

>, Ministerial Unit <

email hidden; JavaScript is required

>, Office of the Premier <

email hidden; JavaScript is required

>, raitt <

email hidden; JavaScript is required

>
With 4000m3 of chlorinated water running into the Nordegg River—we still have no emergency?? 4000 M3 =  27,560 barrels===wow????

Company says chlorine spill into Nordegg River was handled adequately [of course they do!] by Troy Gillard, Sep 27, 2018, RD News Now
The head of the company responsible for leaking chlorinated water into the Nordegg River feels the situation is being blown out of proportion.
On Sept. 10, a holding tank belonging to Westbrick Energy Ltd. failed at a site near Lodgepole, resulting in about 4,000 cubic metres of chlorinated water spilling into the Nordegg River.
Subsequently, Alberta Environment and Parks issued a fishing ban for the Nordegg River, its tributaries and the Brazeau River downstream of Brazeau Reservoir.
In a written statement to rdnewsNOW, Westbrick President and CEO Ken McCagherty says the spill was the result of a C-ring failure and that about 6,000 cubic metres of chlorinated water spilled initially, with about 4,000 making its way into the river.
"Westbrick continues to work with all government authorities to understand the nature of the water spill," says McCagherty. [Aka, "to understand how we screwed up."]
He says the water was drawn from the Nordegg river and that Westbrick added chlorine on September 8 to kill any bugs in the water.
"The active ingredient in the bleaching of water is Free Chlorine which is very unstable and quickly degrades over time from UV sunlight, changes to Ph, agitation, interactions and also very quickly dilutes and disperses," McCagherty explains.
McCagherty says Free Chlorine testing carried out following the spill showed the chlorine from the C-Ring had dissipated quickly.
He notes that no cleanup was required but that all parties want to know what the estimated concentration of Chlorine was at the time of the spill, how quickly it was dissipated over what area of the river, and if it would have had any effect on fish populations.
"An extensive search of the downstream right after the spill saw no evidence of a fish kill. Experts were hired immediately and studies are underway," McCagherty mentions.
"I have no idea why (Alberta) Parks and Environment would have posted the advisory to shut down the river last Friday given their knowledge and involvement. Westbrick was not notified that they would make the release or could we find the person that authorized it." [Westbrick upset they couldn't control all messaging about their spill?]
McCagherty feels coverage of the incident characterized it poorly and, in his opinion, did not serve the public well.
"We are a very open company and have worked in the Rocky Mountain House area for years," he points out. "Westbrick is proud of our people and operations and strive to do a top notch job." [If true, the C-ring would not have failed]
The fishing ban issued following the spill remains in effect at this time.