Spain Suffers from Hundreds of Earthquakes Caused by Offshore Drilling; Largest Quake is Magnitude 4.2; Citizens Complain of Cracks and Tremors Whipping Their Home by Mike "Mish" Shedlock, October 3rd, 2013, Howe Street
An investigation is underway in Spain as to the cause of hundreds of recent earthquakes in the Cataluña region in Spain. The energy minister says "It appears that there is a relationship between gas injection and earthquakes". … The minister's remarks come after another night of earthquakes on underground warehouse environment. According to the National Geographic Institute, last night 23 earthquakes have occurred. Two of them, at one in the morning and half an hour later, recorded a magnitude of 4.1 on the Richter scale. The other earthquakes registered a magnitude of between 1.7 and 2.9 on the Richter scale, according to the sources. The most intense ground motion since records began these earthquakes related to the Castor project came in early Tuesday with a magnitude of 4.2.
The Castor project, with an investment of 1,200 million euros, aims to harness an old oil well 1,750 meters below sea level to supply up to a third of the gas demand of the system for 50 days, but apparently, gas injection since September 13 has caused hundreds of earthquakes, most low intensity. Several experts geologists have claimed that many earthquakes are due to "induced seismicity" by the Castor project, caused by the injection of gas into the rock. However, there is no consensus about its risks and evolution.
Citizens Complain of Cracks and Tremors Whipping Their Homes [Emphasis added]
Seismologist: Fracking doesn't cause earthquakes by Associated Press, October 4, 2013
Human activity associated with oil and gas production can sometimes cause earthquakes, but the problem is not hydraulic fracturing, a seismologist from the University of Texas told researchers gathered for a two-day conference on Marcellus shale-gas drilling. When the rare quakes do occur, they're typically linked to the disposal of drilling fluids in underground injection wells, Cliff Frohlich said in September at West Virginia University. And the vast majority of injection wells don't cause quakes, either, he said. Frohlich cited six earthquakes since 2008 in Texas, Arkansas, Colorado, Ohio and Oklahoma, ranging from magnitude 3.3 to magnitude 5.7. Their locations show that human-caused earthquakes are geographically widespread and geologically diverse, but "very rare," given the amount of petroleum produced and the amount of waste being disposed of.
…
"Hydraulic fracturing almost never causes true earthquakes," he told the group gathered for the National Research Council workshop. "It is the disposal of fluids that is a concern."
…
Jay Cole, WVU chief of staff, said the university has a special obligation to help industry and government identify critical issues as shale-gas development grows and to identify questions that remain to be answered. The workshop featured representatives of industry and government, including the National Energy Technology Laboratory, U.S. Geological Survey and U.S. Environmental Protection Agency, as well as researchers from 12 universities.
…
Range and other companies are casing their wells with as many as four layers of steel and cement, redundancies that Frantz said dramatically reduce any risk of groundwater contamination. … It's an expensive way to do business, Frantz said, but "this is the right thing to do." "We talk about this social license to operate," he said. "We always have to be transparent and honest and open with everybody. … If we don't do our job, someone's going to come in and tell us how it should be done, and that may not be a pleasant day." [Emphasis added]
[Refer also to: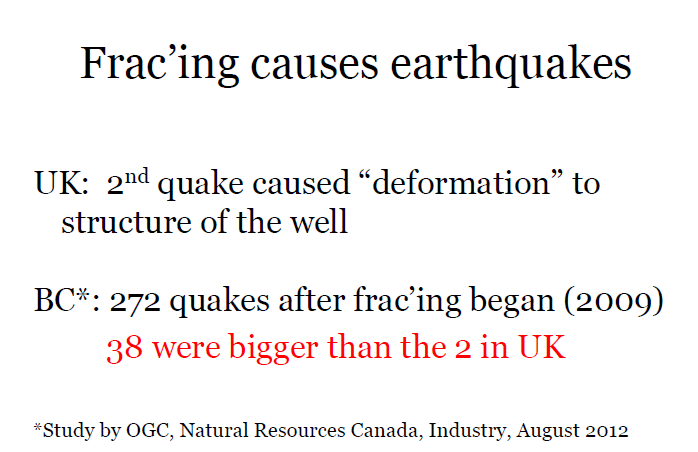 Slide from Ernst presentation From Cape Town to the Yukon in Whitehorse, September 22, 2012
Investigation of Observed Seismicity in the Horn River Basin
Conclusion
Horn River Basin seismicity events, from 2009 to late 2011, were caused by fluid injection during hydraulic fracturing. All events occurred during or between hydraulic fracturing stage operations. [Emphasis added]
Fracking process causing earthquakes noticeable kilometres away ]