Alberta's 'energy war room' risks being seen as a propaganda agency — unless it sticks to the facts, Chris Varcoe: Alas, if only all governments could write their own unfiltered narratives without the pesky criticism of naysayers by Chris Varcoe [Working as a reporter for the National Post or as propagandist for Kenney's Room?], Oct 11, 2019, National Post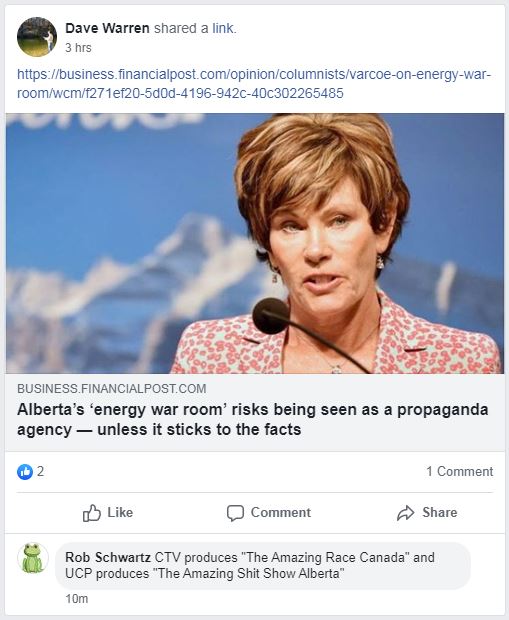 One of the comments to article in the Financial Post:
David J Warren
This is a 30 million dollar propaganda machine that uses taxpayers money to keep Kenney elected and perhaps help him in a National Campaign. That is just throwing taxpayers money away. It is also used to give Kenney supporters high paying job on the Albertans dime.
The same article under a different headline published in the Calgary Herald previously posted here:
Alberta's $30 Million Taxpayer-funded Pathetic *Private Corporation* (to sneak around FOIP Law, keep the room undemocratic?) Propaganda War Room. Will it pimp Kenney up or be more Hanky Panky failure, costing six times AER's ICORE?