Reportedly, the German Government (SPD and CDU) is caving to the oil and gas industry and will vote June 24, 2016 on the legal framework of the partial frac "ban" that is not a ban:
The ban is not a ban, it's a moratorium on fracking for shale (gas and oil) and CBM that will last until December 31, 2021;
No fracking in (or under) water and healing spring protection areas, catchment areas of dams and lakes, which serve directly for drinking water purposes;
Up to four fracking research projects will be allowed, on shale and CBM fracking;
An expert panel (will frac patent holder Dr. Maurice Dusseault be on it?) will be set up to monitor the research projects and report to the Bundestag whether or not fracking can be done in a environmentally safe manner

[sound like a Synergy Alberta set up?]

;
Fracking for tight gas and waste disposal will continue, reportedly now expanded into

 

EU Natura 2000 sites. [Some "Alberta (aka Encana) Model" influence?]
Stretching over 18 % of the EU's land area and almost 6 % of its marine territory, it is the largest coordinated network of protected areas in the world. It offers a haven to Europe's most valuable and threatened species and habitats. [Some haven, if frac'ing is allowed in it]
Natura 2000 is a network of core breeding and resting sites for rare and threatened species, and some rare natural habitat types which are protected in their own right. It stretches across all 28 EU countries, both on land and at sea. The aim of the network is to ensure the long-term survival of Europe's most valuable and threatened species and habitats, listed under both the Birds Directive and the Habitats Directive.
Natura 2000 is not a system of strict nature reserves from which all human activities would be excluded. While it includes strictly protected nature reserves, most of the land remains privately owned. The approach to conservation and sustainable use of the Natura 2000 areas is much wider, largely centered on people working with nature rather than against it. However, Member States must ensure that the sites are managed in a sustainable manner, both ecologically and economically. [By frac'ing them?]
German Government Agrees to Ban Fracking but Keep Door [WIDE?] Open by Charles Kennedy, June 21, 2016, OilPrice
The German government has agreed to ban fracking for shale gas for an indefinite period, but would allow test drilling to be carried out if state governments permit it, news agencies reported on Tuesday.
The two parties in Germany's ruling coalition—the Christian Democrats (CDU) and the Social Democrats (SPD)—agreed to what is being called an "indefinite" ban, but the agreement calls for a review in five years, leaving the door open for a possible lifting of the ban.
Environmental groups are not satisfied with the agreement, and have vowed to step up opposition.
"The coalition's agreement on a fracking permission law is hair-raising. The law must be stopped and replaced with a true fracking ban," Hubert Weiger, who heads the environmental group, said in a statement carried by Reuters.
France has banned fracking, while the United Kingdom has gone back and forth over the issue. In late May, a local English government approved the first fracking permit in Western Europe for natural gas since 2011.
The last fracking incident in Britain occurred in 2011, when the U.K.-based oil and gas company Cuadrilla Resources admitted that two minor earthquakes in north-west England had been caused by the company's use of the controversial drilling practice. [Emphasis added]
France's Socialist government has been under pressure from environmentalists not only to ensure that fracking never takes place on French territory, but also to ensure that no fracked gas enters its territory.
Concerns have recently been expressed by some members of French parliament that American LNG exports to Europe have contained natural gas that is 40 percent shale gas—which environmentalists and some lawmakers argue contradicts France's own ban on shale gas exploitation using hydraulic fracturing. [Emphasis added]
German government agrees to ban fracking indefinitely by Holger Hansen and Andrea Shalal, Reuters, June 21, 2016
Germany's coalition government agreed to ban fracking for shale gas indefinitely on Tuesday, after years of fractious talks over the issue, but environmental groups said the ban did not go far enough and vowed to fight the deal.
Test drilling will be allowed but only with the permission of the respective state government, officials said.
German industry is keen to keep the door open to fracking – which involves blasting chemicals and water into rocks to release trapped gas – arguing it could help lower energy costs, but opposition is strong in the country, where a powerful green lobby has warned about possible risks to drinking water.
If the law is approved by parliament, Germany will follow France, which has banned fracking, whereas Britain allows it subject to [deregulated] strict environmental and safety guidelines.
Germany was on the verge of a parliamentary vote on similar legislation to ban fracking a year ago, but the effort stalled amid disagreements between Chancellor Angela Merkel's conservative Christian Democrats (CDU) and the left Social Democrats (SPD).
The two parties agreed on Tuesday to an indefinite ban, but the compromise legislation calls for the German parliament to reassess whether the decision is still valid in 2021, said Thomas Oppermann, who heads the SPD's parliamentary group.
CDU officials confirmed that a compromise had been reached.
Friends of the Earth Germany (BUND) criticized the proposal and said that by setting a date for a fresh look, the coalition had essentially agreed to allow fracking in five years.
"The coalition's agreement on a fracking permission law is hair-raising. The law must be stopped and replaced with a true fracking ban," Hubert Weiger, who heads the environmental group, said in a statement.
Both parties were due to debate the legislative proposal in caucus meetings on Tuesday.
Further details of the compromise legislation were not immediately available.
Current German law permits unconventional fracking,

but virtually no drilling permits have been approved.
[Refer also to:
2011: European Union Frac Report, Impacts of shale gas and shale oil extraction on the environment and on human health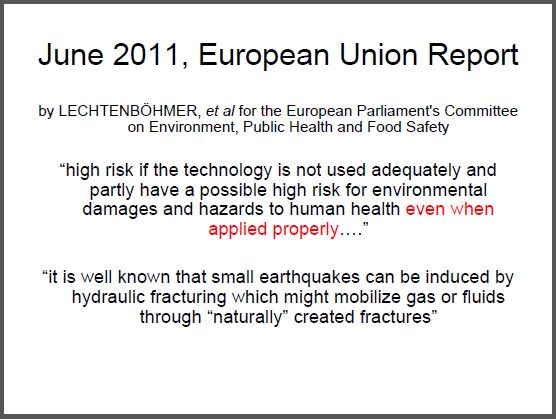 Slide from Ernst presentations
2012: AEA: Support to the identification of potential risks for the environment and human health arising from hydrocarbons operations involving hydraulic fracturing in Europe
The study found that there is a high risk of surface and groundwater contamination at various stages of the well-pad construction, hydraulic fracturing and gas production processes, and during well abandonment. Cumulative developments could further increase this risk.
For individual sites with less than 600 m separation between the fracturing zone and groundwater, the risk was judged "high".
2013: Pennsylvania Supreme Court Says It's Unconstitutional For Gas Companies To Frack Wherever They Want
"By any responsible account," [Pennsylvanian Supreme Court] Chief Justice Castille wrote, "the exploitation of the Marcellus Shale Formation will produce a detrimental effect on the environment, on the people, their children, and the future generations, and potentially on the public purse, perhaps rivaling the environmental effects of coal extraction."
2014: Germany EPA Frac Report Released: Risks Associated with Fracing are Too High; "So far, no company has been able to present a sustainable waste management concept" ]