Texas fracking regulators to quake-damaged community: suffer while we study by TXSHARON, January 21, 2014, Blue Daze
They're 'All Shook Up' and They Want the Fracking Wells to Stop, Residents of north Texas communities demand regulatory body put end to injection wells they say are behind spate of earthquakes by Andrea Germanos, January 22, 2014, Common Dreams
"Is somebody going to help us?" Tracey Napier asked. …
Also, at the meeting was Lynda Stokes, mayor of Reno, Texas. "No disrespect, but this isn't rocket science here. Common sense tells you the wells are playing a big role in all this," Stokes said. "While you are doing your studies, I would like to ask you to shut these wells down and not make us, the citizens of Azle and Reno, the guinea pigs for the study," Stokes said.
But some at the RRA were doubtful about possible connections, the Fort Worth Star-Telegramreports:
Milton Rister, executive director of the railroad commission, expressed doubts about whether injection wells were causing the tremors, saying that there are studies "all over the map." State officials cited other possible causes such as the drought or falling water levels at nearby lakes.
Chairman of the commission Barry Smitherman, who has praised the fracking industry, spoken of "EPA overreach," and whose recent fundraiser for his campaign to be the next state attorney general was hosted by natural gas utilities, also cited a paper casting doubt on the connection.
Yet even if indisputable evidence was found to link the injection wells and earthquakes, that might not be cause to stop them, as CBS reports:
[G]eneral counsel for the commission Wendell Fowler, said inspectors can only start the two to three month process of shutting down a well if there is polluted water, fluid escaping, a change in conditions or the rules. Seismic activity is not one of the criteria.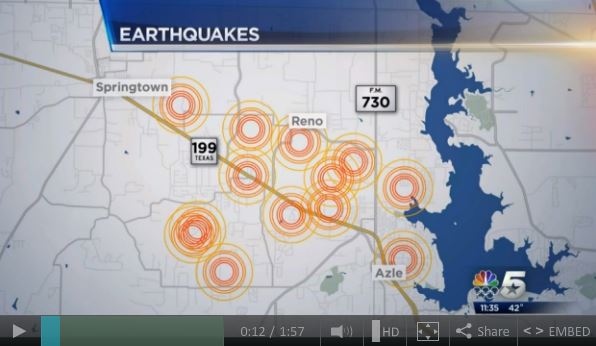 Quake-Plagued Texans 'Shake the Ground' in Austin by Joe Fisher, January 21, 2014, Natural Gas Intel
Walls and driveways are cracked at homes in and around Azle, TX; sinkholes have wiped out property values; children and horses are scared, and the elderly are rousted from their beds in the middle of the night — all by a swarm of more than 30 earthquakes since early November that the afflicted blame on drilling waste injection wells in the region. About two-dozen residents from the Azle area, about 17 miles northwest of Fort Worth, boarded a bus at 5 a.m. Tuesday at their local Walmart and made a nearly four-hour trek to Austin to tell the Railroad Commission of Texas (RRC) that the quaking must stop. At a minimum, they want operations at area wastewater injection wells suspended until it can be determined whether they are, in fact, the cause of substantially increased seismic activity in the region.
Earlier this month the RRC said it would hire an in-house seismologist to study the seismic events that have occurred in the Barnett Shale in North Texas and the Eagle Ford Shale in the southern part of the state (see Shale Daily, Jan. 7). The search is under way, residents heard from commission staffer Tuesday. The move to bring in an expert followed a town hall meeting held in Tarrant County recently to discuss quaking in the Barnett region….
…
Travelers on Tuesday's "Shake the Ground in Austin" bus trip ranged in age from 12 to well into their 70s. They talked about the tremors and the damage they have caused to their homes and quality of life. They also lamented other issues associated with unconventional oil and gas development, such as pollution, the threat of water contamination and other health concerns.
Barbara Brown traveled from Reno, TX, which is about two hours northeast of Fort Worth. As she began speaking, she placed more than a half-dozen prescription bottles on the rostrum while she alluded to medical conditions that manifested themselves four months after the first well went in near where she lives. She mentioned cracks in walls and sinkholes. "You guys are well aware that that's going on in our area," she said. "I'm here for the same reason as my fellow citizens." Brown said she wants seismic data to be made available online by the RRC.
A number of speakers demonstrated that injection wells and quaking are closely associated in their minds with hydraulic fracturing, faulty well casings and drinking water contamination. "The problem is it's not just the fracking or the disposal wells, but it's also the drilling…" said speaker Darla Hobbs, who said she is worried about the integrity of cement well casings in the midst of heavy seismic activity.

Twelve-year-old Caitlin Holmsley captured in her comments the frustration expressed by many at the meeting at the idea that anything but the injection wells could be causing the seismic activity.
"I'd like you to help me understand this," she said. "You're telling us that you're injecting thousands of gallons of water with immense pressure into the earth and shortly after earthquakes begin in an area that has never had earthquakes before. And then you tell us that the two things have nothing to do with each other.

"Not only does it cause earthquakes, but it's water injected filled with toxic chemicals that can be deadly…I just want you to stop. What you're doing is wrong, and you're killing off the environment, the economy, the people just so you can make some money."
RRC Chairman Barry Smitherman — who has been heard during past commission meetings to express frustration with non-lawyers coming before the body — thanked her for coming to the meeting. Throughout the presentations, Smitherman from time to time politely reminded speakers of time limits but otherwise was mostly silent. The other two RRC commissioners were quieter still.
Cowboy-hatted, guitar-toting Bill Hoffman livened things up a bit with his revision of the Elvis Presley classic "All Shook Up." My roof's falling in, and I'm doing my best. It hurts so much it's scaring me to death…I'm in Azle; I'm all shook up, he sang. "I think you might have a bright future, Mr. Hoffman," replied Smitherman. [Emphasis added]
[Refer also to:
Netherlands: Friesland wants to be compensated for damages caused by drilling; Nearly $2 billion property damages in Groningen from gas drilling induced earthquakes
USGS to make separate risk map for man-made quakes; National Research Council excludes 272 frac-caused quakes in BC's Horn River Basin off global map
Has the frac industry lost Texas? At earthquake town hall meeting of more than 800, Texans call for fracking to stop ]