Oil well erupts near Wellington *Update* by Terry Willis, January 25, 2014, etv10news.com
A  DEQ report states  that 500 gallons of crude oil was released to surrounding soils due to a pressure blowout at the well site. Cleanup is underway to remove impacted gravels for removal. Action is about 80 percent complete. … At approximated 10 am an oil drill rig [photo included below indicates a frac operation] located on Ridge Road and Upper Miller Creek erupted and spewed oil, water and other contaminates. Emergency crews including Wellington Fire Department and Hazmat team responded to the call.
Emergency Services Director Jason Llewelyn headed up the Hazmat team and said that there was a crack in the well head this morning and the pressure from the well caused an oil eruption. The cause of the crack is under investigation. The well has been capped and the spill is contained. The well is owned by Whiting Oil and Gas. Ridge road was closed for precautionary purposes for about an hour, but was reopened to traffic. Llewelyn said that the spill was primarily confined to the oil pad area. He felt 95-98 percent of the oil and contaminates stayed withing the well pad perimeter. [Emphasis added]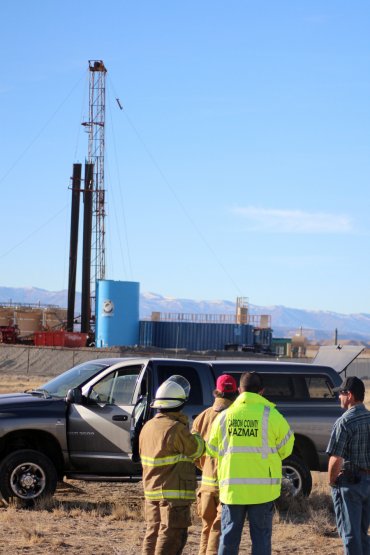 Photo update January 26 or 27, 2014 by Sun Advocate: Tanks indicate hydraulic fracturing might have caused the cracked well head. HAZMAT crews look on as area construction crews continue to haul contaminated soil away from Whiting Oil on Ridge Road in Wellington. The Sun Advocate will report more on the incident on January 28, 2014.
Cracked well head causes oil spill in Wellington by C.J. McManus, January 25, 2014, Sun Advocate
A cracked well head sent oil flying more than 200 feet into the morning sky at Whiting Oil Saturday, as construction and hazardous materials teams worked to confine the spill to the company's Wellington property. According to Carbon County Emergency Services and Homeland Security Director Jason Llewelyn, the spill which occurred just before 10 a.m. at the Wellington Flats site on Ridge Road, was handled very well by Whiting Oil and nearby construction crews. "Those on site immediately called in help from Scamp Excavation and Nielson Construction," he said. "They began bringing in fresh dirt to help soak up the leaking oil and were able to keep the material confined to their pad."