Canadian spies met with energy firms, documents reveal, Government agency that allegedly spied on Brazil had secret meetings with energy companies by Martin Lukacs and Tim Groves, October 9, 201, The Guardian
The Canadian government agency that allegedly hacked into the Brazilian mining and energy ministry has participated in secret meetings in Ottawa where Canadian security agencies briefed energy corporations, it has emerged. Claims of spying on the ministry by Communications Security Establishment Canada (CSEC) come amid the Canadian government's increasingly aggressive promotion of resource corporations at home and abroad, including unprecedented surveillance and intelligence sharing with companies. According to freedom of information documents obtained by the Guardian, the meetings – conducted twice a year since 2005 – involved federal ministries, spy and police agencies, and representatives from scores of companies who obtained high-level security clearance. Meetings were officially billed to discuss "threats" to energy infrastructure but also covered "challenges to energy projects from environmental groups", "cyber security initiatives" and "economic and corporate espionage".
The documents – heavily redacted agendas – do not indicate that any international espionage was shared by CSEC officials, but the meetings were an opportunity for government agencies and companies to develop "ongoing trusting relations" that would help them exchange information "off the record", wrote an official from the Natural Resources ministry in 2010. At the most recent meeting in May 2013, which focused on "security of energy resources development", meals were sponsored by Enbridge, a Canadian oil company trying to win approval for controversial tar sands pipelines.
Since coming to power, Conservative prime minister, Stephen Harper, has used his government apparatus to serve a natural resources development agenda, while creating sweeping domestic surveillance programs that have kept close tabs on indigenous and environmental opposition and shared intelligence with companies.
… Keith Stewart, an energy policy analyst with Greenpeace Canada, said: "There seems to be no limit to what the Harper government will do to help their friends in the oil and mining industries. They've muzzled scientists, gutted environmental laws, reneged on our international climate commitments, labelled environmental critics as criminals and traitors, and have now been caught engaging in economic espionage in a friendly country. Canadians, and our allies, have a right to ask who exactly is receiving the gathered intelligence and whose interests are being served."
…
"There is very substantial evidence that the spying Canada was doing for economic reasons aimed at Brazil is far from an aberration," Guardian columnist Glenn Greenwald told Canadian media on Tuesday. Greenwald hinted that he will be publishing further documents on CSEC. "We've already seen how Canadian embassies around the world essentially act as agents for Canadian companies – even when they're implicated in serious human rights abuses," said Jamie Kneen of MiningWatch Canada, an NGO watchdog. "We just had no idea how far they were willing to go." [Emphasis added]
'Cyberwar' allegations threaten rift between Brazil and Canada by Stephanie Nolen, Colin Freeze and Stephen Chase, with a report from Carrie Tait in Calgary, October 7, 2013, The Globe and Mail
The President of Brazil is accusing Canada of "cyberwar" after allegations that government hackers in Ottawa likely tried to steal state secrets from the South American country's mining and energy ministry last year. The disclosure threatens to create a lasting rift between the two nations. Canadian Foreign Minister John Baird visited Brazil in August to court the country, now the world's sixth-largest economy, as a crucial bilateral business partner. On Monday, the Canadian ambassador in Brasilia was asked to account for the brewing scandal. "The espionage infringes on the sovereignty of nations and the privacy of individuals and enterprises. … It is unacceptable among countries that claim to be partners," Brazilian President Dilma Rousseff said in a statement on Twitter. "We reject the cyberwar."
The fallout stemming from this alleged act of spying could soon be felt in Canada, as well. There are an estimated 40 Canadian mining companies working in Brazil, controlling billions in assets.Officials in Ottawa are now girding for similar diplomatic rows in other parts of the world. Leaks about Canada's spying campaigns against other, as yet unidentified, countries, may emerge – with the team behind these revelations promising more to come. "There is a huge amount of stuff about Canada," journalist Glenn Greenwald told The Globe and Mail in an interview. He added that "there is nothing really unique about what Canada's doing to Brazil – it's not like Brazil is the only target." Mr. Greenwald, an American journalist based in Brazil, has spent the past four months publicizing, bit by bit, leaked documents that show the extent of electronic eavesdropping campaigns conducted by the U.S. National Security Agency. The revelations have been a nightmare for U.S. officials at home and abroad.
The motherlode of top secret NSA documents was given to Mr. Greenwald in Hong Kong last June. They were provided by Edward Snowden, a private security contractor in the United States who acquired the documents in hopes of blowing the lid off of NSA programs. He now lives in Russia beyond the reach of U.S. authorities, who are seeking to charge him with espionage. One of the NSA's closest allies is Canada's electronic eavesdropping agency, Communications Security Establishment Canada, which has never had to contend with a leak of this magnitude before.
…
Buddy Doyle, chief executive at Amarillo Gold Corp., which trades in Canada and has assets in Brazil, believes the Canadian government overstepped its bounds if it tried to steal secrets. "It is outrageous," he said in an interview, adding that Brazil is proposing laws aimed at more state control of resources. Pressed for comment, Canadian officials gave only indirect answers to questions about the controversy. "This organization cannot and does not target Canadians under Canadian law," said Rob Nicholson, the Canadian Defence Minister who is responsible for CSEC. What precise information Canada may have sought remains unclear so far. Some security experts say CSEC has actually conducted economic espionage for years, but has never been caught before.
Martin Rudner, a former Carleton University professor, said Canadian defence ministers have spent decades directing CSEC to collect foreign intelligence – including intelligence acquired through economic espionage. He said Brazil could be a long-term strategic target, given its emerging oil resources could potentially cut into the market for Alberta oil. Probing the Brazilian energy ministry's data would be one way for Ottawa to figure out the scale of that economic threat, Mr. Rudner said. According to the Fantastico exposé, CSEC may have been trying to hack into an encrypted government server in Brazil that hosts correspondence between government officials and corporations. "These are state conversations, government strategies which no one should be able to eavesdrop upon," Brazilian Energy Minister Edison Lobao was quoted as saying. The leaked documents – all stamped "CSEC – Advanced Network Tradecraft"– yield intriguing glances into the previously unexplored world of Canadian cyberespionage, a world where disparate bits of data are painstakingly amassed in hopes of seeing what happens on a given "target's" smarthphone or e-mail chains. [Emphasis added]
Charges that Canada spied on Brazil unveil CSEC's inner workings by Colin Freeze and Stephanie Nolen, October 7, 2013, The Globe and Mail
Leaked documents showing that Canada's electronic intelligence-gathering agency targeted the Brazilian government threaten to disrupt relations between the countries – and thrust the secretive CSEC into the public spotlight. On Sunday night, Brazil's flagship Fantastico investigative program on the Globo television network revealed leaked documents suggesting that Communications Security Establishment Canada (CSEC) has spied on computers and smartphones affiliated with Brazil's mining and energy ministry in a bid to gain economic intelligence.

The report, attributed to documents first obtained by the former U.S. government contractor Edward Snowden, includes frames of a CSEC-earmarked presentation that was apparently shared with the United States and other allies in June, 2012. "Brazilian Ministry of Mines and Energy (MME)," a title page of the leaked case study reads. "New target to develop." The presentation then rhetorically asks "How can I use the information available in SIGINT [signals-intelligence] data sources to learn about the target?" before delving into specific hacking techniques. The documents were part of a collaboration with Globo by Glenn Greenwald. The Rio de Janeiro-based journalist and confidante of Mr. Snowden has spent the past four months steadily disclosing a treasure trove of leaked materials recording the electronic eavesdropping practices of the United States and its allies.
Washington has been reeling from the disclosures. In Brazil, they have caused the most serious rift between the two nations in years – after the first revelations about NSA espionage were made last month, Brazilian president Dilma Rousseff canceled an official state visit to Washington; it was to be the first in 18 years and was intended to showcase the growing economic and political ties between the two countries.  Instead Ms. Rousseff went to the UN General Assembly where she complained of "totally unacceptable" U.S. spying in her country. She gained a considerable bump in personal approval ratings after lashing out at the U.S. over the NSA activity, which has elicited a reaction of deep offense from many Brazilians.

The impact for Canada of these revelations could be equally grave: they come at a time when Brazil has become a top destination for Canadian exports, when a stream of delegations from the oil and gas industries are making pilgrimages to Rio de Janeiro to try to get a piece of the booming offshore oil industry, and when the Canadian government is eager to burnish ties with Brasilia. Foreign Affairs Minister John Baird visited Brazil in August, and spoke repeatedly about the country as a critical partner for Canadian business.
… Throughout all this, Canada's electronic eavesdropping agency has kept a relatively low profile, never before emerging as the central figure in any Snowden-leaked spying program. Although it has existed since the Second World War, CSEC has rarely discussed any of its operations in public. CSEC has a $350-million budget and 2,000 employees. By law, it has three mandates – to safeguard Canadian government communications and computers from foreign hackers, to help other federal security agencies where legally possible, and to gather "foreign intelligence." The federal government is building a new $1-billion headquarters for CSEC on the outskirts of Ottawa. Given wide latitude by its political and bureaucratic masters to collect what "foreign intelligence" it can, CSEC is exceedingly discreet. The spy agency's leaders rarely make any public remarks. When they do, they tend only to speak vaguely of the agency's role in fighting terrorism.
But economic espionage appears to be a business line for CSEC. Former Carleton University Professor Martin Rudner has pointed out that the spy agency started recruiting economists and business analysts in the mid-1990s. "CSE[C] operations in economic intelligence have gone rather beyond the strictly defensive to also help promote Canadian economic competitiveness," Mr. Rudner wrote in an essay published in 2000. He added that the spy agency is rumoured to have given the Canadian government a leg up during NAFTA negotiations with Mexico, and also eavesdropped on the 1997 APEC summit. Mr. Rudner added that Ottawa officials don't necessarily share with Canadian businesses what CSEC surveillance turns up. Instead, he writes, they "sometimes provide advice and counsel by way of helping to promote Canadian trade, without necessarily revealing their sources in economic intelligence."
While CSEC's role in conducting economic espionage has been alluded to before, how it does this job has not. The significance of the documents obtained by Globo in Brazil is that they speak to how "metadata" analysis by CSEC can be used to exploit a rival country's computer systems. The CSEC-labeled slides about the "Olympia" program describe the "Brazilian Ministry of Mines and Energy" as a "new target to develop" despite "limited access/target knowledge." The presentation goes on to map out how an individual's smartphone – "target's handset" – can be discerned by analysis, including by cross-referencing the smartphone's Sim card with the network telephone number assigned to it and also to the handset's unique number (IMEI).
The "top secret" presentation also refers to attacks on email servers. "I have identified MX [email] servers which have been targeted to passive collection by the Intel analysts," one slide says, without explaining who the speaker is. The slide suggests the presenter hoped to reach out to American superhackers – the NSA's "Tailored Access Operations" group – for a more specialized operation: "I am working with TAO to further examine the possibility for a Man on the Side operation." A "Man on the Side" operation is a form of interception. According to a recent Guardian column, the NSA has installed secret servers on the Internet that can be used "impersonate a visited Web site" that a target plans to visit. The rerouting of the target's traffic opens his or her computer or mobile device to invasion by the impersonating website. The "Top Secret" presentation obtained by Globo is an exceedingly rare disclosure. In Ottawa, CSEC's employees are sworn to secrecy and visitors to its complex have to check their smartphones, iPads, laptops and memory sticks at the door. The CSEC-labeled presentation appears to have been shared with the NSA, the agency Mr. Snowden once worked for. He had retained access to the NSA's data repositories as a security-cleared private contractor, prior to copying reams of material early this year and then flying with it to Hong Kong this summer.
Mr. Snowden leaked the materials to Mr. Greenwald in Hong Kong, prior to flying to Russia to seek asylum. The U.S. government wants to try him on espionage charges. The leaked "CSEC – Advanced Network Tradecraft" presentation about the Olympia spying program kicks off with an allusion to Greek mythology. It alludes to how Zeus and his sibling deities waged a 10-year battle to overthrow an older order of gods, known as the Titans. "And they said to the Titans 'Watch Out OLYMPIAns in the house!" reads a slide in the presentation. [Emphasis added]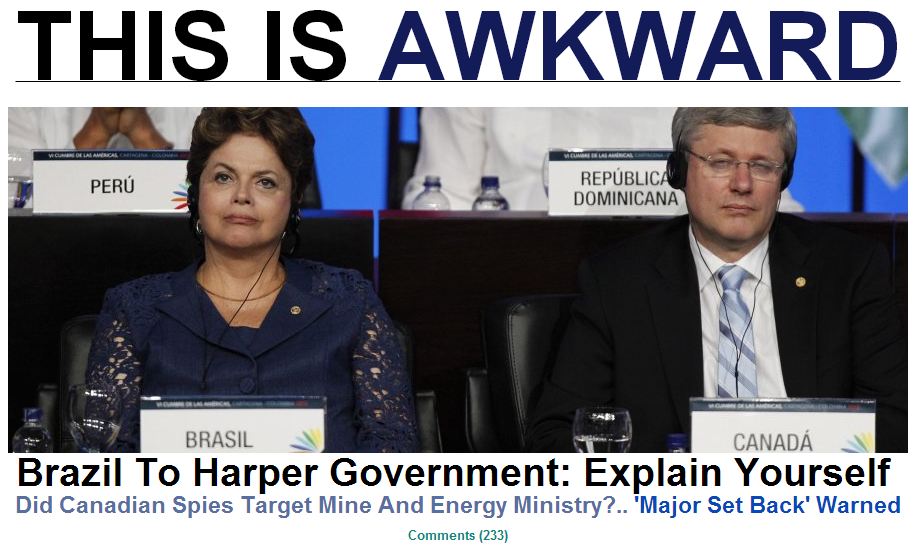 Screen capture from Huffingtonpost.ca on October 7, 2013
Canada Spying On Brazil? President Dilma Rousseff Tells Harper Government To Explain Itself  by Jim Bronskill, Canadian Press, October 7, 2013, Huffingtonpost.ca
Brazil demanded answers Monday following allegations Canada's electronic eavesdropping agency mounted a sophisticated spy operation against the South American country's ministry of mines and energy. Brazilian President Dilma Rousseff accused the Ottawa-based Communications Security Establishment Canada of engaging in industrial espionage. Foreign Minister Luiz Alberto Figueiredo summoned the Canadian ambassador in the capital of Brasilia to "transmit the indignation of the Brazilian government and demand explanations," the Foreign Ministry said in a statement. The accusations aired on Brazil's Globo television network also prompted questions from Canadian intelligence experts about exactly what the spy service should be doing and how much Canadians should be told of its priorities. The television report said the metadata — or indexing details — of phone calls and emails from and to the ministry were targeted by the Canadian agency to map the ministry's communications. The report was based on documents leaked by Edward Snowden, a former contractor with the National Security Agency — CSEC's American counterpart. Snowden provided classified presentation slides from June describing an operation labelled Olympia that apparently involved CSEC capabilities known as "Advanced Network Tradecraft." The slides map out communications between Brazil, Peru, Ecuador, Venezuela, Britain, Poland and Singapore.
…
Canadian officials were uniformly tight-lipped. A spokesman for Prime Minister Stephen Harper would neither confirm nor deny the allegations when asked to respond to the report late Sunday night. CSEC said it "does not comment on foreign intelligence gathering activities." Defence Minister Rob Nicholson, the cabinet member responsible for CSEC, said much the same thing. "I don't comment, nor do we comment, on foreign intelligence gathering activities," Nicholson said. "That being said, Canada does have a strong and ever-expanding bilateral relationship with Brazil and we look forward to continuing that collaboration and friendship." During Monday's meeting, Figueiredo expressed "the government's repudiation of this serious and unacceptable violation of national sovereignty and the rights of people and companies," the Foreign Ministry statement said.
..
Earlier documents leaked by Snowden suggest Canada helped the United States and Britain spy on participants at the London G20 summit four years ago. … The revelations beg questions about CSEC's interest in Brazil as opposed to other priorities, said Wesley Wark, a visiting professor at the University of Ottawa's graduate school of public and international affairs. "We've never historically devoted a lot of resources to economic intelligence gathering," he said. "It's not clear that we have a lot of resources to devote to that. We've never had any kind of public debate about whether that's a good way to use intelligence agencies." [Emphasis added]
EXCLUSIVE: Spy agency CSEC needs MPs' oversight, ex-director says, Highly secretive organization at the heart of Brazilian espionage allegations by CBC News, October 7, 2013
Calls for more openness are sure to get louder in the wake of fresh allegations CSEC spied on Brazil's mining and energy ministry, in search of corporate secrets. CSEC's mandate is to monitor foreign communications, including those coming into Canada. But by law, it cannot target domestic telephone or email traffic. "That's against the law," said Adams, who left the highly secretive Ottawa-based agency last year and has a deep understanding of its inner workings. "Absolutely not." But, he adds, "We have got capability that is unique to this country. No one else has it," Adams said.
Warning for Canadians
Adams was opening up about CSEC's capabilities in the wake of worldwide controversy over the intelligence activities of the U.S. National Security Agency, a sister agency of sorts to CSEC. And he has a warning for Canadians: if you think anything you read, write or send via the internet is private, think again. "The reality is if you're on the internet, you literally might as well be on the front page of the Globe and Mail," Adams said in the interview. "It's very accessible by anybody that has any inclination to access it. So, you, I'm much more — I wouldn't say 'paranoid' — but I am much more careful about what I write and what I say [online]," Adams said.
Jennifer Stoddart, Canada's privacy commissioner, is among those who worry Canadians are being kept in the dark about what goes on at CSEC. "We don't know enough about what CSEC does," Stoddart said in an interview, adding that her office doesn't have the authority to shine a light on CSEC. The agency has its own watchdog, retired judge Robert Decary, who is stepping down for personal reasons at the end of the year. In his final report to Parliament, he called for greater transparency about the CSEC. … Documents obtained by U.S. whistleblower Edward Snowden and published in the British newspaper the Guardian in June, suggest CSEC may have been part of a scheme to hack the phone calls and emails of ministers and diplomats at a G20 summit in London in 2009. [Emphasis added]
Brazil summons Canadian ambassador over spying allegations by Corinne Ton That with files from The Canadian Press, October 7, 2013, CTVNews.ca
Brazil summoned the Canadian ambassador Monday to express its "indignation" over allegations Canada has spied on the South American country's ministry of mines and energy. The meeting took place Monday morning in Brasilia, the day after a TV news report on the allegations. Brazilian President Dilma Rousseff had earlier asked her foreign minister to demand clarifications from the Canadian government. … On Monday, Brazil's Foreign Ministry said the Canadian ambassador was summoned to "transmit the indignation of the Brazilian government and demand explanations." Brazilian Mines and Energy Minister Edison Lobao told Globo that "Canada has interests in Brazil, and above all in the mining sector. I can't say if the spying served corporate interests or other groups."
…
On Monday, Rousseff tweeted that espionage is "unacceptable among countries that claim to be partners," and that the foreign minister "will demand explanations from Canada," In a tweet, Rousseff said industrial espionage appears to be behind the alleged spying. On Monday afternoon, Keith Murphy, CEO of Defence Intelligence, an Ottawa-based information security company, told Power Play's Don Martin that he believes economic interests are at the root of the alleged espionage. "What we'll probably never be told is whether this was going to be passed off to corporate interest or whether it was strictly for government use," he said. He added that the alleged collected data is also being shared with the United States. "It's scary a little bit the level of co-operation between the agencies," Murphy said. "Now we've got solid proof from some of the slides that were released to say that not only had Canada penetrated these systems, but they are actively sharing that data with the U.S."
…
But NDP leader Thomas Mulcair expressed outrage over the espionage claims. "The whole story doesn't make any sense. We do have an intelligence gathering capability as we should, but it's not meant to be spying industrially on a country — especially on a country that we're supposed to be having good relations with," Mulcair said. "We should come clean as to what we have been doing. The Brazilian president calling to the Canadian government to account is serious, having our ambassador called in as he was today is serious, so we've got to give the proper reaction," Mulcair added.
According to Canada' Department of Foreign Affairs website, Brazil is currently Canada's 11th largest trading partner, with $2.6 billion in exports, including fertilizers, mineral fuels and oils, machinery and paper. Imports, which amount to $4 billion, include mineral fuels and oils, sugars, machinery, iron and steel. … In a news conference on Monday, Canadian Defense Minister Rob Nicholson refused to comment on foreign intelligence, but said he is confident that Canada's relationship with Brazil will remain strong. [Emphasis added]