Questerre Energy tries to reverse public opinion on hydraulic fracturing in Quebec, CEO Michael Binnion's work may have only just begun by Lewis Kelly,
November 12, 2013, Alberta Oil The Business of Energy
Michael Binnion, the CEO, president and co-founder of Questerre Energy Corp., is in a tough spot as he tries to convince Quebeckers of the financial benefits and environmental safety of shale gas drilling. … Questerre's efforts to develop its properties are on pause ever since the Quebec government placed a moratorium on hydraulic fracturing in 2011.
It wasn't always like this. When Questerre debuted on the TSX in the summer of 2003, its prospectus listed natural gas exploration in la belle province as one of the company's major initiatives. From this vantage things looked fairly rosy. Binnion was well-financed by Norwegian private investors (it later listed on the OSE in 2005) and the government of the day was wholly supportive of its endeavors. Actually, governments in Quebec had hung out their shingle since the mid-'80s in the hope of attracting oil and gas investment. The breakthrough for Questerre came when vertical wells in the Utica tested at rates between 100 and 800 mcf/d. "We are more confident in the potential for stacked shale plays that could, if successful, ultimately reduce F&D costs to under $1 per mcf," wrote Binnion at the time. Then in 2010 everything went pear-shaped. First, American film director Josh Fox released Gasland, a documentary detailing his investigation into fracking south of the border. Although the film grossed less than $50,000, it attracted widespread attention and was even nominated for an Oscar. Footage of a mustachioed resident of Colorado setting tap water on fire had an explosive effect on viewers, as it suggested that eventually fracturing shale formations could result in methane mixing with public drinking water.
Four months after the film's release, BP's Deepwater Horizon oil rig exploded and sank in the Gulf of Mexico, killing 11 people and triggering the biggest marine oil spill in history. … Industry has strongly disputed many of Gasland's audacious claims such as the famous drinking water sequence. Paul Precht, an Edmonton-based energy economist, points out, for instance, that drinking water aquifers are separated from the targeted natural gas formations by thousands of feet of impermeable rock. [Some Encana's perf and frac data provided below]
…
Binnion has keenly felt the ramifications of working in a vilified industry even back home in Calgary. "Why does my kid come home from Alberta junior high school social studies saying the oil and gas industry is evil?" he asks, mentioning the tax contributions the energy industry makes to Alberta's education system. "It's one thing to say there's been mistakes and there's room to improve and so forth, but sending kids home with the impression that it's morally wrong – it's hard to come up with the word that would express that ironic frustration." Binnion realizes this is a widespread phenomenon. "I hardly know a senior oil and gas executive who hasn't had a similar experience," he says. In responding to his daughter's comments, he gently reminded her she shouldn't believe everything she hears, but always approach new information with a healthy dose of skepticism. "It's hard to change an opinion once it's reached," he says. "It took a long time to change our conviction that the Earth was flat." Binnion's instinct to reach out and talk to people with anti-oil and gas biases doesn't end with his close relations. He's a regular blogger, and a vociferous defender of his industry's position on Twitter. He tweets in both English, his mother tongue, and French, which he picked up specifically to better understand the Quebec situation and educate Quebeckers about his point of view. … Binnion's grass-roots approach to persuasion goes beyond the Internet. For the past two years, Questerre, along with the Oil and Gas Services Association of Quebec and the Petroleum Services Association of Canada, organized tours that brought Quebec farmers with land on or near natural gas deposits to Albertan farms where fracking has taken place. … Most of the farmers on the tour were not fluent in English, so communication depended on awkward translating and gesticulating. But the sight of hulking homes and new-model pickups, Tousignant and Bérubé both say, spoke for itself: allowing oil or gas production on your land is clearly a money-making proposition.
…
Shale-shy Quebec lawmakers can look to other jurisdictions for support. In February, New Brunswick released a comprehensive set of rules for its nascent oil and gas sector, including ones that govern hydraulic fracturing. In May, the Alberta Energy Regulator released Directive 83, an updated set of rules for hydraulic fracturing in the province, and in September the National Energy Board followed suit for onshore drilling and production in the North. Precht says modern regulations like these do a pretty good job of minimizing the risk that fracking will cause problems, Nevertheless, even in industry-friendly Alberta there are strident opponents as witnessed by the recent high profile lawsuit against Encana over alleged groundwater contamination from fracking activities on a property just east of Calgary. [Emphasis added]
[Refer also to: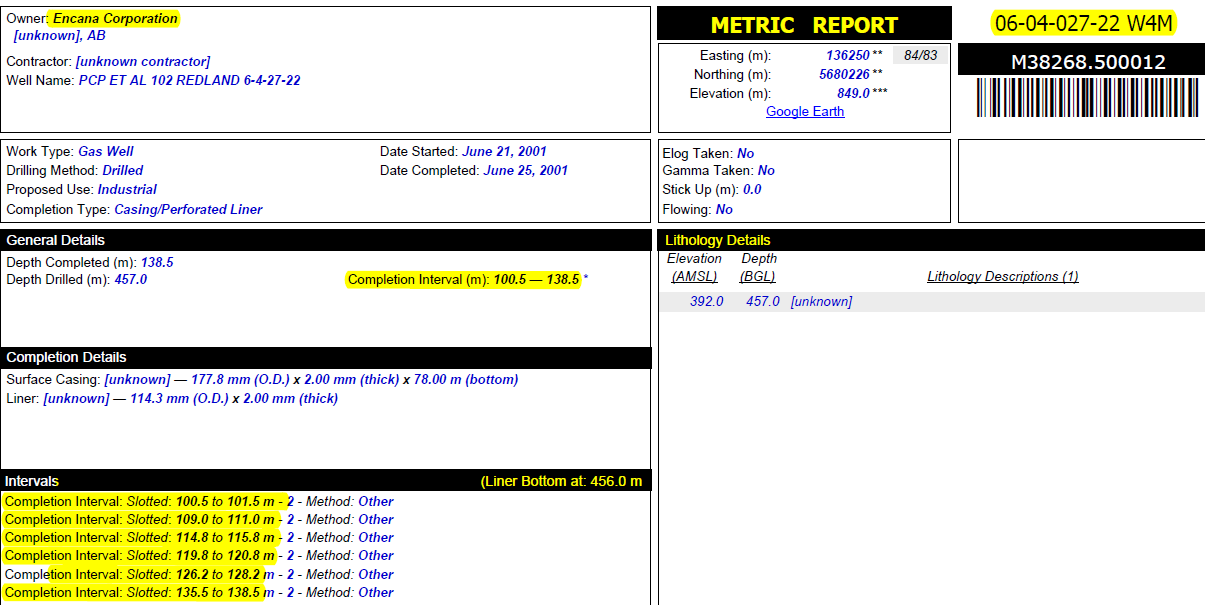 Source: The Alberta Groundwater Centre, Encana Perforations on one gas well at Rosebud, Alberta, 2001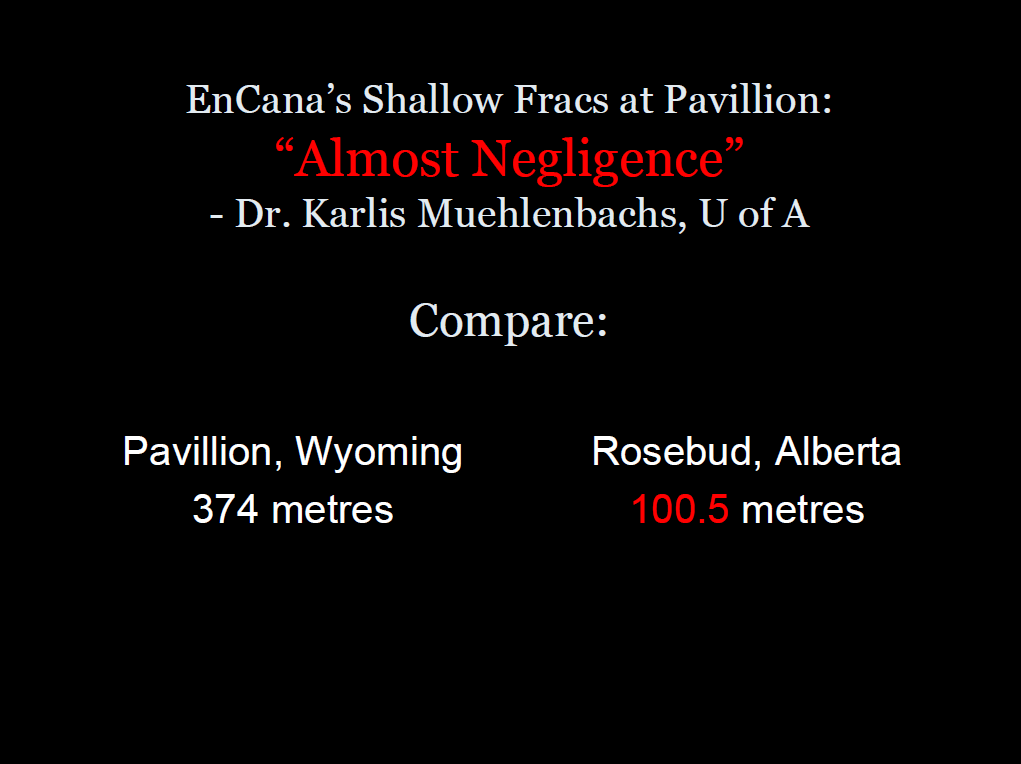 Slide from Ernst presentation From Cape Town to the Yukon September 22, 2012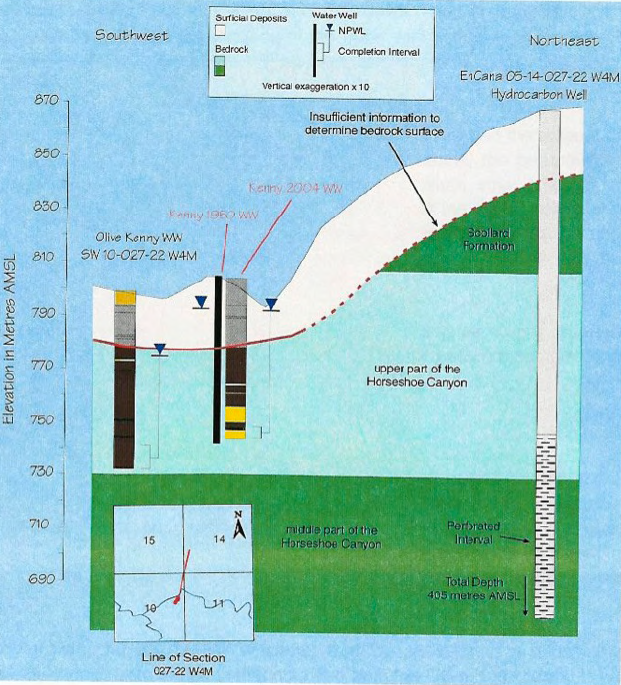 EnCana's Multiple Shallow Fracs into Fresh Water Aquifers at Rosebud, Alberta, March 2004, Source: EnCana Corporation Site Investigation Report by Hydrogeological Consultants Ltd., File No.: 04-510, January 2005