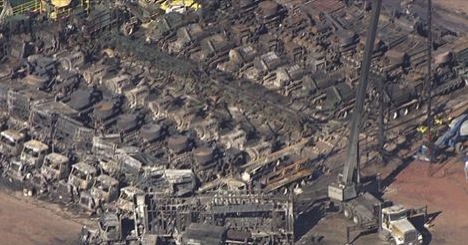 Crews Discover New Problems After Battling Grady County Fracking Operation Fire by Joleen Chaney, January 14, 2016, News9
GRADY COUNTY, Oklahoma – News 9 continues to follow a fracking operation fire that happened east of Chickasha Wednesday. A lot of damage was reported and crews are still working on a crane that could cause another spark.
The fire may be out, but fire crews are looking at another problem. Their bunker gear is soaked with hazardous fluids making it too flammable to wear for other emergency calls.
"911."
"I called earlier about a fire on the east side of Chickasha, OK."
"We're trying to ping exactly where you're at. Do you have any other cross street besides 62 and 39?"
It didn't matter where it was. This fire could be seen 20 miles away.
"We're going to get them headed there."
Crews from all over the county showed up and fought a raging fire that was fueled by oil and diesel.
"It created a whole lot hotter fire when it's mixed with diesel," Grady County Fire Chief Perry Wenzel said.
County crews blame equipment failure that sparked and ignited everything in sight, including 22 fracking trucks. … They were charred and stripped of nothing but black soot and chemical remnants, and so is the bunker gear worn by firefighters who attacked the blaze. It is a barrier of protection from toxins and deadly heat. Crews were saturated in the oil and diesel mixture.
"It's going to burn," Wenzel said.
This is the first time crews have worn this gear. It was bought after their old gear was ruined in another frack site fire a few months earlier. They applied for a FEMA grant to replace it, and it happened again.
Wenzel said if firefighters got close enough to fire or the conditions heated up enough, the gear could have caught fire.
If they have to respond to any other calls, they do have some old gear that wasn't ruined. The department will send the new gear to a Dallas company to see if it can be cleaned and salvaged.
Each set will cost about $200 to clean and $1,700 to replace. More than 50 firefighters responded to the incident. [Taxpayer funded? Emphasis added]
Fracking fire damage totals almost $50 million by Sarah Stewart, January 14, 2016, KFOR
GRADY COUNTY, Okla. – The raging fire sent flames and thick black smoke into the sky.
It broke out around 4 p.m. Wednesday afternoon at a Continental Resources oil field site just east of Chickasha.
On Thursday – the devastating damage was clear.
The Grady County Fire Chief tell us 22 different truck/trailer combinations were completely destroyed – each one valued at $1.8 million dollars.
Despite that, the fire chief tells us it could have been much worse.
"Yesterday, when we arrived on the scene, the first thing we did is figured out what hazardous chemicals might be there, what might happen if they mixed with water, what might happen if they mixed together, what catastrophic event would we have if we made a mistake like that," said Grady County Fire Chief Buddy Meyers.
Chief Meyers says they took an offensive approach to keep the fire away from the worst chemicals.
"Some of these chemicals, if they mixed with water, if they caught on fire, if they mixed with each other, could've caused on explosion. Well, the evacuation distance was one half mile away," said Meyers.
Luckily, that scenario didn't happen and the fire was put out in about four hours.
Thursday morning, workers were on scene with a crane to remove the boom from another crane on scene that was damaged in the fire.
Despite the heavy damage, a lot was saved.
"About $50 million worth of other equipment. We saved the chemicals. We saved the trucks that are transporting the chemicals. We saved the tank battery, saved the well head. We saved the crane."
And, lives were spared not only because of the fire fighting but the emergency plans in place for the oil field crews.
"When the fire first started, they attempted to control it with their fire extinguishers. When they realized that wasn't possible, they initiated their emergency action plan, and everybody evacuated safely," said Meyers.
Meyers tells us, since the fire is not suspicious in nature, they will not be involved in the investigation into the cause.
Continental Resources will conduct their own in-house investigation.
They did not respond to requests for information on Thursday. [Emphasis added]
Crews Responded To Large Fracking Operation Fire In Grady County
by Briauna Brown, January 13, 2016, News9
According to a diagram News 9 received from the University of Kansas, the frack pumps caught fire and all of the trucks connected by metal piping are on fire. All 22 trucks are said to costs about $1 million each.
Crews reported explosions as the fire fuels but it is contained in the area.
The Oklahoma Department of Transportation said all lanes at SH 39 and County Road 2910 in Grady County, and all lanes from County Road 2940 west of HWY 62 were shut down due to the fire. The roadways were reopened about 9:45 p.m.
There was also reports of heavy amounts of smoke crossing the highway.
"I really don't know what caused it. They were in the process of fracking a well and that's where it all started," Grady County fire spokesman Buddy Myers said.
The site belonged to Continental Resources. [Emphasis added]