they can designate it a water well all they want … doesn't change the industry impact and exploding towns and cities … which i believe is of great interest to the insurance industry … and banks …
and they can try and redesignate fresh water aquifers to gas aquifers, but I don't think the insurance and financial industries will buy it … especially when the industry in ontario can't even account for over 30,000 of their oil and gas wells …
Comment above by a rural Albertan.
2019: England: National Audit Office releases report on shale gas, estimates £32.7m (~ €38m; $55.5m) spent by public bodies since 2011 with frac'ing going nowhere but quaking & shaking; damaging wellbores & hundreds of homes; leaving landowners "liable for decommissioning costs of shale gas wells should an operator be unable to fund them" with the regulator unable to "explain what would happen should a landowner be unable to meet decommissioning costs."
2017: New Study: Sulfide-producing bacteria dominate hydraulically fractured shale oil & gas wells. "An estimated 70% of waterflooded reservoirs world-wide have soured." Industry did that, not nature, not bacteria, not aquifers, not citizens.
Sour Gas damages the brain, even at very low levels:
1. Exposure to levels below 10 ppm permanently damage the human brain
2. Harm from levels below 10 ppm by Worksafe Alberta
3. Occupational Safety & Health Administration (OSHA) LOW LEVEL HEALTH HARM WARNINGS:
Sour Gas Concentration (ppm)/Symptoms/Effects
0.01-1.5 ppm/Odor threshold (when rotten egg smell is first noticeable to some). …
2-5 ppm/Prolonged exposure may cause nausea, tearing of the eyes, headaches or loss of sleep. Airway problems (bronchial constriction) in some asthma patients.

I expect authorities will soon officially label Mr. Cockerham a terrorist, if they haven't already, for not being obediently silent about the regulator's insanity, like they did to me (including in official court filing by AER) instead of criminally charging Encana/Ovintiv.

A Leamington property owner is fighting with the province about who is responsible for cleaning up a water well that is leaking gas on one of his lots.
"The situation is kind of at a stalemate," David Cockerham said.
Cockerham is currently being ordered by the Ministry of Environment to plug a well that sits in the corner of a lot that he owns next to his primary residence — a job that could potentially cost upwards of $900,000.
"I have to ask myself, what can I afford, what's the reasonable thing to do, what makes the most sense in terms of options and how does that affect the community, how does that affect my neighbours," he said.
"The decision is, you don't do something that is unsafe, something that is unknown."
Cockerham, who lives in the 100 block of Robson Road, uncovered the leaking pipe on the lot in 2016. It smelled of rotten eggs, the signature smell of hydrogen sulfide (H2S), a substance that is both flammable and corrosive.
The provincial government has determined the well is a water well and therefore does not fall under the Ministry of Natural Resources Abandoned Works program, which would cover the costs to deal with it. The Ministry of Environment deals with water well remediation and puts the onus on property owners.
"I'm not going to do it," he said, adding that the ministry is moving forward.
"They're going to do the engineering reports to drill, [and] they're going to charge me for it which means they would probably have to take my property to pay for it and they're going drill anyway."
Similar discussions
A similar debate about which government department was responsible happened this summer after an explosion caused by H2S gas destroyed two buildings in Wheatley. In the end, it was the Ministry of Natural Resources that took the lead.
"We know what happened in Wheatley and that shouldn't have happened," Cockerham said.
He discovered the well around the same time another well was being dealt with on a property just down the road — a task that was covered by the Ministry of Natural Resources.
Jim McIntosh, a petroleum engineer, said he worked on that project and inspected Cockerham's as well.
"It appears to be potentially very similar," McIntosh said.
McIntosh said there's a natural gas reservoir beneath the Leamington/Kingsville area which produces natural gas but has H2S in it which is why in the case of the other well, the provincial government did take on the cost.
"It could be a natural gas well or it could be a water well, we really don't know," McIntosh said. "The difference between the two is really the depth which the well has been drilled to."
"We know the gas is coming from something deeper in the ground than the fresh water aquifer McIntosh said.
McIntosh said that nothing in the records the government is relying on matches exactly where the well is on the property. He wrote the provincial government to point out the type of well is questionable and that if it were a water well, the gas that is in it is coming from somewhere else.
"The fresh water aquifer, if it wasn't attached to old, improperly plugged and abandoned oil and gas wells, it wouldn't have that kind of natural gas in it."
McIntosh said that to properly excavate the well, at least a portion of the neighbouring house would likely have to be removed and the work could increase the amount of gas coming from the well. Safety concerns could potentially mean some residents would have to leave.
Capping a well
Jim McIntosh has worked on well leaks before and says closing one well doesn't mean the problem is over.
"Because it's gas with H2S in it, it's a really awkward position for David to be able to provide all the services and stuff that would be necessary to re-enter and plug it even if it's a very shallow water well," he said.
"When you look at that saying an individual landlord has to pay for that, that just doesn't sound right."
Regional issue
McIntosh said that the fact that there is gas in the aquifer is a regional issue and should not fall on Cockerham's shoulder's.
"How many more straws are contacting that aquifer is … we don't have good records on but just the fact that he spends the money plugging this well doesn't mean the problem is going away. It's just going to pop up somewhere else," McIntosh said.
Cockerham said that his lawyer is making people aware of the situation and is asking for an intervention, though would not share exactly how that process is working.

Warning: retained lawyers can quit and lie on you anytime they want (even after blowing through hundreds of thousands of dollars) while blaming you, harming you and your lawsuit, trashing your savings, withholding your private property, with their "regulator" as enabling and foul as the energy industry's.

"What they're asking me to do is endanger my community, to endanger my neighbours, so how can you charge me?" Cockerham said. "The situation is so illogical and so absurd."
CBC news reached out to the Ministry of Environment but it has not yet responded.

Refer also to:
1980's: Why do "regulatory" authorities blame nature (bacteria), home/land/water well owners (bacteria caused by our dirtiness) and impacted aquifers for industry's crimes and life-threatening pollution? To protect polluters and their criminal enablers, and shame and shut up the harmed.
It appears the evil blame idea was born after the horrific Dress for Less explosion in 1985 in LA that injured many.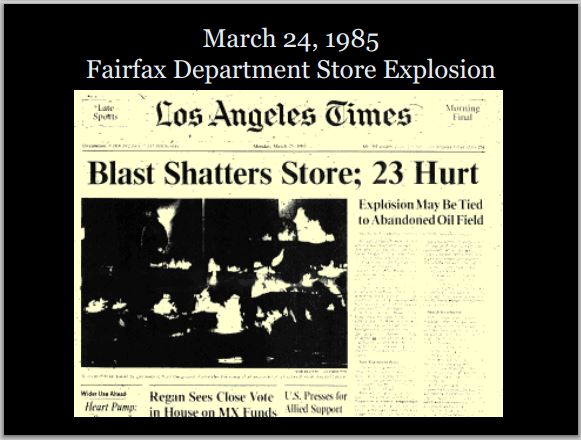 It was later proven caused by the oil and gas industry's leaking gases but authorities, task forces and experts blamed it on nature (bacteria) and the contaminated aquifer itself: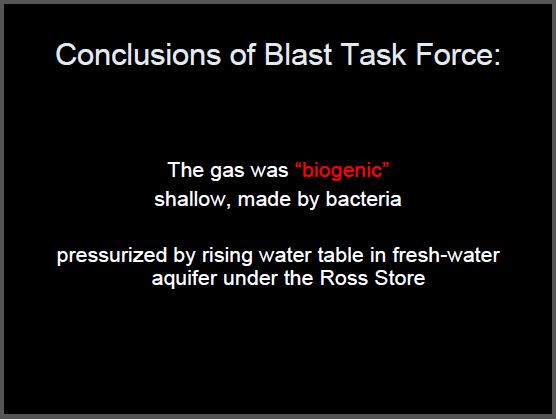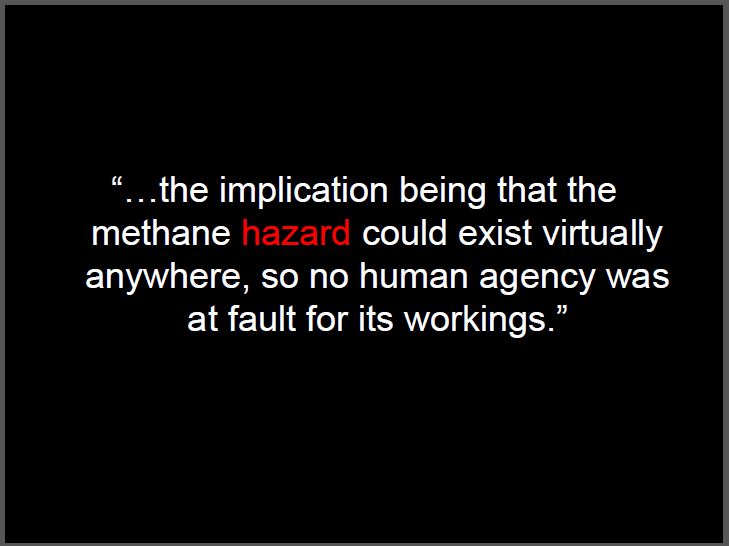 Forward a few decades, after an oil and gas industry greed fest, a frenzied free-for-all drill 'em, profit 'n run (refuse to clean up with authorities nowhere to be seen) and industry secretly frac'ing and refrac'ing old and new wells in Ontario with politicians lying, saying there is no frac'ing there: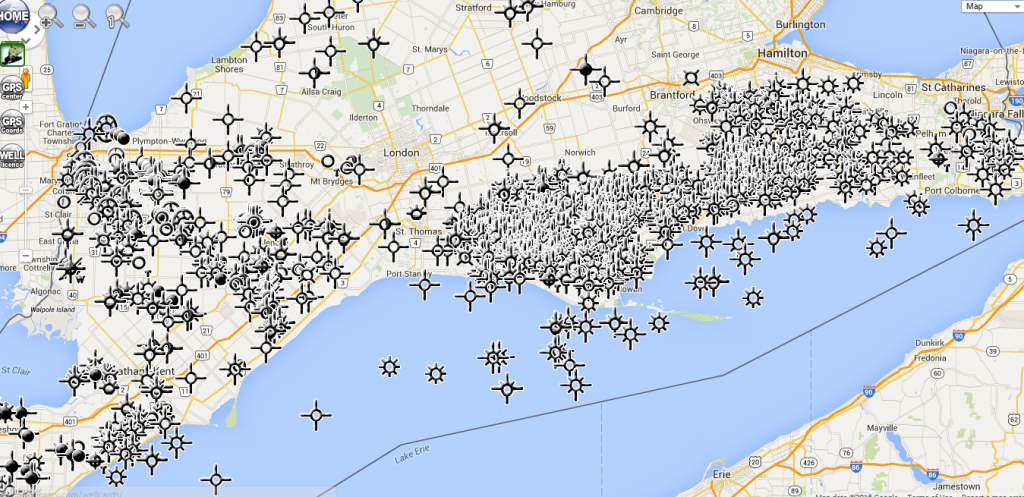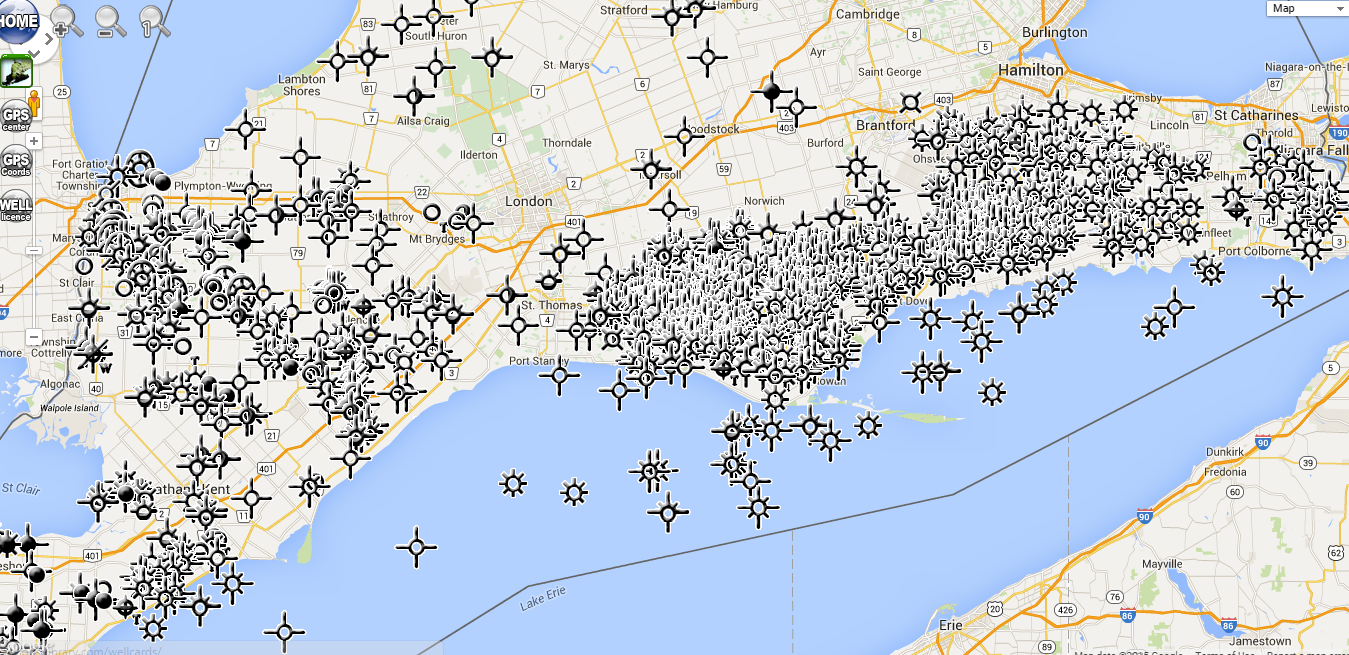 Some of industry's wells in a part of Ontario, snap taken April 5, 2015. More than 30,000 of industry's wells, many of them leaking gases including H2S, are unaccounted for.
How many of these will the authorities blame on innocent land/home owners while industry frac's Ontario to hell (As of 2015: Ontario had "~3,600 records" for "Well treatments and stimulations")?
2002 Important workshop with energy regulators, Ministers of the Environment and other authorities across Canada: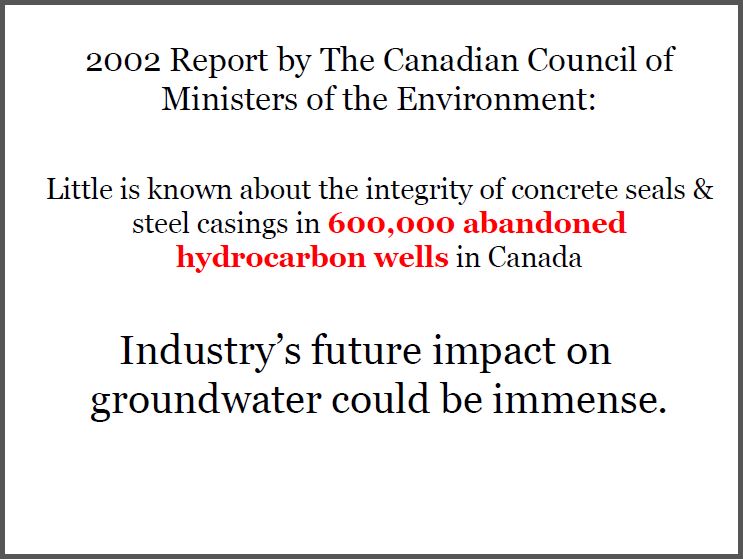 2005, a year after Encana/Ovintiv illegally frac'd directly repeatedly into Rosebud's drinking water aquifers, with AER and Alberta Environment shaming and blaming the harmed: Investigators say an accumulation of gases appears to have caused the explosion that destroyed the Rosebud water tower and sent a Wheatland County employee to hospital
2012: Ontario, Canada: The Assessment Review Board Reduces Methane Contaminated Property's Taxation Value to Zero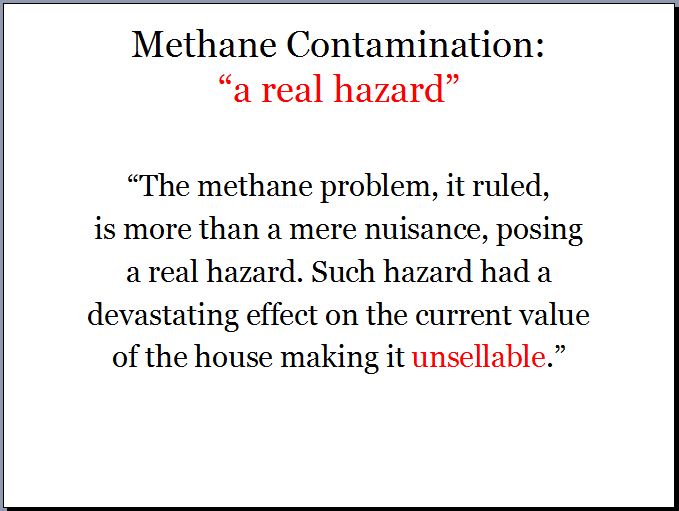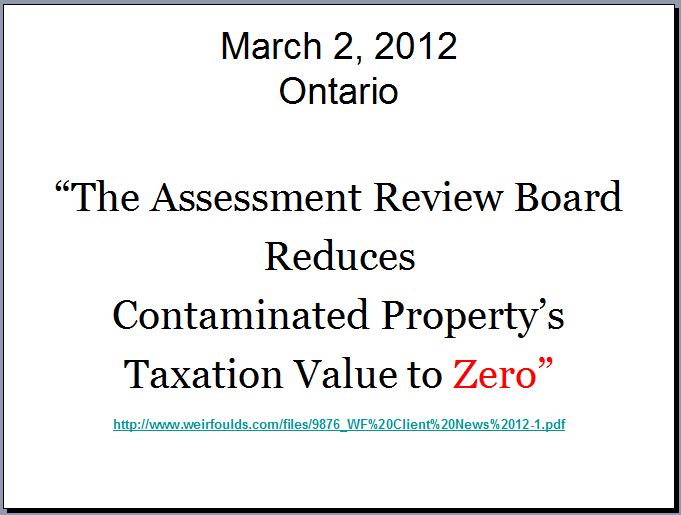 Important warning for Canadians harmed by oil and gas, thanks to our pro-corporate-rape-&-pillage, anti-citizen Canadian courts and politicians:
2012: Not at fault? You may still pay – Faultless Owners of Contaminated Property Beware
The recent decision of the Divisional Court in the case of The Corporation of the City of Kawartha Lakes v Director, Ministry of the Environment (the Kawartha Lakes Decision), is a reminder of the risks you bear, as owners or tenants, under the Environmental Protection Act (EPA), for contamination which you did not cause. The issue in the case was whether a property owner could be held responsible to clean up contamination it did not cause and which had emanated from another property. Oil leaked from the basement of a privately-owned property and seeped onto property owned by the City of Kawartha Lakes ("the City"). The owners of the the insurance was exhausted before the clean-up was completed. The Ministry of the Environment (MOE) ordered the City to clean up the contamination on its property and to prevent the discharge of contamination from its property.
The City appealed the order to the Environmental Review Tribunal (ERT). The ERT excluded any evidence dealing with the issue of who was at fault for the spill, on the basis that such evidence was irrelevant. The City's appeal was dismissed and the order against the City upheld.
What about the "polluter pays" principle?
The City's argument, both before the ERT and, on appeal to the Divisional Court, was that the order against it was contrary to the "polluter pays" principle. It argued that, as the innocent owner, and as a victim of an action on the part of others who could have prevented the spill from contaminating its land, it was unfair and unreasonable to have to pay the costs associated with remediating the contamination. In making those arguments, the City was relying, in part, on earlier decisions of the Divisional Court which had held that questions of fault, or "fairness considerations", were relevant in determining whether an innocent party should be required to remediate contamination.
The Divisional Court held that the earlier decisions stood for the principle that, while the MOE may take fairness factors into consideration when deciding whether to issue an order against an innocent person, it is not required to do so. The Divisional Court pointed to the fact that section 157.1 of the EPA, which authorizes a provincial officer to issue an order "to any person who owns or who has management or control of an undertaking or property", makes no mention of fault. The Divisional Court also pointed to the MOE's "Compliance Policy" which provides that the current owner of property should be named in a control document, regardless of fault. …
The Kawartha Lakes decision is a reminder, to all property owners and tenants, that you can not rely on any informal policy on fairness considerations to govern MOE decisions.
The Divisional Court decision underscores the importance of taking every reasonable measure to ensure not just that the property you are purchasing or leasing is free from contamination, but that there is no contamination moving onto the property from adjoining properties.

Which they clearly know is impossible given the deceptive nature of the oil and gas industry and how polluting it is; the extraordinary evil of Canadian "regulators" and too many judges; and the vile use of non disclosure agreements (gag orders), pimped by endless lawyers and judges, to keep industry's life-threatening pollution secret from impacted communities and neighbours to ensure that companies can pollute without interference again and again and again "down the street."

2014: Leak in 100 year old shallow natural gas well caused serious methane migration into Waynesburg Medical Center; Methane build-up rendered the center uninhabitable!
As of 2015: Ontario had "~3,600 records" for "Well treatments and stimulations.
2017: Ontario: In Norfolk, leaking abandoned industry *sour* gas wells forces exclusion zone for vehicles, vessels, and evacuation of 22 homes. In nearby Town of Jarvis (population 2,300), unusually high methane readings, firefighters test gas levels at every home.
2021: Frac'ing Ontario? Wheatley (thermogenic corrosive) sour gas explosion injures 20, destroys two buildings, more, many families displaced. Still leaking, area remains at risk of more explosions like Hutchinson Kansas where two were killed in their home from industry's leaking gas migrating 7 miles. Chatham-Kent top administrator, Don Shropshire: "Our area has hundreds, if not thousands of abandoned gas wells. They stretch from Niagara Peninsula to Windsor." Also exploded from industry's gas 85 years ago. The community must be relocated. But, where?
How many cities, towns, homes, businesses, water towers, etc will become too dangerous to be in or near, never mind live/work in, given the hundreds of thousands of leaking industry wells that are unaccounted for, with companies frac'ing and re-frac'ing nearby with "brute force and ignorance" before regulators and courts make the polluters and their investors pay? I expect never, given the evil natures of oil and gas companies, regulators and too many lawyers and judges.
2021: Frac'd to Hell NEBC, Rose Prairie: Explosive gas levels in *water* well kill $1.3 Million "potable" water station day before it was to open to the public. Taking bets: Will nature be blamed or frac'ers?