Gas Explosion Damaged 42 Buildings in Massachusetts by The Wall Street Journal, November 25, 2012
Une explosion fait 18 blessés au Massachusetts Publié par Associated Press le samedi 24 novembre 2012
Gas blast at Mass. strip club under investigation, The explosion in a downtown area of Springfield, 90 miles west of Boston, blew out all windows in a three-block radius by Associated Press, November 24, 2012, NY Daily News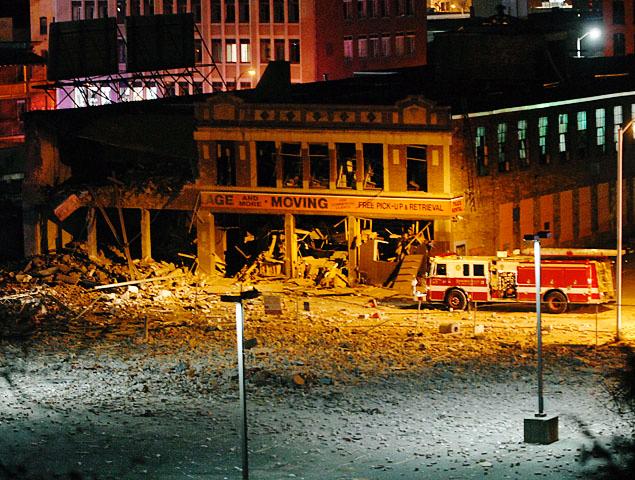 Source: David Molnar/ Springfield Republican via AP, A firetruck is parked next to a damaged building after a nearby natural gas explosion leveled another building in downtown Springfield, Mass. on Friday.
"This is a miracle on Worthington Street that no one was killed," Lt. Gov. Tim Murray said at a news conference. … Coan said his office has begun an investigation into the cause of the blast, as well as the possible origin. The state's Department of Public Utilities was also investigating. Sheila Doiron, a spokeswoman for Columbia Gas of Massachusetts, said the company will continue to monitor for any potential leaks within several blocks of the blast site. … Doiron said the company scanned its records and did not find any gas odor calls to the area where the strip club was located. She said the company does not yet know the source of the leak.
Photos: Natural Gas Explosion Rocks Springfield by Jessica Hill, November 24, 2012, Associated Press
Cause of Massachusetts gas blast that hurt 18 being probed by Susan Haigh, with contributions from Rodrique Ngowi, Bridget Murphy and Bob Salsberg in Boston and Jessica Hill in Springfield, November 24, 2012, Associated Press
Dozens of building inspectors began assessing homes and businesses in one of New England's biggest cities on Saturday, a day after a natural gas explosion leveled a strip club located next to a day care and heavily damaged a dozen other structures. The blast injured 18 people, many of them first responders. Investigators were trying to figure out what caused the Friday night blast in Springfield that could be heard for miles, left a large hole in the ground where the multistory brick building housing Scores Gentleman's Club once stood and scattered debris over several blocks. Officials had already evacuated part of the entertainment district after responding to a gas leak and odor reported about an hour before the explosion while firefighters, police officers and gas company workers were in the area filled with commercial properties and residences. "It really is a miracle and it's an example of our public safety officials, each and every day, putting themselves in harm's way, taking what could have been considered a very routine call of an odor of gas, but they took the proper precautions," State Fire Marshal Stephen Coan said. "And thanks to God that they did." Officials also marveled how the 5:30 p.m. blast occurred when a day care center next door was closed. The center's building was heavily damaged.
Lt. Gov. Tim Murray and Springfield Mayor Domenic Sarno were attending a tree-lighting ceremony when the explosion occurred. Sarno said some people mistakenly thought the boom was part of the holiday event. The explosion blew out windows in a three-block radius, leaving at least three buildings irreparably damaged and causing emergency workers to evacuate a six-story apartment building that was buckling, police said. Pieces of broken glass littered streets and sidewalks. It was unclear how many residents had been evacuated. A shelter was set up at a school. Omar Fermin, manager of the Punta Cana Restaurant two blocks from the explosion site, found the floor-to-ceiling windows blasted out when he came to check on the property Saturday morning. "It looks like an earthquake hit," said Fermin, a native of the Dominican Republic. "I've never seen anything like it." He said he was waiting for somebody to come and assess the damage. He worried the restaurant would remain closed for weeks while the owner seeks to replace the massive custom-made windows. Authorities cordoned off the center of the explosion Saturday morning as building inspectors worked to identify unsafe structures. Anxious residents gathered at the perimeter, waiting for permission to visit their buildings. Dogs trapped in abandoned buildings barked out loudly Saturday as building inspectors fanned out across the area. One inspector said he wished he could get a ladder and permission to retrieve a dog that was barking in the upper floor of one building sealed off from residents.
Coan, the fire marshal, said his office was investigating a cause of the blast and its possible origin. The state's Department of Public Utilities was also investigating. Sheila Doiron, a spokeswoman for Columbia Gas of Massachusetts, said the company will continue to monitor for any potential leaks within several blocks of the blast site. So far, she said, the company hadn't yet found any measurable readings. Doiron said the company also didn't find in its records any gas odor calls to the area where the strip club was located. The victims were taken to two hospitals in the city. None of their injuries was considered life-threatening, officials said. Those injured were nine firefighters, two police officers, four Columbia Gas workers, two civilians and another city employee. Springfield, which is 90 miles west of Boston and has about 150,000 residents, is the largest city in western Massachusetts. It's known as the home of the Basketball Hall of Fame, which is not in the vicinity of the blast. … On Friday night, residents milled around the neighborhood where the explosion occurred, stunned by the destruction and confused by the cordoned-off area, which grew as crews continued to search for gas leaks. The mayor warned against looting, saying police would be out in force. Wayne Davis, who lives about a block away from the destroyed building, said he felt his apartment shake. "I was laying down in bed, and I started feeling the building shaking and creaking," he said. The Navy veteran said the boom from the explosion was louder than anything he'd ever heard, including the sound of a jet landing on an aircraft carrier. The blast was so loud it was heard in several neighboring communities.
RAW VIDEO: Downtown Springfield gas explosion by Anthony Fay, November 23, 2012, 22News WWLP.com [Explosion at 25 seconds in clip]
SPRINGFIELD, Mass. (WWLP) – A massive natural gas explosion in downtown Springfield could be felt from as far away as Hampshire and Worcester County early Friday evening. As you can see in the video shot from our Springfield Skycam, the explosion sent a huge cloud of smoke into the air. Witnesses in the area told 22News that they were thrown to the ground, and the owner of a nearby barber shop said that he was thrown across the room.
Methane Is Popping Up All Over Boston by Joanna M. Foster, November 20, 2012, New York Times
In Boston and many other aging cities in the Northeast, a maze of underground low-pressure natural gas pipelines are riddled with leaks. The research team, led by Nathan Phillips, an associate professor of earth and environment at Boston University, measured atmospheric methane concentrations along all 785 miles of road within Boston's city limits with a highly sensitive device known as a cavity-ring-down mobile CH4 analyzer. They discovered 3,356 leaks of methane whose isotopic characteristics indicated that they originated in fossil fuel rather than microbial sources. Some leaks clocked in at more than 15 times the global background methane level, the researchers write in the journal Environmental Pollution. "There are two ways to get a sense of the leak rate of methane," Dr. Phillips said. "You can go out to the leaks on the ground and put chambers over them and measure how much is coming out, but that is incredibly tedious with over three thousand leaks in the city. Or, you can use the integrating power of the atmosphere itself."
…
"We know there's a lot of leaks in Boston and outside of Boston, too, and we know that there is a good chunk of industry-reported lost and unaccounted-for gas," Dr. Phillips said. "What we don't know, and what we, and a bunch of other people are trying to get a handle on, is how much methane is coming out of all of these leaks. What is the rate of flow? Is some of it just metering problems, or accounting issues?" … In addition to being a potent greenhouse gas, methane leaks kill trees, causing $133 million in property damage nationally each year. Methane also contributes to ozone formation, and natural gas explosions cause an average of 17 deaths and 68 injuries from year to year in the United States.
According to the Energy Information Administration, an average of $3.1 billion worth of natural gas is lost or unaccounted for nationally each year. Generally it is the consumer ratepayers, not the producers, who pay the penalty for the lost gas. "The consumers are bearing the cost of the inefficiencies in the system, and that needs to be shifted to give the operators and owners of the pipelines real incentives to fix those leaks," Dr. Phillips said.
[Refer also to: Investigators say an accumulation of gases appears to have caused the 2005 explosion that destroyed the Rosebud water tower and sent a Wheatland County employee to hospital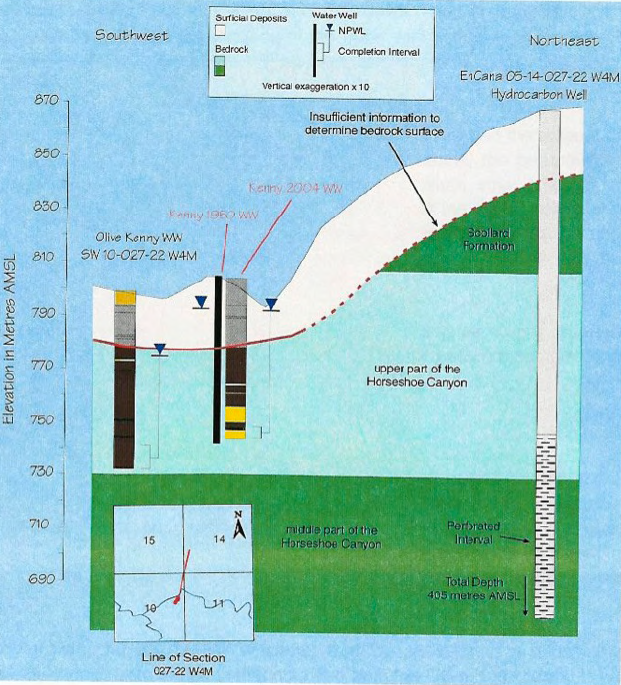 EnCana's Multiple Shallow Fracs into Fresh Water Aquifers at Rosebud, Alberta, March 2004
Source: EnCana Corporation Site Investigation Report by Hydrogeological Consultants Ltd., January 2005
Fracking Canada No Duty of Care May 2006 photo Bruce Jack Methane and Ethane Contaminated Water Explosion, Spirit River, Alberta that sent Jack and two industry water testers to hospital with serious injuries
When a gas well blows out, you get out fast
118 homes evacuated in Calgary Alberta after explosion at Arbour Lake
Man in hospital, dog dead in Kelowna toxic gas incident
High methane levels shut down blown up B.C. sawmill, Methane levels found in soil samples but not in air at plant
Doctors raise alarm over toxic coal seam gas leaks, Gas Industry Attacks Scientists After Research Finds Triple The Normal Levels Of Methane At Australian Gas Fields ]