Joan Ellis@breadbaker48 May 22:
@UNEP Irony: @NamPresidency & @Recon_Africa will release more CO2 into earth's atmosphere by drilling the pristine #OkavangoDelta when 100s of elephants died -just months before- from a toxic bloom linked to Climate Change/CO2/GHG in same region. #EndOfNature? #ForNature?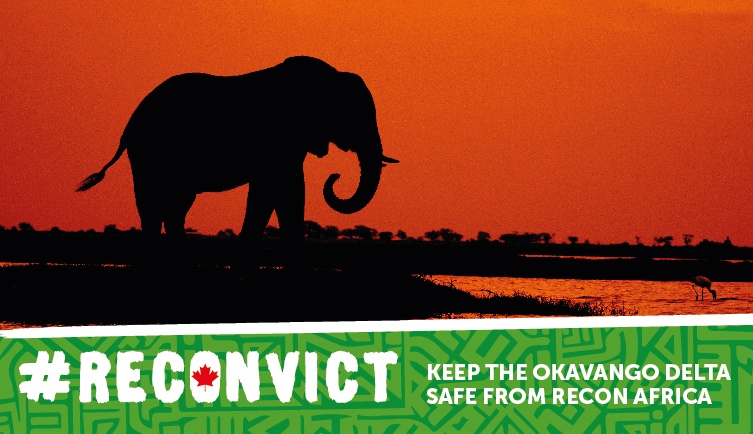 NEW YORK–(BUSINESS WIRE)–WHY: Rosen Law Firm, a global investor rights law firm, announces it is investigating potential securities claims on behalf of shareholders of Reconnaissance Energy Africa Ltd. (OTC: RECAF) resulting from allegations that ReconAfrica may have issued materially misleading business information to the investing public.
"[d]rilling for the first test well began in January, and waste fluids are being stored in what appears to be an unlined pond, where they could leach into the ground and contaminate the water supply in this desert region[,]"

In Alberta Canada, Encana/Ovintiv stored its waste too in unlined pits (then covered them up) and dumped waste repeatedly on foodlands, often in violation of regulations, with regulators no where to be seen.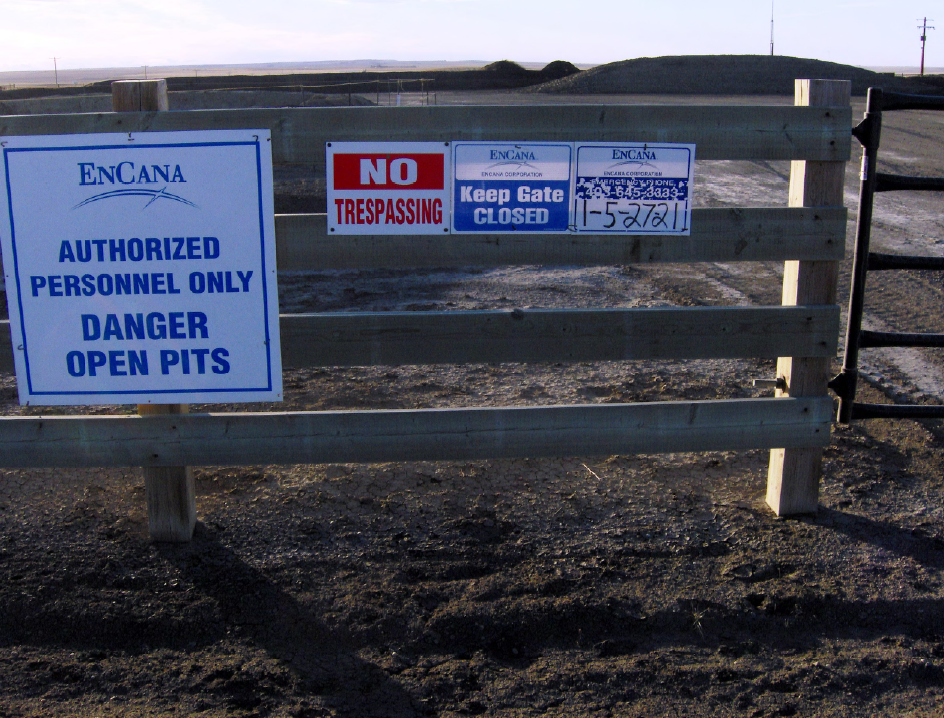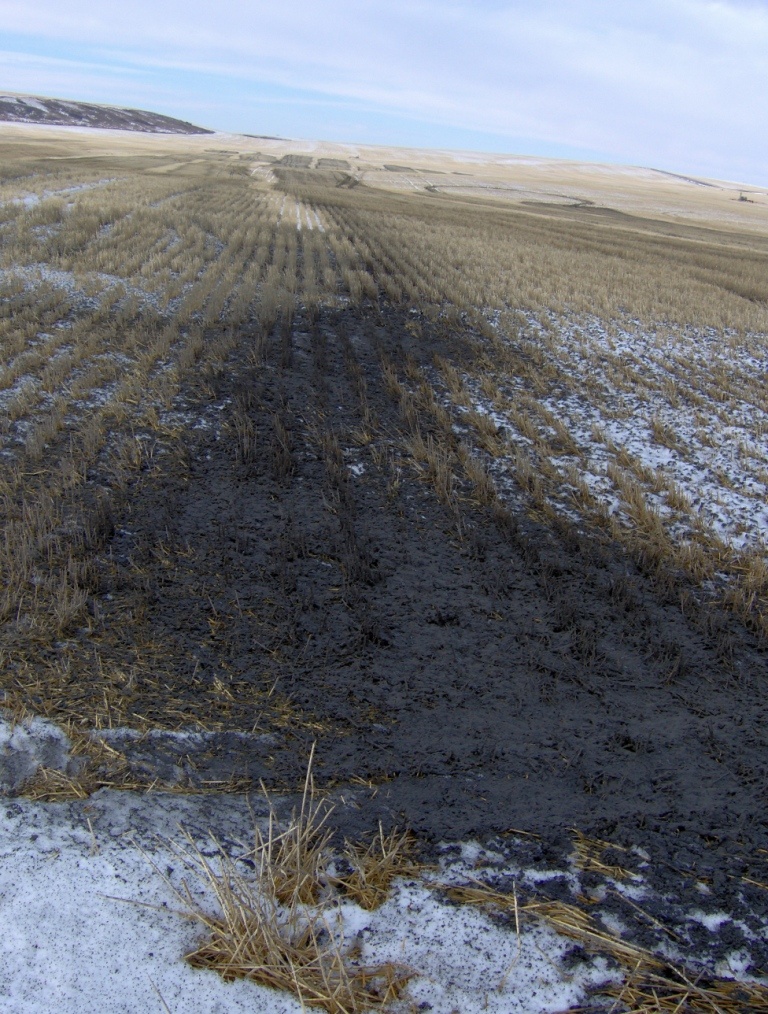 Encana/Ovintiv waste dumped on foodland near Rosebud Alberta.
SO WHAT: If you purchased ReconAfrica securities you may be entitled to compensation without payment of any out of pocket fees or costs through a contingency fee arrangement. The Rosen Law firm is preparing a class action seeking recovery of investor losses.
WHAT TO DO NEXT: To join the prospective class action, go to http://www.rosenlegal.com/cases-register-2100.html or call Phillip Kim, Esq. toll-free at 866-767-3653 or email email hidden; JavaScript is required or email hidden; JavaScript is required for information on the class action.
WHAT IS THIS ABOUT: On May 11, 2021, National Geographic published an article entitled "Oil company exploring in sensitive elephant habitat accused of ignoring community concerns: Namibians allege ReconAfrica disposed of wastewater unsafely, without permits, and ignored concerns about potential impact of oil drilling on water and wildlife." The article reported, among other things, that "ReconAfrica, a Canadian company exploring for oil and gas in Namibia upstream of a world-famous UNESCO World Heritage site that's home to elephants and other wildlife is disposing of wastewater without permits, according to a government minister." The article detailed that "[d]rilling for the first test well began in January, and waste fluids are being stored in what appears to be an unlined pond, where they could leach into the ground and contaminate the water supply in this desert region[,]" and "Namibia's minister of agriculture, water, and land reform, the agency responsible for water-related permits, told National Geographic in a written statement that ReconAfrica does not yet have permits approved to extract water to use in its drilling operations nor to dispose of the waste water[.]"
On this news, ReconAfrica's stock price fell 6% to close at $7.50 per share on May 11, 2021. …
Contacts
Laurence Rosen, Esq.
Phillip Kim, Esq.
The Rosen Law Firm, P.A.
275 Madison Avenue, 40th Floor
New York, NY 10016
Tel: (212) 686-1060
Toll Free: (866) 767-3653
Fax: (212) 202-3827
email hidden; JavaScript is required
email hidden; JavaScript is required
email hidden; JavaScript is required
www.rosenlegal.com
A whistleblower complaint to the U.S. Securities and Exchange Commission cites "egregious" violations by ReconAfrica and executives byLaurel Neme and Jeffrey Barbee, May 21, 2021, National Geographic
ReconAfrica, a Canadian company exploring for oil and gas upstream of one of Africa's most lush and wildlife-rich habitats, may have fraudulently misled investors by misrepresenting its work on the project, according to several experts and allegations in a whistleblower complaint filed with the U.S. Securities and Exchange Commission (SEC).
The whistleblower, who acknowledged having submitted the report confidentially to avoid retribution and harassment, allowed National Geographic to review the 44-page confidential complaint filed on May 5. It alleges that, to drive up its stock price, ReconAfrica has violated securities laws by failing to disclose crucial information about its plans to look for oil and gas deposits across 13,200 square miles of sensitive wilderness in Namibia and Botswana, a region that includes part of the watershed of the world-famous Okavango Delta and six community-run wildlife reserves.
The company's value increased from $191 million at the start of the year to more than a billion dollars in mid-May. The complaint, which relies on public records, cites what it says are more than 150 instances of misleading statements by ReconAfrica, alleges that the company raised millions of dollars by fraudulent means, and claims that several top executives sold their shares while ReconAfrica promoted the stock.
On May 19, the day after National Geographic sent questions to ReconAfrica, the company submitted 22 additional filings, including new disclosures and amended reports, with Canadian regulators.
ReconAfrica has licenses to look for oil and gas in the region, but since October it has faced increasing criticism for failing to implement standard environmental protections, operating without approved water permits, and ignoring local people's concerns about the potential impacts the project could have on their homes and water supplies—and on the region's wildlife as well, National Geographic has reported.

"Standard" practice for Canadian oil and gas companies operating in Canada and US; Encana/Ovintiv diverted fresh water from its super shallow frac'd wells in my community without the mandatory permits required under our Water Act, and more flagrant violations, ignored and or covered-up by our "regulators."

The area targeted by ReconAfrica supports the largest remaining herds of endangered elephants on Earth and other threatened and endangered species, such as cheetahs, rhinos, African wild dogs, vultures, and southern ground hornbills. Every drop of water in the desert region is so crucial that Botswana's currency is called pula, the Setswana word for "rain." But oil and natural gas extraction is a thirsty industry, which is why communities and environmental activists are especially worried about ReconAfrica's plans. Oil and gas drilling also is known to contaminate groundwater.
In its 2020 annual information form filed with Canadian regulators in April, ReconAfrica notes that, because ReconAfrica earns no revenue, its only source of funds is investors. This, combined with misleading promotional statements, would be of serious concern to regulators, the whistleblower says, because it's putting other people's money at risk. ReconAfrica's activities "don't just hurt investors, who may have bet their life savings or COVID relief check on the internet hype," the whistleblower told National Geographic. They also have the potential to cause the "devastation of one of the last and most unique wilderness areas on Earth."
'A bold claim'
"Is This the Most Exciting Oil Play of the Decade?" reads the headline of a promotional article sponsored by ReconAfrica. Another sponsored piece calls the company's southern African project an opportunity that "could be worth billions."
To date, ReconAfrica has not done a seismic survey, National Geographic has reported, and it has completed only one test well of unknown depth in northeastern Namibia. Yet the company announced in a press release on April 15 that the well showed indications of oil and gas.
Outside experts believe that much more probing is needed to confirm an exploitable discovery and that ReconAfrica's statements about the potential are premature and possibly misleading.
"This is a bold claim, and as such it requires bold data to back it up," says Matt Totten, Jr., a petroleum geologist who did oil and gas exploration in Texas while working for BP and is not involved in the ReconAfrica project. To make such a claim, Totten says, a company would need more information from seismic analysis of the geology and multiple test wells.
The company has published reports on the region's geologic structure, geochemical analysis, and an aeromagnetic survey.
ReconAfrica "certainly didn't provide any technical information…which could be evaluated independently or which could be used to value the resource. And yet we have a tripling of the share price," says Stephen MacSearraigh, an oil industry expert who wrote a World Bank study on corruption in the petroleum sector. "They are aggressively pumping the stock price, but if the resource they're strongly hinting at isn't actually there, or isn't of the magnitude they're suggesting, this is a house of cards."
Until more data are made public, Totten says, "I think the public and local officials should remain cautious about the project."
ReconAfrica, which responded to some—but not all—of National Geographic's questions by press time, says two third-party companies verified evidence of oil in the test well, and another did an "initial analysis" of the well's data. But ReconAfrica did not provide the documentation.
Flip-flop on fracking
The complaint to the SEC also alleges that insiders at ReconAfrica and another Canadian corporation, Renaissance Oil, which has the same founder, are violating U.S. securities laws by promoting revenue projections to investors based on activities, such as fracking, for which it has not secured permission or permits.
The complaint alleges that ReconAfrica is telling government officials and the public that it won't use fracking

Just copying what so many oil and gas companies dishonestly say

, while its investor presentations and CEO have indicated that if the company found oil and gas, it planned to use fracking to extract at least some of it, as National Geographic reported in October. Fracking is a controversial practice in which underground shale is injected with high-pressure fluid to crack open rock to release oil and gas. It requires large amounts of water and has been known to cause earthquakes, pollute water, release greenhouse gases, and lead to birth defects in people and animals, among other problems.
After the company's plans were widely reported in late 2020, Namibians and environmental activists reacted to the prospect of fracking with a mix of concern and outrage, and the company publicly backtracked. ReconAfrica began emphasizing in statements that it would focus on oil and gas that could be recovered with conventional drilling methods, and it scrubbed its website of earlier allusions to fracking.
On February 25, Botswana's minister of mineral resources, green technology, and energy security, Lefoko Moagi, said the country would not allow fracking. On March 8, Maggy Shino, Namibia's petroleum commissioner, noted that ReconAfrica had no license to frack, "and no such license is being contemplated." This was not explained to investors, says the complaint.
But even as ReconAfrica is saying that it won't use fracking, it has continued to base its oil production and revenue estimates on the technique in its research reports, according to Erica Lyman, a law professor and director of the Global Law Alliance for Animals and the Environment at Lewis and Clark Law School, in Portland, Oregon.
"On one hand, the company has said that fracking is not in their vocabulary, and they've changed references throughout their website," Lyman says. "But on the other hand, their investor reports, the expertise of their staff, and their statements regarding the scale of the resources here all appear to be based on fracking of unconventional resources. It stands to reason that the public is confused."
ReconAfrica says "there is no intention for any fracking activities." The company told National Geographic that it has not applied for nor been granted a license to frack by Namibia or Botswana.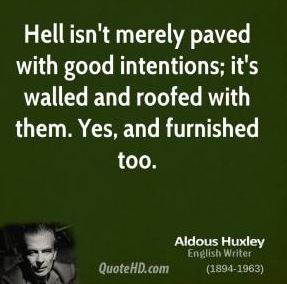 As part of ReconAfrica's submissions on May 19, the company filed an amended annual information form and amended statement of reserves with Canadian regulators, removing reference to "unconventional" resources in the former and clarifying challenges in recoverability in the latter document ("unconventional" refers to oil and gas that would need to be recovered by fracking).
Whether ReconAfrica will seek permission to drill and frack in Namibia, which would affect its potential earnings, "is vital information that a reasonable investor would want to know," says Frederick M. Lehrer, a former SEC enforcement attorney who has more than 20 years' experience in corporate finance and securities law, and is not involved in the whistleblower case. As such, the information "is legally required to be disclosed" to investors, he says.

Pfffffft! Since when have oil and gas companies been honest to investors about frac'ing? Never and they never will; frac'ing is a mega money losing shit show, built on massive lies and massive debt.

ReconAfrica also appears to have misled investors by making statements in environmental reports and to media about its ability to procure oil while also following Namibia's laws and permitting processes, the SEC complaint and Lehrer say.
When ReconAfrica started drilling its first test well, in January, Namibia's ministry had not approved the required water supply and disposal permits, according to Calle Schlettwein, Namibia's minister of agriculture, water, and land reform. Schlettwein told National Geographic in March that the company had applied for water use permits that had not yet been approved; he also said his ministry had not received "any application for the permit to dispose of wastewater."
The ministry did not respond by press time with an update on the permit applications' status.
ReconAfrica says it's not disposing of wastewater on site and that it has "worked closely" with Namibia's government to "secure approvals and permits for the legal operation" of its wells.
Meanwhile, community members in the exploration area allege that ReconAfrica has cleared land for drilling without properly consulting or compensating local people, according to a lawsuit filed in April on behalf of Andreas Sinonge, a farmer, by the Legal Assistance Centre in Namibia's High Court. Under Namibian law, ReconAfrica needs rights to use the land before it can clear it for drilling sites and access roads. The lawsuit alleges that ReconAfrica did not get this permission and must restore Sinonge's farmland.
Since the lawsuit was filed, the company put out a public notice in the New Era newspaper on May 14 for an application to get land rights. ReconAfrica says its application is under review by the regional government and that it has "documented permission and consent for land use" from the local traditional authority, though it did not provide that documentation to National Geographic.
In the complaint to the SEC, the whistleblower says it's vital for the project's investors and potential investors to know whether the company is operating in violation of any Namibian laws.
"There's a lot of hype, and a lot of questionable transactions, and that's a set of circumstances regulators have a duty to investigate to make sure everybody's playing straight," MacSearraigh says.
ReconAfrica's 2020 annual information form acknowledges that the company can't promise it will be able to get all the necessary permits and approvals for its work, which contradicts its public statements. The form states that not getting the permits could have an "adverse effect" on its business and prospects.
Among the issues highlighted in the complaint, it notes that company officers sold ReconAfrica stock while the company was putting out positive news and reports, according to Canada's database of insider trading disclosures. But ReconAfrica did not alert potential investors about the activity, which, Lehrer says, is an omission of "vital information." This lack of disclosure, he says, could be considered "stock scalping"—the practice of recommending that investors buy while insiders covertly sell their own stock.
"The big question for investors is why insiders were secretly selling their shares while promotional materials touted the company's prospects," he says.
ReconAfrica says all trades were part of the "normal conduct of business" by executives and have been disclosed as Canadian law requires. It did not comment on U.S. securities requirements, even though the company is traded in both countries.
Round-robin dealings
The complaint to the SEC also points out a round-robin-style deal that ultimately will cost ReconAfrica and its investors millions while allegedly enriching the company's co-founder and largest identified shareholder, Craig Steinke.
According to a press release, a series of transactions began in June 2020 when Steinke paid $74,600 for an option for a 50 percent stake in ReconAfrica's Botswana prospecting license immediately after it was issued. He then sold that option to Renaissance Oil—of which he is the CEO—for $74,600 plus 30 million shares of stock, which the company said was valued at nearly a million dollars in some documents and over $2.1 million in others, according to Renaissance Oil's SEC filings and a press release. Then last month, ReconAfrica announced it intended to buy Renaissance Oil in large part to get its full stake back, in a deal it said was worth roughly $128 million.
In a press release, ReconAfrica's CEO, Scot Evans, cited reacquisition of the entire Botswana license as "potentially very valuable to ReconAfrica."
Essentially, ReconAfrica sold the option cheaply and then spent a lot of money to buy it back—a bad deal for ReconAfrica stockholders but a good deal for Steinke and Renaissance Oil, the complaint says.
Renaissance Oil was struggling financially when the sale was announced, and given its cash position at the end of last year, the Botswana license appeared to be one of its main assets, according to the SEC complaint. In the days before the public announcement, Renaissance Oil's stock value more than tripled. (This also may have benefited its production partner on a project in Mexico, the Russian company Lukoil, which is under sanctions by the U.S. government.)
ReconAfrica, Renaissance Oil, and Steinke did not answer questions about these transactions.
According to Lehrer, each company disclosed only part of the deal to U.S. regulators. For example, Renaissance Oil did not disclose the fact that it knew it paid far more for the stake in Botswana than ReconAfrica had sold it for. Renaissance Oil would have known that because it has the same CFO and corporate secretary as ReconAfrica.
Furthermore, when ReconAfrica recently announced its plans to acquire Renaissance Oil, explicitly for its option in the Botswana license, it failed to tell investors that it had sold that stake for only $74,000, the previous year, according to the complaint. This lack of disclosure possibly violates U.S. securities laws, according to Lehrer, because it could affect whether someone decides to invest in the company.
Calls for "a thorough investigation"
All this suggests, the whistleblower alleges, that ReconAfrica, Renaissance Oil, and their personnel aim to "enrich themselves while hurting the environment, animals and people in this region."

Is there any frac'er on earth that does not do that? I know of none.

Given the scarcity of water in the Okavango region, MacSearraigh says, "it would seem prudent for the governments concerned to order a halt to all drilling activity while a thorough investigation is conducted by regulators."
Concerns about ReconAfrica's activities are growing. U.S. Senator Patrick Leahy, a Democrat from Vermont who has long been active on human rights and environmental issues, says the U.S. government has an interest in monitoring ReconAfrica's project. That's because the DELTA Act, enacted by the U.S. Congress in 2018, promotes the wise management of the Okavango watershed.
"Oil and gas drilling poses a grave threat to the Okavango, and the company has ignored or belittled the serious concerns of local communities," Leahy says. "It is crucial that the process and operations are transparent and aboveboard. If oil is discovered, the harmful consequences for the environment, wildlife, and local people could be irreversible."
Nature conservationists in southern Africa have been in turmoil for months: In January, the Canadian oil company Reconnaissance Energy Africa ( ReconAfrica) started its oil and gas search in northeastern Namibia. In mid-April, the company announced that the first test wells "confirm the existence of a functioning oil system". What concerns conservationists and scientists: ReconAfrica has licensed a huge area of ​​almost 35,000 square kilometers in Namibia and Botswana that borders directly on the Okavango River. The river feeds one of the largest wetlands in Africa: the Okavango Delta. The wetland, almost as large as Hesse, is located in the middle of the Kalahari Desert and offers a habitat for countless, sometimes threatened, animal and plant species. Due to its outstanding ecological importance, the Okavango Delta was declared a World Heritage Site by UNESCO in 2014.
ReconAfrica's drill areas also overlap with the Kavango Zambezi Project (KAZA), the world's largest transnational nature reserve, spanning 520,000 square kilometers in Angola, Botswana, Namibia, Zambia and Zimbabwe. The KfW development bank has been supporting the project on behalf of the Federal Government as the main financier with a good 35 million euros. One of the goals of the huge sanctuary is to restore the natural migration routes of the elephants, whose density in the Okavango region is higher than anywhere else in Africa. The project is also intended to promote tourism in order to promote economic development in the regions.
The goals of ReconAfrica contrast strongly with these efforts: On its website, the company is convinced that the Kavango Basin, as geologists call the region, contains "billions of barrels of oil". The geochemist and ReconAfrica employee Daniel Jarvie even estimates that the basin could deliver a staggering 120 billion barrels of oil, which would make it one of the largest global oil discoveries in recent decades. In the event of economic success, ReconAfrica will receive a production license for 25 years and then, according to an investor presentation in 2019, plan hundreds of wells.
Only one license to explore the resources
"The biggest problem is the potential impact of oil and gas production on water resources," says Surina Esterhuyse, a geohydrologist at the University of the Free State in South Africa. Namibia is a dry country with little and irregular rainfall. Groundwater provides most of the water, a smaller part is taken from rivers such as the Okavango. The first test drilling took place near the Omatako River, which is connected to the Okavango River. "Aquifers in dry areas can no longer be cleaned once they are contaminated," emphasizes Esterhuyse. That would be devastating for the 200,000 people living there, who are absolutely dependent on the water. In the event of surface water pollution, the Okavango Delta could also be affected.
In addition to possible water pollution, conservationists and scientists also fear a massive increase in water consumption. This would especially be the case if oil and gas were to be extracted using hydraulic fracturing, or fracking for short. In the controversial technique, water, sand and chemicals are pressed into the boreholes under high pressure, which breaks the rock and releases the oil and natural gas in the ground. The environmental impact of fracking is higher than that of conventional oil production: If not properly disposed of, the fracking mixtures can contaminate groundwater and surface water. Earthquakes can also be triggered.
Regular references to "unconventional oil and gas", i.e. oil and gas deposits that can only be tapped by fracking – shown, among other things, in a research report by ReconAfrica from July 2020, which is available to the FAZ – as well as the attitude in particular of Nick Steinsberger, the "father of modern fracking", conservationists suggest that the company is not ruling out the controversial technology.
Claire Preece, spokeswoman for ReconAfrica, denies the use of this technology in several media: "ReconAfrica does not use fracking. Conventional oil and gas production uses vertical wells, no fracking and very little water.

I've heard that same spin so many times from so many companies, I do not believe you Ms. Preece.

"On its website, ReconAfrica makes it clear that the company currently only has a license to explore and validate the resources. "If this exploration phase confirms an ecologically and economically viable reserve, the Namibian authorities will determine whether and how this resource is extracted." Both those responsible in Namibia and Botswana are concerned about "misleading" information about fracking plans, "there this is not part of the approved exploration program ". In a press release, the Namibian Ministry of Mines and Energy said that the planned oil exploration activities would not damage the Okavango ecosystem in any way and would be excluded in national parks. The KAZA nature reserve is excluded from this, however, as it does not enjoy the same protection status.
The geologist Jan Arkert, who has been involved in the SOUL (Saving Okavango's Unique Life) initiative since September 2020, is not convinced: "If usable oil and gas reserves are proven, fracking will be necessary to release the fossil fuels from the shale formations. According to Arkert, ReconAfrica has removed all references to unconventional oil and gas resources from its website since October 2020.

Encana even lied in its Statement of Defence in my case, claiming the company did not frac the wells the company's own data says were "fractured."

There is also criticism in the local press that the company has not taken its duty to inform the public about its plans seriously. Several events were canceled at short notice, questions were not answered satisfactorily, information was often only given in English and not in the African national language.
South Africa – hotspot of climate change
While organizations like Deutsche Umwelthilfe and Rainforest Rescue collect tens of thousands of signatures, ReconAfrica and the Namibian government, which holds a ten percent stake in ReconAfrica through the state oil company NAMCOR, highlight the potential economic benefits of a major oil discovery. It could secure economic growth, jobs and energy independence in Namibia, which has not yet produced any oil.
The fact is: the people in the region are poor and there are hardly any jobs. They live on their barren fields, their cattle and goats, and they are increasingly suffering from climate change: "Southern Africa is a hotspot of climate change. The region has warmed dramatically over the past six decades, at a rate about twice the rate of global warming, "explains François Engelbrecht from the Global Change Institute at the University of the Witwatersrand in South Africa, who contributed to the 2018 World Climate Report .
Engelbrecht does not doubt that a pulsating oil industry could create jobs and prosperity – at least for a certain time and for a certain part of the population – but he points to the risks and the future: "It is paradoxical that Namibia, one of the most affected by climate change, is thinking about building a substantial oil industry that will contribute to the global warming process that can ultimately be devastating for Namibia (and Botswana), "said the climate researcher.
Oil-contaminated Niger Delta as a memorial
If the world fails to aggressively implement the Paris Agreement on Climate Change and global warming reaches three degrees or more above pre-industrial levels this century, the corn, livestock, wildlife and tourism industries in southern Africa could collapse, according to the World Climate Report . "This means that the way of life and the precious natural heritage that we know today in these countries will have disappeared," said Engelbrecht. The question is: Should Namibia and Botswana risk their precious natural heritage and the sustainable and economically valuable tourism industry in the region in return for the short-term benefits of oil drilling? "I don't think so," says Engelbrecht.
Tourism is an extremely important industry in both Namibia and Botswana. Possible pollution of the Kavango region – the Niger Delta, which is still contaminated with oil, serves as an involuntary memorial – would seriously affect this branch of industry and the people who live there. Even if the environmental impact of the oil drilling is low in the best case, the question of compatibility with tourism arises. ReconAfrica may have set up no-go buffer zones to protect the environment and wildlife – ten kilometers from the Okavango River and twenty kilometers from the Okavango Delta – but whether it is tourists who come for the pristine African experience Wilderness paying high prices, moving near an oil field?
The climate policy consequences are also critical for those involved. Namibia and Botswana have both signed the Paris Agreement on Climate Change. "All of the world's leading economies are committed to zero net emissions by 2050, and the opportunities for Namibia to benefit from oil exports are likely to diminish over time," says Engelbrecht. A key element is climate finance for developing countries, which guarantees such countries financial support in developing renewable forms of energy. "African countries that choose to develop with fossil fuels could lose this advantage," says Engelbrecht.
After more than six decades of oil exploitation in the Niger Delta, the region now ranks as one of the top ten most polluted places on earth. Water bodies, soils, and the air have all been stoked full of harmful pollutants, and life expectancy now stands at a dreary 41 years. (Photo: Jacob Silberberg via Getty Images)
The quest for profit in a predatory economic system has made it possible for humans to willfully ignore extractivist crimes unfolding in broad daylight. A clear case is the clawing into Namibia's Okavango Basin in search of hydrocarbon resources by ReconAfrica, a Canadian oil prospecting company. The company has been licensed to explore for hydrocarbons in an area of 13,600 square miles straddling Namibia and Botswana. ReconAfrica could end up fracking for oil and gas in this highly valuable region which is said to hold up to 31 billion barrels of crude oil.
"Exploitation of petroleum resources has routinely been accompanied by extreme ecological harms, and in some cases has also been the reason or pretext for violent conflicts and wars."
The Okavango Basin is touted as the "largest oil play of the decade." It is just as well that oil companies describe their finds as "plays" because what they do with these resources is a tragic play that routinely ends up devastating communities and basically irretrievably harming ecosystems.

and ripping off investors. Why they have not yet learned to stay away is beyond me. Stupid is as stupid greed does.

At a time when the world knows that not more than a third of known fossil reserves can still be extracted and burned without surpassing the already alarming 1.5°C temperature target of the Paris agreement, it is shameful that oil companies are still allowed to prospect for more oil, coal, and fossil gas.

Gov'ts are as stupid and greedy as investors. And voters love to vote for stupid – makes them feel smarter than they are.

Already, ReconAfrica's officials claim that they are playing according to rules set by the Namibian government as they go about their exploratory activities. We understand how such rules play out, who reaps the benefits of such rules, and who suffers the negative consequences. Experts have already noted that the Environmental Impact Assessment (EIA) report produced by ReconAfrica and accepted by the Namibian government would not pass serious scrutiny, and the process was not open to public participation. Public consultation is a critical requirement in any EIA process and where this is lacking the process is null and void. If the Minister of Agriculture of Namibia could say that his ministry was not consulted, why should we think that citizens were consulted?
It is concerning that governments keep on allowing oil companies to arm-twist them into accepting patently false promises of revenue booms and of capacity to avoid ecological harms and to trigger development in affected oil field communities. When the first commercially viable oil well spurted in 1956 in Nigeria's Niger Delta, there were wild celebrations of progress arriving in the area that had hitherto suffered hundreds of years of pillage of agricultural natural resources by imperialist and then colonial forces. The first oil exports commenced in 1958 and so far, more than 5,200 wells have been drilled in the region with over 603 being discovery wells. After more than six decades of hydrocarbons exploitation in the Niger Delta, the region now ranks as one of the top ten most polluted places on earth. Water bodies, soils, and the air have all been stoked full of harmful pollutants, and life expectancy now stands at a dreary 41 years.
You may say that Nigeria is an odd case. Consider the devastation that Texaco, now Chevron, wreaked in Ecuador where up to 18 billion U.S. gallons (68 billion liters) of toxic waste and 17 million gallons of crude oil were dumped on pristine rainforest soil in an area spanning 4,400 square kilometers or 1,700 square miles.
How about the ongoing massive pollutions in South Sudan and in Sudan? What about the tar sand fields of Canada, the home country of ReconAfrica? What of the burning coal caves in South Africa? In the words of Saul Landau in his collection of essays—A Bush & Botox World—"The quest for corporate profit invalidates concern for the environment." Besides, these companies also drag vulnerable nations into debt with the false promises of liquidity and hollow credit worthiness.
"The permission by the government of Namibia for the commencement of highly polluting and damaging activities in Okavango Basin is a willful denial of the real risk of permitting ecocide on its territory. It is a permit that promises glory but may end up offering genocide."
Namibia's Minister in charge of mining, Tom Alweendo, interestingly claimed that there was nothing to worry about oil and gas extraction in the Okavango Basin even though the area is a treasure to the people of Namibia and the world. According to the minister, "It's true the company has an oil and gas exploration license and obtained an environmental clearance certificate to do research drilling. They are not going to do hydraulic fracturing (fracking)—a more invasive method—but a conventional drilling method."

Ya ya ya, we've all heard that frac lie endless times, while we were being secretly frac'd, including intentionally right in our drinking water aquifers. So many super dumb dumb politicians in the world, greedily juicing in petroleum.

The truth is that exploitation of petroleum resources has routinely been accompanied by extreme ecological harms, and in some cases has also been the reason or pretext for violent conflicts and wars. Consider the invasion of Iraq and the destruction of Libya. Think of the unfolding violence in northeast Mozambique and the instability in the Lake Chad basin. The handling of wastewater and other toxic wastes from test drill pits already poses serious concerns.
The massive area earmarked for drilling by ReconAfrica reminds one of a time when Shell had the entire geographic space known as Nigeria as its concession. Okavango basin is home to over 200,000 Namibians and these Africans mostly rely on the Okavango River which brings supplies of fresh water from the forest regions of Angola all year round. Of course, ReconAfrica will pollute the natural potable water sources of the people and sink water bore holes for them. That is the epitome of so-called "Corporate Social Responsibility" (CSR) that has proven to be nothing other than crass irresponsibility elsewhere.
The Okavango Basin is an area of rich cultural heritage and boasts of several species that make living in this area a unique experience. The permission by the government of Namibia for the commencement of highly polluting and damaging activities in Okavango Basin is a willful denial of the real risk of permitting ecocide on its territory. It is a permit that promises glory but may end up offering genocide. It is a move that denies the existential challenge posed by climate change, the impacts of which Namibia is not a stranger to. It is digging for profit that ignores the fact that adding oil from there to the fossil fuel fires already raging in the world will compound the floods, droughts, desertification, population displacements, and other negative impacts of global warming.
Okavango is a highly treasured living community in Namibia and Botswana. Why should anyone allow the quest for petrodollars to turn this into an arena of death? It is not too late for the governments of Namibia and Botswana to halt this race for an asset that is bound to get stranded as the world shifts away from fossil fuels. Why permit actions that simply add to climate crimes? It is not too late to pull the plug on this gamble.

Refer also to:
2019: South Africa: Amazing legal victory (with costs) for AfriForum & Treasure the Karoo Action Group! Supreme Court of Appeal unanimously rules fracking cannot proceed
2018: "We have reached a point of no return," Cape Town at risk of becoming first major city in the world to run out of water, yet South Africa still plans to frac itself
2014: "No fracking – or we go to court" S. African Treasure the Karoo Action Group (TKAG) threatens legal challenge if government fails to heed call for moratorium; Would seek pre-emptive injunction and is prepared to go to Constitutional Court
2012: Fracking Plans Spark Protest In South Africa
2012: South Africa lifts moratorium on fracking
2011: South African Women Protest Against Fracking