National chief throws support behind Mi'kmaq Warrior Society shale gas protest by Canadian Press, October 24, 2013, Calgary Herald
The national chief of the Assembly of First Nations has met with the council of the Elsipogtog First Nation near Rexton, N.B., where there is an ongoing protest against shale gas exploration. Shawn Atleo issued a statement saying he supports the people of Elsipogtog as they assert their treaty rights and responsibilities over lands and waters. [Emphasis added]
[Refer also to:
Counter-terrorism unit set up in Alberta to protect energy industry headline changed shortly after publication to Counter-terrorism unit set up in Alberta to help protect energy industry, public ]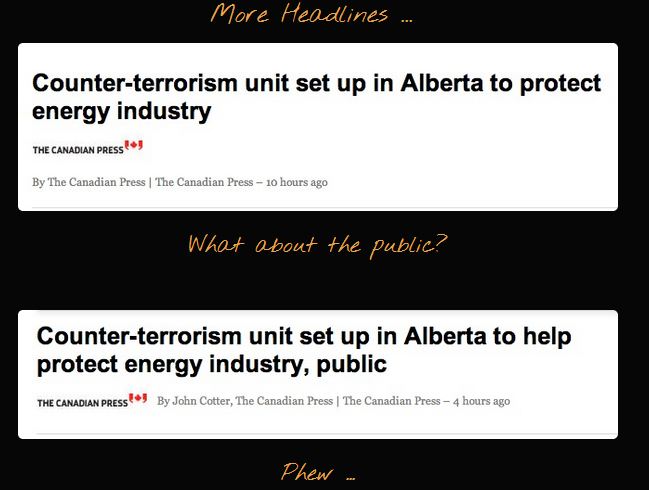 TRANSCRIPT – Grand Chief Stewart Phillip Speaks to Rally in Vancouver Friday, October 18th, 2013 Robson Square in Support of Elsipogtog First Nation's Struggle against Fracking in New Brunswick
(just into his talk) the important people in our lives, they were here for us last winter when Idle No More swept around the globe. Those people, those very special people, the young the old the women that helped put Indigenous issues back at top of the agenda. I have been involved for 40 years plus and I have never ever in my time seen the attention that our issues received as a result of the incredible work of Idle No More last winter. (loud applause) There is a young lady that is here, and perhaps we'll hear from her, but she was in our board room when we did the event over here at Waterfront station and they asked if they could use the Union of BC Indian Chiefs Board Room to change into their regalia. We had that incredible event over at Waterfront Station (Skytrain in Vancouver). We went back after it was over, and she sat there across the table from me and she said "you know what I think. I really think this is about building relationships for what's to come." And I thought that was such a profound statement, that the intuitive sense of our youth, of our young people, knew that we were moving towards this inevitable collision with the Harper government.
So I want to say, Welcome, welcome to the Harper government's war against Mother Earth, welcome to the Harper government's war against Indigenous peoples, welcome to the Harper government's war against democracy and everything that this country for many many generations and many decades has valued and treasured in terms of the ideals of democracy of respect and of human rights and peace. In a few short years the Harper government has deconstructed, destroyed and demolished that legacy and is attempting to create a republic and sell-out the natural resource wealth to offshore interests in Asia, to the Americans and now to Europe. ("shame, shame") Make no mistake we are heading for a watershed moment in this country when all of those values that were responsible for creating this country, for the values for which thousands and thousands of men and women laid down their lives on the battle fields of Europe and other battle theatres around this world to defend the ideals of democracy is being simply swept aside.
The Harper government is selling out the interests of all of our children and our grandchildren's grandchildren. And at the end of the day it will be Mother Earth that suffers. We as grandparents, we as parents, aunts and uncles, brothers and sisters, leaders, neighbours, friends and allies have a sacred duty to defend everything that needs to be defended. We need to defend Mother Earth. We need to ensure the legacy we pass on to our grandchildren is that legacy that so many Canadians fought for over many many decades and many years.
What we witnessed yesterday, the brutality of the RCMP, the heavy-handed para-military response to a peaceful protest was a message. It was a message that was sent to British Columbia. It was a message that was sent that was meant for all of us assembled here, that when the Harper government vetoes any notion on the joint review panel to approve the pipeline projects, to approve the natural gas developments, to approve liquified natural gas exports to Asia and other countries, the Harper government is telling us, this is what we may expect, that type of brutal response from the RCMP.
So we have a duty. We have a duty to take this back into the streets like we did last winter. We have to be consistent. We have to do this over and over and over again. We have to give up our weekends (loud cheers and applause). We have to know and understand that this battle is for everything. It's for all the marbles. This battle was a long time coming. Finally we have a national government that's attempting to do what previous governments were unsuccessful in doing, and that's selling out the interests of all Canadians. So it's our duty to stand up in the face of that again as allies and brothers and sisters in the struggle, in the fight.
I am encouraged to know that there are rallies, solidarity rallies through right across Turtle Island; there are rallies, right across British Columbia from Port Alberni to Penticton. (loud applause) In Penticton they're marching from the MP's office, Dan Albas, who is a puppet of the Harper government, a parrot, and they're marching from there down to the local RCMP detachment. I encourage all of you to organize locally. Start at the MP's office and go to the RCMP detachment.
I can tell you that there are new procedures that are being employed. They come from the highest level; they come from Harper. The ritual of injunctions and enforcement orders are gone by the way of the do-do bird. We have been told this by the highest levels of the RCMP. Now what the charge is is criminal mischief. The RCMP local commanders are told they have absolutely no discretion when it comes to the peaceful protest. That they will simply walk up to the protesters; they will serve them with that charge, and they're obligated to move immediately. Before it was the injunction followed by the enforcement order. It took a period of days for that to happen, and there was time and space for discussion and dialogue. That's gone. ("a violation of our human rights" yelled from audience).
I just want to end by saying that this is incredible timely. Dr. James Anaya was here just a few days ago. He met with a number of people in the crowd here. He heard about the deplorable, disgusting disgraceful abuses of human rights that are every-day occurrence, that have been normalized in this country. He described the country as being in a state of crisis. We know it's the $650 billion worth of large scale resource development that the Harper government is trying to ram through. Harper wants to turn Canada into a petro-power. It's our duty to stand up and say NO! (loud applause). You know the routine. We're going to do this seven times. I say "stop" and you say "Harper". [his speech ends after the seventh chant of "Stop Harper"] (loud applause)