Keiser Report Episode 568 by Max Keiser, February 27, 2014, RT
The frac chapter starts at 5:06 Min.
Max Keiser and Stacy Herbert discuss Rex Tillerson CEO of Exxon, the man most responsible for pushing fracking across the nation, joining a lawsuit fighting a water tower to supply water for fracing.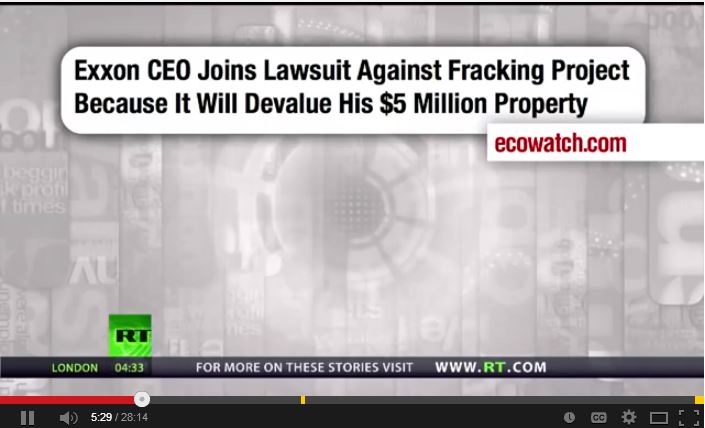 Max Keiser: "Yes, it causes cancer."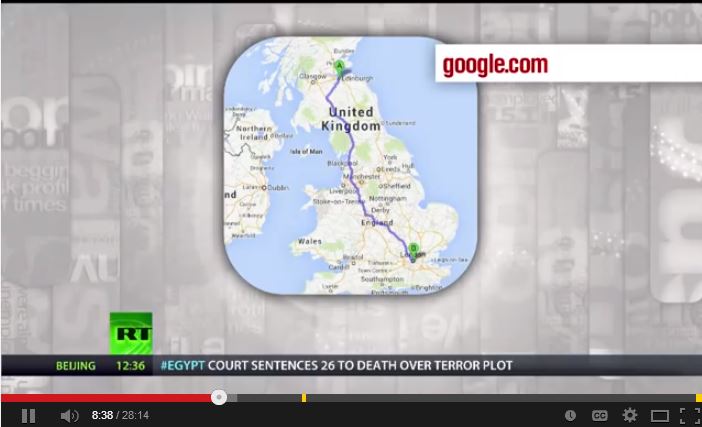 Comparative size of the Eagle Ford Shale in Texas.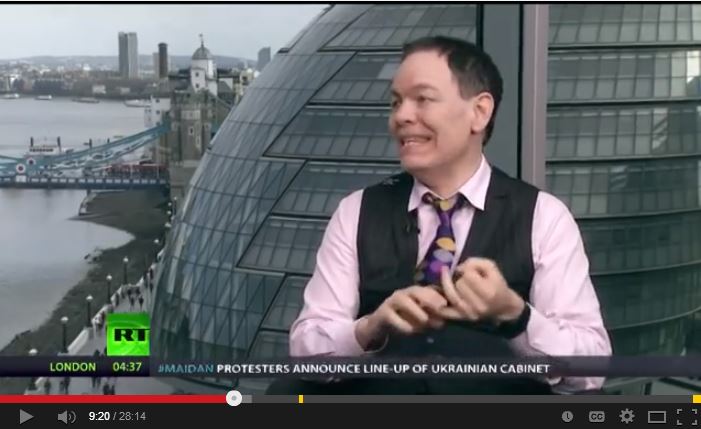 [Refer also to:
Below from Pg 25 in Brief review of threats to Canada's groundwater from the oil and gas industry's methane migration and hydraulic fracturing by Ernst Environmental Services, June 16, 2013
In 2004, Encana fractured directly into the drinking water aquifers at Rosebud:
"The top perforation was stimulated with 3,000 m3 [3,000,000 litres] of nitrogen (at standard temperature and pressure) at a rate of 500 m3/min [500,000 litres/min] for six minutes. The top set of perforations in this CBM well (125.5 to 126.4 mKb) was in the Weaver coal zone, the same as many of the local water wells…." [This quote is from the 2008 Alberta government commissioned report by the Alberta Research Council (name changed to Alberta Innovates Technologies Futures)]
There were six perforations into the fresh water aquifer and 18 more below them. Water wells in the community started to go bad and EnCana retained Hydrogeological Consultants Ltd. (HCL) to investigate. HCL is the same company that did the regional groundwater assessments for 45 Alberta counties and municipal districts, including Wheatland County in 2003 (Refer also to Page 23). Testing of the gas from the aquifer in 2004 showed high concentrations of methane and nitrogen. Nitrogen was as high as 30% in the gas in the first water well that went bad. …
Regulator tests in 2007 on the Ernst well showed 881,000 ppmv methane, 26.70 ppmv ethane and 137,000 ppmv nitrogen in free gas collected, and 24.3 mg/l methane, 0.021 mg/l ethane and 12.3 mg/l nitrogen dissolved in the water. Canadian Drinking Water Guidelines are 10 mg/l total nitrogen.
*****
"There have been over a million wells hydraulically fractured in the history of the industry, and there is not one, not one, reported case of a freshwater aquifer having ever been contaminated from hydraulic fracturing. Not one."
Rex Tillerson, CEO ExxonMobil, January 20, 2010, US Congressional Hearing.
2005: Investigators say an accumulation of gases appears to have caused the explosion that destroyed the Rosebud water tower and sent a Wheatland County employee to hospital
No Merit Badge For This ExxonMobil Boy Scout Rex Tillerson ]