Lethbridge fights proposed sour drilling and fracing project in city limits by Amanda Stephenson, January 13, 2014, Calgary Herald
A provincial government review of the policies surrounding urban energy development remains ongoing, even as furious Lethbridge residents sign "No Drilling" petitions and their city council takes a unanimous stand against a proposed well project. The southern Alberta city, population 90,000, has become ground zero in recent months for the debate over drilling in developed areas. Calgary-based junior Goldenkey Oil Inc. wants to drill three exploratory wells from two locations within city limits on the west side of Lethbridge — approximately one kilometre from the nearest housing development. "People can see the drilling site very easily from their fences," said Lethbridge Mayor Chris Spearman. "They're concerned about property values, they're concerned about possible side-effects like odour, they're concerned about possible health issues."
The proposed wells would be drilled using vertical hydraulic fracturing, a relatively simple process compared to the multi-stage horizontal fracturing that has often been the target of North American "anti-fracking" opponents. Still, the company's assertions that the project will be safe has done little to calm fears. A community group calling themselves "No Drilling Lethbridge" has held meetings, launched a petition, and started a letter-writing campaign. And city council itself — which has no say in whether or not the project goes ahead since energy development falls under provincial jurisdiction — has registered its own formal objection with the Alberta Energy Regulator. "Our real concern is appropriate land use within city boundaries," said Spearman. "We expect that our residential areas are going to continue to expand in the direction toward those wells. It just really inhibits development."
Spearman said he wants to see greater powers for municipalities giving them the ability to regulate urban drilling within their own boundaries.
It's not the first time the issue of energy development within city limits has become heated in Alberta. In 2012, residents of the northwest Calgary neighbourhood of Royal Oak protested plans to drill an oil well just behind a shopping centre. The company, Kaiser Exploration Ltd., eventually decided to move the well more than two kilometres away. The controversy led the provincial government to agree to review whether adequate policies are in place for urban communities when it comes to oil and gas development. That review is still ongoing, Energy Minister Diana McQueen said on Sunday. "With the continued growth in our communities we understand a balance needs to be achieved," said McQueen in an emailed statement. "Planning is underway to engage with key stakeholders, including industry and Alberta municipalities. We also encourage the companies and municipalities to continue to work together to address public concerns."
David Hill, an independent consultant working on behalf of Goldenkey, said the company has held two open houses in Lethbridge and has set up a website to answer questions about the project. He said the company has been somewhat taken aback by the level of opposition, particularly because Goldenkey has offered to abandon and perform reclamation on the sites whenever the city requires them for development. "That's a commitment, from my experience, that is not usually forthcoming from an oil company," Hill said. [Once the wells are in, it is highly improbable that the AER, CAPP or Gerard Protti will allow them to be trumped by families or community. That would set an impossible precedent for the industry everywhere.] As for the provincial review on urban drilling policies, Hill said Goldenkey welcomes it. "Something that's important for an oil company is certainty," he said. "What are the rules we're playing by here? In fact, we've offered to be part of that review and explain some of the concerns that we've heard and also some of the remedies we've proposed." Goldenkey plans to seek regulatory approval for its project within the next three months.
At its last meeting, Lethbridge city council voted unanimously to invite Goldenkey representatives as well as the provincial government to a special council session aimed at airing community concerns. [Emphasis added]
[Refer also to: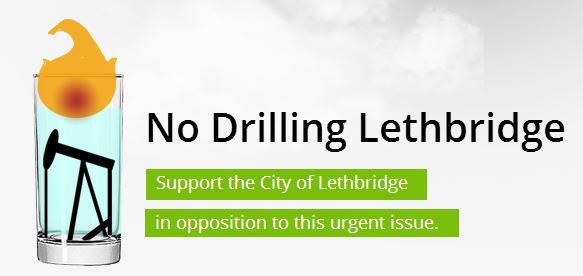 Promises promises promises, Alberta government "hopes" to finally have long promised environmental monitoring panel running by early 2014
FOIP results: 'Red flags' with urban drilling in Lethbridge?
Public forum planned by city council on Lethbridge oil drilling; council worries about health impacts and drilling sterilizing land designated for home developments
Proposed drilling in Lethbridge carries too many risks: Letter by Dr. Tyson B. Brust
Opposing fracking in Lethbridge needs support of our MLAs; What about financial impact? Property values could drop 4 to 16%
Hydraulic fracturing letter by Robert Griebel, Alberta MD: Reckless pollution of our environment
Many reasons to not allow drilling in Lethbridge
Where are the regulators in Alberta? Fed up with toxic fumes: families suffering ill health ask Peace River court for 8 month injunction to shut down 46 wells and 86 venting tanks owned by Baytex Energy
School board in Lethbridge wants stakeholder status; School district opposes proposed oil-drilling and frac'ing project in west Lethbridge
Big oil, big fracing, big problems? The Hawkwoods frac'd in the Lochend: health problems, dead cattle and earthquakes causing property damage
Lobby group PSAC and 11 fracking companies try, with dishonesty, to calm public fears with new voluntary code of conduct, that isn't really new
West side landowner Jenny Skinner and Sheila Rogers, Chair Lethbridge branch Council Canadians protests oil drilling by Goldenkey Oil in Lethbridge
McKillop Church gets in on fracking debate with information session in Lethbridge, Alberta; opposition to oil exploration in the city continues to grow
Oil drilling with possible hydraulic fracturing and secret chemicals in Lethbridge city limits is cause for concern
Open house tries to allay fracking fears
Alberta to complete review on urban oil drilling, Planned well in Calgary suburb sparks controversy
CEO of Gastem says ecology activists are fascists and states that 'nobody' in Alberta complains about drilling wells
Wheatland County (Alberta) Councillors call for Fracking Halt until Protective Methods are Developed
Council opposes oil & gas drilling in city
Seismic event in southern Alberta: could it be an earthquake
NDP: government must conduct independent review of fracking as water allocation outpaces scientific assurance
NDP want scientific review of fracking
NDP voicing concerns in Lethbridge about fracking
Frack Protester Lois Frank has charges stayed
Oil, gas drilling could come at a price
Hydraulic 'fracking' protesters back in court
Front Page: 'Frack hell is imminent'
Lethbridge locals protest fracking
Lethbridge locals protest fracking, Protesters band together in southern Alberta to ask for a province-wide ban on the drilling practice
2006: Fears about coalbed methane Four speakers kept the crowd of 200 on edge, answering questions over coffee. Jessica Ernst…said loss of legal right to one's land perhaps is the most critical concern…. ]