WATCH: Kaiser kills Royal Oak drill, Residents in a Calgary community are celebrating after Kaiser Energy scrapped its plans for an urban drill [and frac] site near their homes by CBC News Calgary, September 1, 2013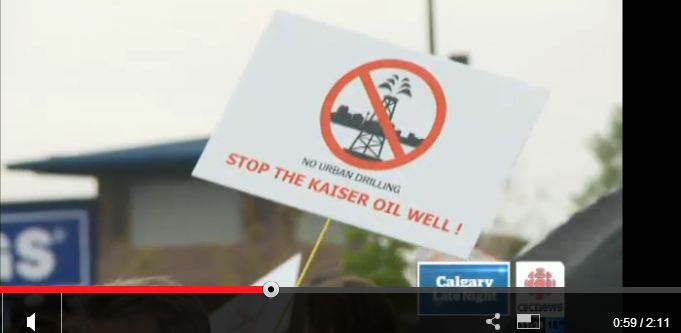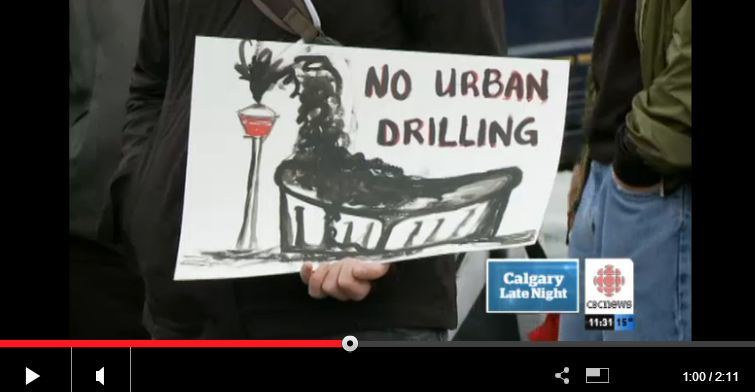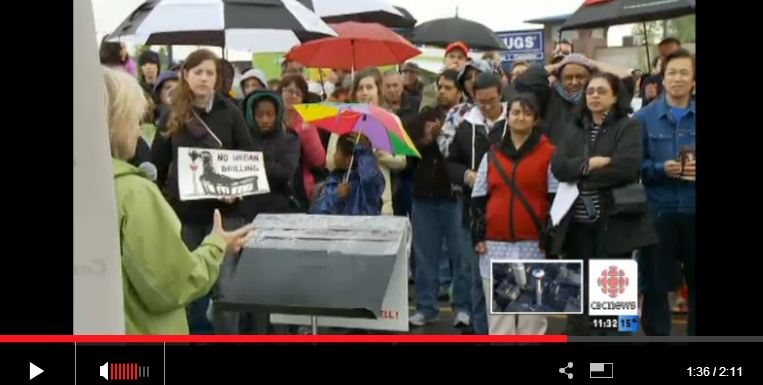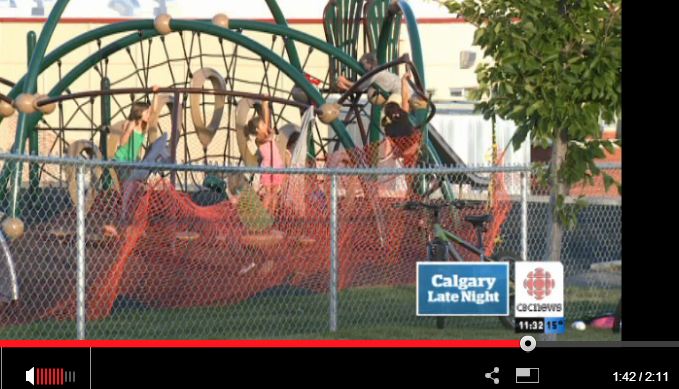 "I think it is definitely something that is important to everyone here, that it is a further distance. I think two kilometres will still be questioned. Is that far enough?"
"Kaiser will now have to complete an assessment of how their operations will affect area traffic. They expect to start operations 2015." [Emphasis added]
Controversial frac'd oil well planned near Calgary's Royal Oak community moves 2.3 kilometres away because of families worried for safety and health of their children, 200 strong had protested in Calgary streets! by Dave Dormer, August 31, 2013, Calgary Sun
Two kilometres will make all the difference. Kaizer Exploration Ltd. has agreed to move a contentious sweet oil well [to be frac'd within 70 metres of known sour gas] site proposed in the community of Royal Oak 2.3 km to the east, the company announced in a letter to area residents last week. Originally slated to go in a field at 85 St. and 112 Ave. N.W., the project received plenty of opposition from the Rocky Ridge Royal Oak Community Association (RRROCA), which argued it was too close to homes and would negatively affect area traffic and property values along with air and water quality.
The original site was just 400 metres from the nearest homes, said Sutherland. [Drilling and frac'ing in rural Alberta and other urban areas are allowed to be 100 metres from schools and homes, even homes with children]
The new site is next to the STAR gravel pit, made available by the provincial government in April. Here is a great resolution where Kaizer is still going to go forward, they're still going to have an oil well, but it's going to be in a proper area that's right for everybody," said former RRROCA president Ward Sutherland. Sutherland resigned from the community association earlier this year to run for Ward 1 alderman in the coming civic election but still acts as an advisor. "It's a win-win for the industry, it's a win-win for the residents and I think that's what's important." Traffic issues, said Sutherland, were among his biggest concerns, which will be alleviated by having the site moved east. "The plus about this site is the road system for (the gravel pit) bypasses all the heavy traffic," he said.
"The new site basically addresses a lot of the original concerns of potential accidents because the oil will be trucked, emergency evacuations of shutting down that intersection (at 85 St. and 112 Ave. N.W.), which is one of only two for a community of 19,000."  Kaizer announced in February the project was being put on hold while it addressed the community's concerns. [Emphasis added.  Meanwhile, frac'ing continues unabated in rural communities already severely impacted with dangerous and or toxic industrial fresh water contamination in Spirit River, Ponoka, Wetaskiwin, Rosebud, Grand Prairie etc]
Source: FrackingCanada: Campbells The Regulator's "Conclusion"
[Refer also to:
National Household Survey: Calgary incomes highest in Canada by Gordon Isfeld, Financial Post, September 11, 2013, Calgary Herald
Calgary was the city with the highest full-time incomes, at $57,967. In the Ottawa-Gatineau region, incomes averaged $57,551, followed by Edmonton at $56,388 and Regina at $52, 294. Toronto and Vancouver averaged $50,787 and $50,016, respectively.
Alberta to complete review on urban oil drilling, Planned well in Calgary suburb sparks controversy
Calgarians near urban oilwell say "not in my backyard"
Tories crafting policy for urban oil well drilling
Royal Oak residents rally against oil well near homes, POLICY REVIEW PLANNED FOR ENERGY DEVELOPMENTS WITHIN URBAN CENTRES
New policy coming on urban drilling, says province, MLA makes announcement as 200 Rocky Ridge, Royal Oak residents rallied Sunday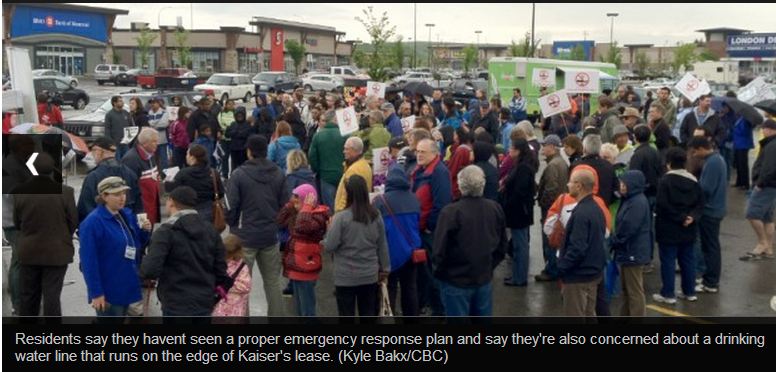 A proposed oil well to be fracked inside the City of Calgary puts residents and the industry on a collision course
Kaiser Oil Well to be frac'd in Calgary near sour gas, letter to Premier Alison Redford ]