What did not come out in the trial: Aruba was reportedly fined $35,000 for releases of hazardous air pollutants and sued by the Attorney General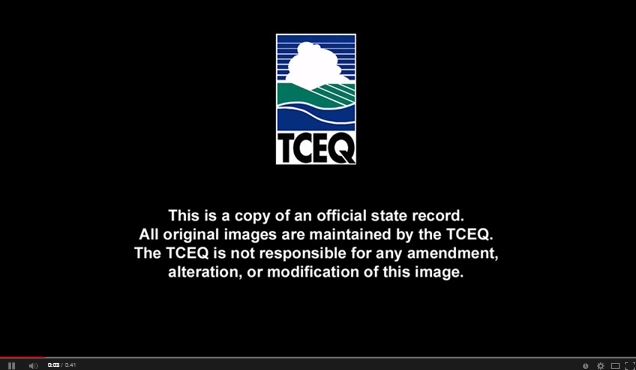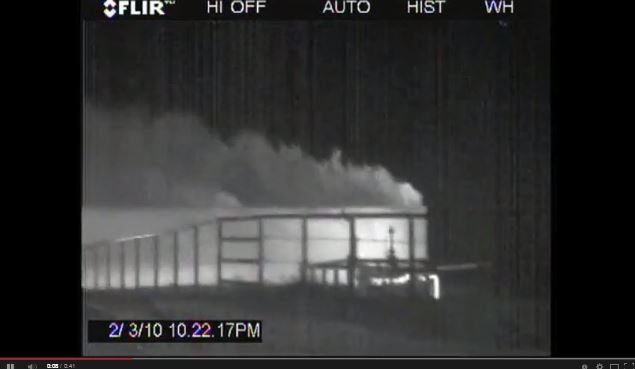 Clips from: WATCH: Aruba Petroleum – Wright Lease – Star Shell Rd 41 seconds by Texas Commission on Environmental Quality (DCEQ), posted by TXSHARON, February 3, 2010
$3 Million Fracking Damages Jury Award Shows Why Industry Avoids Trials Press Statement by Bruce Baizel, April 23, 2014, Earthworks
The jury's decision is important for two reasons.
When evidence of fracking's impacts are shown to an impartial jury in a court of law, they find them to be real and significant.
And it shows why the fracking industry is reluctant to allow lawsuits of this type to go to trial. Instead fracking companies try to force out of court settlements that gag the harmed family as a condition for financial compensation. They almost always succeed, hiding from the public the proof of fracking's dangers. Consequently, industry and government continue claiming fracking is harmless. [Emphasis added]
$3 million awarded by jury to fracking victims by TXSHARON, April 22, 2014, Blue Daze
Aruba intends to appeal the jury's decision. That means it will go to the Texas courts where judges are soaked in oil and gas money.
Trial ends with $3 million award by WCMessenger, April 22, 2014
A six-member Dallas County jury came back at 2:30 p.m. Tuesday and agreed with Robert and Lisa Parr that Aruba Petroleum "intentionally created a private nuisance" in drilling, fracking and producing 21 gas wells near their Wise County home over a three-year period from 2008-2011. The jury awarded the Parrs just shy of $3 million — well short of the $9-million-plus they had asked for — and did not award any exemplary damages. The company's attorney said they will appeal. The case, which was filed in March 2010, took two-and-a-half weeks to try. [Emphasis added]
Parr lawsuit goes to jury by WCMessenger.com, April 22, 2014.
Jurors spent about four hours deliberating Monday afternoon, and were to return this morning to continue their work in the Parr v. Aruba Petroleum lawsuit. The case, which is in Dallas County Court-at-Law No. 5, was filed by a Wise County family claiming health problems, mental anguish and loss of property value because of drilling and fracking all around their property over a three-year period. Their attorneys are asking more than $9 million in actual damages, plus exemplary damages.
$3 Million Verdict in Texas Fracking Case by Corporatocracy Watch, April 22, 2014
Plaintiffs Bob and Lisa Parr won a $3 million jury award in the first fracking verdict in Texas April 22. The Parrs sued Aruba Petroleum in 2011 for fracking operations which fouled the family's 40-acre ranch property, their home and quality of life, sickened them and their pets and livestock. (See the Parr – 11th Amended Petition.) … Aruba argued that it had complied with air quality and drilling safety guidelines set by the Texas Railroad Commission and Texas Commission on Environmental Quality (TDECQ). Aruba told jurors the Parrs can't prove it was one of Aruba's wells that caused them to get sick because the gas wells it drilled, eight within a mile of the Parr land and 14 within two miles, are all over a landscape which features several dozens of other drilling rig operations. [Emphasis added]
Jury Awards Texas Family $2.9M For Fracking Nuisance Claim by Jess Davis, April 22, 2014, Law360
A Texas jury on Tuesday awarded $2.925 million to a family who alleged they suffered health problems because of natural gas wells drilled in the Barnett Shale by Aruba Petroleum Inc. on neighboring property, finding Aruba intentionally created a private nuisance. In a 5 to 1 verdict, the jury did not find Aruba's conduct was abnormal and out of place for its surroundings but said it did take intentional steps to cause substantial interference with the Parr family's use of its 40-acre homestead….
Breaking: $3 Million Jury Verdict in Texas Fracking Nuisance Case by Brendan DeMelle, April 22, 2014, Desmogblog
A jury in Dallas, TX today awarded $2.925 million to plaintiffs Bob and Lisa Parr, who sued Barnett shale fracking company Aruba Petroleum Inc. for intentionally causing a nuisance on the Parr's property which impacted their health and ruined their drinking water. The jury returned its 5-1 verdict confirming that Aruba Petroleum "intentionally created a private nuisance" though its drilling, fracking and production activities at 21 gas wells near the Parrs' Wise County home over a three-year period between 2008-2011. Plaintiffs attorneys claimed the case is "the first fracking verdict in U.S.history." 
The trial lasted two and a half weeks. Aruba Petroleum plans to appeal the verdict.
The pollution from natural gas production near the Parrs' Wise County home was so bad that they were forced to flee their 40-acre property for months at a time.  The Parrs were represented by attorneys David Matthews, Brad Gilde and Rich Capshaw. "They're vindicated," said Mr. Matthews. "I'm really proud of the family that went through what they went through and said, 'I'm not going to take it anymore. It takes guts to say, 'I'm going to stand here and protect my family from an invasion of our right to enjoy our property.' It's not easy to go through a lawsuit and have your personal life uncovered and exposed to the extent this family went through."
According to Mr. Matthews' blog post, the verdict included $275,000 for the Parr's property loss of market value and $2 million for past physical pain and suffering by Bob and Lisa Parr and their daughter,  $250,000 for future physical pain and suffering, $400,000 for past mental anguish.
The Parrs' petition to the court. The case was Parr v. Aruba Petroleum, Inc., No. 11-1650 (Dallas Co. Ct. at Law, filed Mar. 2011) [Emphasis added]
They are calling this the first fracking case on trial by TXSHARON, APRIL 8, 2014, Blue Daze
Bob and Lisa Parr were neighbors to Tim and Christine Ruggiero in Wise County. I was there, in the Ruggiero kitchen, the day Lisa discovered that her timeline of doctor's visits matched–exactly–Christine's timeline of releases from the Aruba gas wells on her property. I was often on the Ruggiero property and sometimes on the Parrs'. I saw the suffering of both families and experienced my own health impacts when I visited.  I gave tours to journalists, government officials, environmentalists and others so they could witness for themselves the impacts of fracking. The people on the tours often got headaches and sore throats while we were. …
Lisa's suffered from:
Breathing difficulties

Nausea

Rashes that left her scarred with pock-marks.

She had biopsies of the oozing welts on her scalp and the 4 ping-pong-ball-sized lumps on her neck.

Testing showed drilling chemicals in Lisa's blood and lungs that match chemicals detected by the state in air testing outside her home.

She had a whole host of other ailments.

Bob and Emma also suffered various health impacts.
I didn't realize that this is the first time a fracking case has gone to trial. I guess that's because the rest of the lawsuits get buried here:
Dueling experts take the stand; Trial draws to a close with defense witnesses by Bob Buckel, April 19, 2014, wcmessenger.com
By around noon Monday, Parr v. Aruba Petroleum should be in the hands of seven Dallas County residents. … The Parrs blame health problems that began in 2009 on Aruba Petroleum, which drilled and completed 20 wells within a mile-and-a-half of their home from late 2009 through 2011. The family lives on Star Shell Road, off U.S. 380 northeast of Decatur.
The lawsuit says toxic gases venting from the site during and after completion, exhaust produced by heavy equipment during site preparation, drilling and fracturing, as well as spills, noise and bright lights caused not only physical illness, but also mental anguish and a loss of value for their 40-acre homestead.
Testimony ended Thursday. After closing arguments Monday morning in Dallas County Court-At-Law No. 5, Judge Mark Greenberg will issue his charge to the jury. "You'll get the case around noon or 12:30 Monday," he told the four men and three women Wednesday afternoon. "You should have a good amount of time on Monday to deliberate."
It may take a while. Since the trial began with opening statements April 8, the jurors have heard seven full days of testimony. The Parrs' attorneys put both Robert and Lisa on the stand early in the trial, along with an environmental scientist and other experts.
The defense started calling its own expert witnesses this week, including three who testified Wednesday.
Gary Gross, M.D., of the Dallas Allergy and Asthma Center, focused on the non-traditional testing and treatment the Parrs received from Dr. William J. Rea at the Environmental Health Center of Dallas.
"The testing that was done [on the Parrs] is unconventional," Dr. Gross said. "It's not approved by the scientific community."
Successive questions from Aruba attorney Michael Mazzone drove home the point.
"Are the tests reliable?" "Are they used by physicians such as yourself?" and "Are the results valid?" Each time, Dr. Gross answered, "No."
"Proximity is not equal to causation," he said. "Sometimes patients associate an event with something meaningful in their life, but that does not mean they are connected to each other."
Richard Capshaw, the Parrs' attorney, focused on Robert Parr's nosebleeds, which the suit claims were caused by toxic gases from the wells.
"Are you aware that the frequency of nosebleeds was greater after Aruba started drilling?" he asked.
"Nosebleed is consistent with a number of factors – mostly dry air," Dr. Gross said. "You would have to look at all the medical records for patterns and symptoms. You can see things like that, but it doesn't indicate a causal relationship."
He said Dr. Rea – the subject of an ABC "Nightline" report in 2008 – "practices what most physicians would consider unconventional and unproven medical techniques."
The Parrs say those techniques made them well, after they moved out of their house for nearly a year.
GEOLOGIST: "USUAL AND CUSTOMARY PRACTICES"
Terry Payne, president of Platt, Sparks and Associates Consulting Petroleum Engineers in Austin, testified about Aruba's drilling practices.
Payne brought maps he had created showing all the oil and gas wells within a mile and two miles of the property in 2000, the year Robert Parr bought it, as well as in 2008, just before Aruba started drilling, and in November 2013. In 2000, there were three active, completed Barnett Shale gas wells within that two-mile radius, along with approximately 36 oil wells that had been completed in the Bend Conglomerate. In 2008, before Aruba began drilling, the number of Barnett Shale gas wells in that radius had gone from three to about 54. By late last year, that number was 100. Of that number, 21 were Aruba wells – seven within a mile of the Parrs' property and the others less than two miles away.
Payne told of his visual inspections of the Aruba pad sites and the tanks, compressors and other equipment he saw.
"Did Aruba drill wells according to the usual and customary practices in the oil and gas industry?" Aruba attorney Ben Barron asked.
"Yes, I believe they did," Payne answered.
He gave the same response on questions relating to Aruba's completion and operation of the wells. Asked if he'd seen anything out of the ordinary at the well sites he visited just before the trial began, he said he had not.
"I would like to think that if something was totally wrong, I would have seen it," he said. "I've been on locations that did not look nearly as well-kept. They look like normal locations."
In cross-examination the Parrs' lawyer, Brad Gilde, brought out the "substantial" amount of work Payne had done for oil companies as an expert witness – and the fact that his company charges $495 an hour for that work.
"It would be bad for your business if you testified against the oil and gas industry, wouldn't it?" Gilde asked.
Payne bristled at the suggestion.
"No, you're dead wrong on that," he said. "We talk about the facts. Platt Sparks tells the truth, whether it's for or against the oil company. That's why we get hired. Sometimes they like it, and sometimes they don't."
Gilde then asked him about safety.
"Shouldn't a reasonably prudent operator go above and beyond the rules and regulations?" Gilde asked. "Wouldn't you say safety is very important and should not be compromised?"
Payne said he couldn't give a yes-no answer.
"It's a broad spectrum," he said. "There are times when people do dangerous things. We still try to do that safely, but it's dangerous work at times."
CHEMIST: ATMOSPHERE A "RAGING RIVER"
Bart Eklund, principal scientist for air quality services for URS Corp., testified about his analyses of air samples taken in and around the Parr property as Mazzone sought to discredit the testimony of Dr. Paul Rosenfeld, the Parrs' air quality expert.
Eklund, who has designed numerous large air-monitoring networks around the world, brought a summa canister to the witness stand and demonstrated for the jury how the air sampling device works.
He noted that in this case, there is "a relatively small sample set, unfortunately." Eklund said only nine air samples were taken – outside the Parr property, at the well pads and inside the Parrs' home.
He produced slides that showed benzene levels in the samples to be extremely low in comparison to what the EPA allows.
"Benzene tends to be a risk driver," Eklund said. "If benzene is OK, you're generally not going to find problems with the others. It has greater toxicity."
He said the disbursement of volatile organic compounds (VOCs) in the wind, even if they were leaking from the well sites, would have greatly reduced the concentrations in the air around the Parrs' home.
"The atmosphere is like a raging river," he said. "Whatever gets thrown out into it gets carried along."
Later, he contested one of the Parrs' key claims – that VOCs from the gas wells settled on their property because it was lower than the surrounding area where the wells were located.
"It's not true that because it's heavier than air it will settle out," he said. "For an air quality person, especially a dispersion modeler, to say that – it's like a football coach not knowing you get four downs. It's fundamental."
He said from 50 feet downwind to 300 feet downwind there is a five-fold reduction in concentration.
He said none of the values in any of the air samples he saw "came close" to exceeding the EPAs monitoring values and pointed out that Dr. Rosenfeld's red-flag warnings were based on modeling, not actual sampling.
"Modeling can be useful, but you can't get in the Delorean and go back in time to collect data," he said, referencing the movie "Back to the Future."
Later, under cross-examination from Capshaw, he expanded on that statement.
"You can go back and do a model after the fact, but if we want to know what's coming out during actual production, you'd have to monitor then," he said.
A few minutes later, he returned to that theme.
"I find measurements trump modeling," he said. "[Dr. Rosenfeld's] modeling in my opinion was a waste of time. He did not have the data he needed."
Capshaw worked to make the point that Aruba knew about multiple complaints by 2010 and could have hired someone to do air monitoring and find out if there were any problems around their wells – a point Eklund conceded.
"We could have collected data that would have helped address the issue," he said.
He noted several times that the indoor air in the Parrs' home was more of a concern than the outdoor air, at one point referencing a three-page list of common household products that contain high amounts of hexane.
"If I want to know about human health impacts, I want to take measurements where the humans are," he said.
Near the end of the day, Capshaw returned to the bag of M&Ms analogy Mazzone had used earlier in the trial, comparing each piece of candy to a VOC and saying the red ones were benzene, then asking Eklund if he would still eat the M&Ms. "I would have to assume benzene makes me sick," he said. "If I did that, I would have to give up coffee, so I'm reluctant to make this assumption." [Emphasis added]
Trial gets underway: Parr v. Aruba takes center stage in Dallas courtroom by Bob Buckel, April 12, 2014, mcmessenger.com
A Wise County family, and the oil and gas production company they say made them sick and drove them from their home, are finally getting their day in court – in downtown Dallas.
The lawsuit, Parr v. Aruba Petroleum, started with jury selection Monday. A jury of four men and three women was seated Tuesday and opening statements were presented in Dallas County Court-at-Law No. 5, presided over by Judge Mark Greenberg, on the fifth floor of the George L. Allen Sr. Courts Building just across from JFK Memorial Plaza.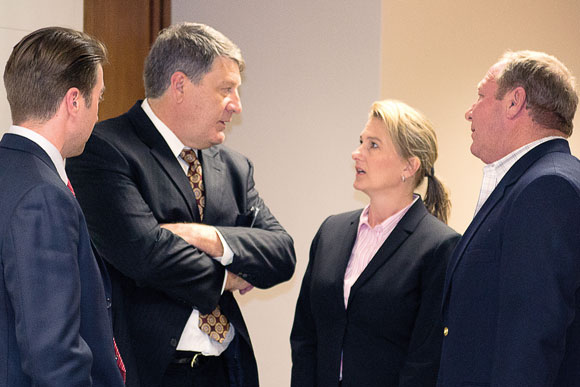 Bob and Lisa Parr of Decatur confer with attorneys (from left) Brad Gilde and Richard Capshaw during a break in the lawsuit trial Thursday. The Parrs are suing Aruba Petroleum over alleged toxic emissions from gas wells surrounding their home in rural Wise County. Messenger photo by Bob Buckel
It's being billed as the "first fracking lawsuit in the history of the United States" – but there's much more than the process of fracturing natural gas wells at issue in what promises to be a lengthy and technical trial.
Robert Parr, wife Lisa and their daughter, Emma, say they started experiencing a variety of health problems in 2009, after Aruba began drilling the first of 20 wells the company operates within a mile-and-a-half of the Parrs' home on Star Shell Road, off U.S. 380 northeast of Decatur.
The symptoms – nosebleeds, headaches, respiratory and neurological problems – sent Lisa Parr, and eventually her daughter and husband, to a succession of doctors. An environmental medicine specialist recommended they keep a journal to try and tie the onset of symptoms to specific events in their environment.
The journal started in January 2010. On their doctor's recommendation, they moved out of their house into Parr's office in Denton that August and lived there most of the time until the following March.
That's when they filed suit against Aruba and eight other oil companies.
The lawsuit alleges the family's health problems were caused by toxic gases venting from the site during and after completion of the wells, as well as the exhaust produced by heavy equipment during site preparation, drilling and hydraulic fracturing – fracking.
It also says spills, loud noises and the bright lights used during around-the-clock drilling – operations that went on almost continuously for about two-and-a-half years -caused their mental anguish and reduced the market value of their home.
The case took significantly longer than most other lawsuits to make it to trial, and ultimately, the other defendants were dismissed or settled out of court, leaving only Aruba to defend the suit.
The Parrs' lead attorney, Brad Gilde of Houston, opened with a videotaped deposition of John Goforth, vice president and manager of Aruba's Wise County operations.
Goforth, who said he reviewed close to 8,000 pages of documents on the wells prior to testifying, answered questions for about 40 minutes, mostly on the company's practices and safety policies. After that 40-minute video, a 12-minute cut of the video edited by Aruba's attorneys was played in lieu of cross-examination before Robert Parr took the stand.
Parr testified the rest of Wednesday. Late that afternoon, Aruba attorney Ben Barron began cross-examination, which continued through Thursday morning before Los Angeles environmental scientist Dr. Paul Rosenfeld was called.
Rosenfeld was questioned by Gilde, then cross-examined by Aruba attorney Michael Mazzone. He was still on the stand at the end of the day and will return Monday when the trial resumes. …
BACK AND FORTH
Goforth, a veteran of the oil and gas business, told Gilde his company's policy on leaks was, "If you see a leak, fix it."
He said the company does not own an infrared camera – used to detect leaks not visible to the eye – but they do hire a contractor at times to inspect their sites for leaks.
Gilde pointed out on a video of Aruba's pad sites that several valve assemblies had been wrapped in trash bags and duct tape. Goforth's response was, "Whatever works in the real world, you do what you have to do and keep going." He said the wrapping was probably to prevent the valves from freezing.
During cross-examination, he said the drilling, dozing and venting activities seen at the Aruba wells were similar to those seen at all gas wells in the Barnett Shale.
Parr's testimony began with his youth and background as someone with a deep love for the outdoors – hunting, fishing, working outside and calf-roping. Parr owns a landscape company and a self-storage facility, and he also raises cattle.
He bought the 40-acre place in Wise County, near Denton Creek, in 2000 and built the house there in 2002. He and Lisa were married on the back steps in May 2008.
"That's sacred ground," he said. "We have a lot of memories there."
But the property, he said, is "bottom land." Heavier-than-air vapors from the surrounding gas wells naturally settle in the low-lying area.
Under Gilde's questioning, he testified about his symptoms and those of his wife and daughter, the treatment they sought and the air-quality testing they had done on the property – both by a private contractor and the Texas Commission on Environmental Quality (TCEQ).
A series of videos made by a neighbor, Tim Ruggerio, showed drilling and fracking operations going on day and night. The Ruggerios have since sold their property and moved to Pilot Point.
The videos also showed flares, visible emissions and apparent leaks from tanks – all within a few hundred yards of the Parr house.
Parr referred to the family's journal to refresh his memory on dates.
"On July 25, 2010, they were doing a mini-frack [on a nearby well]," he said. "Lisa got sick, I got sick, and we called the TCEQ and the inspector got sick."
"On Feb. 16, 2010, a neighbor called about a drilling mud spill and wanted me to come on her property," he said. Part of that spill, from Aruba wells 7H and 8H, was captured on video.
"On Feb. 19, Lisa was coughing and threw up. It persisted for several days."
The journal details nosebleeds experienced by all three family members, including times when their daughter would wake up in the middle of the night, covered in blood.
"We smelled the odors from natural gas activities all the time," he said. "It's disheartening, scary. It makes you feel your mortality."
He also viewed and commented on 14 videos, most made by Ruggerio.
During cross-examination, Barron's questioning focused on the value of the house and property, which has been on the market for almost two years at $695,000. He touched on the fact that Parr continued to bale hay and raise cattle on the property and sold those cattle for meat.
He also hammered home the point that numerous wells near the property were drilled and are operated by other companies, including Encana and Burlington Resources. "Is there any force field around those 70 other non-Aruba wells that prevents these emissions from coming on your land?" he asked. He asserted that "it's not just Aruba, but other operations around your property that are causing your medical problems."
But Parr stuck to his guns, insisting the problems did not start until Aruba started drilling. Most of the attention focused on three Aruba wells: Wright 6H, which is 791 feet from the Parr property, and 7H and 8H, which are both on the same pad 1,964 feet from the Parrs' property.
Thursday morning, Barron focused on Parr's health over the past 20 years. He also pointed out that Parr had sold a pipeline easement to Aruba for $7,500 in 2009, then sought to impeach the reliability of the non-traditional medical treatment the Parrs received at Environmental Health Center of Dallas.
Gilde questioned Parr briefly after Barron finished, re-establishing the claim that Aruba wells were responsible for the Parrs' health problems and expanding on the medical care they received.
ENVIRONMENTAL EXPERT
After lunch Thursday, Rosenfeld took the stand, likely the first of several environmental experts who will deliver evidence for both sides. Under Gilde's questioning, he established his credentials and testified about extensive air quality testing done on the property. He went into the science of the various gases collected on the Parrs' property, their odors, vapor densities and other characteristics.
He said his testing revealed the highest concentration of chemicals in 2009, with the air quality improving slightly each of the next two years.
"When you first drill a well, a lot of condensate comes out," he said. "That diminishes over time. These wells typically are really productive at first, and they do all they can to stimulate production. Then it tapers off."
His report showed air quality models made around the Parrs' house for all three years, based on 44 tests conducted by the TCEQ within a quarter-mile of the Parrs' house.
"The hazard index was above 1 for both respiratory and neurological risks," he said. "According to the EPA, you're not supposed to live there."
When Mazzone took over late in the day, he called into question Rosenfeld's use of terms like "do the right thing" and "be cool" with regard to how gas producers should operate.
He also questioned Rosenfeld's use of the word "conservative" in his modeling of emissions, noting he had changed the acceptable standard from 33.3 pounds of VOCs per barrel of liquid to between 9 and 16 pounds in a later report.
"In fact, the emission factor you used in the 2011 affidavit was off by almost three times," Mazzone said. "You called 33 'conservative' even though later you dropped it down to 9 to 16."
Rosenfeld pointed out that more research had been done, referring to Wise County as "the most heavily fracked and studied area in Texas."
"The EPA (Environmental Protection Agency) did a very thorough estimate of VOCs in Wise County," he said. "They came up with newly-generated VOC data that was published in 2012. I used the best available number I had at that time.
"They refined the numbers by doing more investigation."
Finally, Mazzone pointed out that Rosenfeld had never worked a day in the oil and gas industry, yet felt qualified to comment and draw the conclusion that valves and fittings on the Aruba sites he visited appeared to be new – as if they had been replaced just prior to the site visit.
He reiterated that many of the well sites around the Parr property were not Aruba sites.
"Of the 35 sites, 24 were not Aruba sites," he said. "Encana operated more natural gas wells within two miles of the Parr property than any other operator." [Emphasis added]
[Refer also to:
An Alberta government lawyer argued in court this week that Jessica Ernst's lawsuit on hydraulic fracturing and groundwater contamination should be struck down on the grounds that it would open a floodgate of litigation against the province.
"There could be millions or billions of dollars worth of damages," argued Crown counsel Neil Boyle.
Important Developments from Two Influential Fracturing Litigation Jurisdictions: Parr, et al. v. Aruba Petroleum Inc. and Antero Resources, et al. v. Strudley, et al.
First Fracking Trial in U.S. opens in Dallas, First legal papers filed in 2011 – Compare to 3 years and counting of delays and motions to try to strike out the Ernst v Encana case
Previous frac trials included:
25 landowners, reportedly harmed from fracing, lost their class-action lawsuit in the 1990's in La Plata County, Colorado and were gagged. There were reportedly hundreds of landowners harmed from fracing there, in various groups of class-actions that settled and gagged; 

the landmark case of the McMillian's in Alabama which led to the LEAF vs. EPA case in which the 11th Circuit Court of Appeals ruled in 1997 that fracking is indeed underground injection and must be regulated by the EPA. ]