Judicial Review: Engineering consultant Kurt Kure and Toronto lawyer Donald Bur in court fighting Altalink and Alberta Surface Rights Board by Paul Cowley, September 3, 2014, Red Deer Advocate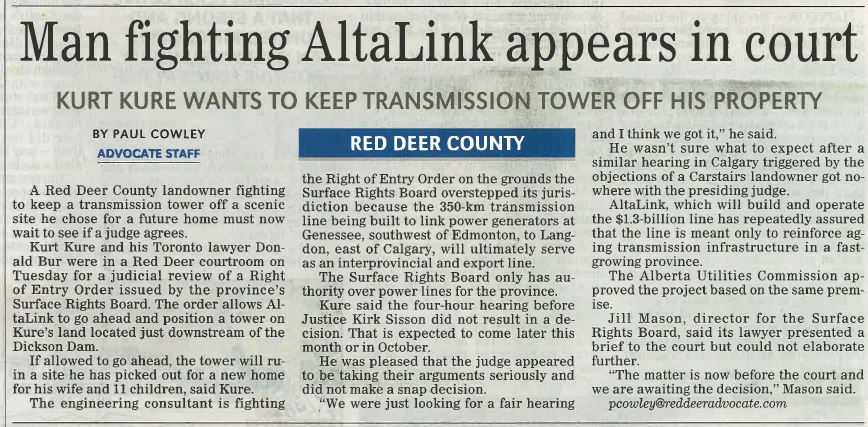 Why are Alberta landowner vs energy lawsuits represented by out of province lawyers?
[Refer also to:
The EUB Mocks the Judicial Process [The EUB previously "regulated" what the AUC now does. After the spying scandal, the government split the EUB into the AUC and ERCB.  After the Ernst lawsuit, the Alberta government turned the ERCB into the AER.]
Landowners group says spying episode puts energy board's neutrality into question
AEUB credibility on the line, Alberta Premier defends EUB spying on landowners
Landowners intend to bring legal action against the EUB for spying on them and intruding on solicitor client privilege
Premier Stelmach endorses the indefensible
Private Investigator posing as landowner was the worst, Spying on citizens casts a smothering pall of bias on any AEUB decision
EUB coverup shocking, Prove to be inept at spying and lying
Landowners group says spying episode puts energy board's neutrality into question
Spying by AEUB to be investigated
Full Criminal Investigation of the EUB requested [The AEUB/ERCB/AER and AUC have changed in name and deregulation only. Their spots remain the same]
New FOIP documents confirm the EUB hired Private Investigators in past EUB proceedings
'Whitewash' report reignites call for inquiry
EUB chairman disbands controversial security unit
EUB scraps security unit, Board-hired investigators spied on landowners
EUB purge, Security unit scrapped, members fired for EUB spying scandal
Taxpayers Pick up Portion of $22,000 EUB Spy Bill without Explanation
A controversial electricity transmission line and charges of spying zap the reputation of Alberta's energy regulator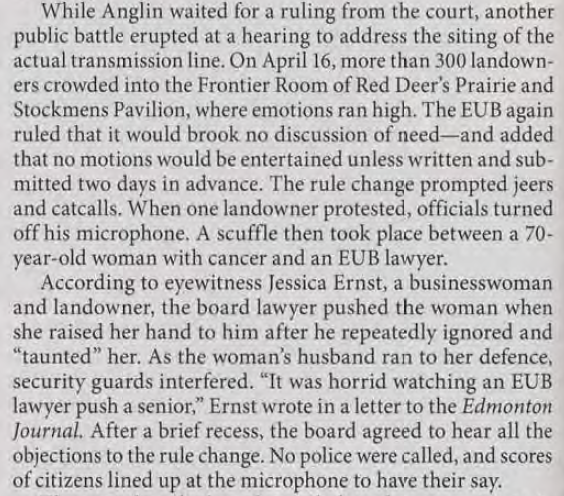 The Royal Society of Canada Expert Panel Report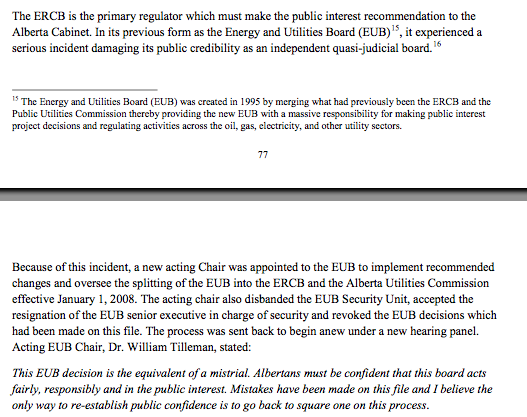 Trouble brews at renewed hearings on Alberta transmission line, Intervener files for adjournment pending court ruling
Five years after a shocking spy scandal derailed hearings, Calgary-based Altalink is making a new bid for approval of a $1.4-billion north-south electricity transmission line, a project that has caused major political headaches for the Conservative government.
Alberta Bill 2: More deregulation for the oil and gas industry and hydraulic fracturing
Alberta MLAs endure allnight standoff to pass controversial energy bill, Alberta Introduces New Energy Regulator
Petro-state politics prompts CSIS to spy on citizens at alarming rate, FOIs reveal
Canadian spies met with energy firms, documents reveal, Government agency that allegedly spied on Brazil had secret meetings with energy companies
"Sickened" by Harper government spying
Canada's spy agencies chastised for duping courts; CSIS deliberately breached its "duty of candour" to the courts
Chuck Strahl, CSIS Watchdog Chair, Federal Former Reform-Conservative MP, Registers As Northern Gateway Lobbyist
Canada's spy agency admits it spies on Canadians 'incidentally'
Communications Security Establishment Canada (CSEC) illegally spied on Canadians; Harper government insisted CSEC never spied on Canadians
Complaint filed over alleged illegal searches of private information on Northern Gateway pipeline opponents by RCMP, CSIS and handing the information over to oil companies and Canada's national energy regulator
Meet ASSIST: Alberta's very own Spy Agency, "Alberta Security and Strategic Intelligence Support Team;" Did ASSIST break into Carmen Langer's home and steal his files?
And don't forget the secret editing of Dr. Alec (Alexander) Blyth's "independent" reports dismissing the water contamination cases in Alberta frac fields: "Disgust with AB Research Council Report goes beyond Alberta" published as "The Stelmach two-step" ]