The purpose of this webinar series is to educate and raise awareness on using international law, and specifically a crime of ecocide, to reinforce Indigenous rights and environmental protection.
Webinar one: Crimes against Nature through the lens of Indigenous Sovereignty by Stop Ecocide Canada and RAVEN Trust, January 19, 2021, 3 pm PT | 6 pm ET | 11pm GMTW
Will focus on the legal assessment of how an international law of ecocide would uphold Indigenous governance and sovereignty.
Coast Salish lawyer Robert Morales has appeared in all levels of court including the Supreme Court of Canada. He is the lead person for the current Hul'qumi'num Treaty Group before the Inter American Commission on Human Rights.
Lakota Member of Parliament for Winnipeg Centre (NDP) Leah Gazan has spent her life working for human rights on the local, national, and international stage. Her recent success includes organizing and traveling across the country to push Bill C-262, the Indigenous Human Rights Act.
Indigenous Lawyer Merle Alexander is a member and hereditary chief of Kitasoo Xai'xais First Nation. He practices Indigenous Resource Law empowering Nations through Title and Rights affirmation, sustainable economic development and environmental conservation.
Co–founder Jojo Mehta of the Stop Ecocide campaign in 2017, alongside barrister and legal pioneer the late Polly Higgins, to support the establishment of ecocide as a crime at the International Criminal Court. She is also the Chair of the Stop Ecocide Foundation.
****
February 16, 2021, Webinar 2: From the Grassroots to the Courts: How criminalizing ecocide could benefit frontline defenders? by Stop Ecocide Canada and RAVEN Trust
Will feature stories from the frontlines, centered on how criminalizing ecocide could benefit Indigenous communities, land defenders and water protectors.
Sleydo (Molly Wickham) is a fierce spokesperson for Wet'suwet'en Nation members and their allies who are fighting the Coastal GasLink pipeline. She is passionate about governance, the health and well-being of the yin tah (territories) and the transmission of culture, language, and traditional song and dance.
Chief Dana Tizya–Tramm is the Vuntut Gwitchin First Nation's lead voice on Arctic National Wildlife Refuge and the Porcupine caribou. These are the pristine calving grounds of the largest animal land migration on earth. The survival of the Porcupine caribou is linked to the survival of his nation, its culture and identity.
Melissa Mollen Dupuis is a member of the Innu community of Ekuanitshit on Quebec's Côte-Nord. In 2012, she created with Widia Larivière the Quebec branch of the Idle No More movement. In 2014, became president of Wapikoni's board of administrators. In 2017, Amnesty International named her Ambassador of Conscience with five other figures of Canada's First Peoples' movement. …
Led by Kate Mackintosh, Executive Director of the Promise Institute for Human Rights, UCLA, one of the international criminal lawyers leading the drafting of new provisions criminalizing destruction of the world's ecosystems at the International Criminal Court (ICC) and Jojo Mehta, Chair of the Stop Ecocide Foundation lead participants through the legal and historical context for creating a legally enforceable crime of ecocide.

Would shut frac'ing down cold.



This interactive masterclass is designed for civil society representatives, climate justice advocates, policymakers and policy entrepreneurs, lawyers and professionals wishing to build capacity to lobby for environmental protection laws.
Green criminology is an emerging branch of criminology involving the study of harms and crimes against the environment broadly conceived, including the study of environmental law and policy, the study of corporate crimes against the environment, and environmental justice from a criminological perspective. In this masterclass led by Kate Mackintosh, Executive Director of the Promise Institute for Human Rights, UCLA, one of the international criminal lawyers leading the drafting of new provisions criminalizing destruction of the world's ecosystems at the International Criminal Court (ICC) and Jojo Mehta, Chair of the Stop Ecocide Foundation lead participants through the legal and historical context for creating a legally enforceable crime of ecocide.
Benefits of Attending this Interactive Masterclass
Understand the legal and historical context for criminalizing ecocide at the international level and why this is a significant strategic intervention point for climate justice.
Understand the types of environmental harm and damage to which the crime of ecocide would apply.
Build capacity and become a part of a global community of practice for policy entrepreneurship on green criminology and ecocide law at national levels.
Who Should Attend:
This interactive masterclass is designed for civil society representatives, climate justice advocates, policymakers and policy entrepreneurs, lawyers and professionals desirous of building capacity to lobby for environmental regulation at national levels.
*IMPORTANT NOTE: Members of Future Law Collaborative (including those who registered for FLVS2020 as Negotiators and Masters) get FREE access to this series of Masterclasses as one of the membership benefits and do not have to register through Eventbrite to be granted the access.
About Lead Facilitators
Jojo Mehta, Chair of Board Stop Ecocide Foundation
Jojo co-founded the Stop Ecocide campaign in 2017, alongside barrister and legal pioneer the late Polly Higgins, to support the establishment of ecocide as a crime at the International Criminal Court. Jojo co-ordinates between the fast-growing international campaign (teams in 8 countries, websites in 7 languages) and the lawyers, advocates and parliamentarians engaged in the core work of progressing the crime. She is Chair of the Board of the Stop Ecocide Foundation in the Netherlands, which now manages the campaign, and convenor of the Independent Expert Panel for the Legal Definition of Ecocide chaired by Philippe Sands QC and Justice Florence Mumba. Jojo is key spokesperson for Stop Ecocide International and has contributed to law conferences, environmental summits, festivals and climate rallies as well as podcasts, interviews and articles for publications and broadcasters ranging from the Ecologist to the New York Times and from Extinction Rebellion to the BBC. She was a keynote speaker at the official side event "Investigating and prosecuting ecocide: the current and future role of the ICC" in December 2019, hosted by the Republic of Vanuatu as part of the 18th Assembly of State Parties to the Rome Statute of the International Criminal Court in The Hague.
Jojo is a graduate of Oxford and London universities and has a background in communications, entrepreneurship and on-the-ground environmental campaigning.
Kate Mackintosh, Executive Director, Promise Institute for Human Rights, UCLA
Kate Mackintosh is the inaugural Executive Director of the Promise Institute for Human Rights at UCLA School of Law. The Promise Institute was founded in 2017 with a $20 million gift to create a center on the West Coast for international human rights scholarship, training, and advocacy. Mackintosh has worked in the fields of human rights, international criminal justice, and the protection of civilians for over two decades. She was involved in the development of international criminal law in its fledgling years and contributed to defining many elements of this new area of law, such as the elements of rape as an international crime, the definition of protected persons, and the scope of complicity for international crimes. She has held multiple roles at international criminal tribunals, working as a lawyer with the judges; prosecution appeals counsel; co-counsel for the defense and finally as an administrator, responsible as Deputy Registrar for the International Criminal Tribunal for the former Yugoslavia's court operations, witness protection and support services, legal aid scheme, detention facility, communications and outreach, languages services and archives. For eight years, Mackintosh worked with Doctors without Borders, providing legal and policy advice to operations in over 30 countries around the world, and leading advocacy in support of some of the world's most vulnerable populations. During, and building on, this experience, she developed a body of work around the practical application of IHL and humanitarian principles to contemporary challenges, ranging from critiques of the impact of counter-terrorism law and policy on humanitarian action to the scope of humanitarian actors' legal obligation to testify and the legitimacy of humanitarian protection.Mackintosh was part of post-conflict human rights field operations in Rwanda – working to rebuild the justice system after the genocide – and Bosnia, where she collaborated with Bosnian lawyers on strategies to use the courts to support economic and social rights. She has lectured and authored numerous articles and reports on the principles of humanitarian action, international criminal justice and the protection of civilians, and is currently thinking about the application of the Rome Statute to cyber warfare, and how international criminal law can protect the environment.

Refer also to:
2019: International Human Rights Court Recommends Worldwide Frac Ban. Will rape & pillage enabling Canadian authorities listen?
This post is for Polly Higgins.
International Human Rights Court Recommends Fracking Ban Press Release by Dr. Tom Kerns, April 4, 2019, Permanent Peoples' Tribunal Session on Human Rights, Fracking and Climate Change.
The Permanent Peoples' Tribunal has just released its Advisory Opinion, recommending a worldwide ban on hydraulic fracturing, the extreme oil and gas extraction technique known as 'fracking.' The materials, and infrastructure of fracking inherently and necessarily violate human rights, the court decided in a Special Session on Human Rights, Fracking and Climate Change. The rights violated include the rights to life, to water, to full information and participation, and especially the rights of indigenous people, women and children.

Governments have an affirmative obligation to protect the rights of their citizens, according to internationally recognized human-rights Covenants and Declarations. When governments fail to adequately regulate harmful oil and gas industry practices, they fail to meet their human rights obligations. And when governments fail to take measures to prevent the advance of climate change and its impacts on the rights to life, liberty, and security, they are failing to meet their internationally recognized human-rights obligations. Widespread government failures have created a global "axis of betrayal," according to the international court, in which governments and fossil-fuel industries collude – at great cost to people and the planet – in human-rights violations to their mutual profit.
The Special Session was conducted for five days in May of 2018. Four Preliminary tribunals had been conducted in the months prior to the Plenary hearings. The Pre-tribunals included rich oral testimony from Australia, the US states of Ohio and Virginia, and other places, supporting documentation, and findings from those Pre-tribunal's local judges. All materials and reports from those Pre-tribunal hearings, all the Plenary session's oral testimony and arguments, all Plenary session reports, amicus curiae briefs and full documentation are available, in both video and text formats, on the website for the Permanent Peoples' Tribunal Session on Human Rights, Fracking and Climate Change.
[The Opinion] is also available on the website for the PPT Session on Human Rights, Fracking and Climate Change and on the Jurisprudence page of the Permanent Peoples' Tribunal website at their headquarters in Rome.

…
Tom Kerns for the PPT Steering Group
[email protected]
Jessica Ernst's April 2018 submission to the panel:
Dear Dr. Kerns and the Permanent Peoples' Tribunal on Human Rights, Fracking and Climate Change.
Thank you for your emails. Sorry it has taken me so long to write you. I've thought long on this.
My lawsuit has so far resulted in endless delays and set backs by the courts, and setting terrible legal precedent which may harm many. I knew when I started my lawsuit in 2007 that our courts would never let me get anywhere – the legal club has been carefully set up to protect the oil and gas industry and its enabling regulators.
My lawyers

Comment added Jan 19, 2021: Cory Wanless and Murray Klippenstein abruptly quit my case by email on August 26, 2018, and continue to this day to refuse to send me my case files

advised it will cost me 10-12 years (we are already in year 11, with a trial nowhere in sight – even if we were ready to ask for a date, they are being set three years from now) and over a million dollars of my savings (and sacrificing my home) to perhaps win $20,000.00 at best (yes, you read that right), with the courts likely ordering me to also pay the legal costs of the defendants (which will bankrupt me) because I refuse to gag and settle.
(In my professional view, gag orders for industry's life and community threatening contamination of a vital public resource like water must be made illegal. AER's outside counsel, Glenn Solomon, explains too well, how gag orders work to let oil companies keep polluting, "down the street.")
I knew all this and expected my lawsuit to be dreadful, but I never expected the judges to be so obvious in their bias against the public interest and punishing me for trying to protect it (when NGOs lose lawsuits, they are usually not ordered to pay costs because their case was in the public interest. My case is clearly in the public interest, yet every loss, the judges have ordered me to pay the regulator's costs even at the Supreme Court of Canada).
Main stream environmental groups (they get large donations from the oil and gas industry, our regulators and governments) have worked hard over the years to undo my work trying to warn people globally about the harms and risks caused by hydraulic fracturing. They've succeeded in most jurisdictions except where there is still democracy and people are willing to listen, wait and watch the evidence pile up proving how harmful and polluting frac'ing is.
In my experience, professionally and personally living frac'd, ordinary civil citizens don't have human rights when it comes to being harmed by the oil and gas industry in Canada.
And we don't have access to justice either, as proven by the Supreme Court of Canada in their intentionally dishonest (reference listed below) ruling in Ernst vs AER where the judges protect the law-violating regulator and damage our Charter (https://deansblog.osgoode.yorku.ca/2017/01/damaging-the-charter-ernst-v-alberta-energy-regulator/).
The Alberta Court of Queen's Bench has shown bias in every proceeding so far, protecting the regulators and Encana in my case, and in the future, by giving Encana and the Alberta government their chosen case management judge. The judges on the Court of Appeal of Alberta were shockingly rude, patronizing, and allowed Glenn Solomon, the lawyer for the AER, to interrupt and loudly yell out during my lawyer's presentation of arguments calling him a liar. They said such ridiculous things about our Charter of Rights and Freedoms and my case, I could not believe I was in a Canadian courtroom.
I read the materials you advised me to read for the Tribunal. None of it relates to my case. I have lived frac'd now for 15 years and trying to access the legal system for 11 of those, going nowhere but backwards financially, physically, emotionally, spiritually, legally. Our regulators give industry more and more fresh water with which to frac, and deregulating to enable the harms while lying to the public, saying they are increasing regulations to make frac'ing safe.
Ex Prime Minister Steve Harper wouldn't even give Canadians the right to safe water.
The "rights" our laws say we have in Canada are useless trying to access justice for water lost or polluted by frac'ing, or health harm suffered by families….
I list below a few references for further reading:
1. Investigative journalist Andrew Nikiforuk's book on the history and science of hydraulic fracturing:

Slick Water: Fracking and One Insider's Stand Against the World's Most Powerful Industry Hardcover – Published by Greystone Books, Sep 18 2015.
2016 09 12: Andrew Nikiforuk wins USA National Science in Society Award for Slick Water. "NASW's Science in Society Journalism Awards honor and encourage outstanding investigative and interpretive reporting about the sciences and their impact for good and ill."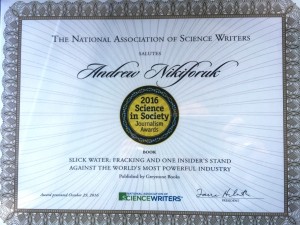 The judges said, "Here's an excellent book with a strong protagonist who carries the narrative and turns a potentially wonky and bureaucratic matter into a page-turner. The author is facile with the science, and also with the story telling."
They added, "We found it a compelling read with clear, crisp writing. We were struck not just with the main character's amazing persistence in pursuing justice against all odds, but also the author's persistence as he nailed down the details. We came away inspired."
The final judging committee consisted of Thomas Hayden (Stanford University), Martha Mendoza (Associated Press) and Gene Russo (Proceedings of the National Academy of Sciences).
2. My June 2013 gas migration paper, written simply with easy access to references for ordinary citizens to help them protect their loved ones, communities and water from frac'ing, and to start uncovering some of the cover-ups: Brief review of threats to Canada's groundwater from the oil and gas industry's methane migration and hydraulic fracturing
French Translation by Amie du Richelieu, June 16, 2013
3. Jessica Ernst Open Letter to Chief Justice Beverley McLachlin Regarding False and Seriously Damaging Statements in Justice Rosalie Abella's Supreme Court of Canada Ruling, Ernst v AER, January 25, 2017
The Supreme Court of Canada's ruling: https://scc-csc.lexum.com/scc-csc/scc-csc/en/item/16325/index.do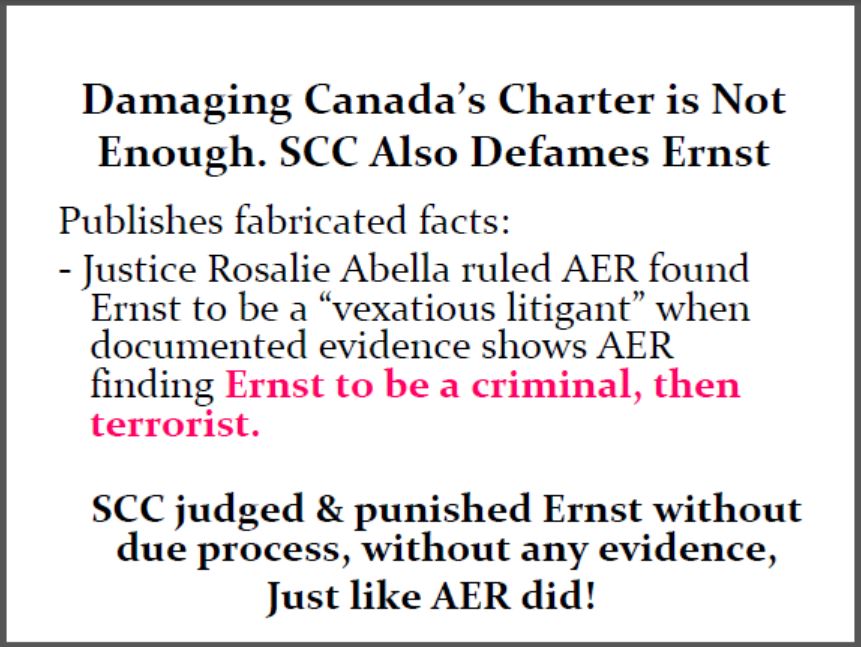 SCC = Supreme Court of Canada
Slide above from Ernst speaking events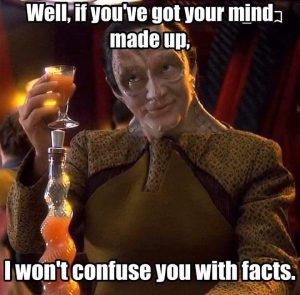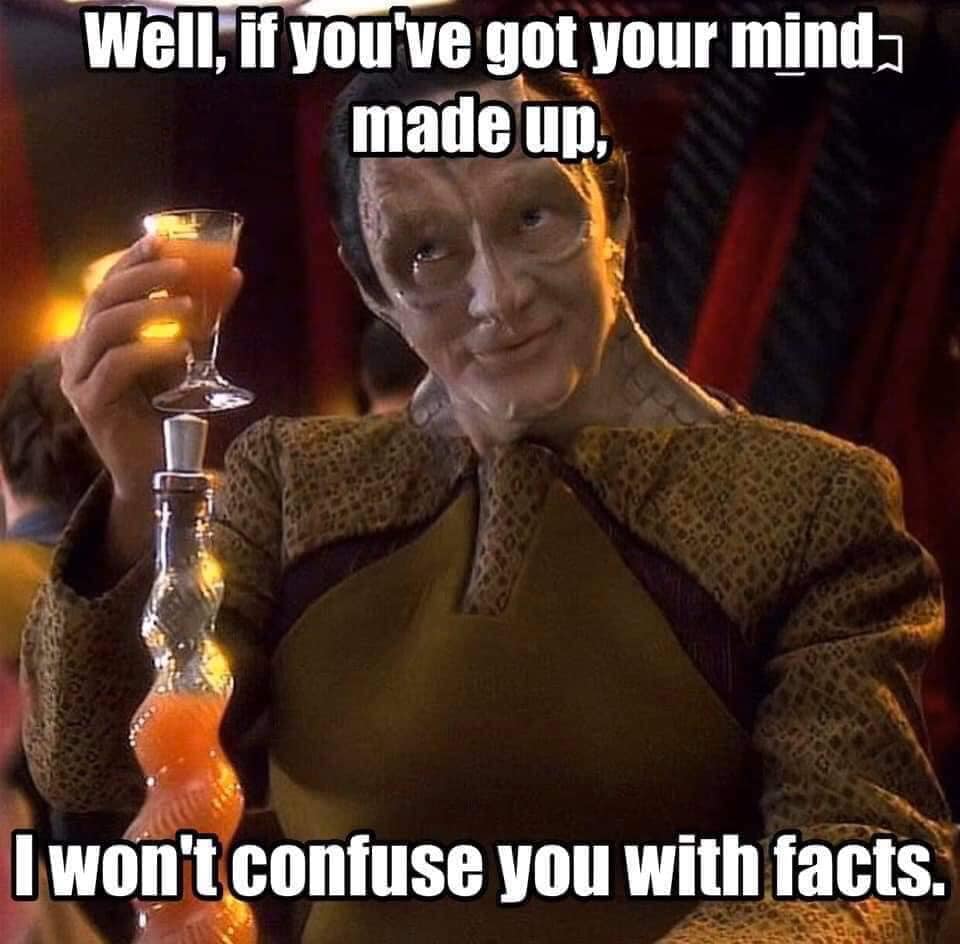 The dishonest statement by Justice Rosalie Abella (Global Jurist of the Year in 2017, the year the ruling was released in my case) was called out by J McLachlin and three other judges in their dissent ruling in my case, but only the defamatory statement by J Abella was repeated in the court's summary sent to Canadian media. Media published the lie. The smear worked, few are interested in my case anymore

including by quitting, even my own lawyers.

4. My talk in Malton, North Yorkshire, UK last October. It sums things up.

5. Osgoode Hall Law School Dean Lorne Sossin's CV and Damaging the Charter: Ernst v. Alberta Energy Regulator. Dean Sossin [stepped down from this position effective April 30, 2018 (https://hennickcentre.ca/news/dean-sossin-step-down-spring-2018/). [December 17, 2018, he was appointed by the Canadian government to serve as judge of the Superior Court of Justice of Ontario

and in November 2020 was appointed to the Court of Appeal for Ontario

]
In conclusion, I think a submission from me about my case will only bring harm to the credibility of the Tribunal's ruling. Authorities, including our not so honest or integral judges will dismiss it if I have any part in it. Sad, but true. This is the main reason why I have taken so long to get back to you; this has been a tough decision to make. …
I will be following the Tribunal closely. In my experience, it is much more important than any "real" court or judgement on frac'ing in Canada.
Sincerely,
Jessica Ernst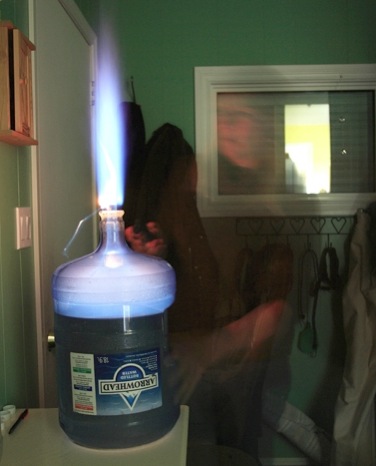 My water after Encana/Ovintiv illegally frac'd my community's drinking water aquifers. Photo by Colin Smith.
****
If there is magic on this planet, it is contained in water.
– Loren Eisely, The Immense Journey, originally published in 1957 (the year I was born).