IEA expects global natural gas revolution by UPI, March 25, 2013
PARIS — Natural gas is positioned to make a sustained impact on the global energy market but only if it's developed responsibly, the IEA executive director said. The International Energy Agency hosted its inaugural unconventional natural gas forum in Paris. IEA Executive Director Maria Van der Hoeven said unconventional natural gas development needs a sustainable and responsible approach. "Natural gas is poised to enter a golden age but will do so only if a significant proportion of the world's vast resources of unconventional gas can be brought to markets in a manner that is both profitable and that addresses the legitimate public concerns about the associated environmental and social impacts," she said. Thanks to developments in shale exploration, the IEA, in its 2012 edition of the World Energy Outlook, said the United States is expected to be a net exporter of natural gas by 2020 and the North American region should follow suit in terms of oil by 2035. Critics of shale development have expressed concern about the types of chemicals and the amount of water used in the process. Shell Chief Executive Officer Peter Voser said in Boston last week that the United States was setting the standard for shale developments. [Emphasis added]
[Refer also to:
Energy industry at risk from public censure, IEA head says by Dina O'Meara, August 16, 2012, Calgary Herald
Canada must better represent its unconventional resources to a skeptical public or risk allowing critics to derail investment in its shale gas and oilsands projects, says the head of the International Energy Agency. Maria van der Hoeven, executive director of the IEA, said Canada needs to speed up the development of technologies that would reduce the environmental impact of oil and gas development. "Let's not make this mistake – the risk to industry of losing its social licence to operate is real, and I don't need to tell you that underestimating public sentiment simply is not good business," she told a downtown audience Wednesday. ….van der Hoeven said she learned industry is aware of the need to retain public support by protecting the environment and the safety of communities. [Emphasis added]
Can Fracking Be Cleaned Up? The International Energy Agency says yes, but it will take tougher regulations that force producers to apply the latest technologies by Kevin Bullis, June 5, 2012, Technology Review
Significant levels of methane, the main component of natural gas, have been found in drinking-water supplies near some fracking sites. ….some fracking sites are relatively near to the level of drinking water, and the IEA suggests it might make sense to ban the procedure at such locations. … "It can't just be counting on companies to adopt best practices, because you'll only have a certain percentage of the well operators doing it,"  [Emphasis added]
Factors Affecting or Indicating Potential Wellbore Leakage by Theresa Watson (T.L. Watson and Associates Inc) and Stephan Bachu (Alberta Energy and Utilities Board, now ERCB, soon to be AER), 2007 Presentation; SPE Paper 106817, 200
About 15% of vertical and 60% of deviated wells reported leaking.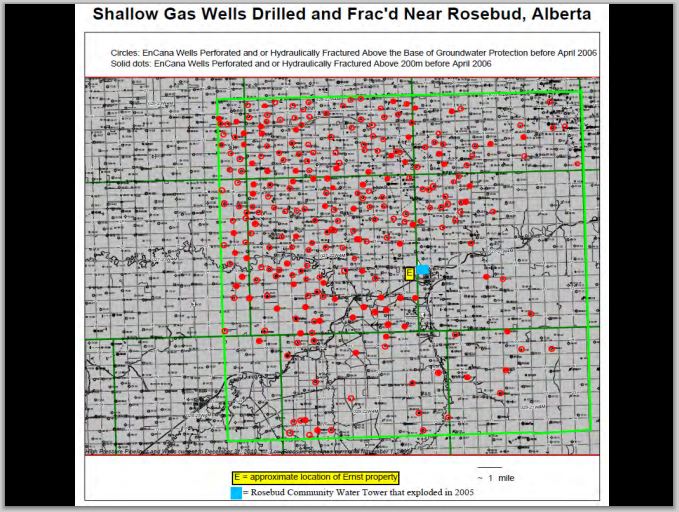 Source: Fracking Community: Actions and Omissions Speak Louder than Words 
Click on the map to get the PDF; zoom in for the legal land descriptions of the shallow wells frac'd where the fresh water is (red, many of these with multiple perforated intervals) up to April 2006, and deeper wells (black). Encana continues to frac shallow where the fresh water is – including on deviated wells near the Ernst property; the regulators do not stop the company.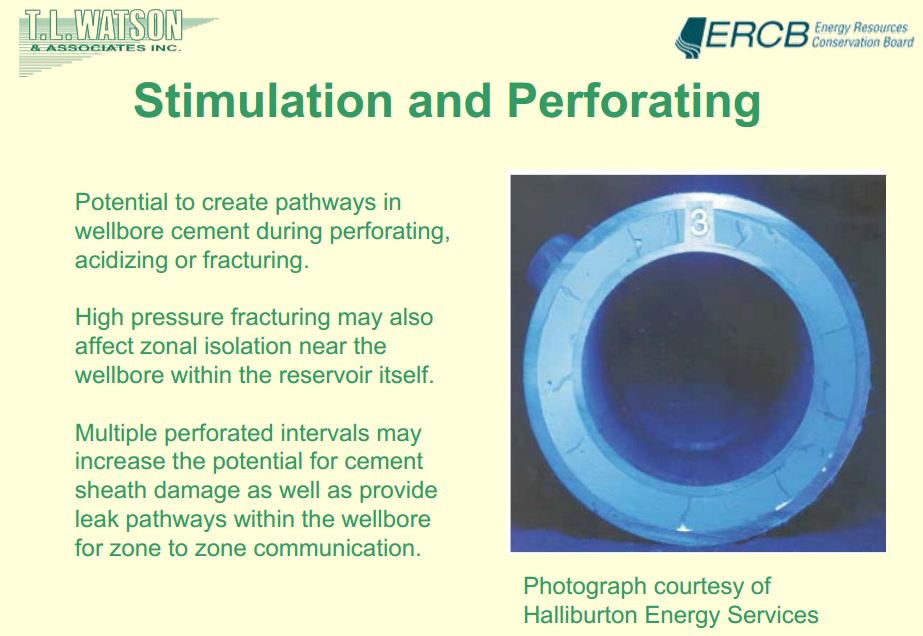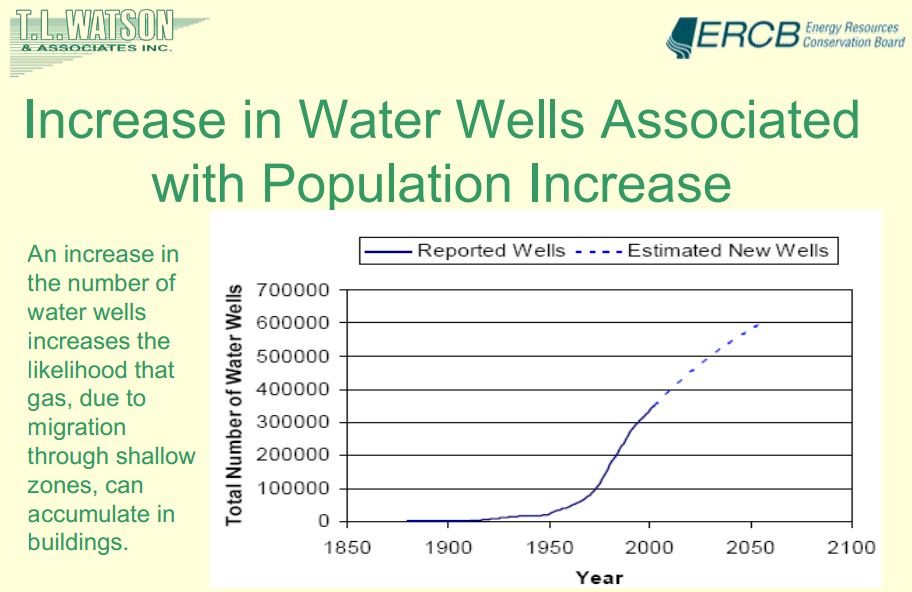 Source of above two slides: Watson and Bachu to Fourth Wellbore Integrity Network Meeting, Paris, March 19, 2008