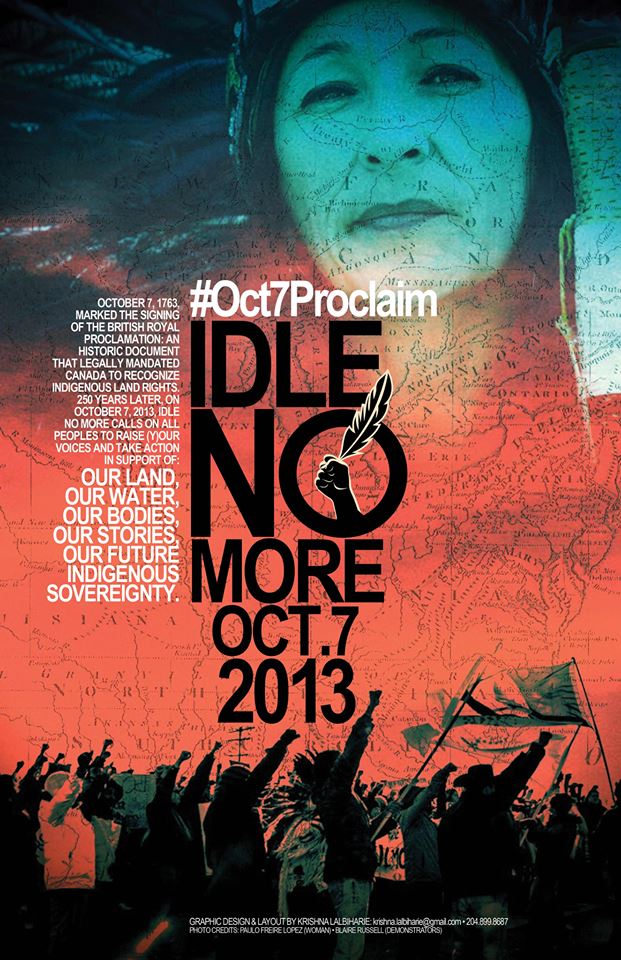 Communication Breakdown or Double Cross? Key anti-shale blockade meeting with New Brunswick Premier finds key invitees on the outside by Miles Howe, October 6, 2013, Media Coop
Rexton, New Brunswick – A high-level meeting in Moncton, currently proceeding between Premier David Alward, cabinet ministers and representatives from the ongoing anti-shale gas blockade on highway 134, has apparently forgotten some key invitations. The Mi'kmaq Warriors Society, as well as others, were only informed of the meeting ten minutes prior to. Talking circles have been ongoing for two days at the blockade in order to determine who would represent the various voices at camp, as well as to find representatives from the 28 groups that originally signed their opposition to shale gas in New Brunswick. The list of concerns from each representative group have also been painstakingly prepared. Central in these circles, and discussions, have been the Mi'kmaq Warriors Society. And it is them, among other groups, who have apparently been left high and dry while others meet with the Premier. "We have not sanctioned anyone to represent us at the meeting," says Warrior Suzanne Patles. "We did not receive our invitation to the meeting until ten minutes prior [to the meeting's start]. We have been excluded from this meeting." There is really no conceivable way that the Warriors would have been accidentally excluded from the meeting. They are not hard to find at the blockade, and have established a command centre trailer.
As well, the Warriors were seeking an asssurance from the Premier's office that they would not be served with the ever-looming 'injunction' passed by Judge Rideout on behalf of SWN Resources Canada on Thursday, October 3rd. If an injunction were to be served, and key figures in the Warrior Society arrested while outside the blockade, it is not necessarily far-fetched to imagine the blockade subsequently crumbling. "We asked for a guarantee," says Jason Okay, himself named in the injunction. "We didn't get it. They [also] kept on changing the times of the meeting. There were also supposed to be four seats for Warriors, two from Nova Scotia and two from New Brunswick."
Mi'kmaq Warrior Jim Pictou adds that there is a real danger in leaving a blockade situation in which everyone – the court's injunction names John and Jane Doe – could possibly be arrested at any point for participating in the anti-shale gas action.
But Warriors are not the only group who appear to be left on the outside of this meeting. Garnett Thompson, an eighth generation New Brunswicker on the same original 1820 land grant, wasn't able to find the meeting place or time. He was supposed to be amongst two people representing the New Brunswick Anglophone community. "I tried my best to find the meeting. But nobody [from my group] knew where it was," says Thompson.[Emphasis added]
New Brunswick premier and First Nation agree to resume shale gas talks Monday by Kevin Bissett, October 6, 2013, The Canadian Press in Edmonton Journal
Premier David Alward of New Brunswick and members of the Elsipogtog First Nation have agreed to continue talks Monday in an effort to resolve a growing dispute over shale gas exploration. Alward and three of his cabinet ministers met Sunday with Elsipogtog council members and other opponents of the shale gas industry at a hotel in Moncton, N.B., in an effort to end a protest that has closed a highway in eastern New Brunswick for a week.
Elsipogtog Chief Arren Sock said nothing during the meeting changed their view that energy company SWN Resources should leave the province. "In a nutshell, we want the company out of our province and the province wants to do business with the company," Sock said following the three-hour meeting. "We basically put our issues on the table and the province did the same, so I had to ask for a follow-up meeting."
Alward said the meeting gave both his government and Elsipogtog members an opportunity to express their respective views in a discussion he described as "respectful." … The RCMP blocked Highway 134, near Rexton, last Sunday after a protest over shale gas exploration by SWN Resources began spilling onto the road. Protesters subsequently cut down trees across another part of the highway and have blocked an entrance to a compound used by SWN Resources to store exploration equipment.
On Thursday, [behind closed doors] a New Brunswick judge issued an injunction at the request of SWN Resources that would force the protesters to remove their blockade and allow the company access to their site. The RCMP have not yet enforced the injunction, and Sock said he hoped it would not happen while talks with the government were underway. Alward said it is SWN's injunction and he doesn't have a say in the matter. "SWN has the permit to be able to do that work and ultimately there has been an injunction served," he said. "That is outside the perspective of government." Members of the Elsipogtog community and other protesters have been demanding a meeting with the premier and want SWN Resources to stop seismic testing and pull out of New Brunswick. Opponents of the shale gas sector say the process used to extract the resource — hydraulic fracturing, also known as fracking — could pollute drinking water. [Emphasis added]
Buffy St. Marie on Fracking, Hint: She doesn't like it by Miles Howe, October 6, 2013, Media Coop
St. John, New Brunswick – Legendary performer Buffy St. Marie graced the Imperial Theatre in St. John last night, and gave a double standing ovation performance. Never one to shy away from a political stance, or a defence of mother nature, St. Marie has throughout her decades-long career been the subject of CIA and FBI interest. Blacklisted, muzzled by mainstream media and for a period shunned airplay in the United States of America, St. Marie's immense talent has shone through it all and has garnered her a global audience of devoted fans. Playing in the Irving stronghold of St. John, itself home of Canada's largest oil refinery, with pipe dreams of becoming the butt end of the 'Eastern Energy' pipeline, St. Marie still held back no punches in her criticism of the highly-polluting and water-intensive technique of natural gas extraction known as hydraulic fracturing, or the environmental disaster of the tar sands.
…
St. Marie had this to say of the potential of fracking in New Brunswick:
"Are you kidding?" said St. Marie. "Just don't let it happen. Don't let it happen. I've seen it in the US. I seen it in Oklahoma. I went to Fort MacMurray and it's disgusting. It's a disaster. It's worse than I ever could have imagined. It's bigger. And there's no returning. There's no turning back. Certain people signed certain leases and they did not have this in the fine print. It was not in the fine print. Our elders, their hearts are breaking because they signed leases. Don't sign leases, just don't do it. The ones who have, their hearts are breaking now, but it ought to be illegal because it's not in the fine print. It's not in the fine print that they're going to destroy nature. There's no way to turn it around. Once it's paved it's dead." [Emphasis added]
More:
Opposition aux gaz de schiste au N.-B.: Alward a rencontré des autochtones
Mi'kmaq Warrior Society says it was "cut out" of meeting with NB Premier
Elsipogtog Chief, NB Premier keep talks going as blockade continues
Shale gas blockade near Rexton enters sixth day
Shale gas protesters defy order to remove Rexton barriers
Police, Government, Corporations by Robin Mathews, October 5, 2013, The Straight Goods
The common definition of fascism involves the marriage of government and private corporations to exploit all available resources and – in pursuit of private profit – to repress populations.  Long gone is the old (and brief) definition of fascism as 'corporatism' – meaning the concentration of all community powers to benefit "the nation".