Harper begins to lose his iron-fisted control, The most useful thing the Senate scandal has done is give the public a graphic insight into how Stephen Harper operates. He is ruthless and can turn on a dime by Haroon Siddiqui, October 26, 2013, The Toronto Star
The most useful thing the Senate scandal has done is give the public a graphic insight into how Stephen Harper operates. He is ruthless and can turn on a dime. Who says Parliament is boring — the Senate irrelevant and the Commons just a yak-fest? In the past few days, proceedings in both houses have proven riveting, especially in the televised Commons where the opposition has done what no one else has been able to for months: crack open Stephen Harper's armour of denial and obfuscation in the Senate scandal.
The videos from Question Period should be shown to students in high schools and universities to illustrate the difference between our parliamentary form of government and the American system. Had Congress been set up to grill the president regularly, as Parliament does the prime minister, Washington's executive and legislative branches would be less isolated in their silos. As much as Harper has tried to make the Mike Duffy, Pamela Wallin and Patrick Brazeau affair go away, it is mostly Parliament that has not let him.
It was relentless opposition questioning that forced Harper to finally acknowledge a flaw in his oft-repeated script. He has maintained since June that only Nigel Wright knew what Nigel Wright was doing in writing the infamous $90,000 cheque to Duffy — "it was not communicated to me or to members of my office." On Thursday, the prime minister changed it — "he informed very few people." In typical Harper fashion, he did not admit to the alteration. He just snuck it in at the end of a sentence during a long line of exchanges with NDP Leader Tom Mulcair.
It was the Senate that offered Duffy and Wallin the best platform to fight back. No fury being as potent as that of a lover scorned, the two relished getting back at Harper. Old pros at oral presentation, both put on a good show and got the headlines they coveted. But their performance won't save them, rightly so. Their chief complaint, that the Conservative majority in the Senate is suspending them without due process, is valid. So is their suggestion that their overspending was the norm around Ottawa and that it became an issue with Harper only when it became an issue with the public.
Still their profligacy at the taxpayers' expense remains the greater sin, by far. That's why Harper's harping on that point has been so effective, all the more so because, whatever else his weaknesses, his personal financial probity has been beyond reproach. No Gucci shoes for him, no designer purses for Laureen. The "monstrous political scheme" that Duffy ascribed to the PMO is nothing more than a prime minister getting rid of a political liability. The most useful thing he and Wallin did was to give the public a graphic insight into how Harper operates. He is ruthless and can turn on a dime. That's what he showed when he quickly cast aside Brian Mulroney during a 2007 public inquiry into the latter's business dealings with German lobbyist Karlheinz Schreiber. That's what Harper has done with Duffy, Wallin and Brazeau. And now he wants to strip them of their platform, perks and pay ("a mean, arbitrary and cruel … professional capital punishment on our colleagues," as Tory Senator Hugh Segal put it).
The real issues are whether Harper has been telling the truth about what, exactly, he knew and when; whether the prime ministerial sherpas interfered with the law by promising to avoid an independent audit, doctoring reports and paying hush money; and whether the RCMP finds grounds in those actions for fraud and breach of trust.
The political damage is already done, as it should have. Harper will find hard to escape it, even if the Senate suspends the three senators this week, in time for the Conservative Party's policy convention in Calgary next weekend. It is poetic justice that a prime minister who has been getting a free ride for years with his phony campaign of "reforming the Senate," something he constitutionally cannot do without provincial approval (as the Quebec Court of Appeal rightly ruled Wednesday), has been tripped up by that same body and by the people he had hand-picked for it.
Harper's iron grip on his caucus has been loosened. There's open dissent — not widespread but enough to hurt him. There's public sniping between prominent Tories — again, involving not too many but enough to crack open the façade of unity. A prime minister does have greater leeway than an American president. But the parliamentary system can expose his authoritarianism in ways that can spell the beginning of his end. [Emphasis added]
Trudeau challenges Harper to testify under oath by CBC News, October 26, 2013, 2013
"It's really frustrating to see the level of mistrust and disgust that Canadians are having towards Parliament, towards the prime minister right now. It's time the prime minister showed some leadership and actually came clean on everything he knew, and the only way we're going to be able to do that, unfortunately, is if everybody testifies under oath." Trudeau earlier this week said Harper should testify under oath. Harper has not responded. [Emphasis added]
The Supreme Court deserves better by Jeffrey Simpson, October 26, 2013, The Globe and Mail
The Quebec challenge misses the telling point: Justice Nadon is undoubtedly a nice man and perhaps a competent judge, but he is not qualified enough to sit on the Supreme Court of Canada. Residency questions aside, his record in law and on the bench does not make him what the Supreme Court needs. His is at best an ordinary appointment, and at worst sub-par. The workload of a Supreme Court judge is a killer, especially the preparation and writing of judgments. Yes, there are clerks who help justices perform their tasks. But judging at the very highest level is intellectually challenging and of consequence for all Canadians.
We live with Supreme Court rulings in our daily lives. The institution helps shape the country. Supreme Court judges are often around longer, sometimes much longer, than elected officials. Only the very best will do.
Justice Nadon was a supernumerary judge at the age of 64. For those not familiar with the term, it means he was part-time. Supernumerary judging is one of the biggest boondoggles in the public sector. It allows judges, after a period of full-time service, to collect salaries while working only part-time. Going supernumerary is what many judges do when they want partial retirement. If Justice Nadon was in semi-retirement at 64, how is he going to handle a Supreme Court judge's workload?
Justice Nadon practised law in Montreal before his appointment to the Federal Court. Nothing in his practice suggests the kind of career that characterized Supreme Court justice John Sopinka, who was one of Canada's top litigators. Nor does it compare to the outstanding litigation career of Guy Pratte, another potential Supreme Court nominee.
Justice Nadon has no record of academic contributions to the law, unlike Nicholas Kasirer, the former law dean at McGill. He did not serve on the Quebec Court of Appeal, which usually deals with far broader issues than the Federal Court. Civil law cases are more likely to bubble up through the provincial court system than the Federal Court, and Quebec judges on the Supreme Court must be among the best at civil law.
There have been previous nominees from the Federal Court, but most have been people of remarkable accomplishment. Frank Iacobucci, for example, moved up from the Federal Court, but he had been federal deputy minister of justice, vice-president of the University of Toronto and a law scholar of note. On the Supreme Court, he wrote decisions that shaped the country, such as extending equality rights protection for gays.
It is said that Justice Nadon has a special knowledge of maritime law. Which is good, except that maritime law cases might make it to the Supreme Court once in a quarter-century.
He did pen a decision siding with the federal government in a case involving convicted Canadian terrorist Omar Khadr. Perhaps this recommended him to a "law and order" government – who knows? All the government keeps saying is that he is well-qualified, without pointing to a single thing in his career that makes it so.
There were very highly qualified judges in Quebec – many of them female – who lawyers and law professors believed had earned a Supreme Court nod. It could be that they were asked and did not want to move to Ottawa.
The Commons committee charged with questioning Justice Nadon was given just two days to prepare and flubbed the job by not asking hard questions. The country's law associations and professors knew so little about such an unknown judge that they fell silent. The Supreme Court deserves better. [Emphasis added]
The New York Times reports on Stephen Harper's growing corruption scandal! Dispute Over Canadian Senators' Expenses Balloons Into Larger Political Scandal by Ian Austen, October 24, 2013 (print edition, October 25, 2013), The New York Times
And while the amount of money involved is not vast, it has become a major political scandal for Canada's prime minister and his government. … Established to give the provinces a voice in Parliament, the Senate has traditionally deferred to the elected House of Commons. While distinguished Canadians have accepted appointments to the Senate, the tendency of governments to use it to reward retired politicians or party operatives has, over time, made it fertile ground for political cartoonists. Under normal circumstances, all 105 senators are guaranteed a job until mandatory retirement at 75. Three senators in the current controversy are Conservatives appointed by Mr. Harper despite his promise on taking office in 2006 to introduce an election system for the Senate. Two of the three, Mike Duffy and Pamela Wallin, were well-known broadcast journalists who, after joining the Senate, often used their celebrity to draw crowds at Conservative fund-raisers throughout the country. … The prime minister, who has a reputation as a micromanager, has denied knowing anything about Mr. Wright's check before it became public and has offered no explanation for Mr. Wright's generosity.  [Emphasis added]
Senate Scandal: My What Big Teeth You Have Mr. Harper by Grooch, October 22, 2013, Huffingtonpost.ca
Watching a recent televised press conference from New-York last week I listened to Prime Minister Stephen Harper begin all his responses to questions by first saying "LOOK". Well he might have unintentionally been asking for more eyes to be watching than he may have counted on, considering the events of the past week. Like Little Red Riding Hood, if the Canadian people look carefully enough, they will start to see the camouflage is fading and the Wolf is beginning to emerge. But for all the pointing fingers in the last few days what did Mr. Harper announce he wants the nation he leads to do? … to "STAY FOCUSED" Is that it? REALLY??? Granted I know the economy and creating jobs is indeed the priority of any leader these days. I just think the fiasco that's plagued Mr. Harper and his party these past few days shouldn't just get swept under the rug, while he gets to wisp off to South America sipping on Margaritas. Closing the door to the press and refusing to take questions after his brief announcement Tuesday was, if not a slap in the face of the Canadian people, possibly an admission of guilt, wrong doing, and a stance that shows contempt for accountability. [Emphasis added]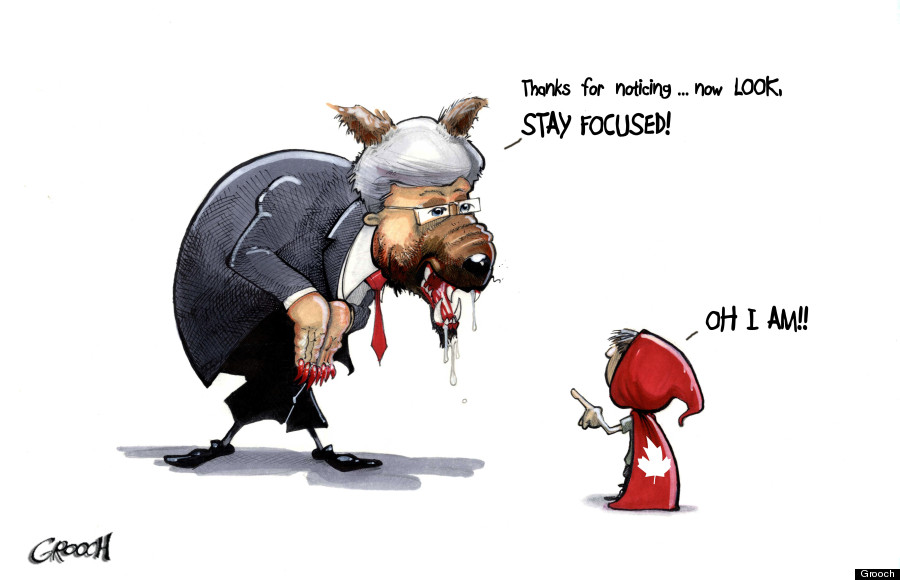 Conservative Backstabbing by Werner Patels, October 27, 2013  After all, Harper has always been known to be a control freak, nothing ever happens in government without Harper knowing about it or actually even calling the shots. …
The average Canadian sees precisely what's going on: the Conservative party is rotten to the core, and now one crook grasses up the other crook, just like in any other good cop show like Law & Order. …
If even a small portion is true of what Duffy or Wallin has alleged, then Harper is no longer suitable to serve as Prime Minister of Canada. At the same time, though, Duffy and Wallin, as well as others, deserve nothing less than jail time.
Harper government Slips in Change To Supreme Court Nominations Into Budget Implementation Bill by Bruce Cheadle, The Canadian Press, October 22, 2013, Huffingtonpost.ca
Prime Minister Stephen Harper has tossed his latest appointment controversy into the lap of the Supreme Court. … At the same time, the Conservatives used their latest omnibus budget implementation bill Tuesday to rewrite the Supreme Court Act in order to give a nudge and a wink to the justices about how their reference ruling on Nadon ought to go.
…
The changes in the omnibus budget bill will declare that individuals with at least 10 years on the Quebec bar at any point in their career are eligible for the Supreme Court, say the Conservatives. … NDP Leader Tom Mulcair called the handling of Nadon's appointment "an incredible mistake, an unprecedented error."
"The Federal Court, where Judge Nadon showed he was an extremely capable jurist, does not let anyone know whether he's capable of helping interpret the Quebec civil law," said Mulcair. "Quebec has a right to three judges. It's a huge problem that the Conservatives have caused themselves by their own incompetence." Liberal Leader Justin Trudeau called it "yet another question of the prime minister's judgment and competence."
And Irwin Cotler, the Liberal justice critic and former justice minister, said slipping the Supreme Court declaration into a budget bill suggests either Conservative indecision or an effort to hide the mess. "Why tuck away something as important as amending the Supreme Court Act, which deals with a constitutional pillar of our democracy, tuck it away in a budget!" said Cotler.
The Supreme Court surprise was not the only political hand grenade buried in the budget bill. The latest implementation act, the second of two, also includes a number of changes to labour law and more specifically to the collective bargaining powers of public servants. It extends solicitor-client privilege protections under the Proceeds of Crime (Money Laundering) and Terrorist Financing Act, and appears to give the Immigration minister new powers over approving economic class applicants. [Emphasis added]
Harper Gov't aims to amend the Supreme Court Act via an omnibus budget bill to make Nadon eligible for Supreme Court by CTV News with files from the Canadian Press, October 22, 2013
Justice Marc Nadon's eligibility in question, The Conservative government is seeking to resolve the controversy surrounding Justice Marc Nadon's appointment to the Supreme Court of Canada by putting a "declaratory provision" in an unusual place — the budget bill. … A Toronto lawyer is challenging Nadon's appointment, arguing that only judges from the Quebec Court of Appeal or the Quebec Superior Court can occupy one of the three reserved Quebec spots in the Supreme Court.
The Conservatives have added this line to the Supreme Court Act in the latest budget implementation bill: "For greater certainty, for the purpose of section 6, a judge is from among the advocates of the Province of Quebec if, at any time, they were an advocate of at least 10 years standing at the bar of that Province."
Justice Minister Peter MacKay said that's not an amendment, but a "declaratory provision which is meant simply to clarify what we believe is the proper interpretation of the existing act." …
When asked Tuesday why the provision was included in his bill, Finance Minister Jim Flaherty told reporters: "It's the mechanics of government."
Asked whether the new language in the Supreme Court Act would apply retroactively to Nadon, Flaherty referred questions to MacKay.
By law, Quebec is guaranteed three spots on the Supreme Court bench.
Opposition parties have criticized the way Ottawa has handled Nadon's appointment Former justice minister and Liberal justice critic Irwin Cotler questioned why the Conservatives buried a Supreme Court declaration deep into the budget bill. "Why tuck away something as important as amending the Supreme Court Act, which deals with a constitutional pillar of our democracy, tuck it away in a budget,"
Peter MacKay rewording Supreme Court Act while seeking court's advice on legality of Nadon's appointment by Sean Fine, October 22, 2013, The Globe and Mail
Faced with an unprecedented challenge to the legitimacy of the latest appointment to Supreme Court, Justice Minister Peter MacKay is rewriting the law that governs such choices. At the same, Mr MacKay he is also asking the country's highest court to determine whether the appointment of Justice Marc Nadon is legal under the Supreme Court Act. Justice Nadon was chosen from the Federal Court of Appeal, and the law is unclear on whether judges from that court qualify for the Supreme Court. He was sworn in last month, but stepped aside before hearing a case because of a legal challenge. Toronto lawyer Rocco Galati argues that, under the Supreme Court Act, a judge from the Federal Court's trial or appeal divisions is not eligible to be on the top court. Quebec announced it intends to challenge the appointment, too, because Judge Nadon has not lived in the province for a several years.
The court has been hearing cases this fall with eight judges rather than the full complement of nine. That opens the possibility of a tie. The situation could continue for several months, or perhaps more than a year. Meanwhile, the court has just two judges in action from Quebec, one less than the minimum number guaranteed in the Supreme Court Act.
Mr. MacKay's request that the court determine if the appointment is permitted is an attempt to speed matters. He also will add "declaratory provisions" to the Supreme Court Act to say expressly that any lawyer with 10 years standing at the bar of their province, and specifically Quebec, is eligible for appointment to the Supreme Court. The new wording is in a budget implementation bill tabled in the House on Tuesday. "Our government will defend the eligibility of long-standing members of the bar in all provinces and territories to sit on the highest court in Canada," Mr. MacKay said. He did not indicate precisely what question or questions he will ask the Supreme Court.
Adam Dodek, a constitutional expert at the University of Ottawa, said once the new wording becomes law, Justice Nadon could decide to hear cases immediately. But he said he is surprised because "usually you seek a reference [to the Supreme Court] in advance of legislative action, not at the same time."
Osgoode Hall law professor Jamie Cameron called it "unseemly for the government to amend the legislation, apparently, to influence the court's decision."
Mr. Galati called the new wording a "cynical end-run around the rule of law. The fact that they're amending it now just confirms my reading that they couldn't appoint Federal Court judges before."
He also said the government needs to ask the court whether a constitutional amendment is necessary, which is much harder to achieve. He said the Constitution Act requires an amendment when a change is made to the Supreme Court's composition. If that question is not put to the Supreme Court, he said he will continue his challenge of the appointment in Federal Court.
The Supreme Court seems virtually certain to agree to hear the reference case, and the government could ask the court to expedite the hearing. In 2008, the court granted leave to appeal in a case involving BCE Inc. on June 2, heard the case on June 17 and decided it on June 20.
Emmett Macfarlane, a political scientist at the University of Waterloo, said the new wording for the Supreme Court Act is meant to tell the court "that this is Parliament's interpretation" of the law. He called the controversy over the appointment of Justice Nadon "completely avoidable," and said the government clearly anticipated it…. [Emphasis added]
Religious Canadians bend morals for the almighty buck: study by Misty Harris, October 23, 2013, Calgary Herald
Do unto others — so long as you recognize them from church. Incongruous as it sounds, a new Canadian study discovers that the more importance people place on religion, the more likely they are to lie for financial gain. The lead researcher hypothesizes that this "really strange effect" is the result of the faithful feeling less kinship with the secular, and ultimately less concern about screwing them over for a few bucks. … "Lying is a complex behaviour," said Jason Childs, associate professor of economics at the University of Regina. "We wanted to start a broader exploration of the characteristics that are associated with it." The study — to appear in the December issue of the journal Economics Letters — draws on 400 people randomly separated into pairs. … "We had them rate the importance of religion on a scale, and as they went up each point on that scale, they became about four per cent more likely to lie," said Childs, who proposes that the predominantly secular university population played a role in religious students' decision to defy a key tenet of their faith (the most common religions on campus are Judaism, Islam and Christianity, all preaching honesty as a virtue). "My suspicion is that they feel like the receiver isn't part of their group, and that creates a feeling of otherness. That otherness leads to feelings of detachment that can increase willingness to lie." …
Other key findings included the tendency for business majors to fib at a higher rate, which is consistent with a wide body of literature on dishonesty among that academic cohort. "There's a real possibility that business majors are either devious by nature or by training," said Childs, noting that the field is known for people who are highly motivated by personal gain, and often competitive to a fault. [Emphasis added]
Stephen Harper — world's worst talent scout by Michael Harris, February 24, 2013, iPolitics Insight
Sooner or later, the country is going to realize that there is something terribly wrong with Stephen Harper's judgment. … Perhaps the PM was more interested in what he did know — that Brazeau, and at the time, CAP, backed the Conservatives when the Assembly of First Nations was solidly with Paul Martin and his "new deal" for native peoples. It was the age-old battle over reserve and non-reserve aboriginals and the differing treatment they receive from the federal government. Harper got his first minority government in 2006 in part because Brazeau, then CAP's deputy-national chief, helped kill the Kelowna Accord. Two years later, he was in the Senate. Like some of his appointments, the Senate itself is further evidence of poor judgment by the prime minister. Instead of the refreshing promise of reform, Harper has turned the Senate into a bank machine for the Conservative Party, using his appointees to raise money at endless fundraisers and to fiddle the system.
…
The difference between this PM and his predecessors is that he didn't stop at stacking the Senate with pork. He remorselessly used it as just another partisan forum, on one occasion deploying a patronage-based Senate to kill a climate-change bill that had already been passed by elected MPs. That hadn't happened in seven decades.
Then there was the disastrous hiring of Bruce Carson as a key advisor to the prime minister. People make mistakes, yes. But I am still looking for another prime minister who hired someone with a criminal record to sit at his right hand. A fraud conviction is not usually a big selling point when looking for work.
Carson's dubious appointment is small potatoes in comparison to the lack of judgment involved in welcoming confessed money-launderer Nathan Jacobson into the Conservative party's inner sanctum. Jacobson, who was proudly photographed between Prime Minister Harper and Israeli PM Benjamin Netanyahu in 2010, (or 2012 if the PMO is to be believed), acted as the seeing-eye dog for senior Harper cabinet ministers anxious to meet top Israeli politicians. When it became public that their wealthy donor and door-opener was actually a man who was guilty of more than $40 million in money laundering in the U.S., cabinet heavyweights like Foreign Affairs Minister John Baird and Treasury Board President Tony Clement displayed shock. They claimed they hadn't known a thing about Jacobson's shady criminal past until a warrant was issued for his arrest in the summer of 2012 after failing to appear for sentencing in California. It was the same story with Immigration Minister Jason Kenney. He was set to receive an award from Nathan Jacobson at a glitzy social event in Toronto. Jacobson was abruptly dropped from the program when it emerged that the well-connected businessman was a fugitive from U.S. justice. There were so many red flags about Jacobson that even Ferdinand the Bull would have charged. More to the point, the Canadian government knew about them.
In 1998, Jacobson launched a lawsuit against the Attorney-General of Canada and various members of CSIS, Export Development Canada (EDC), and the Canadian Commercial Corporation (CCC) for alleged government reports linking him to the Russian mafia. During the legal proceedings, Jacobsen himself admitted that he made small payments to a CSIS employee. That case dragged on for nearly six years before it was mysteriously settled without any details being made public. In 2007, Jacobson was chosen for a diplomatic appointment by the Costa Rican government. The Canadian department of Foreign Affairs twice refused to accept him, a rather unusual occurrence in diplomatic circles. Harper himself couldn't have missed the news when Jacobson sued Conservative MP Mark Adler for $140,000 last September. Adler's statement of defence in the now settled case was that Jacobson had given him the money in 2009 and 2010 as "a friendly gesture." Assuming Adler's story is true, Harper's judgment is once again highly questionable. Since the ethical standard of any government is set by the prime minister, he appears to be saying that it's okay for MPs to accept large cash gifts from people who routinely work hard to make contact with politicians who may prove useful in the future. Interestingly, Jacobson is still in Canada. He is involved in a legal battle over extradition to the United States, where he faces a lengthy jail term for his admitted crimes. The Harper government, which has insisted in the past that Canadians who commit crimes in other jurisdictions should go to jail there, has been silent about the Jacobson case.
And now we have the developing case of another Harper appointment that raises questions about the PM's judgment — the enigmatic Arthur Porter. Porter was head of the McGill University Health Centre (MUHC), from 2004 until 2011. Harper met him while touring the old Montreal General Hospital in 2006. The PM appointed Porter to health advisory boards and then, oddly, recommended to the Privy Council Office that Porter be named to the Security and Intelligence Review Committee (SIRC). Less than two years later, Porter found himself chair of our spy services oversight committee, a position in which he had access to all of Canada's intelligence secrets. He was appointed to the Board of Air Canada and made a Queen's Privy Councillor. Porter also was connected to self-described arms-dealer and former (alleged) Israeli intelligence officer Ari Ben-Menashe. The two were involved in a dubious business deal involving a $120 million investment by Russia in "port development" in Africa. It turned out that Porter was also claiming to be ambassador plenipotentiary of Sierra Leone, one of the most corrupt countries on earth — an obvious conflict with his SIRC role.
When these stories broke, Porter hastily resigned as chair of SIRC. A month after leaving his CSIS job, and again with unseemly haste, Porter resigned as director of the McGill University Health Centre in December 2011. MUHC was left with a $115 million deficit. Porter did not repay $317,000 he had borrowed from the university. The university sued and Porter was ordered to repay that money after failing to show up in court in January. Quebec's anti-corruption police raided MUHC looking for incriminating documents concerning the $1.3 billion contract to build a new super-hospital. Some of the documents they seized belonged to Porter. The consortium that got the contract was led by Quebec engineering firm SNC Lavalin, now mired in scandal. LaPresse reported that $22.5 million of the $56 million in "irregular" payments that Lavalin admitted doling out to win contracts was spent on the super-hospital project. The money was paid to a mysterious company called Sierra Asset Management Inc., registered in the Bahamas, where Porter now lives. Strangely enough, the address given for Sierra Asset Management Inc. is the same one as a branch of the Compagnie Bancaire Helevetique (CBH). It is run by the man who introduced Porter to Ben-Menashe in 2010. According to Porter, the man who runs the CBH, Hermann-Josef Hermanns, was just "a guy whom I trusted." Porter says he is the vicim of a witchhunt and denies knowing anything about the $22.5 million or Sierra Asset Management.
With his party and his parliamentary secretary now under investigation by Elections Canada, you have to admit, Steve sure can pick 'em.
[Emphasis added]
[Refer also to:
Stephen Harper could have avoided Mike Duffy woes by obeying the law
Quebec Court of Appeal declares Harper government's Bill C-7 unconstitutional
Quebec set to make unprecedented challenge to Nadon's Supreme Court appointment
How Harper bungled Supreme Court appointment: Prime Minister Stephen Harper's decision to appoint Marc Nadon, of the Federal Appeal Court, to the Supreme Court of Canada is problematic for several reasons
New Harper government tactics to keep information secret troubles Suzanne Legault, Information Commissioner of Canada ]