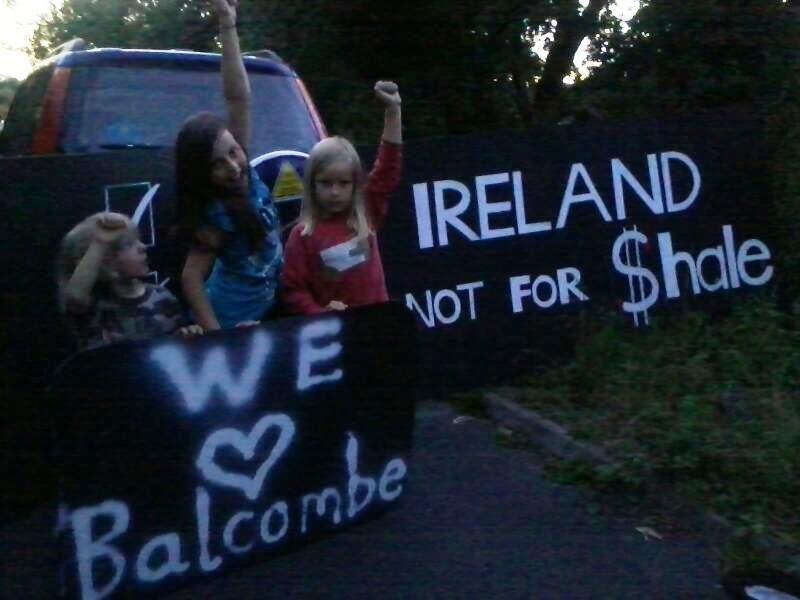 Source: North West Network Against Fracking
Balcombe backs anti-fracking protest by the Sun, August 4, 2013, express.co.uk
The residents of Balcombe made their stand against fracking yesterday as more than 100 marched in support of protesters camped near the drilling site. After days of arrests amid a huge police operation in the tiny West Sussex community, organisers insisted it was to be a peaceful demonstration. The villagers were greeted by cheering activists after walking a mile to the site from the recreation ground. Organiser Nancy Towers, 47, said: "We wanted people who have been protesting to know the villagers are right behind them." Energy giant Cuadrilla is drilling a borehole to see if there is oil in the ground.
From a Balcombe resident by Helen Savage, August 3, 2013, FrackFreeSussex
As a Balcombe resident I would like to alert you to the door to door, 'Lock the Gate' survey undertaken by a team of 17 people over many hours, which came out as 85% against, 9% unsure and 6% pro-fracking.
The above video is a document of this important declaration.150-200 people coming from Balcombe today to join the protest is as accurate as we'll get on numbers, certainly over 150. We sang our version of Jerusalem as we walked and with the protestors down there.This shows the strength of feeling in a village of approx 2000 residents.
The government are making it too easy for fracking to take place, having originally said we will have tighter controls and regulations than in the US, now we find that the government are using recent bills to enable them to rush this through the planning process without due consideration to communities involved. Not only this, but now, possibly because the process is taking a long time here in Balcombe, George Osborne is saying permits will be able to go through in as little time as 2 weeks.
We were not consulted about this drilling rig, the planning permission was on a tree on a fast road where no-one stops outside of Balcombe. Our Parish Council had no idea what they were letting themselves in for (who had heard of fracking a couple of years ago?) When the Parish Council put it to a vote (after investigating and informing the residents about the process) 82% of voters said they did not want this process to happen. Cuadrilla have NO social license to be here. This is middle England saying NO, normal people who (quite happily) have not been politically active before, have woken up and realised it is time to stand up to protect their community, this is grass roots democracy saying NO.
We have tried all the official channels and so far they are just not listening enough. We are happy that protestors from outside care enough to come and stand up against this process. I have been down there nearly every day and met genuine, concerned and informed people from: Forest Row, Hayward's Heath, Cuckfield, Danehill, Chichester, Brighton, Lewes and so on. They have every right to be there, Ardingly reservoir is one of only 4 reservoirs that serves the whole of the South East. This area has been deemed to be an area of 'water stress' in the future, we cannot afford to put it at risk. People have an absolute right to come here from further afield, they drink the same water. (Remember Fracking not only risks polluting the water supply but uses 20 million litres of water per well).For those that come from Lancashire, Somerset and the Solent I salute you, you are or are about to experience the same problems that we are. This is much bigger than Balcombe it's about people being desperate to be heard and be listened to.
The media may try and paint a picture that the protestors are not from Balcombe, as indeed our own MP does, they are from Balcombe and further afield and we welcome their efforts to help get this issue out into the open.
Why shouldn't we frack? My father's an engineer and if there is one thing engineers know its Murphy's Law- 'what can go wrong – will go wrong'. What we see with fracking is that time and time again it DOES go wrong. There is no such thing as 'fracking' which 'when done properly doesn't go wrong' (thank you Egan). Cuadrilla have a 50% failure rate with their wells in Lancashire. In Pennsylvania and Australia there is peer reviewed and documented evidence of environmental pollution and health problems in children and adults around this industry. Once we have polluted the land and covered our country side in the infrastructure of fracking (compressor stations, drills every few miles, flares, heavy traffic carrying noxious chemicals and silica dust, that is the carcinogenic 'sand' in America, that blows around work plants), we will find that the pollution is irreversible. This industry is about oil companies who have greater lobbying power than green industries and people who stand to make a lot of money through it.
Why is our MP not shouting more loudly about this? He tells us he 'cannot speak up in parliament,' but his statements are ill-informed and betray a complete lack of understanding of his constituents wishes in Balcombe. As far as I am aware, despite requests he still refuses to hold a surgery here in Balcombe until November. We can only begin to wonder if there is a link between his appointment of Lord Browne (non-executive chairman of Cuadrilla) to a government position and the fact that he is letting Cuadrilla move into this community without defending us.
Why shouldn't they drill? It is a very grey area and a mute point whether this drilling is conventional or unconventional. If it was 'conventional' like the other oil wells in sussex, then why do they need a special 'fracking rig' to do it? The 'etching' process involves acid stimulation of rock with hydrochloric acid and as such is extremely close to the definition of fracking itself, some have coined it a 'low pressure frack'. They can horizontally drill (much less usual) they will still go through the aquifer, and put acid down, there are gill streams close by which link through tributaries to the Ouse which feeds our reservoir. Cuadrilla must deal with their NORMS (Naturally Occurring Radioactive Materials) properly or there is a risk of contamination to our water. I have no faith in Cuadrilla, they were about to go ahead without the mining waste and radioactive waste permits in place. They over-drilled for 2 months without permission in Lancashire and they cracked one well and had a problem with another. What can go wrong will go wrong Francis Egan and you have proved that in fracking, it DOES.
I don't think the Environment Agency has the resources, man-power or level of expertise in this area to be able to regulate this properly. New and startling evidence is coming in from abroad every day, can they keep up with it? Even if they can, can they enforce it when companies break the rules? Why did they not stop Cuadrilla from drilling when they should have because of issues around bird protection? Will they protect us here?
50% of wells leak after 15 years (Schlumberger). This is a dirty industry and nothing can convince me that it will make the country a better place for me and my children, either now or in the future.
Thanks,
Helen Savage
Your interview: Vanessa Vine, Frack Free Sussex by Jane L., August 3, 2013, The Argus
JANE L by telephone: I'm not very knowledgeable about the fracking scandal. Can you tell me please how fracking will affect our water supply? Isn't there a reservoir in Balcombe? It sounds dangerous.
VANESSA VINE (VV): It is dangerous indeed. Cuadrilla's Balcombe bore at Lower Stumble is less than a mile both from Ardingly Reservoir and the River Ouse – both of which are drawn on for domestic water supplying households over a wide region. High volume, horizontal, slickwater hydraulic fracturing uses vast quantities of fresh water. Cuadrilla's chief operating officer Eric Vaughan told me they would be using "municipal water". As you know we had a drought and a hosepipe ban in Sussex last summer. Carcinogenic and radioactive frack effluent or "produced water" can be left in capped wells (to leak ad infinitum into groundwater) or in open ponds. Cuadrilla were given Environment Agency sanction to dump their Lancashire frack waste (supposedly first treated) in the Manchester Ship Canal. In the US and Australia, the toxic, radioactive frack effluent is in some cases being put in tankers and sprayed on roads as either "dust-suppressant" or "de-icer". There is ample recorded evidence of this appalling practice. Do not think it couldn't happen here. Although Cuadrilla say they intend to use acid etching for oil at Balcombe, this licence is a critical precedent for potential shale gas exploitation permissions right across the Weald and the rest of the UK.
WIGGSY online: Vanessa, I would be interested to learn of the concerns being made about fracking and how these are being positioned with regards to drilling so close to the Balcombe Viaduct please.
(VV): Fracking has been proven and widely shown to trigger seismic activity, with studies coming out in the US now about how it can cause distant tremors/quakes, as well as in close proximity. There are many claims of damage to buildings in at least a 10- mile radius of Cuadrilla's Preese Hall Farm frack in Lancashire. These are of course dismissed by the industry as unable to prove. I have visited the Fylde home of Gayzer Taryanji, who stood under his bedroom door frame because the house was shaking so badly when it happened in 2011. I asked Mark Miller – Cuadrilla's former CEO – what magnitude of earth tremor it would take to crack a railway track at such close proximity. He said he didn't know. The Balcombe bore is also two-and-ahalf miles from the Millennium Seed Bank – a subterranean global resource. Seismic activity affecting the Seed Bank or a main commuter railway line simply does not bear thinking about.
…
(VV): The situation in Balcombe is a precedent for the whole country and it's about time more people than Balcombe residents took responsibility for it and had the courage to speak up. This situation has become acutely critical. More than 60% of the country is potentially up for licence for unconventional methane exploitation (shale gas/oil and coal bed methane – all of which involve hydraulic fracturing).
…
BEN DAVIES by e-mail: I would like to know the exact scientific resources Vanessa uses to inform her position. There is lots of talk of issues but little indisputable evidence supporting it. This way I can study the information to gain a proper understanding of the cost/risk benefits and have a properly informed position of my own.
(VV): Thank you Ben, informed opinions are what I incessantly exhort people to form, but there isn't space for me to provide a comprehensive response here. Please do what I have done (for the past two years now) and look for the uninvested research and the voice of truth from individual human beings who have nothing to gain from speaking out, other than their own health/survival and that of their children. Do look at who has funded any research papers/media statements. Beware of "frackadaemia" (many supposedly impartial consultant professors are on the industry payroll).
One person specifically to follow up on is Jessica Ernst who was an O&G industry consultant for 30 years before the company she was working for fracked her land in Alberta and polluted her water so badly that she cannot even bathe, let alone drink it. She is now suing both the company and the Canadian Government. (Ernst v. EnCana). Canada has the best fracking "safety" regulations in the world. They do not work. You could also look up Dr Mariann Lloyd-Smith of the National Toxics Network in Australia and Dr Anthony Ingraffea of Cornell University.
IAN LISSETER (IL) by e-mail: What is the greatest risk to the environment or property from hydraulic fracturing of shale gas reservoirs?
(VV): The relativity of risk/threat will vary in each case, due to the unknowns involved when meddling with subterranean geology. The major threats to our health are through water, soil and air contamination and to property through the triggering of seismic activity.
IL: Secondly, has this scenario occurred in the UK?
(VV:) Seismic activity was triggered the first time Cuadrilla attempted a full scale frack, near Blackpool in 2011. Cuadrilla continued to frack a damaged well and we don't know what may have leaked, or still be down there because of it. Beyond that no, because it hasn't yet happened here at production level. Contrary to extremely irresponsible inaccurate statements by some of our Ministers, high volume, horizontal slickwater hydraulic fracturing is new to the UK.
[Refer to:
Earthquakes from onshore gas drilling threaten a disaster, warn residents of Dutch city, Residents of the Dutch city of Groningen are up in arms over onshore gas drilling that has triggered earthquakes, damaging homes and sending property prices crashing
More claims made for gas extraction damage
Investigation of Observed Seismicity in the Horn River Basin ]
IL: And how does Government regulation address this risk?
(VV): It doesn't. It can't. I refer you to my answer above to Ben about Jessica Ernst. She will tell you – with as much if not more experience than anyone – that this industry is unregulatable. That we cannot legislate for the unpredictability of subterranean geology and that, by definition, it can never be guaranteed safe. We have been through farcical regulatory hoops for the last two years with the Department of Energy and Climate Change (DECC), Health and Safety Executive and the Environment Agency. It has become manifestly clear that the only interests ultimately at play here are short term corporate/political ones.

David Cameron in a recent EU summit in Brussels said about shale gas exploitation in Europe: "No regulation must get in the way". The Government recently implemented the Growth and Infrastructure Act to take away planning decisions from local government, in order to "streamline" industrial/ corporate interests. Pushing this juggernaut through is becoming a political mania. The Environment Agency received nearly 900 detailed, articulate objections (plus a 9,000-signature petition) to Cuadrilla's application for a Mining Waste permit last month. Two days later, they issued the permit regardless. … The initial Balcombe application for planning permission by Cuadrilla was not even tabled properly by the parish council, let alone put to public consultation. Residents were outraged to discover what had been sanctioned without their knowledge.
…
ANONYMOUS online: The company isn't doing any fracking so why are you an anti-fracking group?
(VV): Cuadrilla is a fracking company. If they find the oil (and inevitable concomitant gas) they're looking for, they will seek to frack to extract it. Surely that shouldn't need spelling out. It is a moot point as to whether the test drilling stage involves a degree of fracturing. Some independent experts have said that the "acid etching" technique Cuadrilla intend to use in Balcombe is indeed a form of fracturing. Cuadrilla denies this. Cuadrilla's Balcombe planning application uses the phrase "there may be a need to stimulate". Stimulation is a common industry euphemism for fracking. Even without fracking, the drilling stage will involve hydrochloric acid, toxic drilling mud, methane flaring, light and noise pollution, heavy tanker traffic et al. None of which is acceptable or justifiable. [Emphasis added]
Fracking – The Great Dictator by worldwidewave, August 3, 2013
Ignore fracking protests, government tells planners, National energy policy more important than local preferences for renewables, says ministry by Daniel Boffey and Tracy McVeigh in Balcombe, August 3, 2013, The Observer Planning authorities have been banned from considering whether renewable energy plants would be a better fit for their communities, if they receive an application for a fracking mine. Documents released by the government stress that local authorities should instead recognise that "mineral extraction is essential to local and national economies". This is despite a Department for Communities and Local Government document highlighting 16 environmental risks linked to the process, including seismic shocks and the appearance of radioactive surface water.