France: 'Buried shale gas report' kicks off new row by The Local, April 7, 2015
The row over whether France should exploit its deep reserves of shale gas was unexpectedly back on the table on Tuesday after it emerged the French government had buried a controversial report that suggested alternative and safer methods [Propane/butane fracing is more dangerous; the propane/butane still needs to be gelled with toxic, mystery chemicals raced through communities and injected underground. Propane fracs do nothing to mitigate migrating methane, ethane, propane, butane into groundwater and to surface. Propane/butane fracs are not green, and also result in extreme air pollution, health impacts, noise, road damages, etc] to mine the gas other than the much-maligned "fracking".
The French government was left embarrassed on Tuesday after it emerged that a controversial report, in which experts stated France's shale gas deposits could be cleanly removed without the need for the divisive hydraulic fracturing or fracking, had been buried to keep the Greens onside. [If it had been buried, why was it reported on last year?]
The report, that looked into alternatives to the system of fracking, was commissioned in 2013 by former industry minister Arnaud Montebourg – an outspoken advocate for clean mining of shale gas. The "confidential" report was finished in 2014 but then passed on to the French government which has repeatedly taken the line that mining for shale gas was not a possibility because of the harm done to the environment by fracking.
It seems the report, which suggested safer and greener alternatives to "fracking", was then buried, until Tuesday that is, when French newspaper Le Figaro published a story on its findings.
The experts' report claimed that France's shale gas deposits could be exploited using the "clean technology" of non-flammable propane, meaning there would be no need for controversial hydraulic drilling. [Tops industry's propaganda cake]
Montebourg himself has refused to comment on the report, but confirmed its authenticity.
The fact that the government hid a potentially game-changing report has proved divisive. Newspaper France Soir labelled it "an embarrassment" that the government could hide information about a move that would reportedly lead to earnings for France of €100 billion and that would create between 120,000 and 225,000 new jobs.
Ecology Minister Ségolène Royal, meanwhile, responded to Le Figaro on Twitter, saying that the government had "nothing to hide" and that shale gas extraction was no longer a "valid" topic.
…
Fracking was banned in France in 2011, a move that was upheld by the constitutional court in 2013.
Shale accessible without fracking, says hidden government report by James Perkins, April 7, 2015, Shale Energy Insider
A buried French government report found that the country's shale gas reserves could be extracted without the use of hydraulic fracturing [Industry getting desperate? Gelled propane/butane fracs still require hydraulic fracturing!], according to French newspaper Le Figaro.
The report was originally commissioned in 2013 by the industry minister at the time Arnaud Montebourg to investigate alternatives to fracking in order to extract shale gas.
The paper was completed in 2014 and taken by the French government, who then insisted that shale gas could not be extracted due to possible environmental damage from fracking. [Nice to see there are still a few intelligent, confident, courageous governments in the world]
However, Le Figaro has issued an investigative piece which suggests that the report claims France's shale gas could be extracted using "clean technologies" so that there would be no need for fracking and minimise any possible environmental harm.
Fellow newspaper France Soir has called the revelation an "embarrassment", but ecology minister Ségolène Royal countered the reports and insisted that the government had "nothing to hide", adding that shale gas was no longer a "valid" topic.[Emphasis added]
[Refer also to:
2015 04 07: GASFRAC Provides CCAA Process Update Including Completion of the Sale of Fracturing and Related Assets and Intellectual Property
CALGARY, ALBERTA–(Marketwired – April 7, 2015) – GASFRAC Energy Services Inc. ("GASFRAC" or the "Corporation") (TSX:GFS) announces that it has completed the previously announced sale of fracturing and related assets and intellectual property to STEP Energy Services Ltd., subject to closing adjustments and a hold back related to the transaction (the "Sale Transaction"). The Sale Transaction resulted from the previously announced court-approved sale and investment solicitation process ("SISP") conducted within the Companies Creditor's Arrangement Act ("CCAA") and Chapter 15 of the United States Bankruptcy Code ("Chapter 15") proceedings, under the supervision of Ernst & Young Inc., the court appointed monitor ("Monitor") and the Special Committee and the board of directors of the Corporation. As part of completion of the Sale Transaction, all previous outstanding secured indebtedness owed by GASFRAC to PNC Bank Canada Branch has now been paid in full.
In addition thereto, GASFRAC is currently conducting a CCAA creditor claims process which is expected to be concluded on May 7, 2015. As announced on March 27, 2015, the Corporation has also completed the purchase of certain fracking assets and related services from a third party oil and natural gas service industry competitor and entered into an indicative term sheet with the same third party which contemplates, subject to inter alia, creditor and court approval and customary closing conditions, a proposed CCAA plan of compromise and arrangement, pursuant to which such third party would acquire 100% equity ownership of GASFRAC, as an operating entity (the "Plan").
Additional terms of the Plan will be disclosed as the Plan progresses and the Plan is completed. If the Plan is completed, and all applicable creditor and court approvals are obtained, it is anticipated that the Corporation's unsecured debentureholders may receive additional consideration under the Plan (in addition to any amount distributed to creditors as a result of the Sale Transaction). However, it is anticipated that the holders of common shares of the Corporation will not receive any distribution as a result of the completion of the Sale Transaction or under the Plan.
GASFRAC continues to operate its business under the supervision of its board of directors and the Monitor.
CIBC World Markets Inc. acted as agent, investment banker and financial advisor to GASFRAC with respect to the Sale Transaction. Borden Ladner Gervais LLP is Canadian legal counsel to GASFRAC and Vinson & Elkins LLP is United States counsel to GASFRAC. The Monitor's Canadian counsel is Norton Rose Canada LLP and United States counsel is Norton Rose Fulbright US LLP. Also the securities of the Corporation were delisted from trading on the Toronto Stock Exchange on March 31, 2015. [Emphasis added]
2015: Chesapeake Energy Corporation Teams Up With Calgary's Bankrupt GasFrac (propane fracs) To Test Gelled (with what toxic chemicals?) LNG (Highly Dangerous) Fracking in Ohio
2015: GasFrac Energy Services Inc., based in Calgary, selling "substantially all" assets and technology to undisclosed oil and gas company
2015: Gasfrac files for creditor protection
2014: GasFrac agrees to replace board of directors, Troubled Calgary Propane frac company makes deal with Nanes Balkany Partners I LP; Nominates itself for Edison Award to improve Marketability
2014; France: 'Clean fracking using untested non-flammable propane' is Trojan Horse, designed to make fracing seem OK
2014: French president vows no fracking while he is president
Prime Minister Jean-marc Ayrault on Thursday ruled out any exploration and production of shale gas, after Industry Minister Arnaud Montebourg earlier in the week said he was personally in favour of producing shale gas in a clean manner. 
2013: Canadian Company Gasfrac Tests Waterless Fracking in Texas
2012: Stock slides as GasFrac parts ways with top managers, Waterless well stimulation company promises to repair financial woes [Long before the price of oil dropped!]
2012: France to Keep Shale Ban Until Fracking Alternative Emerges
France isn't prepared to tap its shale energy resources until "clean technologies" are invented to replace hydraulic fracturing, Industry Minister Arnaud Montebourg said. The technique known as fracking causes "irreversible pollution" in some cases, the minister was cited as saying in an interview published today in Les Echos newspaper. It will probably be replaced by a different method, he said. The French parliament passed a law last year outlawing fracking because of concern it can pollute drinking water, effectively halting plans by companies including Total SA (FP) to explore for shale gas in southern France. … "Debate is now centered on a technology that doesn't exist right now to my knowledge. A new technique hasn't yet been demonstrated."
…
Slides below from Ernst presentations in Ireland, 2012: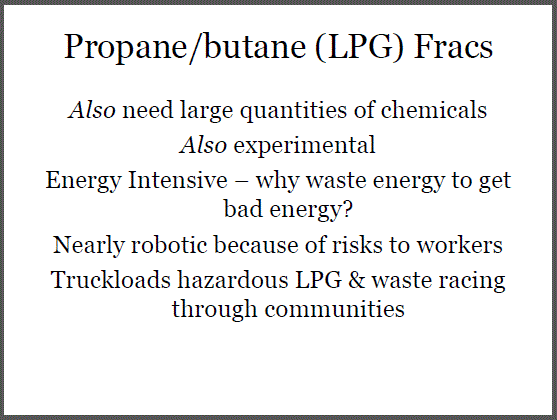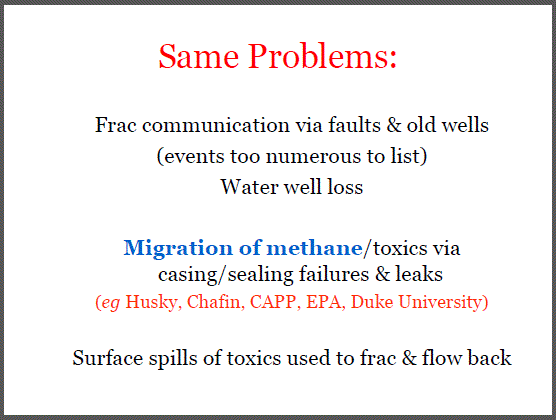 ALBERTA REGULATOR PROVED THAT PROPANE FRACS CONTAMINATED DRINKING WATER: 
2012: Hydraulic fracturing with gelled propane by Gasfrac/Crew Energy Inc./Caltex Energy Inc. contaminated groundwater near Grande Prairie: ERCB Investigative Report and groundwater monitoring by Alberta Environment
Are gelled propane fracs clean, green and safe?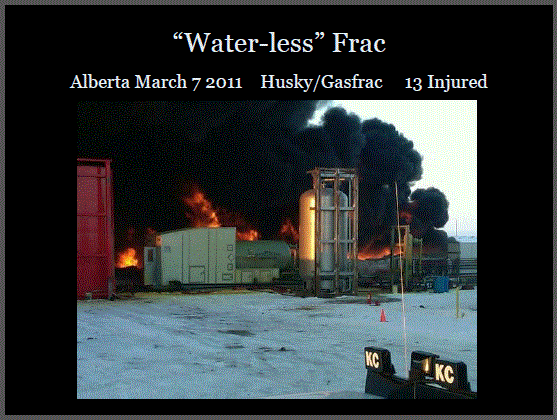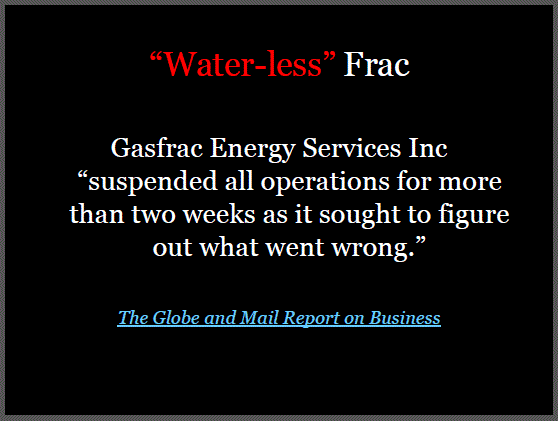 Slides from Ernst presentations