Evolution of a Rebel by Peter Gorman, May 15, 2013, fwweekly.com 
Don't mess with Texas — TXSharon, that is, to use her online moniker. That's the lesson the shale gas drilling companies have been learning since they got horse-riding, pickup-driving, fifth-generation Texan single mom Sharon Wilson riled up about the way they do business. She's mad about the same litany of problems that have caused a major backlash in shale development areas all over the globe.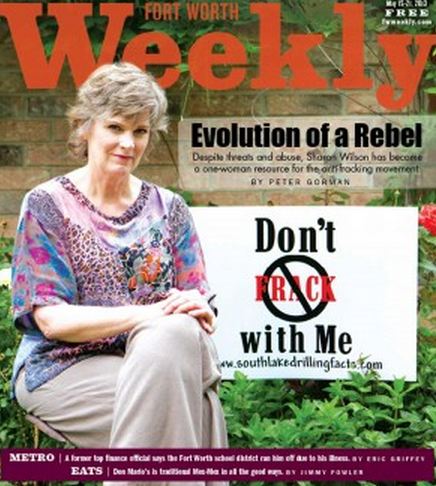 "Any problems the gas industry has, they brought on themselves," she said. "They're lousy business partners and awful neighbors."
She's not talking about one issue having to do with natural gas drilling, but all of them — the permanent elimination of billions of gallons of water from water tables, the release of poisonous gases into the air, the taking of land for pipelines by eminent domain, promises of "mailbox money" that never appears, and practices that put whole regions at risk of illness and explosions.
"It's just all of it that has me angry," she said. "Everything they do, they just do it badly, and they know it and they, the gas companies, just don't care." And that from someone who worked in the industry for a decade.
…
That was before her faucet started gushing black water and her well went temporarily dry. … "One of the things that really bothered me early on, before I really knew about the dangers of gas drilling, was an interaction I had with a landman," Wilson recalled. "He approached me and said that if I could get my neighbor, who had 250 acres, to lease his land to them, I'd get part of his royalties. To me that was stealing, so I told the landman to go and never come back."