EUB scraps security unit, Board-hired investigators spied on landowners by Jason Markusoff, September 25, 2007, The Edmonton Journal
EDMONTON – In an attempt to restore its damaged credibility, the Energy and Utilities Board Monday scrapped the two-person security unit that hired private investigators to spy on landowners. Alberta's privacy commissioner and a former judge criticized the spying in separate reports.
The EUB hired plainclothes investigators to monitor concerned citizens at regulatory hearings this spring in Rimbey and Redwater. One investigator also listened in on a landowners' conference call.
The Liberals released documents Monday that show the government agency spent $22,879 for undercover security at the hearings. Opposition parties renewed demands for the Stelmach government to oust Energy Minister Mel Knight and all board members, rather than simply let the board deal with lower-level staff.
The two staff in the security unit no longer work with the EUB, the board announced. Citing privacy issues, board spokesman Tom Neufeld would not say whether the officials were dismissed or resigned voluntarily.
Board chairman William Tilleman, hired by Knight last week to respond to the controversy, said the board will use provincial peace officers or police for any future security needs, under a new protocol he will develop with the Solicitor General ministry.
And from now on, any EUB staff in attendance at regulatory hearings will be clearly identified when the meeting starts.Tilleman pledged to appoint an executive manager of dispute resolution to ensure landowners can solve problems through arbitration or mediation. Another executive manager will oversee freedom-of-information and privacy issues at the board. "These changes are the first major decisions I am making to reassure Albertans that the EUB has a strong regulatory framework that inspires landowner, industry and public confidence," Tilleman said Monday in a news release. He was not available for an interview.
Liberal energy critic Hugh MacDonald said the chairman's moves were necessary steps, but inadequate because records show that board directors knew about the snooping in Rimbey and should have halted it. "It's fine to fire middle managers, but the board is still not accepting the full responsibility for this despicable act," MacDonald said.
Evidence that public faith in the board has been eroded surfaced Monday when Drayton Valley-area residents expressed fears of a pro-industry bias in an affidavit filed to the board. It urged the EUB to delay an upcoming hearing into a proposed sour-oil project until all court proceedings and EUB internal reviews into the regulator's use of private investigators is completed. The citizens group that filed the affidavit said that at the very least, board members John Nichol and Doug Boyler should be removed from the hearing panel, since they respectively presided over the applications for a 500-kilovolt power line at Rimbey and an oilsands upgrader in Redwater.
"I have a real concern that in any other profession, if you were under investigation you are put on say, desk duty, or taken off of cases," said Lillian Duperron of Rocky Rapids Concerned Citizens. Rocky Rapids hamlet is 140 kilometres southwest of Edmonton.Duperron said her citizens group wonders if the board hired undercover security to monitor another sour oil hearing at a Drayton Valley hotel this spring, although the group has no evidence. "There were people there that none of us knew," she told a news conference at the legislature. "We just assumed that they were interested people of the public, and now different people are questioning if that is in fact what they were." The EUB has said it only hired private investigators at the hearings in Redwater and Rimbey.
Landowners opposed to the Calgary-to-Edmonton power line will appear in court next week, hoping to quash the EUB's hearing at Rimbey, arguing that its spying activities suggest a bias against them. New Democrat Leader Brian Mason predicted citizens around Alberta will have similar suspicions about EUB bias. "Letting the security branch take the fall" for the board's antics does not go nearly far enough to quell public concerns, Mason said. The EUB, which is funded by taxpayers and industry fees, spent $16,045.53 on investigators in Rimbey, and $6,833.59 for them at Redwater, say invoices the Liberals received through freedom-of-information requests. MacDonald said it's shocking the investigators billed for 177 hours of covert work during less than a month of Rimbey hearings.

Tilleman's moves won't make the controversy go away, the Liberal MLA said. "Anytime you have a government agency that spies on innocent, unsuspecting citizens, it's totally wrong. And it's an indication just how far offside this government has gone in the last couple of years," MacDonald said.

EUB employees were grabbed and pushed at one of the central Alberta power-line hearings, which led the board to hire undercover staff to gauge the landowners' potential for more violence. There was no evidence of a security threat at the upgrader hearing northeast of Edmonton, but investigators were hired anyway. Knight and Premier Ed Stelmach have expressed faith that Tilleman would promptly make changes at the regulator, as well as act on recommendations in reports by Privacy Commissioner Frank Work and former Court of Queen's Bench Justice Del Perras. Perras had called the investigators' phone eavesdropping "repulsive." [Emphasis added]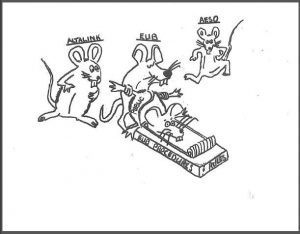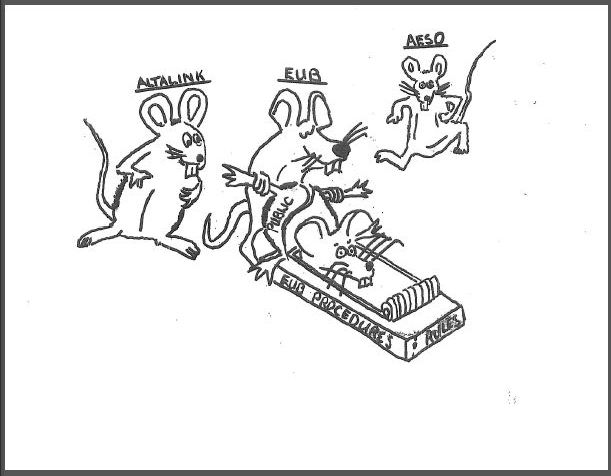 Cartoon from Justice D W Perras Report on EUB's "repulsive" spying scandal
EUB (Energy Utilities Board) was ERCB (Energy Resources Conservation Board). After the spying scandal, Alberta govt switched EUB back to ERCB; after Ernst's lawsuit went public, govt turned it into AER (Alberta Energy Regulator).