Consultation finds strong backing for shale gas rules by ENDS Europe, June 7, 2013
A major consultation on shale gas has found overwhelming support for some sort of EU guidelines or legal framework governing extraction of the controversial fuel. Doing nothing at EU level was the least favoured option among over 22,000 responses from individual citizens, consultancy Bio Intelligence Service told a meeting of industry representatives and anti-fracking campaigners in Brussels. The consultation conducted by the European Commission's environment department is part of a more comprehensive analysis of gaps in EU legislation. Assessments from other commission departments are also being conducted. Around half of respondents were from Poland, the EU country where development is most advanced. But even when results were weighted by countries' population 'do nothing' was still the least favoured option, preliminary findings show.
…
The highest numbers of respondents in favour of developing shale gas came from Poland, Slovenia, Lithuania and Hungary, while the member states where citizens were least in favour where France, Sweden, Austria, Ireland and Spain. … Regional and local authorities identified more challenges than central governments, whose views were more in line with those of industry. A representative of water industry association Eureau told the meeting that directives on environmental impact assessment and environmental liability do not take into account the risk to groundwater from shale gas. A representative of the EU's Committee of the Regions, a local government association, said the administrative burden of shale gas regulation will put an "extreme amount of pressure on the resources" on his members.
Environment commissioner Janez Potočnik has cautioned about overhyping its benefits. A potentially inadequate legal framework and lack of public acceptance were among the most widely perceived challenges to developing shale gas in Europe. [Emphasis added]
[Refer also to: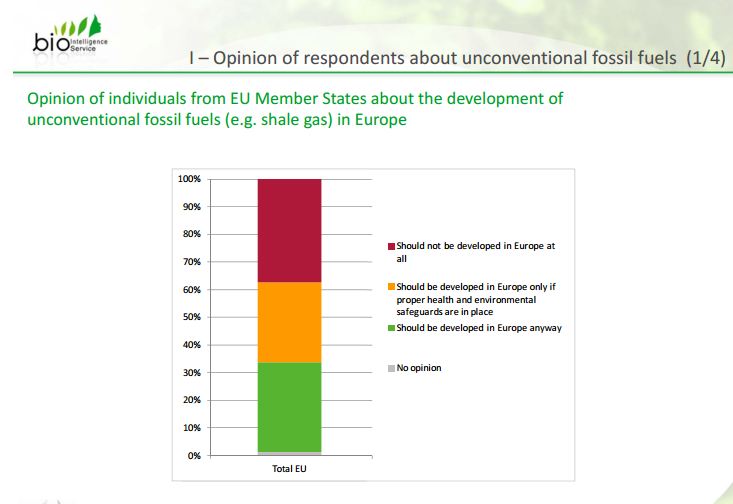 Source: Presentation of the results of the public consultation "Unconventional fossil fuels (e.g. shale gas) in Europe" Brussels,  June 7, 2013, European Commission, Energy and Environment