40 Percent of Countries with Largest Shale Energy Resources Face Water Stress by Paul Reig and Andrew Maddocks, September 02, 2014, WRI
Dozens of countries are deciding whether or not to develop their shale gas and tight oil resources in order to reduce emissions, create new jobs, and increase national energy supplies. However, extracting natural gas and tight oil from shale poses water risk.

We analyzed water stress levels in the 20 countries with the largest shale gas and tight oil resources, and found that 40 percent face high water stress. …
A new WRI report, Global Shale Gas Development: Water Availability and Business Risks, analyzes water availability across all potential commercial shale resources worldwide for the first time, and shows that limited water availability could pose challenges to shale resource development on six continents. [Emphasis added]
Global Shale Gas Development: Water Availability & Business Risks by Paul Reig, Tianyi Luo and Jonathan N. Proctor, September 2014, World Resources Institute (WRI)
This report analyzes water availability across all potentially commercial shale resources worldwide. It also reveals that water availability could limit shale resource development on every continent except Antarctica.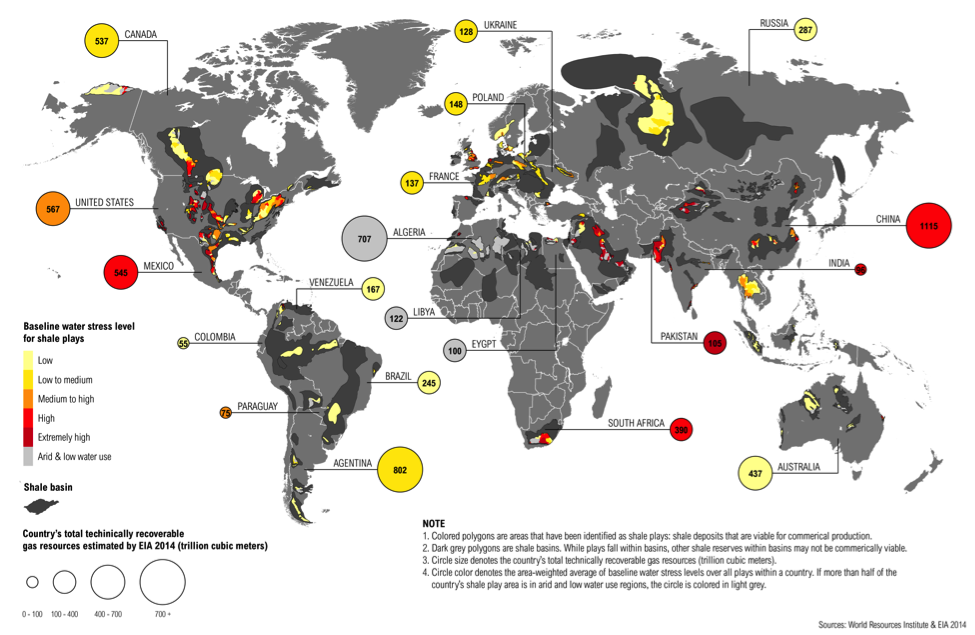 KEY FINDINGS
Shale resources are unevenly distributed worldwide and, for the most part, not located where freshwater is abundant. For example, China, Mexico, and South Africa have some of the largest technically recoverable shale gas resources (based on estimates from the U.S. Energy Information Administration), but face high to extremely high water stress where the shale is located.
This report reveals that lack of water availability could curtail shale development in many places around the world:

38 percent of shale resources are in areas that are either arid or under high to extremely high levels of water stress;

19 percent are in areas of high or extremely high seasonal variability; and

15 percent are in locations exposed to high or extremely high drought severity.
Furthermore, 386 million people live on the land over these shale plays, and in 40 percent of the shale plays, irrigated agriculture is the largest water user. Thus drilling and hydraulic fracturing often compete with other demands for freshwater, which can result in conflicts with other water users. This is particularly true in areas of high baseline water stress, where over 40 percent of the available water supplies are already being withdrawn for agricultural, municipal, or industrial purposes.
The 20 countries with the largest shale gas or tight oil resources that are recoverable using currently available technology are shown in Table ES2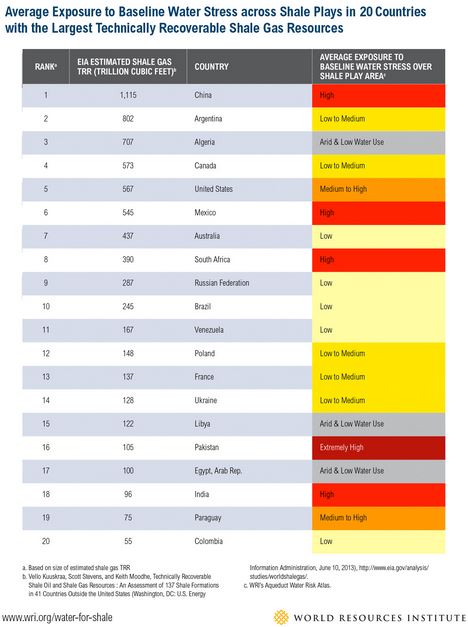 Eight of the top 20 countries with the largest shale gas resources face arid conditions or high to extremely high baseline water stress where the shale resources are located; this includes China, Algeria, Mexico, South Africa, Libya, Pakistan, Egypt, and India.
Eight of the top 20 countries with the largest tight oil resources face arid conditions or high to extremely high baseline water stress where the shale resources are located; this includes China, Libya, Mexico, Pakistan, Algeria, Egypt, India, and Mongolia.
Hydrological conditions vary spatially and seasonally across shale plays, with variation among plays, within plays, and throughout the year. This variation makes companies' ability to meet the freshwater demands for hydraulic fracturing and drilling highly unpredictable, and estimates based on previous experience not always accurate in new shale formations. This high level of uncertainty can lead to business risks for companies exploring new areas for development. Furthermore, public concern over increased competition and impacts on freshwater availability can threaten a company's social license to operate and lead to changes in government regulations that could impact both short- and long-term investments.
WRI's findings indicate that companies developing shale resources internationally are likely to face serious challenges to accessing freshwater in many parts of the world.
38 percent of the world's shale resources face high to extremely high water stress or arid conditions.
386 million people live on land above shale plays—increased competition for water and public concern over hydraulic fracturing is more likely in densely populated areas.
In China, 61 percent of shale resources face high water stress or arid conditions.
In Argentina, 72 percent of shale resources face low to medium water stress.
In the United Kingdom, 34 percent of shale plays face high water stress or arid conditions.
[Emphasis added]
Drinking or fracking? Report finds top shale plays globally are in places with scarce water by Michael Casey, September 2, 2014, Fortune
As fracking is set to go global, one research organization warns that some of the best plays around the world are in areas that are already facing water shortages.

Fresh water has always been a big part of fracking operations, but as it expands beyond North America to other parts of the world, researchers say it will increasing be competing for water in places that don't have much. This could set up difficult choices for countries between drilling for oil and gas or ensuring a fresh supply of H20 to their parched citizens. [Fresh water supplies (and even some land and homes) in North American frac fields have already been destroyed by fracing with companies, enabling regulators, bought and synergized neighbours and politicians denying all and any responsibility]
…
"The potential for expansion is huge: known shale gas deposits worldwide add 47% to the global technically recoverable natural gas resources, and underground stores of tight oil add 11% to the world's technically recoverable oil," the report said. "But as countries escalate their shale exploration, limited availability of freshwater could become a stumbling block."
Ever since fracking took off in the United States in places like Pennsylvania, Texas and Ohio, the industry has been dogged by concerns about the amount of fresh water.
…
A report on the issue in February from Ceres, an nonprofit organization mobilizing business and investor leadership on climate change, water scarcity and other sustainability challenges, found that 97 billion gallons of water were used from 2011 to 2013, half of it in Texas, followed by Pennsylvania, Oklahoma, Arkansas, Colorado and North Dakota.
The industry argues that its overall water use is small and trails other sectors like agriculture [Water use in other sectors is not permanently lost]. It also contends that companies are doing more to recycle water and introduce technologies that cut down on water in the process. Apache, for example, is recycling 100% of produced water in the Permian Basin, according to the Ceres report. Anadarko and Shell are buying effluent water from local municipalities. Chesapeake is reusing nearly 100% of its produced water and drilling wastewater in the Marcellus region. [Waste water used in fracing is permanently lost; municipal waste water is not]
…
While water scarcity is an issue in the United States, it's even more pressing around the world—and will only get worse. A report on fracking and water from the Stockholm International Water Institute (SIWI) this month estimated that the global footprint of groundwater use estimated at 3.5 times the actual aquifer, leaving an estimated 1.7 billion people living in areas where groundwater is under threat.
"We live in times where demand for water from multiple uses (drinking water, agriculture/food production, energy generation, various industrial purposes etc.) is increasing," one of the report's authors Andreas Lindström wrote in an email to Fortune. "These pressures are naturally felt most in areas where water is already scarce and shale gas resources are often found in dry areas prone to these water challenges. It can then be expected that large scale fracking operations will constitute a new prominent competitor for scarce water resources in certain areas adding to existing pressures."
…
"This report and the data we are sharing is definitely going to inform governments that might decide to ban hydraulic fracturing because of already high levels of competition for water in a specific region," Reig said. [Emphasis added]
Water stress may curtail fracking, says WRI by Richard Anderson, Septermber 2, 2014, BBC News Business
In the first report of its kind, the WRI found that 38% of the world's shale resources were in arid areas or in those with severe water stress. Accessing fresh water was likely to present "serious challenges", it said.

Until now, concerns about fracking and water have focused on contamination of local supplies.
…
Water risk is one of the most important but under-appreciated challenges when it comes to shale gas development"

Andrew Steer, Chief executive, World Resources Institute
It is highly water intensive. The WRI report raises questions about whether there are enough freshwater supplies to support fracking in some countries.
"Lack of water availability could curtail shale development in many places around the world," the report says.
…
The issue of water stress is unlikely to be as serious in the UK as it is in some other countries. "I think from the UK perspective, the impact on water resources may be less of a challenge than perhaps first thought, provided that it is planned for properly," Dr Jim Marshall, policy adviser to Water UK, told the BBC. "The amount of water needed per fracture should be available, especially so with the uptake of water reuse and recycling options, and even waterless fracturing."
Much would depend on the speed with which the industry develops in the UK, however. Dr Marshall said the simultaneous development of lots of sites "may cause local problems".

He also highlighted the fact there could be problems with treating waste water, which is likely to contain radioactive material.
"It is unlikely that the majority of municipal treatment works will be able to treat waste water from [fracking]," he said.
Water use is just one concern that critics of fracking level at the industry. They also argue that the process can lead to methane leakage, and that although gas is cleaner than coal, it is still a fossil fuel that emits CO2 when burnt.

The industry says that water contamination and methane leakage can be avoided [Since when does industry "talk" turn into reality? "Best practices" keeping getting worse, and everywhere fracing is occurring or planned, regulators are secretly deregulating while publicly promising the opposite] and that abundant shale reserves should be exploited to provide a domestically-generated energy source. [Emphasis added]
China's Shale Gas Plans Limited By Water Shortages, Report Finds by Associated Press, September 2, 2014, Huffingtonpost.com
More than 60 percent of China's vast shale gas deposits are in regions with scarce water resources, complicating plans by the energy-hungry country to tap the natural gas, according to a U.S.-based research group.
The World Resources Institute said China has the world's largest reserves of natural gas trapped in deep shale rock but most of it is in arid areas such as deserts or regions where farming and industry already stress water resources.
[Refer also to:
'Just the Beginning': US Drought Kills Hundreds of Thousands of Trees
2012: AEA: Support to the identification of potential risks for the environment and human health arising from hydrocarbons operations involving hydraulic fracturing in Europe
A proportion (25% to 100%) of the water used in hydraulic fracturing is not recovered, and consequently this water is lost permanently to re-use, which differs from some other water uses in which water can be recovered and processed for re-use.
2009: The National Energy Board's 2009 Primer for Understanding Canadian Shale Gas – Energy Briefing Note
Flow-back water is infrequently reused in other fracs because of the potential for corrosion or scaling, where the dissolved salts may precipitate out of the water and clog parts of the well or the formation. …
Drilling and hydraulically fracturing wells can be water-intensive procedures; however, there is very limited Canadian experience from which to estimate potential environmental impacts.