Dominion Energy Transmission is providing water to at least five households after leaking ethylene glycol from an underground pipeline into drinking water wells in Genesee Township, Potter County, Pennsylvania. The leak was first noticed by residents and reported to Dominion Energy in June 2020.
Ethylene glycol is used as a coolant at one of Dominion Energy's compressor stations in Genesee Township, and is poisonous if swallowed.* It's commonly found in products such as antifreeze.
According to the Center for Disease Control (CDC), "Ethylene glycol has a sweet taste and is often accidentally or intentionally ingested." After rapidly being absorbed in the stomach, the CDC states "80% or more of ethylene glycol is chemically converted by the body into toxic compounds. It and its toxic byproducts first affect the central nervous system (CNS), then the heart, and finally the kidneys. Ingestion of sufficient amounts [approximately 4 fluid ounces] can be fatal."
On June 9th, the fish in a local pond off French/Rooney Road turned up dead prompting locals to immediately report the incident to the Pennsylvania Fish & Boat Commission (PAFBC). Captain Alan Robinson of the PAFBC Bureau of Law Enforcement told Public Herald that the Commission "has initiated an active investigation of criminal activity" involving a "substantial fish kill." Residents stated 251 fish were killed and that a spring on the same property is also contaminated. Currently, the tainted springwater is being diverted into a "frack tank" by Dominion for offsite disposal.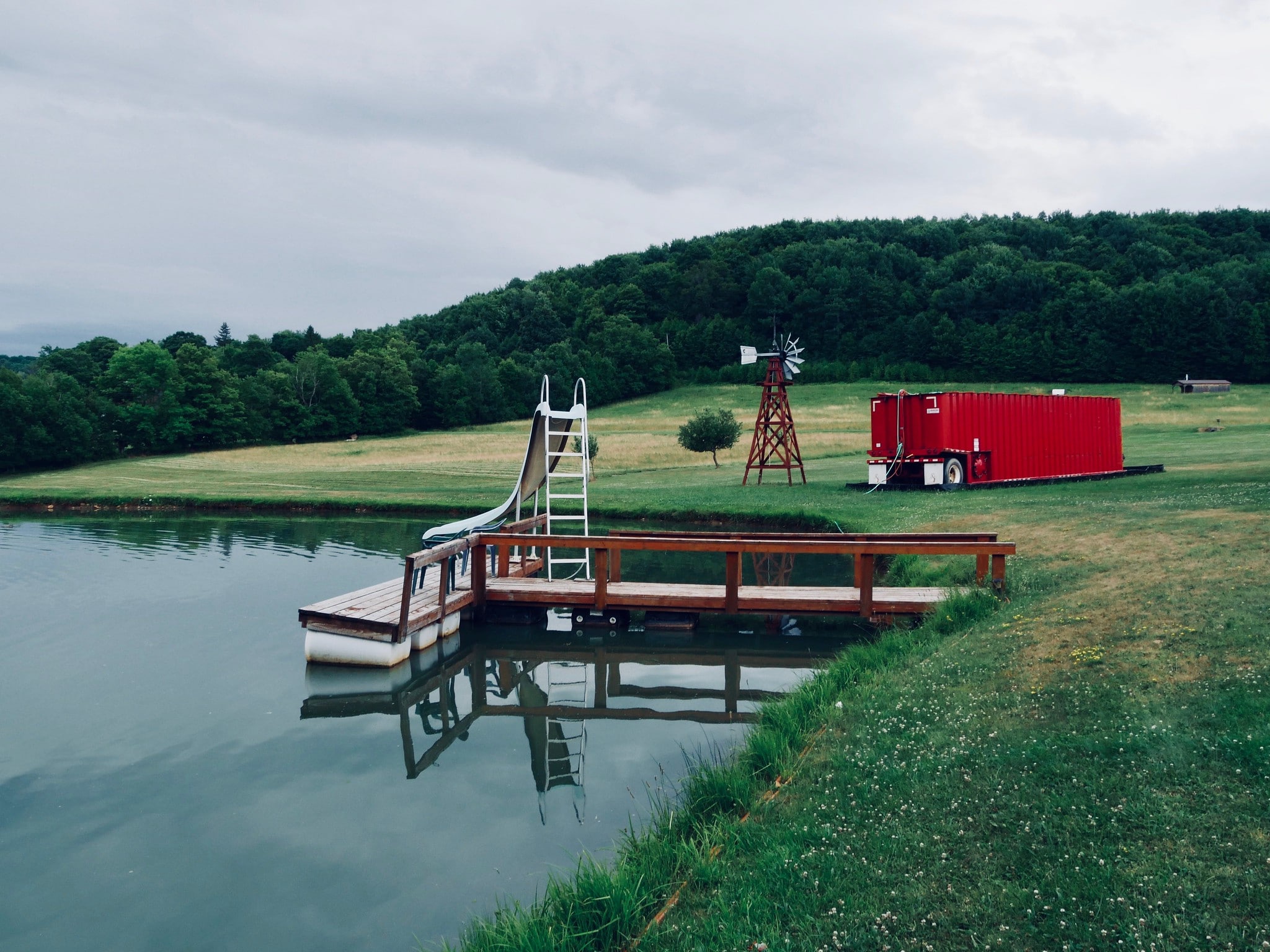 caption: Contaminated springwater is being diverted to a "frack tank" according to impacted residents on French/Rooney Road in Genesee Township, Potter County, PA after Dominion Energy contaminated groundwater with ethylene glycol. © Melissa A. Troutman for Public Herald
Captain Robinson said the Fish & Boat Commission is working in conjunction with the Pennsylvania Department of Environmental Protection (PA DEP) in the ongoing investigation. For the past two years, DEP has been the target of another investigation by Pennsylvania Attorney General Josh Shapiro, who announced a Grand Jury Report on June 25th that "uncovered systematic failure by [the Department of Environmental Protection and Department of Health] in overseeing the fracking industry and fulfilling their responsibility to protect Pennsylvanians from the inherent risks of industry operations." The Grand Jury's report detailed "the initial failure of the Department of Environmental Protection to adequately respond to the unconventional oil and gas industry and also points out that missteps continue to this day."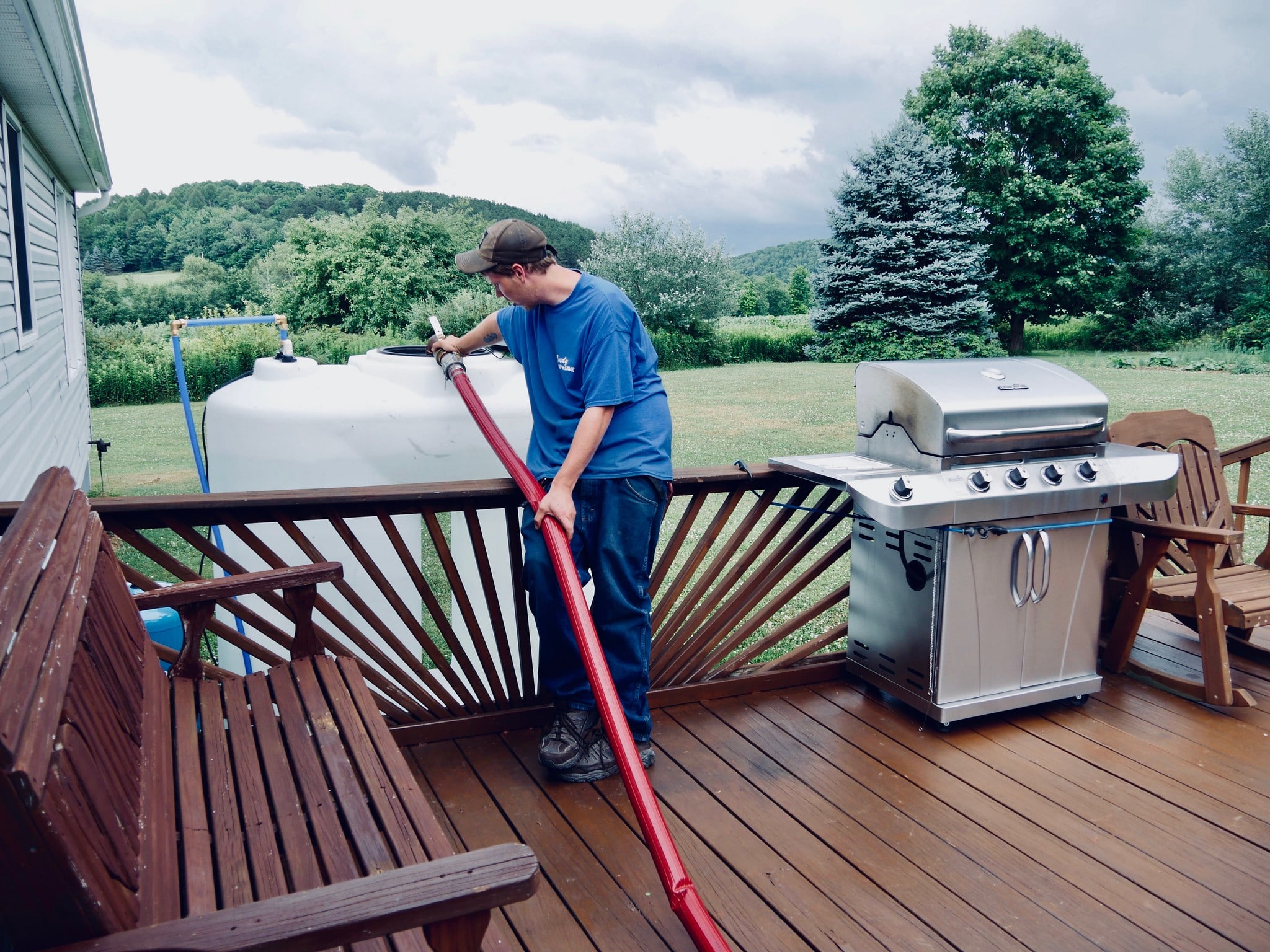 At least five households in Genesee Township, Potter County, Pennsylvania are receiving water deliveries after Dominion Energy polluted drinking water via an underground leak of ethylene glycol from a nearby natural gas facility. © Melissa A. Troutman for Public Herald
Dominion spokesperson Samantha Norris responded to questions about the incident via email:
After a landowner expressed concerns over suspected contamination in a pond and spring fed well adjacent to the Stateline Compressor Station in Genesee, PA, Dominion Energy Transmission Inc. (DETI) immediately began conducting an internal investigation in cooperation with State Agencies.

Through this, it was determined that a release of ethylene glycol from a small portion of an underground transfer line within the station had occurred.

DETI takes environmental protection and safety very seriously and since June 11, regular water samples have been taken in the surrounding area and we have performed a thorough examination of every inch of Stateline's equipment.  Based on the water sampling, the release appears to have impacted a small number of residences, and the latest results showed no detections of ethylene glycol.

As soon as we learned of the release, we arranged for fresh water to be provided to our neighbors.  Dominion Energy is moving forward to determine remediation plans with the Pennsylvania Department of Environmental Protection while working diligently with community members, and state and local officials to maintain communication concerning this issue.
Dominion claims its water tests reveal no more glycol, but residents say their water is still impacted. "Our water is cloudy and smelly," said one resident. Another resident stated, "They are bringing us water, but they are not forthcoming with information."
All of the impacted residents wish to remain anonymous. Genesee Township is a rural area in a region with a lot of the oil and gas industry influence, where speaking out about problems can be intimidating.
According to residents, Dominion has contaminated drinking water with ethylene glycol in the past, most notably when an underground pipeline leaked glycol into groundwater in Genesee Township back in 1997. "This is not their first offense," said one resident, "and they are doing the bare minimum to fix the problem."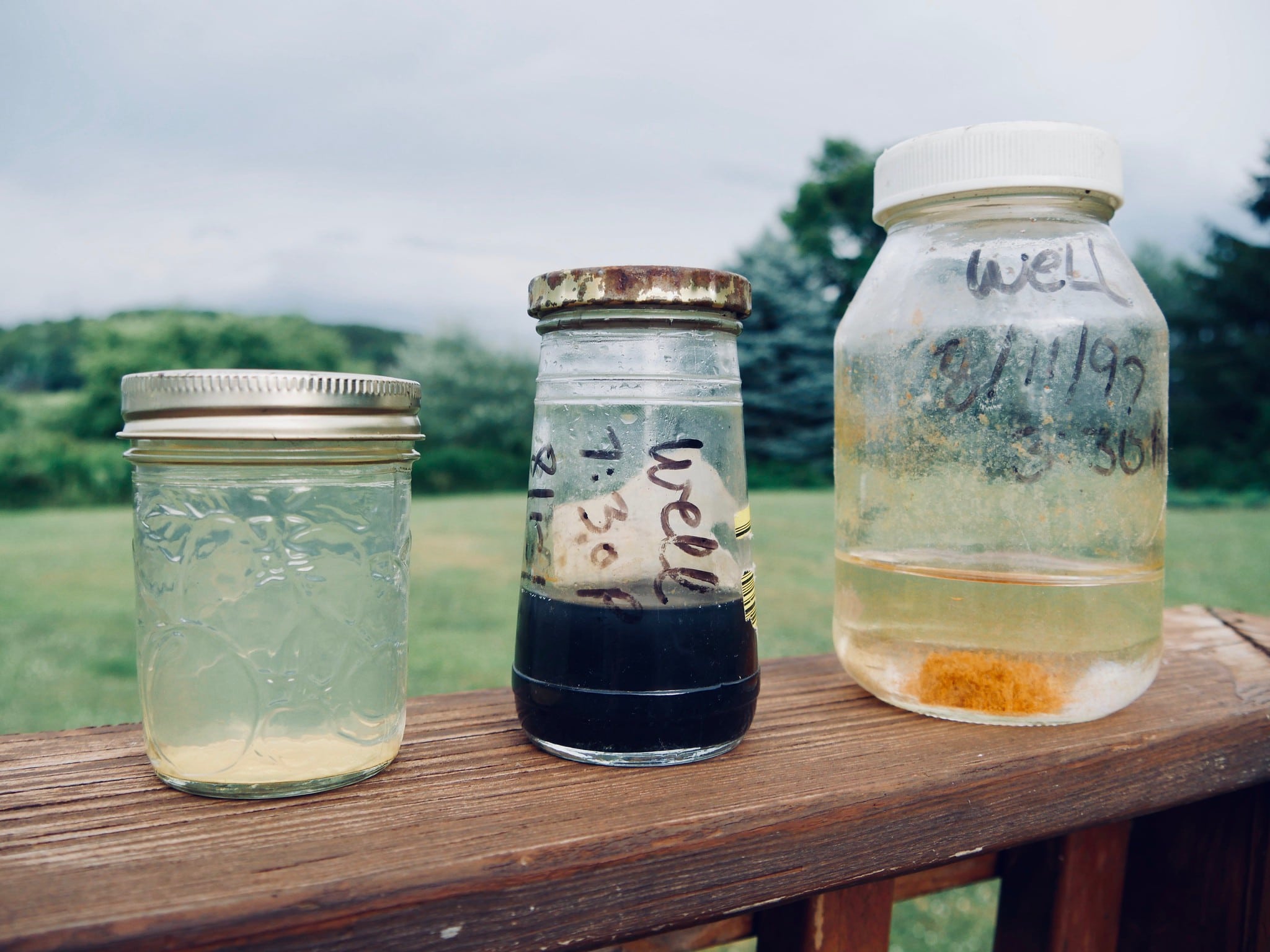 Some residents receiving water deliveries from Dominion Energy for contaminating drinking water in June 2020 have also had their water contaminated by Dominion in the past. The short sample on the left is from June 2020. The black water (middle) and orange sample (left) are from a previous leak by Dominion back in 1997. © Melissa A. Troutman for Public Herald
Dominion Energy maintains more than 3,900 miles of pipelines in six states: Ohio, West Virginia, Pennsylvania, New York, Maryland and Virginia. The company's website states, "We store and transport large quantities of natural gas for large customers, such as major utilities and power plants."
Potter County is a hub for interstate natural gas transmission and storage and has been the site of drinking water contamination from shale gas operations by JKLM Energy exposed by Public Herald. JKLM is owned by Terry Pegula, owner of the Buffalo Bills, a member of the U.S. National Football League.
On July 5th, Dominion Energy sold its natural gas storage and transmission assets to an affiliate of Warren Buffett's company Berkshire Hathaway for nearly $10 billion dollars. That same day, both Dominion and Duke Energy cancelled the Atlantic Coast Pipeline, a controversial project slated for West Virginia, Virginia and North Carolina, citing delays and increasing costs, in part due to lawsuits by landowners and environmental groups.
As the investigation of Dominion's contamination of drinking water in Genesee Township continues, residents are living on bottled water and hoping their water will return to normal again.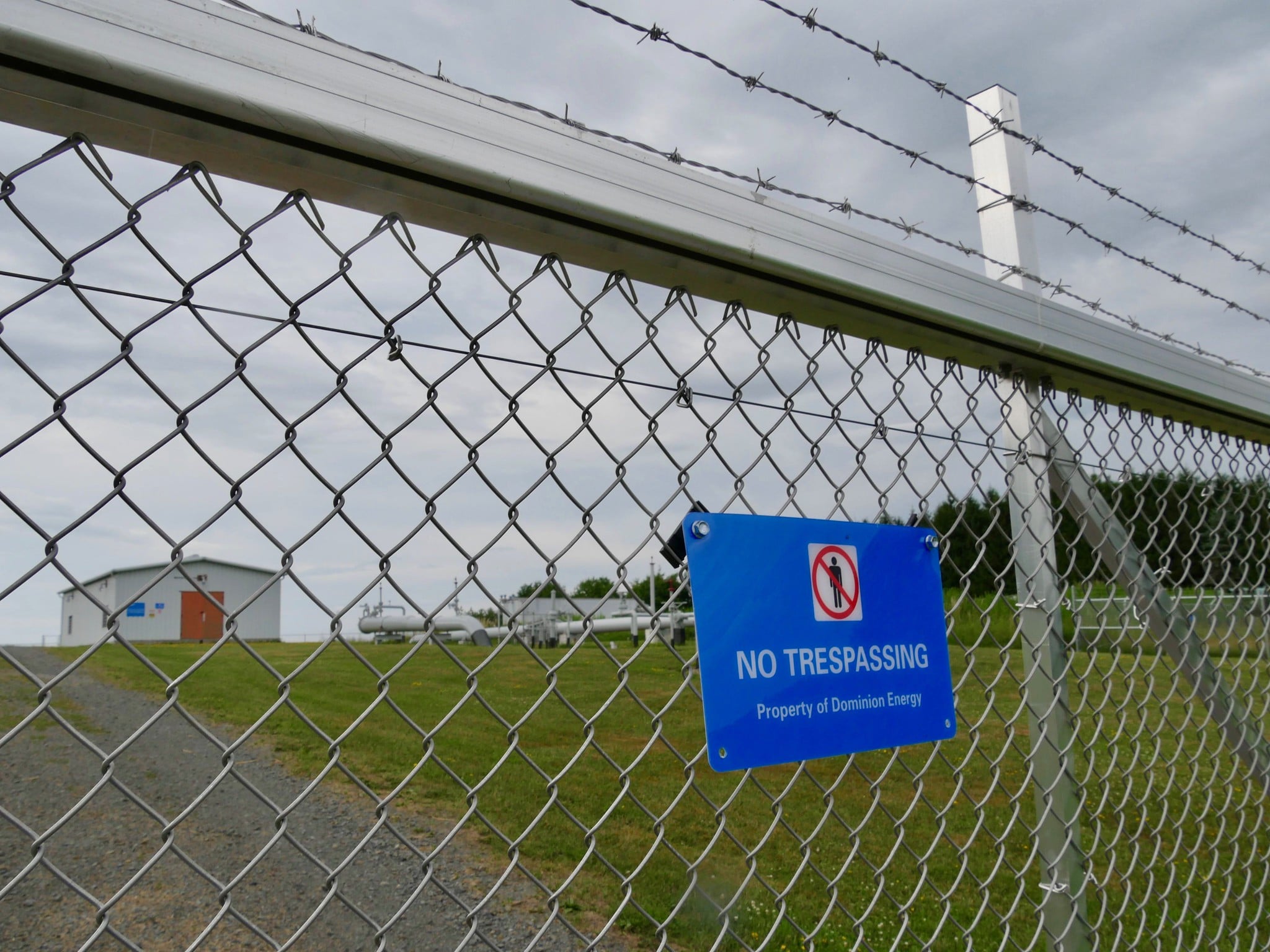 Dominion Energy site in Genesee Township, Potter County, Pennsylvania near recent drinking water contamination due to an underground ethylene glycol leak for which Dominion has claimed responsiblity. © Melissa A. Troutman for Public Herald
The first symptom of ethylene glycol ingestion is similar to the feeling caused by drinking alcohol (ethanol). Within a few hours, more toxic effects become apparent. Symptoms may include nausea, vomiting, convulsions, stupor (decreased level of alertness), or even coma.
Ethylene glycol toxicity should be suspected in anyone who is severely ill after drinking an unknown substance, especially if they at first appear drunk and you can't smell alcohol on their breath.
An overdose of ethylene glycol can damage the brain, lungs, liver, and kidneys. The poisoning causes disturbances in the body's chemistry, including metabolic acidosis (increased acids in the bloodstream and tissues). The disturbances may be severe enough to cause profound shock, organ failure, and death.
As little as 120 milliliters (approximately 4 fluid ounces) of ethylene glycol may be enough to kill an average-sized man.
Home Care
Seek medical help right away. DO NOT make a person throw up unless told to do so by the poison control center or a healthcare professional.
Before Calling Emergency
Determine the following information:
The person's age, weight, and condition
The name of the product (ingredients and strengths, if known)
The time it was swallowed
The amount swallowed
Poison Control
Your local poison control center can be reached directly by calling the national toll-free Poison Help hotline (1-800-222-1222) from anywhere in the United States. This hotline will let you talk to experts in poisoning. They will give you further instructions.
This is a free and confidential service. All local poison control centers in the United States use this national number. You should call if you have any questions about poisoning or poison prevention. It does NOT need to be an emergency. You can call for any reason, 24 hours a day, 7 days a week.
Take the container with you to the hospital, if possible.
Information Sourced from the U.S. National Library of Medicine
Pennsylvania is the second largest natural gas producing state in the United States, which is the largest producer of natural gas in the world. Is your energy coming from the shale fields of Pennsylvania? Stay tuned – Subscribe to Public Herald's reports.
For more about fracking in Pennsylvania watch Public Herald's feature documentary TRIPLE DIVIDE REDACTED.