2009: Talisman Energy gives birth to Talisman Terry, Frackosaurus colouring book frac propaganda for children [Did PR firm Hill and Knowlton create the concept for Talisman?]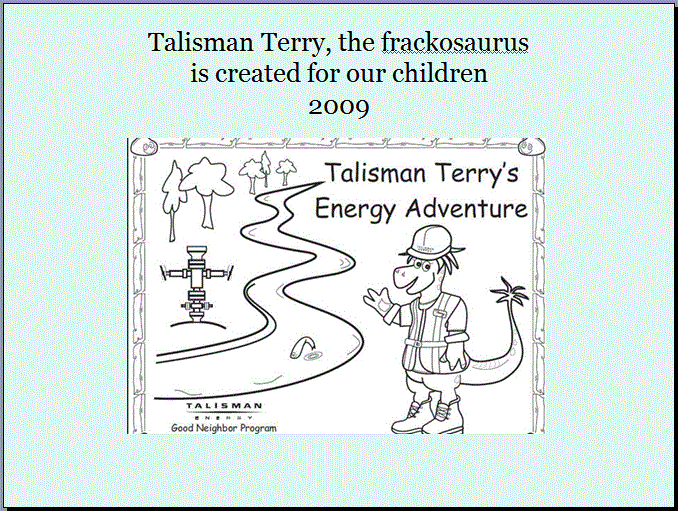 2011 07 11: Colbert Report on Talisman Energy's Talisman Terry the Frackosaurus Colouring Book, special propaganda for children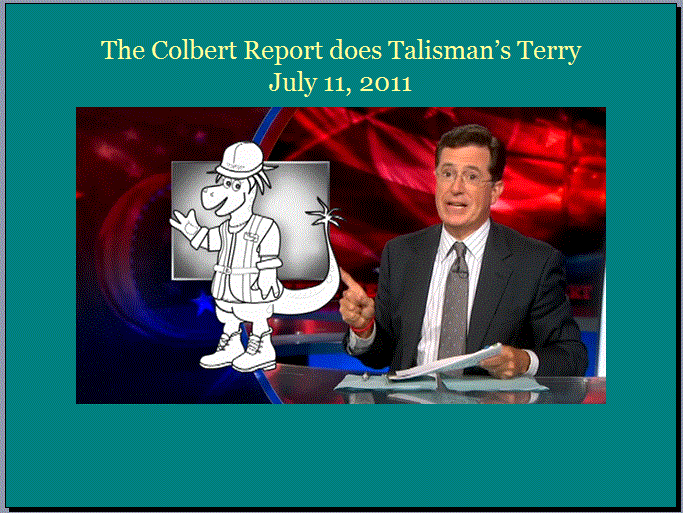 2011 07 15: Talisman Energy Shelves "Friendly Fracosaurus" Coloring Book After Colbert Smackdown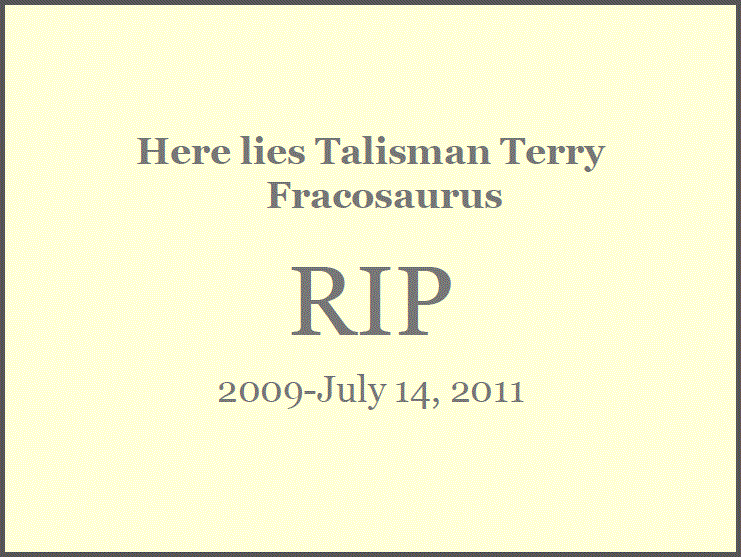 2011 10 06: Talisman's Shale Gas Ambassadors
"There will be noise for sure, air pollution for sure…." In terms of the chemical substances used in fracking he said that all of them would be declared in Europe, unlike in the US or Canada.
2011 09 19: University of Calgary Prostitutes Itself To Big Oil & Gas
2012 07 25: EPA Fines Talisman Energy For Fracking Violations
2012 09 27: Talisman pledges $1.25 M to Mount Royal University
2012 09 28: Steve Harper to recuse himself from matters dealing with Talisman Energy because his brother Grant works there
A family connection could force Prime Minister Stephen Harper to step aside from politically-charged decisions involving a looming foreign takeover of an Alberta energy company. … Talisman is expected be the target of a foreign takeover attempt….
… Talisman is currently registered to lobby the Prime Minister's Office on numerous files involving energy, taxation, foreign affairs and resource extraction. In addition to the company's own executives, three consultant lobbyists, including well-connected Conservative Goldy Hyder of Hill and Knowlton, are registered on behalf of Talisman to lobby the PMO and other departments.
Cumulative frac harms: Who's looking?
A "sad" day as sun sets on Talisman Energy by Stephen Ewart, February 18, 2015, Calgary Herald
It proved to be a "sad" end for Talisman Energy.
The image of the sun setting behind a drilling rig on the card that welcomed shareholders to the meeting where they would overwhelmingly approve the $15-billion takeover offer from the Spanish energy company Repsol on Wednesday summed it up nicely.
The shareholder vote effectively concludes a 23-year run for what had been one of the most dynamic companies in the Canadian oilpatch.
Talisman sold for what was considered a bargain price of $9.33 US a share in December and few people at the final shareholders meeting at the Telus Convention Centre were very pleased even after voting more than 99 per cent in favour of the offer.
"This is a very sad day for a lot of people," said David Saunders, a shareholder from Calgary. "How did things go so terribly wrong? I would just like … a brief explanation of how the board got it so wrong."
It fell to Talisman chairman Chuck Williamson to respond.
"I wish I could give a very simple answer in just a few words but it isn't that simple," Williamson said, adding that taking the Repsol offer was in the best interests of the shareholders. "I wish it were a perfect world and I could tell you we are sitting here with a $25 share price but it's not. So I don't have a simple explanation there were lots of series of events over many, many years.
"Frankly, some things happened we didn't anticipate," he added, [Like Colbert and needing to put Talisman Terry quickly to rest?]
"It wasn't much of an answer," Saunders said after the 20-minute meeting when another shareholder thanked him for asking the question.
Talisman, which has 85 per cent of its production outside Canada, had traded above $25 a couple times since its launch in 1992, but most recently in 2008. With assets around the globe, the company struggled to maintain focus after longtime chief executive Jim Buckee retired in 2007.
At a news conference, current CEO Hal Kvisle used words like "sad" and "regrettable" to describe the demise of a company that he expected to lead for six or eight months when he moved from the board of directors to the chief executive's office almost three years ago.
"It's not perhaps the best outcome that people would have hoped for, but it's a very difficult circumstance we are in industry-wide," said Kvisle, who steadily divested assets to enhance shareholder value as CEO.
Williamson and Kvisle pointed to the prolonged slump in the price of natural gas and, in particular, to unforeseen problems at its operations in the North Sea for Talisman's woes. Kvisle said even as its costs were rising sharply in the North Sea in recent years, oil production fell from 120,000 to 55,000 barrels a day.
Talisman produces more than 353,000 barrels of oil equivalent a day.
The "company-threatening situation" in the North Sea, where Talisman had operated since the early 1990s, first emerged in 2012, Kvisle said. Former CEO John Manzoni is often cited as the scapegoat for the company's woes, but Kvisle said the situation would have been far worse if Manzoni had not sold 49 per cent of the declining North Sea assets to Chinese oil company Sinopec for $1.5 billion US in 2012.
"At the end of the day, the North Sea was a major challenging issue that was just one hurdle too many for us," said Kvisle, who will receive a $15-million payout for his 30 months as CEO.
Talisman's on-again, off-again talks with Repsol began in July with a $13 a share offer from the Spanish company, according to corporate documents released in January. However, concerns about the North Sea and the falling oil price saw a deal finally reached in December for $9.33 a share, including debt.
The agreement still requires court and regulatory approval but is expected to close in the second quarter.
Kvisle acknowledged "there will be head count reductions" as head office functions are eliminated at Talisman and its assets in Asia are managed from Madrid but wouldn't speculate on staff cuts. He said the $50 price of oil would likely spur more cuts than Repsol's takeover.
The completion of the takeover marks the end for Talisman but also concludes Kvisle's distinguished career that's already seen him selected to the Canadian Petroleum Hall of Fame. He previously led Fletcher Challenge Energy and TransCanada PipeLines and he was adamant the challenges of the Talisman job means he intends "to really retire" this time. [Emphasis added]
Talisman shareholders approve $13B takeover by Spain's Repsol SA by The Canadian Press, February 18, 2015, Calgary Herald
Talisman Energy Inc. (TSX:TLM) says its shareholders have voted to approve a takeover of the company by Spain's Repsol SA. The Calgary company says more than 99 per cent of the votes cast by its common and preferred shareholders were in favour of the agreement. Talisman agreed late last year to be bought by Repsol in a deal worth about $13 billion, including $8.3 billion for Talisman stock plus the assumption of its debt. … Talisman's main operations are in North America, Colombia and Asia.
[Refer also to: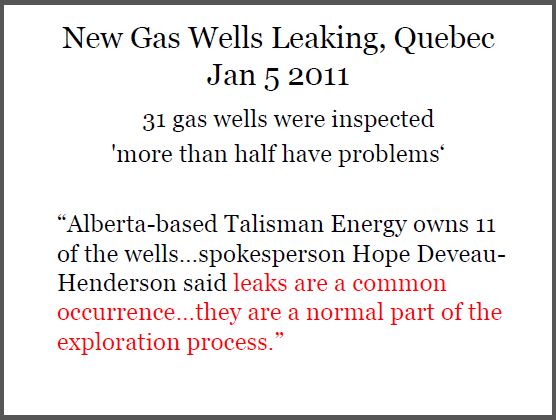 Slides and photo below from Ernst presentations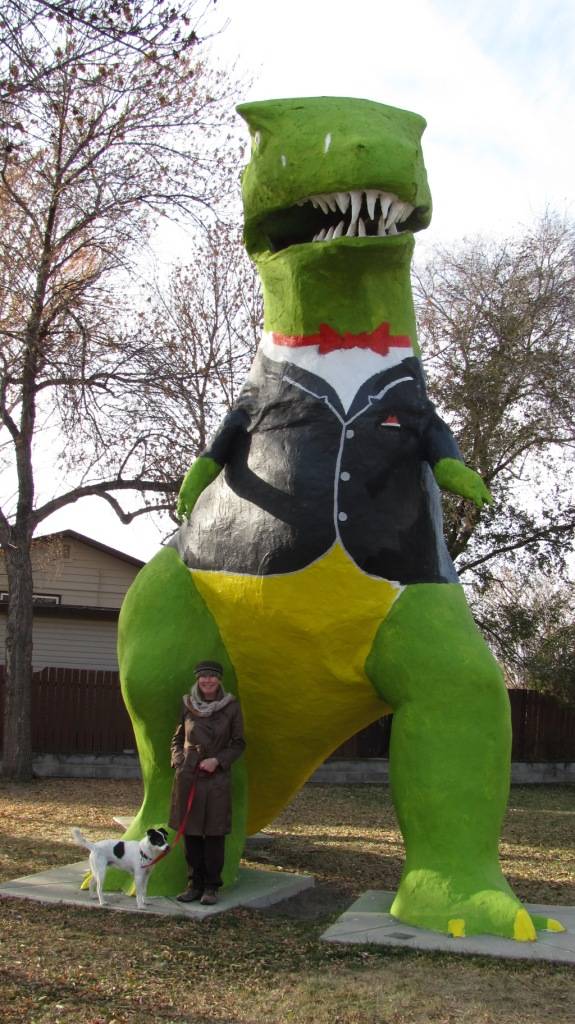 Jessica Ernst and her dog Magic in Drumheller, October 29, 2011