Denmark allows Total to resume fracking by Enrique Marcarian, May 14, 2015, Reuters
French energy giant Total was granted a permission to continue shale gas exploration in Denmark following a week-long ban over using hazardous chemicals not approved by local authorities in its drilling process.
The Danish Energy Agency (DEA) confirmed that Total may resume drilling for shale gas once it obtains all the necessary permits from the environmental authorities. The agency said it had received a confirmation from Total that "it will ensure that no future error occurs by introducing a number of new procedures to control the handling of chemicals." [And what when Total violates this voluntary unenforceable confirmation too?]
On May 6 DEA issued an order for Total to immediately suspend shale exploration in northern Jutland after it turned out that Total had used a chemical, referred to as 'Null Foam', that wasn't approved by the authorities. The news of Total's using forbidden chemicals saw widespread social and political resistance.
Total's drilling for shale gas in Denmark was given green light last year despite strong objections from the local community and environmentalists. The company has previously suffered protests over its Danish project, faced a fracking ban in its own home country of France, and exited its Polish licenses. [Emphasis added]
Denmark's first taste of fracking halted by ministry, Energy Ministry halts fracking after company uses unauthorised chemicals at northern Jutland site by Ray W, May 6, 2015, On Line Post
The Energy Ministry has brought a halt to exploratory drilling for shale gas near Vendsyssel in north Jutland just a day and a half after it started on Monday morning.
Total – the French company in charge of the drilling, which uses the controversial process known as fracking – has apparently used a chemical not authorised in environmental guidelines set out for the procedure by Frederikshavn Municipality.
"This makes me really angry," Anders Brandt Sørensen, the head of the municipality's planning and environment committee, told DR Nordjylland. "We will not tolerate this kind of violation of our environmental regulations."
A closer look
Sørensen has already advised inspectors from his office to keep an even closer eye on the fracking.
"When we feel our confidence has been so severely tested, we simply need to be even more vigilant about keeping an eye on Total," he said. [Likewise about companies fracing in Canada and the endless law violations observed by citizens and nastily lied about, covered up and or ignored by regulators and elected officials]
The Energy Ministry ordered Total to stop drilling immediately, and work on the test wells may not resume until the unauthorised chemical used by the company (referred to by the Danish media as 'Null Foam') has been tested."Whether or not Null Foam proves to be harmful to the environment, we will maintain even tighter controls should drilling resume," said Sørensen. [What happens in Alberta after Encana was caught and reported illegally fracturing Rosebud's drinking water aquifers? The regulators shamed and bullied the harmed families and continue to permit more and more gas wells frac'd in  drinking water zones while Encana bribes the Rosebud Dinner Theatre with piddly bits of money in exchange for promoting the company on stage.]
Denmark suspends fracking over 'hazardous' chemicals by RT, May 6, 2015
Denmark has suspended the first exploratory drilling for shale gas which lasted only one day after it discovered that French gas-giant Total, in charge of the project, had used "unauthorized" chemicals. "They used a product that was not part of those authorized" for the procedure, Ture Falbe-Hansen, a Danish Energy Agency spokesman told AFP Wednesday.
The type of defoamer known as Null Foam is used in fracking to extract shale gas and is considered hazardous to the environment, according to Danish public broadcaster DR. [In public community meetings in 2004, Encana staff admitted using foamer and defoamers and many other chemical products in drilling and fracing wells around Rosebud]
… Environmental committee chairman of Frederikshavn Council Anders Brandt Sørensen said Total's use of the non-approved product "makes [him] very mad".
"We will simply not accept this kind of violation of our EIA [environmental impact assessment]," he told broadcaster DR.
… Total's unit in charge of the project said drilling on the northern tip of Jutland had started only on Monday. The Danish Energy Agency, which is part of the energy ministry, said Total was told to stop exploration on Tuesday.
Total's shale gas project was given the go-ahead in June despite strong protests from the local community and environmentalists.
The project's cancellation came as another blow to Total's shale plans, having previously suffered protests over its Danish project, faced a fracking ban in its own home country of France, and exited its Polish licenses.
It is unclear when, if ever, Total could resume operations; first needing to explain its actions to the Danish authorities. [Emphasis added]
Keep up to date on Fracking in Denmark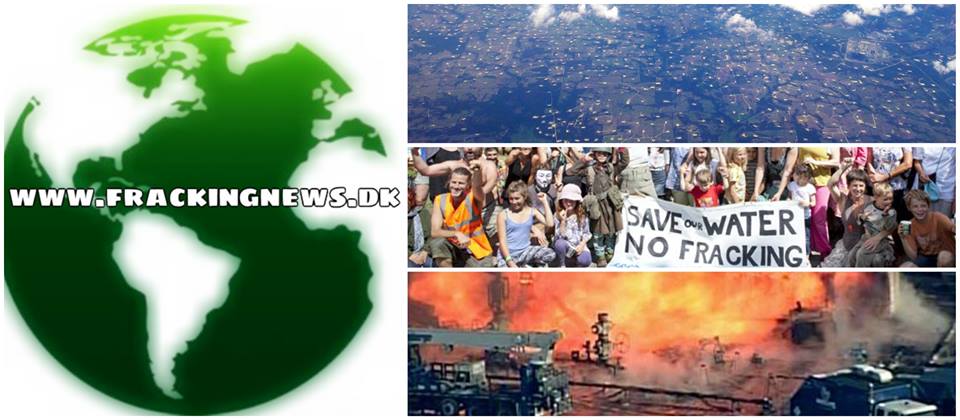 Its not good times at all here in Frackingrock
Her i Frackinghavn (Fracking Rock) 1:16 Min by Jan Rosenkrantz, Nov 25, 2012
Hvad sker der når Frackinghavnerne skal håndtere fracking i deres egen baghave…
Lyrics:
Things have gone astray
All our water burned away
We have radioactive clay
Down at Fracking Rock.
We're in disarray
There's an earthquake every day
So much foul play,
We're Cancer, Toxic, Poison, Dead.
Come on E P A
We are worried for our DNA
We can no longer play.
Down at Fracking Rock.
Down at Fracking Rock.
Down at Fracking Rock.
Danske tekster: Jan Rosenkrantz
1.
Ting er gået galt
brændende vand er helt fatalt
I slammet bli´r vi kvalt
Her i Frackinghavn
2.
Vi har det faktisk skidt
jordskælv kommer mega tit
giften skal vi quit
Vi har kræft, er forgiftet og døde!
Vi Har alle sammen kræft
Tørstig… ikke drik vandet!
Er du ikke til salg?
Vandet brænder
Se mit udslet
Har du set min migræne medicin
Mit hår falder af
3.
Kom nu Kirsten B
åben dine øjne og se
Katastrofen den vil ske
Her i Frackinghavn
Her i Frackinghavn
Credits
Song Writer/ Director – John Duarte
Composer – LuvTouch Music
GFX – Joanna Todaro
For more info visit: www.john-duarte.com