Is Monster Orange (Trump) making sure New York doesn't get the required supplies, letting New Yorkers die from covid-19 because they are smart enough not to vote for him? Meanwhile, the monster is giving hundreds of billions of dollars in gifts and deregulation to the lung-and-heart-decimating, law-violating, morally bankrupt oil and gas industry.
As of April 6, 2020, noon:
19334 new cases and 851 new deaths in the United States
An estimated additional 180 – 195 deaths per day occurring at home in New York City due to COVID-19 are not being counted in the official figures.
"Early on in this crisis we were able to swab people who died at home, and thus got a coronavirus reading. But those days are long gone. We simply don't have the testing capacity for the large numbers dying at home. Now only those few who had a test confirmation *before* dying are marked as victims of coronavirus on their death certificate. This almost certainly means we are undercounting the total number of victims of this pandemic," said Mark Levine, Chair of New York City Council health committee [source] [source]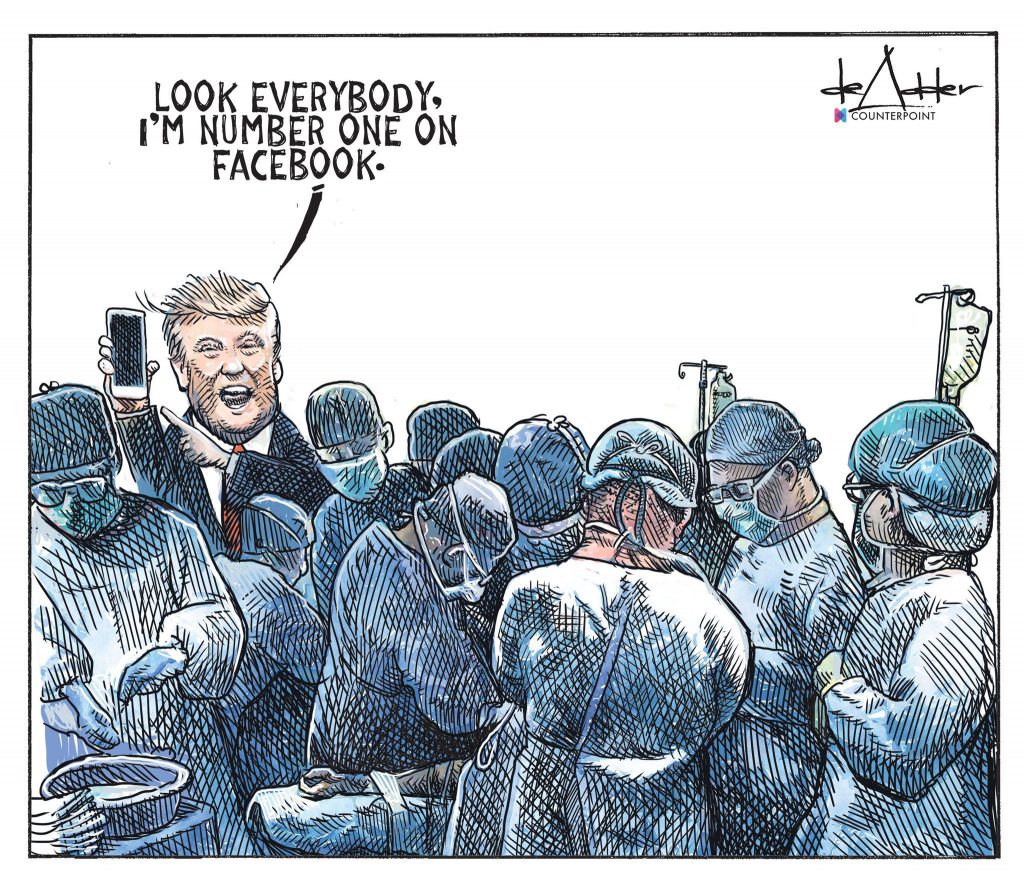 Under Attack – Sheltered In Place@wildwestpie Replying to @CNNTonight and @donlemon
Patients are pulling own vent tubes because of SHORTAGE of PAIN MEDS in NYC hospitals
Nurses are dying Not enough PPE & not full gear they need anywhere in sight
Not enough equip for patients so some ppl just die
Only this way bc Donald Trump & is one sick & sadistic S.O.B.
John Prine's Wife Fiona: 'He Is Very Ill and Yet I Remain Hopeful,' Singer has spent eight days in the ICU after a sudden onset of symptoms by Patrick Doyle, April 3, 2020, Rolling Stone
… "This is hard news for us to share, but so many of you have loved and supported John over the years, we wanted to let you know, and give you the chance to send on more of that love and support now." Fiona Prine, John's wife and manager, added later that while John's condition was stable, "he needs our prayers and love."
Now, Fiona has updated fans on his condition. "Today is John's 8th day in ICU," she wrote Thursday night. "He is receiving excellent medical care and being treated with kindness and compassion by the entire team looking after him day and night. I cannot be with him which makes this nightmare all the more distressing for me."
"As you know, John was put on a ventilator last Saturday," she continued. "He still needs quite a bit of help with his breathing. Like many patients currently in ICU beds all around the world, John has pneumonia in both lungs. He has also developed some peripheral issues that are being treated with meds, including antibiotics. He is very ill and yet I remain hopeful that he can continue to fight this devastating virus and come home where we can care for him."
Fiona finished thanking fans "for the outpouring of love and prayers that John and our family has received this last week. It means the world to us to have your love and support at this difficult time." That outpouring included tributes from Stephen Colbert and Joan Baez.
Fiona also recently battled Covid-19, which she announced on Facebook to raise awareness about social-distancing. "It is really imperative that we stay home – all of us," she said.
A lovely concert: John Prine: NPR Music Tiny Desk Concert Mar 19, 2018
Damn it. Covid-19 – John Prine "…his situation is critical." by BOHICA, March 29, 2020, Daily KOS
An update on John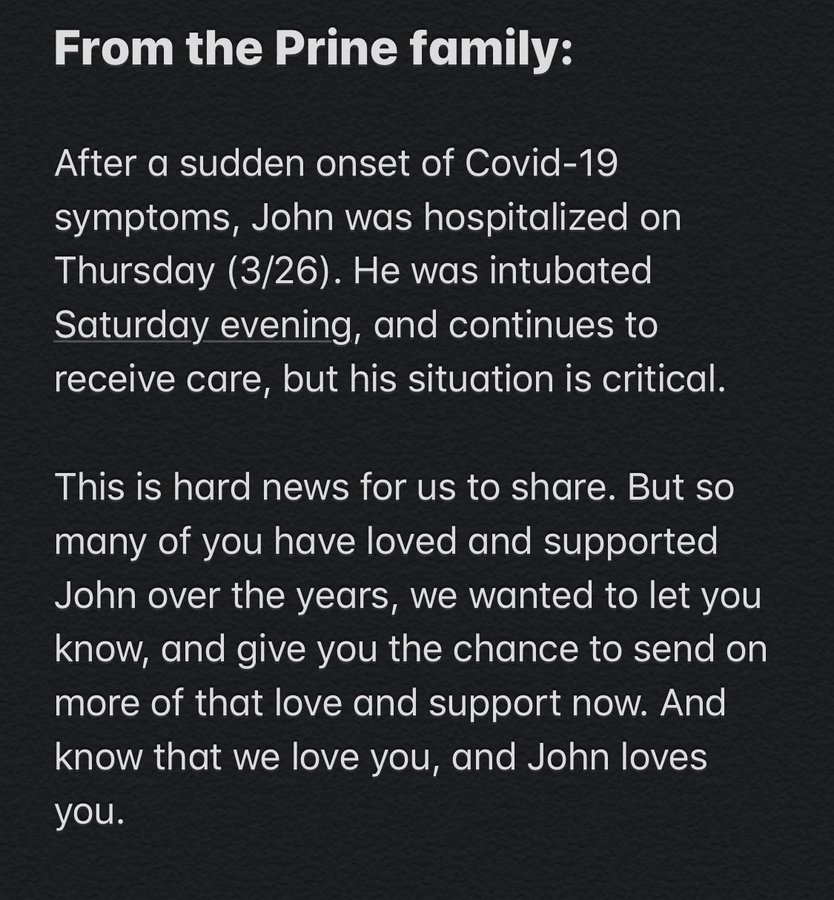 Prine's wife Fiona announced that she had been diagnosed with coronavirus earlier this month. At the time, she said that John had been tested as well and his results came back "'indeterminate.'"
I weep every time I hear "Sam Stone".
Here have some Bonnie and John.