Game of Thrones Emmy winner to speak in Cochrane at Spring Film Festival and Conference by Jenna Dulewich, January 14, 2016, Cochrane Eagle
Game of Thrones Emmy Award winner Paula Fairfield will speak at Film Festival and Wilderness, Wildlife and Human Interaction spring conference in Cochrane.
The conference is being held by Cochrane Ecological Institute and Cochrane Wildlife Reserve Society, the local non-profit wildlife conservation, rescue, rehab and research institution, on March 5 at the Cochrane Ranche House.
"We are thrilled to this," said Clio Smeeton, president of CEI and event organizer. "We are being told we have the 'cream of the crop' for speakers."
Fairfield won an Emmy in 2015 for sound design in the Game of Thrones HBO series.
Other confirmed keynote speakers include:
– John Doninhee, a Canadian expert in environmental, regulatory, administrative and aboriginal law in the North, has extensive experience in land and water regulation, environmental-impact assessment and wildlife management and land-use planning law.
– Robert Bateman, an artist, an adjunct professor for Interdisciplinary Studies, Faculty of Social and Applied Sciences, a lifelong lecturer and resource person in art photography, nature and conservation. Bateman has long lists of major academic honours, one-man art exhibitions, and major honours and awards including, Queen Elizabeth Silver Jubilee Medal, Artist of the Year from American Artist magazine, and Society of Animal Artists Award of Excellence (six times) … to name a few.
– Andrew Nikiforuk, environmental journalist whose work has appeared in a variety of Canadian publications including, Maclean's, the Walrus, Canadian Business, The Globe and Mail's Report on Business, Chatelaine, Georgia Straight, Equinox and Harrowsmith. Nikiforuk has won several National magazine awards since and top honours for investigative writing. His Alberta-based book, Saboteurs: Wiebo Ludwig's War Against Big Oil, also won the Governor General's Award for Non-Fiction. His latest book is, The Energy of Slaves: Oil and the New Servitude.
[Really?
Why does Nikiforuk's bio for the conference and on his website say this:
His latest investigative book, Slick Water, examines the moral and legal implications of hydraulic fracturing, a brute force technology, that contaminates aquifers and causes earthquakes. In particular the book highlights the remarkable story of oil patch consultant Jessica Ernst. ]
– Francis Firstcharger, Blood Tribe elder, who is known for his work with youth, students and the Blood Tribe community. Firstcharger has received the top award of Distinguished Alumnus and is recognized as a Blackfoot Elder according to traditional Blackfoot protocol. Firstcharger is the owner and manager of his own consulting group and is frequently called on as a guest speaker on topics of education, the environment, and cultural relevance locally, regionally and throughout North America.
– Charlie Russell, a rancher, photographer, author and naturalist. Russell is known for his study of bears and has been the subject of two documentaries, Walking with Giants: The Grizzlies of Siberia, and Bear Man of Kamchatka. Russell has also published four books, the most recent, Learning to Be Wild: Raising Orphan Grizzlies.
[Added January 22, 2016, as per conference website: Dr. Thomas Serfass Chair, and Professor of Wildlife Ecology in the Department of Biology and Natural Resources at Frostburg State University, and Adjunct Professor at the Appalachian Laboratory – University of Maryland Center for Environmental Science.]
Organizers are still finalizing details while waiting to hear back from other possible speakers. And if there is enough interest shown, there will be a workshop offered with Fairfield.
The event will also be hosting other daytime activities, as well as a separate evening banquet. The morning and afternoon activities include:
– A film festival called Through Their Eyes, showcasing narrative, documentary, music video and animation films.
– An exhibit of Innovative Technologies – "Ideas Become Reality" – showcasing "cutting-edge, alternative and innovative technologies."
– Art exhibition, Their World: An Artist's Perspective, and
– The six confirmed keynote speakers, along with other speakers.
While the conference will likely attract the environmentally conscious, Smeeton said she wants the event to attract a wide-range of people.
"We want to get people who haven't even thought about the environment and their impact to join," Smeeton said.
"It is an informative, non-fundraising gathering. If they like film, arts and innovative technology, they should come down and see what we have."
The evening banquet will feature Canadian award-winning comedian Mike MacDonald, along with an AAA prime rib dinner, silent auction, door prizes and cash bar.
MacDonald holds the record for most consecutive appearances on Just for Laughs, Montreal comedy festival, and has also written and/or starred in many films, while also appearing on a variety of shows such as Late Night with David Letterman, The Arsenio Hall Show, Just for Laughs, and Comedy Central's The A List.
Organizers are also accepting interest from any person or business seeking to help sponsor the event.
Tickets for the morning and afternoon are $20, or $10 for either morning or afternoon. Banquet tickets are $100. [Table of 8 for $750.00]
For tickets, contact
or
or
call the Happy Tails Pet Retreat at 403-851-2050.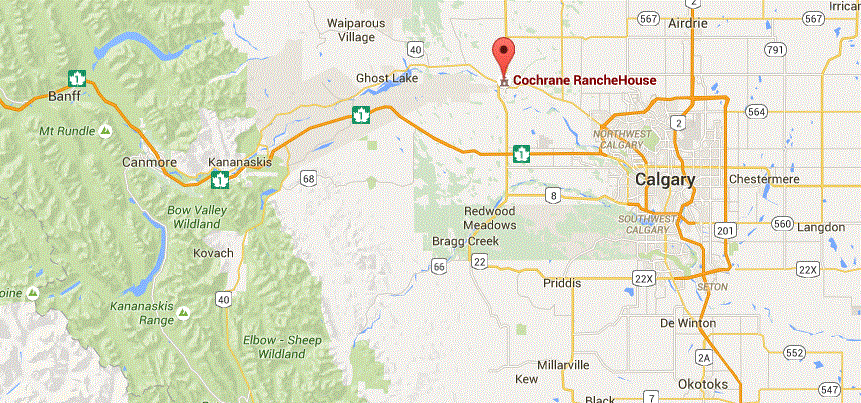 March 5 Schedule of Events, 9:30 – 5:00
Registration and Tickets for Wilderness, Wildlife and Human Interaction