After second crude oil derailment near Guernsey SK (first spilled 1.5 Million litres; second 1.2 1.6 Million litres), Canadian gov't orders trains carrying dangerous goods to slow down, but only for 30 days, maybe less ('til the toxic frac fumes fade?) [The ordered slow down is not working is it?]
Spill from latest Sask. oil train derailment larger than thought, Province now says an estimated 1.6 million litres leaked on highway, up from 1.2 million by Guy Quenneville , Feb 20, 2020, CBC News
The Saskatchewan government says more oil spilled than previously thought during a train derailment earlier this month near the small hamlet of Guernsey. Citing new information from CP Rail, the government says roughly 1.6 million litres of diluted bitumen were spilled after a train jumped the tracks on Feb. 6, up from an initial estimate of 1.2 million litres. The estimate increased "because more oil spilled over the course of the emergency and crews were unable to stop leaks until the fires were extinguished," a government spokesperson said Thursday.
The new amount is more than six times what was released into the North Saskatchewan River in the 2016 Husky Energy pipeline spill. It was the second crash and spill near Guernsey — a community about 100 kilometres east of Saskatoon — in less than two months. During the first, on Dec. 9, 2019, 1.5 million litres of oil was released.
The government said both spills were contained to the railway and highway ditches and impacted "relatively small areas." CP has said no waterways were affected in either crash.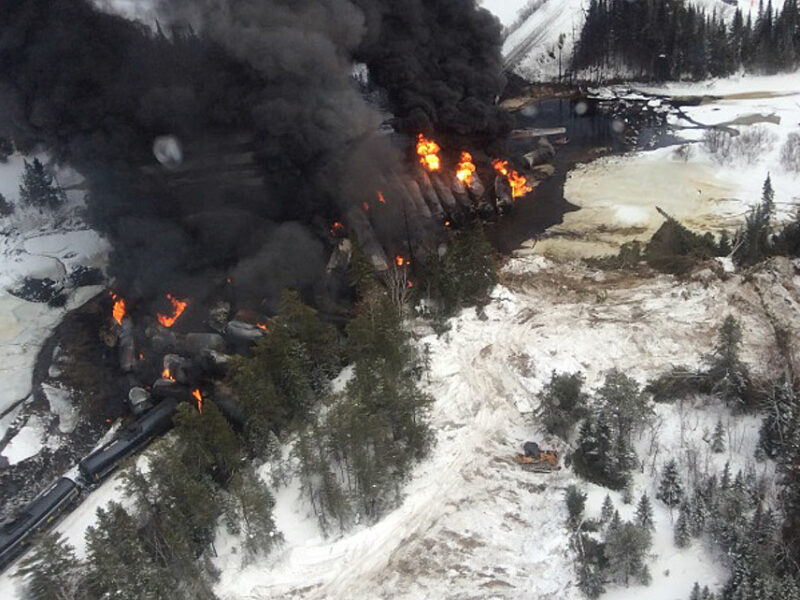 SASKATOON – Executives at CN have demanded the federal government take immediate action against protesters so it can resume derailing oil tankers.
The train-wreck industry, a vital component of the Canadian economy, has been hit hard by the blockades in support of the Wet'suwet'en protests over the construction of the Coastal Gaslink pipeline.
"There are hundreds of double hull oil tankers that are literally sitting in the yards unruptured from a catastrophic collision caused by a broken track," said a high ranking official with Canadian National Railway. "33 of the containers were scheduled to cartwheel off the tracks and explode somewhere in Northern Ontario, but the untouched river and forest may never get its shipment of crude. It's a shame."
Emergency response personnel who specialize in derailments, chemical spills, and other hazardous material containment remain idle with nothing to do.
Canada's largest railway also said that delays have also been preventing planned spills of grain, potash, coal, and anything else a freight train can carry.
"I can't ship my grain for CN to dump all over someone else's grain field," said a Saskatchewan farmer.
"Have the protesters not considered our exhausted train engineers who will no longer have to work 18 hours straight and miss a couple of signals?" said the CN official. "Or the dangerous working conditions that our teamsters can no longer experience because they're out of work?"
However, CN executives are confident that the dispute can be resolved so it can resume spilling its contents on unceded Indigenous territory.
CN train carrying crude oil derails near Fort Frances, Ont., No risk to public safety, police say, but homes within 800 metres being evacuated by CBC News, Feb 19, 2020
Multiple [supposedly puncture proof!] rail cars are leaking crude oil after a CN Rail train derailment west of Fort Frances, Ont.
A statement from the railway said the incident occurred Tuesday night near Emo, and local emergency responders and provincial authorities were at the scene Wednesday morning.
Emo Mayor Harold McQuaker said he was informed of the incident shortly after 9 p.m. Tuesday.
"Contractors are on site, CN is on site. Everybody is coordinated and doing a wonderful job [if they were truly doing a wonderful job, another train would not have derailed], and there's no immediate danger or anything. Basically everything is contained and we're just dealing with it and moving forward [to the next derailment!]," he told CBC News Wednesday morning.
Ontario Ministry of the Environment, Conservation and Parks spokesperson Gary Wheeler said five of the approximately 30 cars that derailed have developed leaks. Wheeler said the leaking oil appears to have remained close to the area of the derailment, likely helped by overnight temperatures of around –25 C.
Kathy Mercier, who has lived in the tiny community for about a year, said the mood around town "was very calm."
"Not a lot of traffic, not a lot of people out there, as the school is closed because it's fairly close [to the tracks]," she said.
She said some of the workers at the community's grocery story told her "you could smell the fuel in the air" when they walked to work.
Mercier said she is "still getting used to the train going by so quickly and going by so often in Emo, and having the house shake a little bit, but I didn't even know this was happening yesterday. I found out because my son got a text from a friend."
Ontario Provincial Police said there is no risk to public safety, but initiated an evacuation of homes within an 800-metre radius of the scene.
The Rainy River District School Board has closed Donald Young School because of the derailment.
Highway 602 is closed in both directions south of Emo.
CN said there are no reports of any injuries, and the cause of the incident is under investigation.
The Transportation Safety Board said it will also send an investigator to the site. That person will gather information, and assess the occurrence