British Village Residents Protest Plan for Shale Gas Drilling by Stanley Reed, May 24, 2013, The New York Times
BALCOMBE, England — Despite the stakes, there was almost a festival spirit in this wealthy little village nestled in the hills of West Sussex. Children buzzed around an open-sided tent by the street and families spread blankets on the tiny village green. What brought them together on Thursday evening, though, was not a spring fair but deep worry. Cuadrilla Resources, a British energy company, is on the verge of drilling an exploratory shale gas well just down the road. Villagers see it as a possible precursor to the environmentally controversial drilling technique known as hydraulic fracturing, or fracking.
"Don't frack my future," read the children's T-shirts as the youths munched on chocolate cupcakes. The villagers "are going through the grief process; they have just been told they have cancer," said Alison Stevenson, chairwoman of the Balcombe Parish Council, a local government body. A recent survey conducted by the parish council found that more than 80 percent of the 284 respondents wanted the council to oppose fracking. The protest was in keeping with the steady resistance that oil and gas companies, and the governments that approve their exploration, are facing as they try to tap natural gas from underground shale deposits and extract other fossil fuels in populated areas. … Balcombe, with about 1,800 residents, is no hotbed of radicalism. It is in the Conservative Party's heartland, about a half-hour's train ride south of London. It is represented in Parliament by Francis Maude, a cabinet minister.  … "This is naturally a very conservative, wealthy village," said Lawrence Dunne, a physics professor who lives here. "But we feel the government is completely ignoring us."
On this evening, Cuadrilla, the company that is spearheading shale gas development in Britain, was trying to listen. In a former church known as Bramble Hall, the company held a "drop-in session" for local residents. Several Cuadrilla executives accompanied by an entourage of public relations aides talked to small groups of residents, who were joined by environmental activists from London and the surrounding area. Francis Egan, Cuadrilla's chief executive, called the gathering, which attracted more than 200 people and lasted more than four hours, "really, really valuable." The encounter gave people "an opportunity to hear from us what we are doing" rather than what they "read on the Internet," he said. He and other European business leaders who advocate shale gas development are envious of the head start achieved by their American counterparts. But they know that on this side of the Atlantic, fears of pollution run so deep in the grass roots that local and national politicians are hesitant to endorse drilling.
…
Eric Vaughan, Cuadrilla's director of wells services, found himself peppered with questions about regulation by Katy Dunn and Emma Cooke, two young women who were dressed in black outfits and knitted yellow socks, who called themselves "the knitting nannas against gas." Worries cited by residents included fears that drilling activity would increase road traffic and harm the environment. They also suspect that the production of oil and gas, lucrative though it might be to Cuadrilla, would offer few benefits to Balcombe. "I am concerned about the environmental impact on the air and our water supply," said Louisa Delpy, who lives nearly a mile from the site. "I have two small children." Ms. Delpy held a long private conversation with Mr. Egan to go over a list of concerns. But their talk left her "with more questions," she said. "This was just the start."
…
Cuadrilla wants to try again with modern methods including horizontal drilling and the use of hydrochloric acid to stimulate the well. Cuadrilla executives said they did not plan, at least initially, to "frack" this test well. But Mr. Egan, who became Cuadrilla's chief last year after the company had selected the Balcombe site, said that it might later decide to frack the well "if we decided it would make a difference to the flow rate." … But not in Balcombe. "We will fight it," Mr. Dunne, the physics professor, said. "We will carry on by any peaceful and legal means." [Emphasis added] A version of this article appeared in print on May 25, 2013, on page B3 of the New York edition with the headline: British Village Residents Protest Plan for Shale Gas Drilling.
[Refer also to:
Frack Free Sussex May 24, 2013
At Cuadrilla's cosy, condescending plactate-the-community-and-hope-they-don't-notice-the-discrepancies-contradictions-and-blatant-lies drop-in session in Balcombe yesterday, one of the PR stooges said: "I know that everything I say sounds like utter f***ing bulls*it."
Source: Frack Free Sussex
Jessica Ernst at Victory Hall, Balcombe 70 Min. by Frackoffuk, March 8, 2013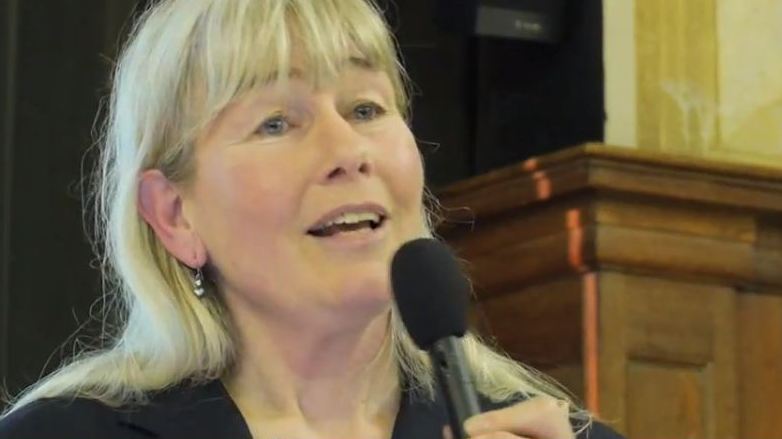 "Nobody came to me and said, 'here's the choice:  light? .. or water?' "
"When there're hurricanes, floods, locusts, hail .. the governments help people. When you are frac'd – there's no aftercare."