Another Chapter in Jimmy McAllen's Long-Running Case Against Forest Oil by John McFarland, September 26, 2012
Last week, a Texas district court ruled that Jimmy McAllen could keep his $20 million arbitration award against Forest Oil Corp. This fight goes back to 1992, when Forest Oil gave McAllen used drilling pipe to build animal enclosures on his exotic wildlife ranch, on which McAllen kept rhinoceroses. The pipe had scale that contained radioactive materials, and McAllen claimed that it made the animals ill. McAllen also contracted cancer, which he blamed on the pipe. McAllen also alleged that Forest secretly buried mercury, drilling waste and other radioactive material on his property. McAllen sued Forest in 2005. Forest claimed that McAllen was required to arbitrate the dispute under the terms of a prior settlement agreement between Forest and McAllen arising out of a suit for unpaid royalties. Forest's argument eventually made it to the Texas Supreme Court, which held that the prior settlement agreement was binding on McAllen and required him to arbitrate the dispute. Forest Oil Corp. v. McAllen, 268 S.W.3d 51 (Tex. 2008).
The case then went to an arbitration panel consisting of Houston attorney Daryl Bristow and South Texas attorneys Clayton J. Hoover and Donato D. Ramos. On February 29, 2012, the panel issued a split decision, 2-1, awarding McAllen $21.9 million plus $5 million in attorneys' fees and additional injunctive relief requiring Forest to post a $10 million bond for the life of the lease to assure cleanup of any pollution found on the ranch. In a 40-page dissent, Daryl Bristow said that the panel's award "turn[ed] the law on its ear" and "fabricate[s] a damages number without any principled foundation in the record."
Forest then filed suit to overturn the award. On September 19, Judge Jeff Shadwick, of the 55th District Court in Harris County, denied Forest's motion to overturn the award. The court's order said that "the panel reached its conclusions based on little to no admissible evidence," but that this "is one of the unfortunate hazards of arbitration." "The court is not at liberty to substitute its judgment for that of the arbitrators merely because it would have reached a different decision." Judge Shadwick did overturn the arbitration panel's requirement that Forest post a bond for future cleanup, saying that the panel had no jurisdiction to issue such relief.
Forest is sure to appeal the trial court's decision. It will be in the uncomfortable position of challenging an arbitration award after it fought all the way to the Supreme Court to force the case into arbitration. And so Jimmy McAllen's fight will likely continue for some time to come.
South Texas rancher accuses oil company of deliberately poisoning land by Lynn Brezosky, Associated Press, April 14, 2007, Lubbock Avalanche Journal
A member of one of Texas' oldest ranching families has locked horns with an oil company in a bizarre dispute involving pet rhinos, steel pipe and allegations of radiation poisoning and a corporate vendetta. Associated Press A warning sign posted by Jimmy McAllen sits on the door of the abandoned rhinoceros pen on his ranch near Edinburg on Monday. McAllen is suing Forest Oil Co. after a recent discovery that drill pipe he received from the company and used to build the pen and fences around the ranch in the 1990s was radioactive. Rancher Jimmy McAllen, the 10th generation of his family to work the 70,000-acre ranch in South Texas, says that the old pipe he used to build a corral for two African black rhinoceroses in the mid-1990s proved to be loaded with radioactive material. He blames the radiation for the mysterious 1995 death of one of his rhinos. And he says he suspects it caused the rare form of cancer that cost him his lower right leg in 2005.
Moreover, he says the Forest Oil Co. – which holds a lease to drill for gas on his property and gave him the old pipe for the corral and other projects around the ranch – deliberately poisoned his land in retaliation for a dispute the two sides had over gas payments.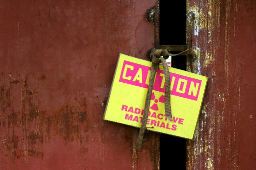 A warning sign posted by Jimmy McAllen sits on the door of the abandoned rhinoceros pen on his ranch near Edinburg on Monday. McAllen is suing Forest Oil Co. after a recent discovery that drill pipe he received from the company and used to build the pen and fences around the ranch in the 1990s was radioactive. "It's like giving someone a poison apple on Halloween," the 69-year-old said. McAllen is suing Forest Oil, accusing it of aggravated assault and trickery, among other things. He is seeking a cleanup, as well as an unspecified amount in damages. [Emphasis added]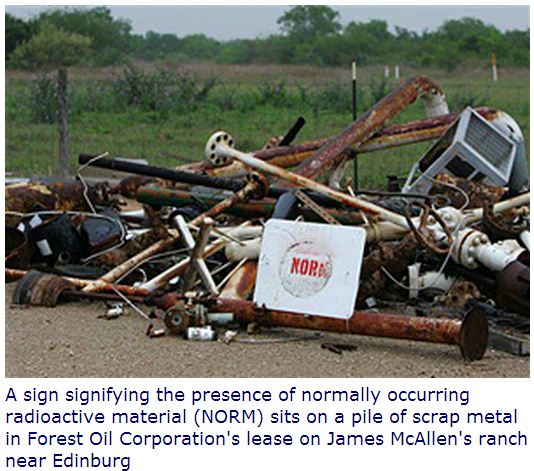 Source: Bandaras News