Tories vow rules on urban drilling within weeks by James Wood and Chris Varcoe, February 21, 2014, Calgary Herald
Alberta Energy Minister Diana McQueen said Thursday that long-awaited rules around urban drilling are coming soon, even as controversy continues to flare around a proposed project in Lethbridge. Lethbridge's council has passed a resolution opposing urban gas and oil exploration, while a group calling itself "No Drilling Lethbridge" has sprung up in response to a plan by Goldenkey Oil Inc. to drill three exploratory wells within city limits. The proposal has sparked a heated debate in the community and a new poll of Lethbridge residents found three-quarters of those questioned oppose drilling within the city's boundaries.
McQueen said in an interview that she's paying close attention to concerns raised in the southeastern Alberta city, which is represented by two Progressive Conservative MLAs. "The activities that we have in oil and gas bring (Alberta) good revenue, but we also want to make sure the environment, the communities, all of those issues are looked into as well," she said. "So it's finding the balance with that." [What about health?]
In 2012, as a dispute rose over a proposed oil well in Calgary's Royal Oak neighbourhood, then-energy minister Ken Hughes launched a review to develop a new policy for drilling in urban areas. The new rules were originally supposed to be in place by the summer of 2013, then by the end of last year. McQueen said she could not comment on why the review was delayed, but promised to have something to put in front of the public in the next few weeks, "to bring certainty to communities and the energy industry."
"This will be a provincial policy and it's something that I want to go and have a conversation (about) across the province," she added.
Both the provincial Liberals and NDP want a ban on drilling within urban centres. Lethbridge Mayor Chris Spearman has called for municipalities to be given greater power to regulate urban drilling. Currently, municipalities have no say on the issue. McQueen would not comment on whether that matter is under consideration by the provincial government.
Jason Hale, the Wildrose energy critic and a former energy industry worker, said the Tory government has mishandled the issue by not consulting with urban municipalities before making energy leases available for tender – and then dragging its heels on a new policy. "We don't think there should be a complete ban on urban drilling…." he said. "If that municipality does not want any drilling under their city, then we would have to respect that. We'd have to respect local government."
…
Pollster Faron Ellis, who teaches political science at Lethbridge College, said the intensity of opposition to urban drilling seen in a poll conducted by the college is striking. The survey found 76 per cent of respondents were against drilling within the City of Lethbridge, with 61 per cent of people questioned strongly opposing the concept. For the Redford government, the issue is particularly difficult to manage because it must be seen to be listening to the public, but it can't appear to be favouring urban residents over rural Albertans who already live near wells, he said. "Where do you draw the line?" Ellis said. "It's a domino. Where do you stop before you have half to two-thirds of the province off limits to oil and gas development?" [Emphasis added]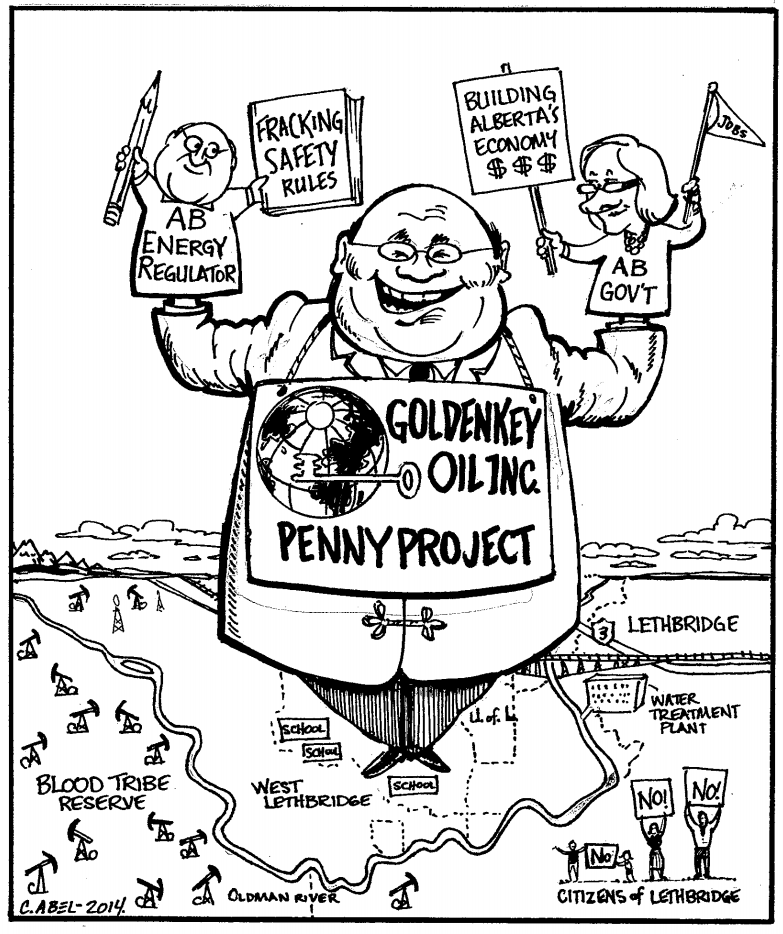 Cartoon by C Abel