Protecting Alberta's 'centre of gravity': New energy regulator wants to restore trust by Claudia Cattaneo, July 23, 2014, Financial Post
Jim Ellis, president and CEO of Alberta's newly reformed energy regulator and a retired Canadian Army colonel, gets this question often: How can a former tank commander like him come out of war zones and segue into one of Alberta's most senior energy jobs without missing a beat?
"I found the military and what I am doing right now to be very similar," Mr. Ellis, who in his last major overseas assignment in 2004/2005 was the senior commander for Canada's mission to Afghanistan, said in an interview in the glassy headquarters of the Alberta Energy Regulator (AER) in downtown Calgary.
Both involve high stakes, high pressure and lots of emotion, and both are about interacting with politicians and the public, fighting issues on the ground and internationally, he said.
The get-the-job-done, keep-it-simple attitude served Mr. Ellis well in the past year, when he led a sweeping restructuring of the province's energy regulatory regime.
It was the highest profile assignment for Mr. Ellis, 56, since his retirement from the military in 2006, which led to a dazzling second career in Alberta's public service, including stints as deputy energy minister and deputy environment minister.
The AER overhaul involved merging three entities with lots of history and little interaction — the Energy Resources Conservation Board and the regulatory functions of the provincial departments of energy and of environment — while continuing to oversee a booming industry with 180,000 active wells and 400,000 kilometres of pipelines.
It wasn't just cosmetic change. The restructuring involved busting silos and crafting a matrixed organization able to call on experts from any area to help out. Some 250 people were moved in from government jobs to join the regulator. Meanwhile, 35,000 applications had to be reviewed.
The change-management exercise was so intense it was like changing tires in a moving vehicle, he said.
But the mission has been accomplished, and Alberta is now home to an independent agency funded by industry, with a budget of $200-million and a staff of 1,200, that oversees all aspects of energy development — from approving putting a fence around a pump jack, to multi-billion-dollar oil sands mines, to restoring land to its natural state when development stops.
Mr. Ellis is now moving to the next stage of his reforms. It involves shaking up many aspects of the energy sector during the next three years — from introducing fixed timelines for development applications to nailing down reduction targets for oil sands tailings ponds.
They are long overdue. Industry has been calling for oversight that is more efficient and more relevant to today's projects. The AER plans to eliminate duplication of regulations and abandon those that are no longer needed. It's committed to reducing costs by $60-million annually. It will put greater emphasis on higher risk projects.
But with industry watchers, from environmental organizations to aboriginal communities, clamoring for better environmental protection and tougher rules to reduce the impact of development, Alberta's energy watchdog will also introduce tighter controls.
In addition to tightening the rules on tailings management, the AER plans to introduce benchmarks to reduce water use in the oil sands and in shale operations, ensure that flaring of gas is within provincial guidelines and clamp down on aging infrastructure.
At the same time, the AER is anticipating it will have to review 60,000 to 65,000 applications this fiscal year as oil and gas production continues to grow.
But there is one goal Mr. Ellis is particularly keen to achieve: restoring trust so that anyone watching oil and gas production in Alberta — particularly in the oil sands — can count on its watchdog to deliver.
"In military strategic planning, it's called the centre of gravity," he explained. "It's a piece that you have to protect at all costs, or everything else doesn't matter. We can be the most protective regulator in the world, but if people don't trust us, and don't rely on what we are saying, we don't have credibility, none of that other stuff matters."
Alberta's energy [deregulating has] been highly regarded and copied in Canada and internationally. Mexico, the U.K., Romania, Hungary, Quebec, the Northwest Territories, are among jurisdictions cooperating with the AER.
But they have also been under attack as part of growing international scrutiny of the oil sands. Many believe Alberta's regulators are too soft on industry.

In a survey in 2010 by the International Energy Agency, Alberta's regulator ranked in the middle of the pack.
With the world's third-largest oil deposits, Mr. Ellis said the province must do better.
To that end, the AER plans to hire experts this fall to build a model showing what a best-in-class regulator looks like.
It will then ask stakeholders whether the AER measures up and what it needs to do to get there. The model will be peer reviewed. [The regulator refused requests for peer review of Dr. Alexander (Alec) Blyth's "independent" (but not really) reports dismissing water contamination cases with data indicating contamination by Encana and other companies.] It will be made available to regulators in other jurisdictions so they, too, implement the best possible [deregulation] of their energy resources.
"We need a trusted regulator to step up and say, this is what industry is doing [Is the regulator going to step up and tell the world about Alberta's industry-fractured, oozing caprock? Refer below] and in this area they need to improve. If you want to know what is really going on, come and talk to us," Mr. Ellis said. "We are the centre of energy development basically in the world. Everybody is watching. We have an opportunity as a regulator to make a huge difference here." [Emphasis added]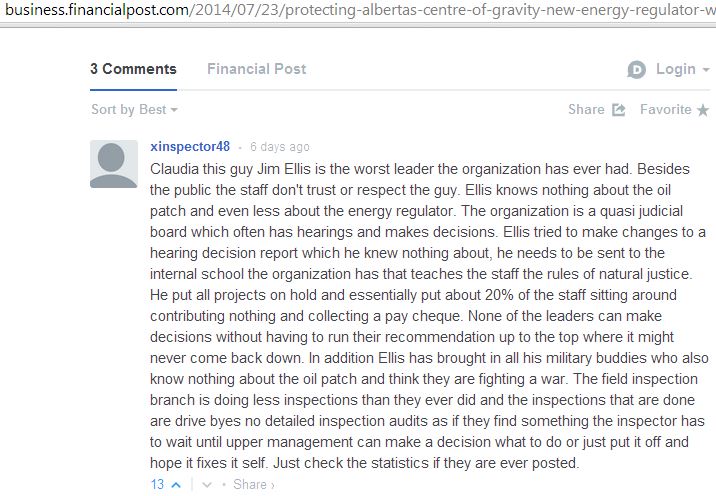 [Refer also to:
Landmark fracking lawsuit starts with twist in Alberta
….the ERCB [now AER], whose mission is to develop oil and gas "in a manner that is fair, responsible and in the public interest," was prepared to argue that it has "no duty of care" to a landowner with contaminated water. [Alberta Court of Queen's Bench agreed]
Newfound Threat to Oilsand Projects; TYEE EXCLUSIVE: Researchers discover ancient salt formation key factor in Alberta steam fracking disasters
Steam Injection Fracking Caused Major Alberta Bitumen Leak; Review finds fractures spread like cracks on a frozen lake, resulting in uncontrolled seepage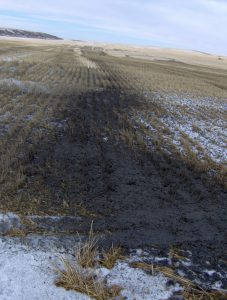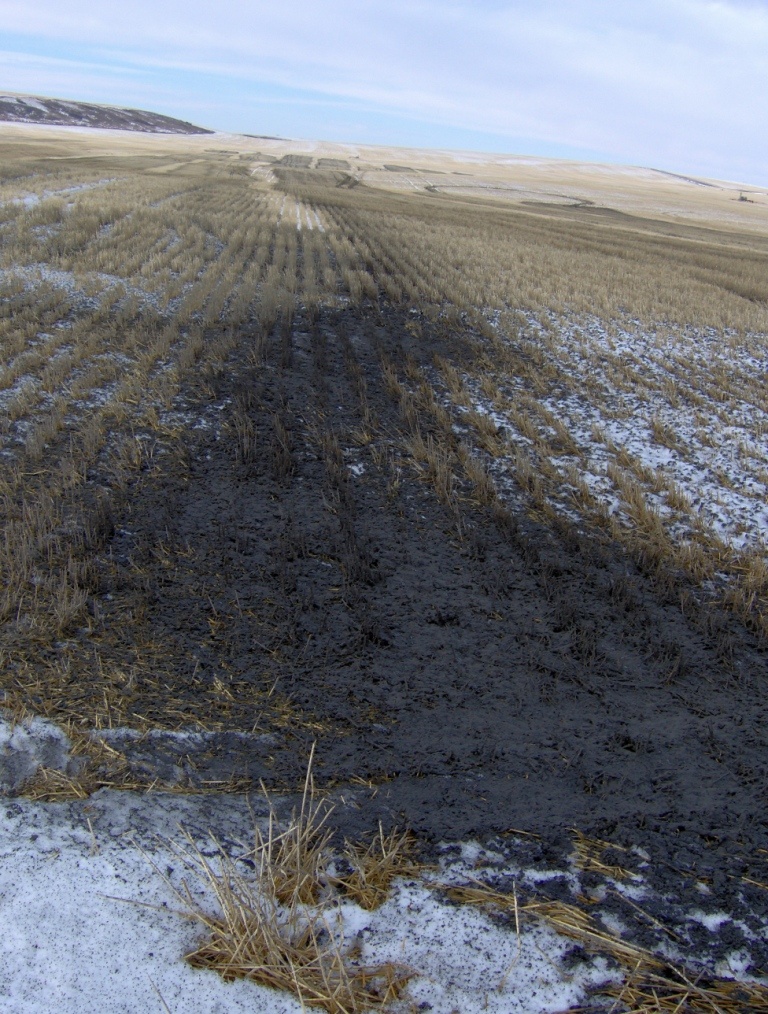 Cold Lake bitumen release on CNRL's Primrose site. Source: Emma Pullman.
CNRL's Persistent 2013-2014 Bitumen Releases near Cold Lake, Alberta: Facts, Unanswered Questions, and Implications
Both AER and CRNL fail to provide accurate, complete, and timely information to the public.
In response to questions, misleading or incomplete information was often supplied, or, in some cases, no response was provided.
Problems and errors were noted in reporting of the sequence of events and the locations of the incidents;
of understating impacts to wildlife and wetlands;
in provision of ambiguous, unverified, or incorrect values for volumes of bitumen released or recovered and tonnage of soil removed;
in making claims that lack or contradict evidence;
in misdirecting the investigators to web links that did not contain the information requested;
and in failing to answer questions.
Despite repeated requests, a set of questions posed to AER pertaining to the accuracy and reliability of their incident data, posed in mid-June 2013, remained unanswered for six months. [Emphasis added]
Emails show secrecy on federal oilsands probe: Proposed answers from Environment Canada to questions about a 2013 oilsands leak triggered emails suggesting the ministry "limit information" given to media
Public Advisor on Fracking Filed Fracking Patent  (patent issued in 2013)
Ronalie Campbell comment: At a hearing with a local oil company and government official present, the oil rep blurted out "it wasn't us, it was Encana, CNRL, and all those others before us that blew the cap rock to hell."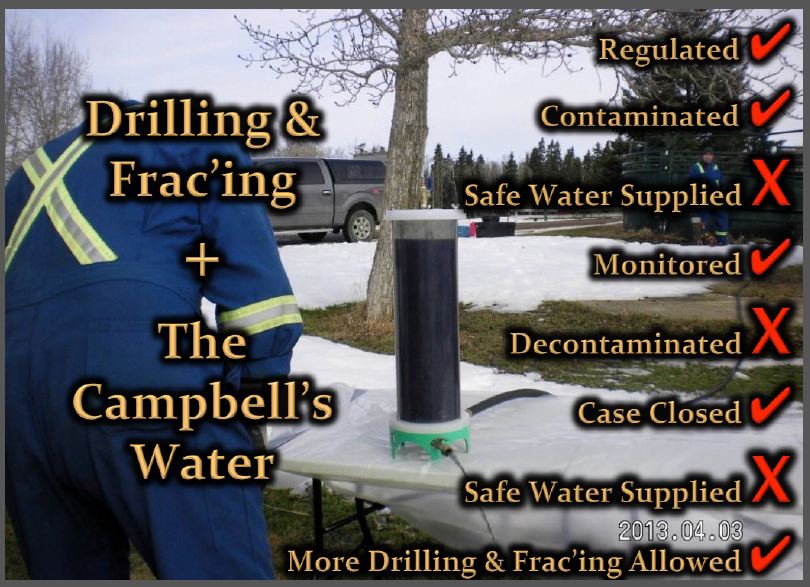 March 2013: Another Alberta Pollution Scandal Forces Residents From Homes
"I blame the ERCB [now AER]. They are not doing proper monitoring and are withholding data. They are responsible for this going on for years. They have lied to us more than the company. I don't know how they sleep at night."
June 24,  2014: MUST READ Diana Daunheimer: Alberta Energy Regulator should be ashamed, AER Directive 60 Deregulation as the frac poisons ramp up
Of greatest concern is that off-lease odors are now permitted from energy sites.
Watch out! Industry's requested "Blanket Approval" coming soon to an Alberta community near you; AER says it will "reduce the need for public hearings."
Environment Canada criticized for leaving fracking chemicals off pollutant list saying not enough frac chemicals used – 362,000 litres of diesel invert lost underground near Alberta family home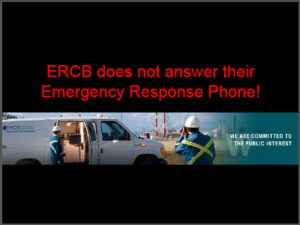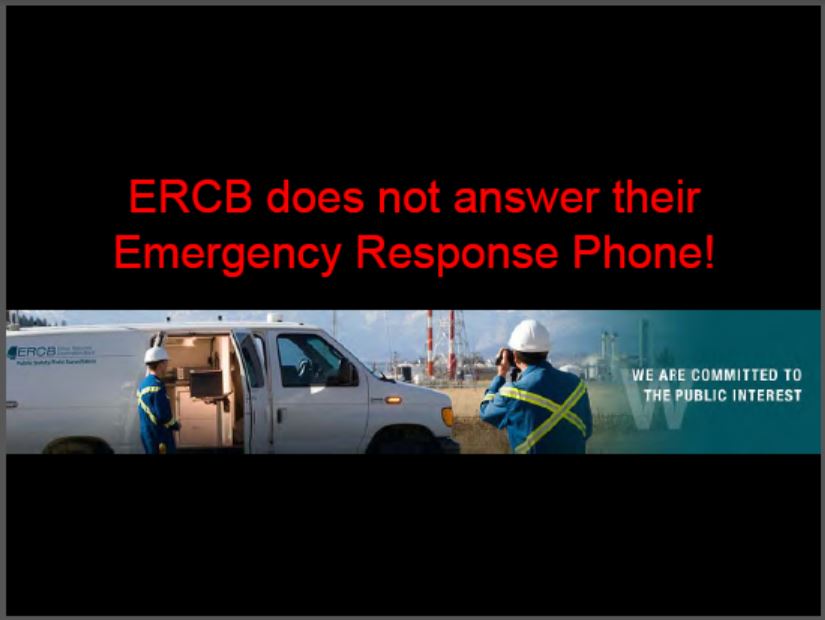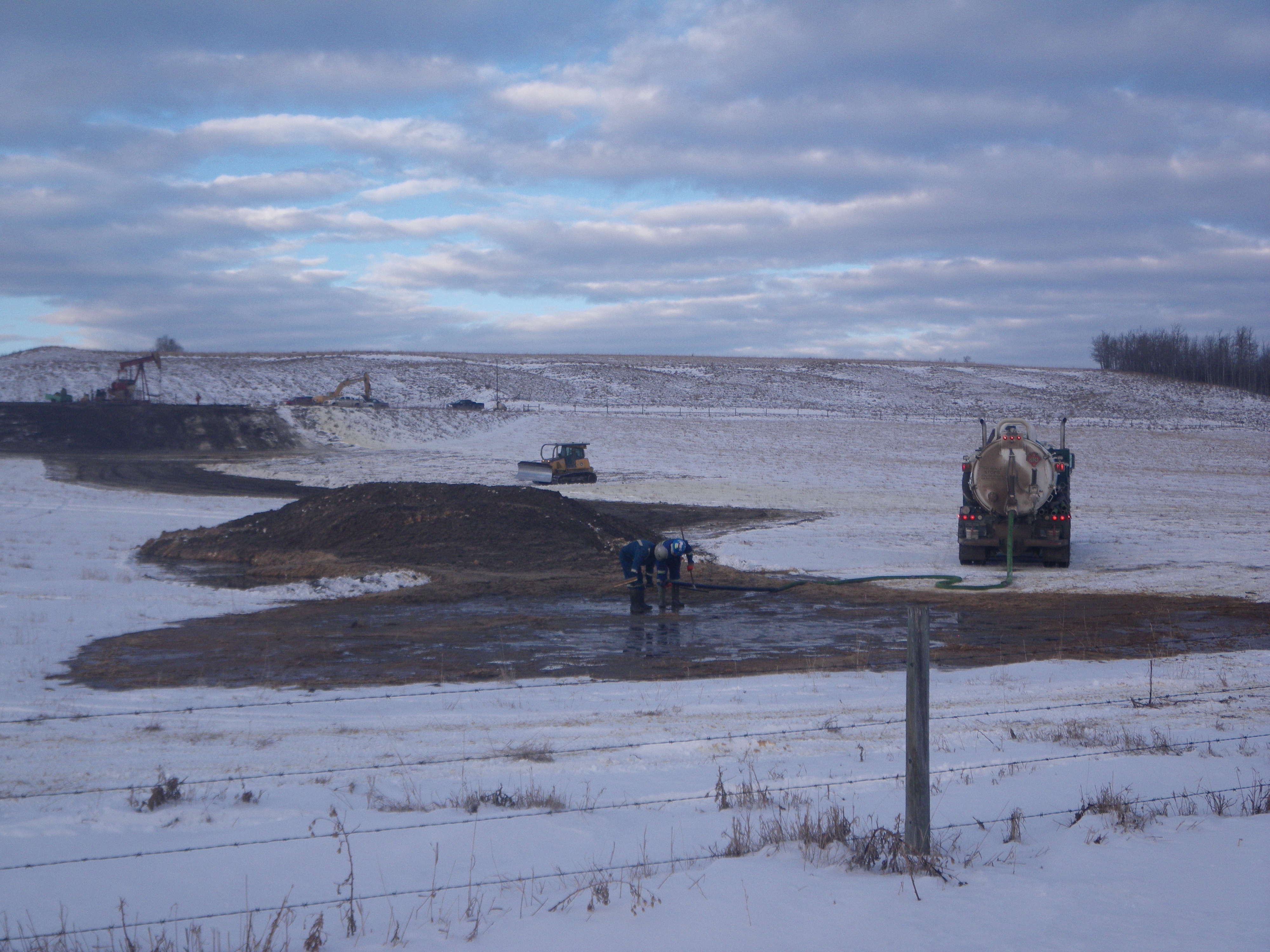 Workers – without respirators – take a closer look while cleaning up the Innisfail, Alberta frac communication event or "Frack Hit," January 13, 2012.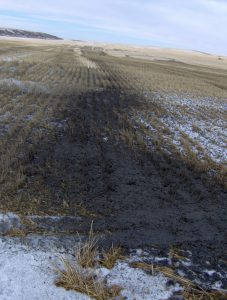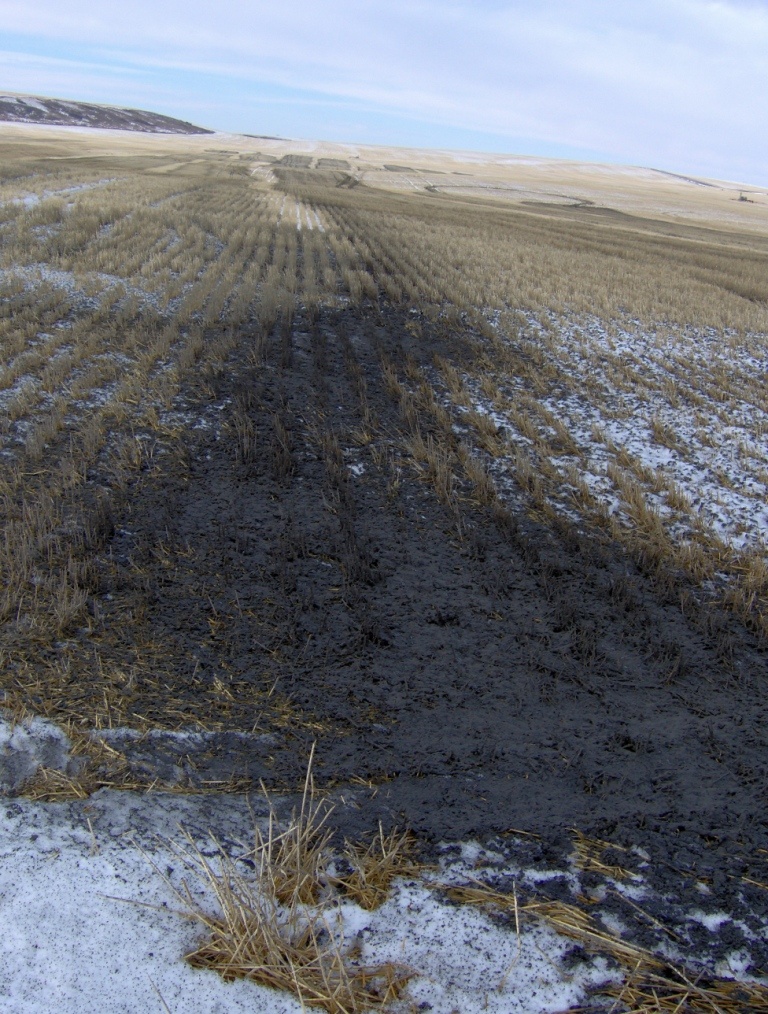 November 2012 – EnCana's drilling waste dumped on food land at Rosebud
January 17, 2013, Bob Curran, Public Affairs Section Leader, ERCB [now AER], on GlobalTV:
"We evolve the regulations on an ongoing basis to ensure that they're protective of groundwater and public safety and that waste is disposed of properly as well."
April 19, 2011, Darin Barter, ERCB [now AER] spokesman, to the Peace River Record Gazette:
The ERCB does not test drilling waste before it is deposited on fields, said Barter, nor will it inspect deposits unless contacted by the landowner, as staff is limited, and the practice is common. "It is the company's responsibility to follow the rules. We can't be there in every location throughout the province every time something is done"
2007, Darin Barter, ERCB [now AER] spokesman:
"If they are not following our regulations, we should be involved in it."
The report also found that a variety of products — including hazardous materials and lubricants — had been discarded or abandoned "with no apparent concern for the environment."
"A lack of responsibility and supervision are evident at other sites, wherein examples of poor industry practices and lackadaisical housekeeping abound"
In contract, emails and meetings, Alberta officials ensured "independent" pipeline safety review wouldn't look at enforcement:
The Alberta energy regulator's review of pipeline safety, commissioned after multiple pipeline accidents in 2011 and 2012, was explicitly designed to not look at any pipeline incidents or investigations. 
And regulator officials regularly communicated with reviewers to ensure this did not happen.
The review, released in August 2013, found that "Alberta has the most thorough overall regulatory regime of all the assessed Canadian jurisdictions.'" A press release announcing the report's publication said, "An independent review has confirmed that Alberta leads in pipeline safety.'"
But the $465,000 review did not examine any specific incidents or how well Alberta's regulations were enforced.
Instead, it focused on the regulations themselves, comparing them to other jurisdictions and industry best practices.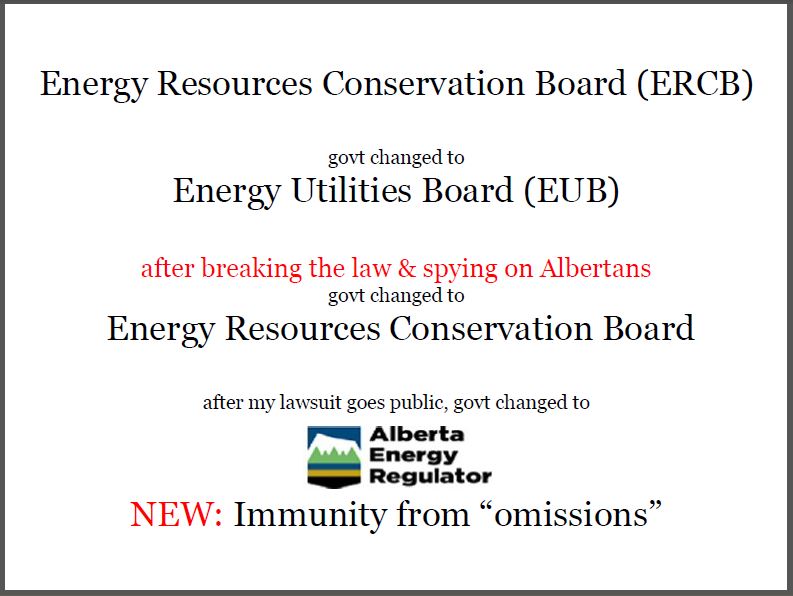 Slides from Ernst presentations