100 Short Stories – The Battle to Save Lake Ainslie by Neal Livingston, September 19, 2016, Black River Productions Limited
"100 Short Stories is a beautiful captivating film. Viewers will be enraged and amazed. I wanted ten more 100 stories by Neal Livingston when the film ended."
 Review by Jessica Ernst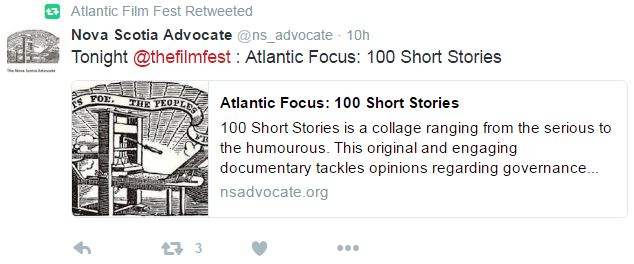 The Nova Scotia Advocate website

Atlantic Film Festival twitter page and website
Atlantic Focus: 100 Short Stories premiers at Atlantic Film Festival, September 19th, 2016
100 Short Stories is a collage ranging from the serious to the humourous. This original and engaging documentary tackles opinions regarding governance, public policy, and questions what are sound ideas socially, environmentally and culturally in today's society. It's about predatory Capitalism, renewable energy, stopping the frakers, and contemporary life in Atlantic Canada. Created by Neal Livingston, a well known Nova Scotian documentary filmmaker and artist – as well as renewable energy practitioner, developer and policy advocate – who calls the film partly autobiographical.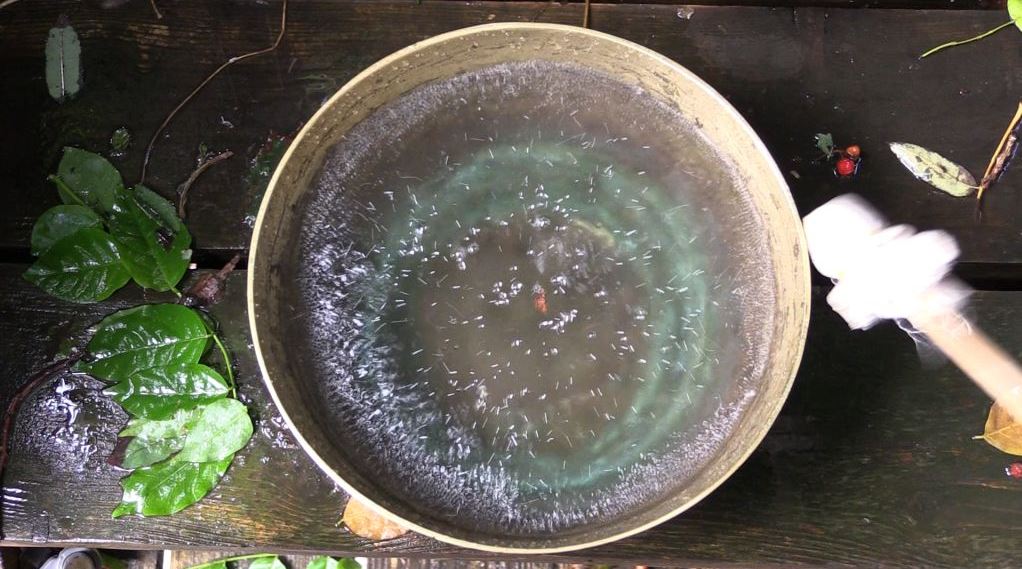 Stills from Neal Livingston's new film, 100 Short Stories
Director: Neal Livingston
Writer: Neal Livingston
Producers: Neal Livingston
Cinematographer: Neal Livingston
Editor: Neal Livingston
Editorial Consultant: Louis-Martin Paradis
Country: Canada
Runtime: 70 minutes
Showtimes
Mon Sep 19, 2016 | 9:15PM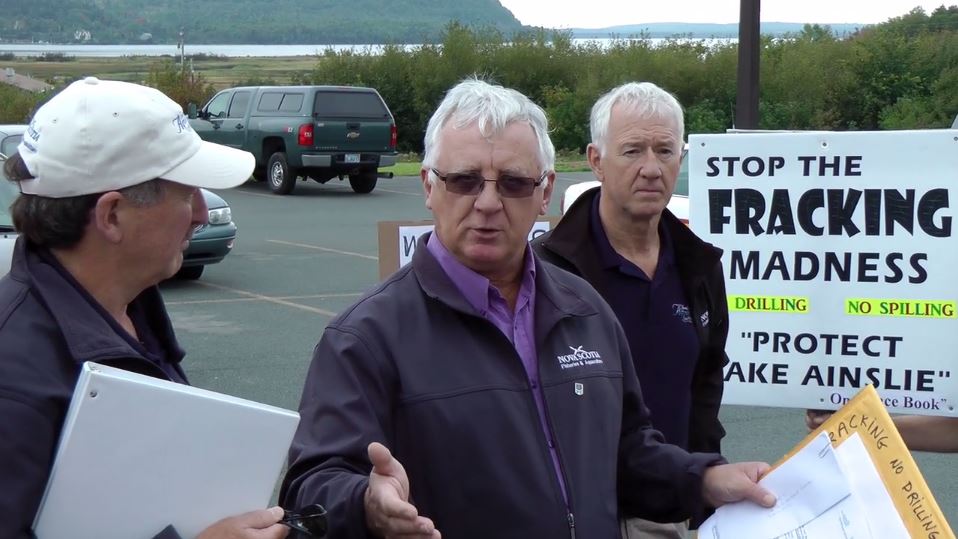 Still from Neal Livingston's new film, 100 Short Stories
More information and other films by Neal Livingston
Upcoming screenings of 100 Short Stories
Community Screening
Inverness County Centre for the Arts
Inverness, Nova Scotia
Thursday October 6th, 7pm
Planet in Focus Festival
October 21st, 9:15 pm, Toronto
Innis Town Hall, University of Toronto
DOC MEMBER SPOTLIGHT ON NEAL LIVINGSTON
Cape Breton documentary makes Atlantic Film Festival lineup by Ken MacLeod, August 23, 2016
'100 Short Stories' about social issues
Mabou filmmaker Neal Livingston's first feature-length documentary is a week away from full completion, but it has already been accepted by two of the country's major film festivals.
"100 Short Stories" will be shown on Sept. 19 at 9:15 p.m. at the Atlantic Film Festival in Halifax. Later in the fall, the 70-minute documentary will also be shown at a film festival in Toronto, but the details won't be announced until the festival finalizes its lineup.
According to Livingston, his latest film — the first he's completed in 10 years — is consistent with the themes he's been exploring in his shorter work.
"I've made a wide range of documentaries, but the major core of my films are political documentaries on environmental issues and social issues," explained Livingston, citing as an example "Toxic Partners," a film about the Sydney Tar Ponds that was made before the story broke to the public as a major issue.
He describes "100 Short Stories" as sort of a "collage" that focuses on the social issues surrounding a wind energy project that he was involved in building and is a part owner of, making the film party autobiographical.
"The main running themes of the film are about predatory capitalism, this wind project and the fight in Lake Ainslie against oil and gas drilling that happened a few years ago," he said. "It kind of documents all those things and it's also about us here now — it's a portrait of Cape Breton today."
The footage for "100 Short Stories" was all shot between 2010 and 2015 and Livingston put a lot of effort into making a film that would hold the viewer's attention.
"One of the critical issues of a filmmaker, besides properly depicting the content in your film, is (asking yourself) if the viewer is sitting there thinking about what they did before they came to the film, where they are going after the film, or even if they are looking at their phone.
I hadn't made a feature film before, so the difference in length was fairly critical: Could I make a film that held the viewer's attention?"
Though the film won't be completed until next week, "100 Short Stories" has already jumped a couple of hurdles in that regard, first with a couple of successful test screenings and then with the acceptance into the film festivals.
Though he usually edits his own films, well-known Canadian film editor Louis-Martin Paradis spent three three-and-a-half weeks helping Livingston with the editing. He said this process probably knocked a year off the time he had originally estimated it would have taken to bring the film to the public.
"Louis-Martin Paradis is one the top documentary film editors in Canada; he's won a lot of awards. I'm an editor and I've edited most of my own work, but I wanted to get outside my own bubble and try to use the influence that another editor could bring to the project.
The film is being finished in a sound studio in Halifax, he added, which will give "100 Short Stories" a level of sound design and picture quality that will hold up in theatres.
Livingston is distributing the film himself and plans on a showing on the west side of the island in the near future, but doesn't expect a Sydney showing of "100 Short Stories" to happen until sometime next year.
"Stylistically, this film is a really significant maturation of other films that I've made, even though some of those are fairly major and good films. It's going to be interesting to see how well it does." [Emphasis added]
FAST FACTS
Black River Productions
• Founded in Mabou in 1987 by Neal Livingston
• Some notable short films produced by the company include "Toxic Partners" (1999), "Michel in a Suete" (1998), "Both Sides of the Wire" (1993), "The battle of Our Shores" (2002) and "Rudy Haase" (2007).
• "100 Short Stories" (2016) is the company's first full-length film