"Typical" industry lies and promises translated: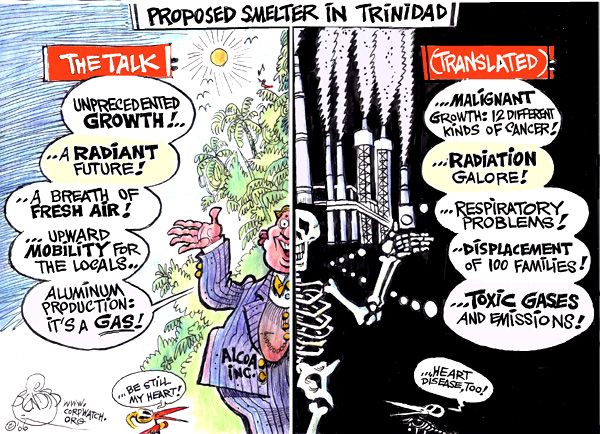 Zombies can rise from the dead and apparently climate lawsuits can, too. On Tuesday, a federal court breathed new life into a lawsuit by Californian cities against Big Oil.
The powerful Ninth Circuit Court of Appeals in San Francisco, which has jurisdiction over almost the entire American West, Alaska, and Hawaii, found that the lawsuit brought by San Francisco and Oakland had been incorrectly moved from state to federal court before it was dismissed back in 2018.
The cities claimed that ExxonMobil, Chevron, Shell and other fossil fuel companies knew about climate change for decades and sued the oil giants for financial support to create an "abatement fund" that would help pay for sea walls and other infrastructure projects.
Judge William Alsup shot down that case two years ago, saying that the courts were not the right place to adjudicate the global problem of climate change. (That's after he requested an unusual and entertaining "climate tutorial," bringing in experts from around the world to educate the court on climate science.)
The Ninth Circuit Court's ruling now sends the suit back to district court, where the cities will get another chance to prove why their lawsuit belongs in California state courts, which may be friendlier to a case against oil giants.
In a separate ruling on Tuesday, the Ninth Circuit determined that another lawsuit filed against dozens of fossil fuel companies by San Mateo, Santa Cruz, and other California cities and counties could move forward in state court. They also want fossil fuel companies to pay for infrastructure that will protect from sea-level rise and other problems brought by a warming planet.
According to Ann Carlson, professor of environmental law at the University of California, Los Angeles, oil companies have a strong interest in keeping cases federal — and out of state hands. "I think it's for two reasons," she said. "One is that the federal judiciary is increasingly conservative." With Trump adding more appointees to district courts around the country, oil companies hope that in federal court they will face more sympathetic judges. (Carlson does pro-bono work for some of the municipalities suing over climate change.)
Federal courts might also make it easier for fossil fuel companies to argue that climate change is too enormous to be handled in the judicial system. "They're trying to frame these cases as too big for a state, because the problem of climate change is a global one — and so, [according to fossil fuel companies] only the federal government should be involved in regulating climate change," Carlson explained.
That was the reasoning behind Judge Alsup's dismissal of the San Francisco and Oakland case. He held that one court shouldn't have the power to put fossil fuel companies out of business and that the cities' lawsuit essentially asked the court to take on the role of Congress.
The Ninth Circuit isn't the only court of appeals allowing such cases to be heard at the state level. The Fourth Circuit, with jurisdiction over the Carolinas, Virginia, and Maryland, recently rejected fossil fuel companies' requests to move a lawsuit brought by Baltimore to federal court. That case alleges that fossil fuel companies knowingly caused millions of dollars in damages by releasing emissions that spurred on bigger storms and rising sea levels.
It's likely going to be years before any of these cases are settled, and Carlson said that these oil companies will take every opportunity to slow down lawsuits that could leave them liable for billions of dollars. "Oil companies are very aggressive litigators," she said. "They're going to fight tooth and nail with every tool they have."
The oil and gas industry lost appeals in two major climate damages cases yesterday brought by cities and counties in California.
A panel from the 9th U.S. Circuit Court of Appeals said that attorneys for oil companies failed to show why San Mateo County and Oakland could not pursue state court battles for industry compensation for climate change impacts, such as sea-level rise.
"We hold that the state-law claim for public nuisance does not arise under federal law," Judge Sandra Ikuta wrote in the Oakland opinion.
At issue were two climate lawsuits brought by a slew of California cities and counties against oil companies like Chevron Corp., Exxon Mobil Corp. and BP PLC.
The cases — which both seek to hold companies financially responsible for misleading the public on climate change consequences — were heard by the same 9th Circuit panel earlier this year. The appeals court was tasked with resolving split decisions from the U.S. District Court for the Northern District of California (Climatewire, Feb. 6).
Ikuta, a George W. Bush appointee, and the rest of the three-judge panel affirmed the district court's 2018 decision to throw the San Mateo case back to a state venue and revived the Oakland climate case for more proceedings in district court after the same bench — but a different judge — scrapped the case that same year.
Both of the lawsuits are now closer to state court proceedings, despite attempts by the fossil fuel industry to keep the litigation in federal venues where a judge could rule that the municipalities' claims are preempted by the Clean Air Act.
Local officials from the California cities at the heart of the battles lauded the decisions.
"San Francisco and Oakland taxpayers are already incurring the costs of dealing with the damage these fossil fuel companies knowingly caused," San Francisco City Attorney Dennis Herrera told E&E News in an emailed statement.
"We will continue to hold these companies accountable for their decades-long campaign of public deception about climate change and its consequences."
Attorneys for the oil supermajors have turned to the Supreme Court multiple times during the venue disputes, including over the recent decision to allow a climate lawsuit filed by Baltimore to proceed in the city's circuit court (Climatewire, April 2).
The 9th Circuit decisions underscore the need for the high court to weigh in on whether climate damages cases can even be brought to the courts at all, said Phil Goldberg, special counsel for the Manufacturers' Accountability Project.
"Selling us the energy we need to power our homes, businesses and communities is not unlawful and, therefore, not a subject for tort liability in any court," he said.
Exxon is reviewing the decision and evaluating its next steps, said a spokesperson for the company.
The cities' and counties' "unsupported" claims won't do much to address climate change, said Chevron spokesperson Sean Comey.
"These claims seek to penalize the production of affordable, reliable and ever cleaner energy, which for decades has been authorized and encouraged by law and government policymakers," he said.
Ripple effects
Experts watching the cases said yesterday's 9th Circuit rulings set an important tone for the broader climate damages fight.
The decision takes municipalities a "big step closer" to success, said Ann Carlson, a UCLA law professor who has also consulted for challengers in some of the cases.
"California has very favorable nuisance doctrine for the plaintiffs," she said. "The closer plaintiffs get to being able to collect evidence and present it to a court, the stronger the likelihood that at least one of the cases succeeds."
The 9th Circuit's decisions also carry advantages for other climate cases that are just getting off the ground, said law professor Maxine Burkett of the University of Hawaii, Mānoa.
"The decision also allows recently filed cases — like those by Honolulu and Maui — to proceed with greater confidence that time and resources won't be wasted determining the proper court," she wrote in an email. "These are state and local concerns."
San Mateo, Marin and Santa Cruz counties, as well as the cities of Imperial Beach, Richmond and Santa Cruz, said they "look forward" to finally testing the waters in California courts.
"The Californians we represent will have a chance to present the facts about what the defendants knew about the climate change-related dangers their fossil fuel products pose … and why those companies should be held accountable for the costs of surviving climate change," the municipalities said in a statement issued after the 9th Circuit decisions.
Ninth Circuit Judges Morgan Christen, an Obama pick, and Kenneth Lee, a Trump appointee, also joined yesterday's rulings.

Refer also to:
2019: Dutch gov't loses appeal against Urgenda; Holland's high court rules gov't must reduce emissions to protect rights of citizens
2019: Rhode Island vs 21 Oil & Gas Companies: Judge William Smith characterized operations "leading to all kinds of displacement, death (extinctions, even), and destruction….Defendants understood the consequences of their activity decades ago…. But instead of sounding the alarm, Defendants went out of their way to becloud the emerging scientific consensus and further delay changes – however existentially necessary – that would in any way interfere with their multi-billion-dollar profits."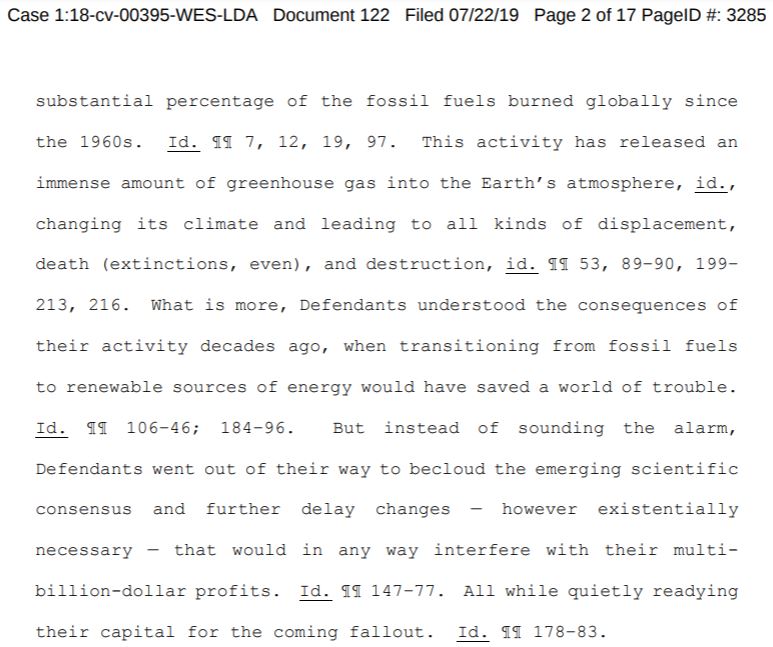 2019: Judicial Tragedy: U.S. District Judge William Alsup wanted to "stick to the science" and avoid politics, presided over standing room only tutorial on climate change, but let big oil off using politics. Science is on humanity's side, the law is not.
2019: Lawsuits in USA testing "attribution science." Researchers can link weather events to emissions and companies responsible. "This body of literature…tells us that dangerous climate change is upon us, and people are suffering and dying…and it's going to get worse." For any potential uncertainty about climate attribution, there's at least one truth that should override the rest: Fossil fuel companies "were aware decades ago what trouble climate change would be."
2020: "The stakes are formidable." California communities' climate lawsuits, key hearing this Wed, allege fossil fuel companies actively worked to discredit climate science and block limits on greenhouse gas emissions.
2020: Norges Bank blacklists CNRL, Cenovus (split from Encana – now Ovinvtiv – after Ernst lawsuit filed), Suncor and Imperial Oil from Gov't Pension Fund Global for unacceptable carbon emissions in Alberta's tarsands. Updated with tar-pimping by Ms. Southern and Alex Pourbaix, CEO Cenovus.