COLETOON: Pickin' and pointin' fingers with Josh Shapiro.
SING ALONG WITH JOSH by cartoonist John Cole,  Jun 28, 2020, timestribuneblogs.com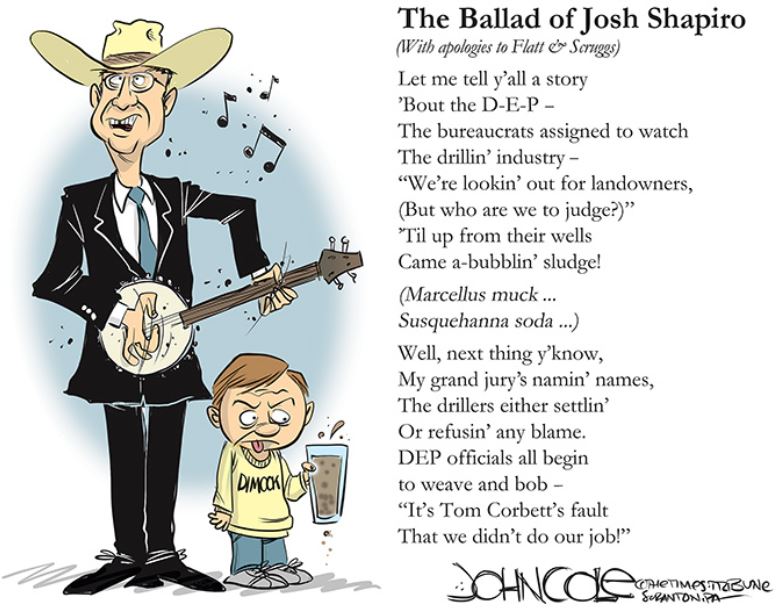 State Attorney-General Josh Shapiro latest crusade has led his office to the doors of the Department of Environmental Protection and the natural gas drillers whose activities they are supposed to be regulating. According to the findings of a two- year state grand jury, the DEP's job performance has been inadequate at best.
Breathing problems, unexplained illness, constant noise, light and smell of chemicals — all problems caused to residents by the oil and gas industry, a statewide grand jury found.
None of it sounded new to those who have been living near well pads and pipelines for years.
Since the Marcellus shale industry exploded in the region in the 2000s, thousands of wells have been drilled across Pennsylvania. The new industry boomed, and with it so did the price that companies were willing to pay landowners per acre to drill under their ground.
Some have suffered the effects without the payout. Rice Energy — bought by EQT in 2017 — began work on a well pad next to Dale Tiberie's 4-acre property in West Pike Run around 2015. It's not on his property, but it nearly surrounds it.
"I got gas lines all around me and a well pad on one side," he said. "It was bulldozers and backhoes and backup alarms running 24/7.
"It was hard to bear."
After the construction came the smell.
"We were smelling these odors coming into our property," said Tiberie, 63, who lives with his wife at the home they built 25 years ago.
Washington County, where Tiberie lives, was home to the first unconventional well in the state in 2004. By the end of 2019, the state Department of Environmental Protection reported more than 12,000 wells in Pennsylvania. Nearly 1,800 are in Washington County.
The process of unconventional drilling is a heavy one that requires a slew of large, lumbering machinery. Wells are drilled down through the water table to shale rock, which is cracked by injecting it with thousands of gallons of water mixed with chemicals. Once the rock is fractured, natural gas flows to the head of the well.
From there, it travels through pipelines that often must be depressurized for cleaning or maintenance, which means the gas inside is blown out into the air.
An unnamed Washington County family testified before the grand jury that released its report Thursday, and the mother told a story similar to Tiberie's: When they refused to grant an easement, the drilling company laid pipeline next to their property.
When the line would be depressurized and release gas, the family would get nosebleeds, rashes and dizzy spells, the mother testified, according to the report. She said when she went to the DEP, the state agency did nothing.
The report took aim at the DEP, alleging a failure to oversee the industry and police wells as necessary.
Tiberie described his dealings with the department as similarly unproductive. When he complained of the foul gas odor wafting 500 feet from the well pad to his property, they tried capturing the emissions and burning them off.
"Which created more problems for us," he said. "The emissions have never gone away."
He can't say with certainty, but he believes it has affected his health.
"I worked in the coal mine for 41 years, and I rarely had to go to the doctors," he said. Since retiring five years ago — around the time the well went in — he said he has suffered consistent colds and upper respiratory infections.
"I don't think breathing emissions that are coming off pads or any facilities like that would be good for anyone," he said.
The DEP and state health department issued identical statements Thursday that blamed the previous administration under former Gov. Tom Corbett. The statement said many of the recommendations made by the grand jury "either mirror activities that the administration already has in place or supports as additional actions by the Legislature."
Phone messages seeking comment from fracking companies doing business in Western Pennsylvania went unreturned Friday.
Tiberie and his wife have signed up for the Southwest Pennsylvania Environmental Health Project's health effects registry, which tracks symptoms and health conditions among those who live or work within 5 miles of a drill site.
The project was launched to fill a data gap in the health impacts of unconventional drilling. Anyone can sign up, even if they don't have any symptoms.
Allison Steele, director of the project, said the anecdotes contained in the grand jury report mirror those fielded by her group.
"From the beginning, people were reporting headaches, nosebleeds, dizziness, memory loss," she said.
Beyond Washington Co.
The strife caused by unconventional drilling isn't limited to the mostly rural Washington County. In Westmoreland, Allegheny Township resident Dolores Frederick knew very well some of the problems laid out by the grand jury report.
"The first thing I thought is, 'I want to talk to him,' " Frederick said of Attorney General Josh Shapiro, who slammed the industry, DEP and the Department of Health in announcing the grand jury's report. "I want to tell him what we've been through since 2014, fighting and fighting through all kinds of agencies to get somebody to listen to us about the dangers of fracking."
Several residents who lived in an area zoned agricultural/residential, including Frederick, sued the township, its zoning hearing board, CNX Gas Co. and other township residents when a Marcellus shale gas well pad was approved in 2014 within 1,200 feet of their homes.
The case went to the state Supreme Court, which declined to hear it. That effectively upheld a 5-2 ruling in 2018 by the Commonwealth Court that denied an appeal by the property owners, who tried to overturn multiple rulings that allow unconventional gas drilling in all township zoning districts.
"I'm just so angry about it, and we have nowhere to turn because the Supreme Court would not hear us," Frederick said.
What she could hear was noise from construction of the well pads, including one in Upper Burrell.
"We heard it from 2 miles away. The noise was terrible," Frederick said. …
The grand jury's sharp criticism of the DEP and DOH — mirrored by harsh words from Shapiro — came as good news to Dennis Skeers, a member of the Murrysville Watch Committee that has challenged the validity of the municipality's fracking ordinance.
"The statement from the attorney general suggests that the report will thoroughly document the deficiencies in DEP regulation and enforcement that have been apparent for years," Skeers said. "We've seen these things and heard the same kinds of stories that have apparently gotten to the grand jury."
Frederick and a neighbor who was part of the lawsuit live less than 900 feet from a proposed well site. They said the type of anecdotal evidence in the grand jury report — residents living near well construction developing sores, children experiencing chronic nosebleeds and drilling operations running 24 hours per day — is what she is concerned will happen in her neighborhood.
"We will be the first ones who are affected if something goes wrong," Frederick said. "I don't even care if they do it, but not 700 feet from a residential area. If they want to take it in the middle of nowhere and do it, I'm sure it's still not good, but at least they won't be hurting residents."
Skeers said the resident testimony in the grand jury report is not new to him.
"There's a lot of people who've stood up in a lot of meetings and cited the things that are in it," he said.
That includes Frederick.
"We went to Plum, we went to Murrysville, we went everywhere," she said.
In West Pike Run, Tiberie also has gone everywhere: He has testified about his experiences in Harrisburg and in Dallas for the federal Environmental Protection Agency. He and others in his township successfully pushed for a new ordinance in 2018 that dictates no unconventional well head can be within 1,000 feet of an occupied structure.
That's double what state law allows.
Tiberie applauded the recommendations from the grand jury, which include pushing that setback to 2,500 feet.
"I hate to keep bringing ol' Josh Shapiro up, but he hit the nail on the head," he said. "(The oil and gas industry) came into these communities and just opened up shop and floored everybody like, 'Whoa, what's going on here?' It's been a learning factor for all the communities."

Refer also to:
Pennsylvania Grand Jury Nails It: Hydraulic fracturing is poisoning us (AER & BC OGC are much more corrupt and industry-controlled regulators than PA's DEP) 
New study: Frac'ing in Pennsylvania linked to 20 human deaths caused by particulate pollution emitted by shale gas wells from 2010 to 2017
"Justice" rears its farcical head, yet again. Radio reporter obtains judge-ordered frac harm settlement 'n gag, but court stifles him! $3M settlement accidentally made public for 8 plaintiffs against Range Resources & ten other codefendants. Two plaintiffs feel "angry and defeated" by their settlement.
Children given lifelong ban on talking about fracking,Two Pennsylvanian children will live their lives under a gag order imposed under a $750,000 settlement