Pollutants detected in water wells in Sublette County's gas fields by Willow Belden, May 10, 2013, Wyoming Public Media
Pollutants including benzene and diesel-range organics have shown up in water wells like this one in the Pinedale Anticline for several years.
Links to Sublette County water quality monitoring data
Maps showing the locations of gas wells, water wells, and other hydrologic data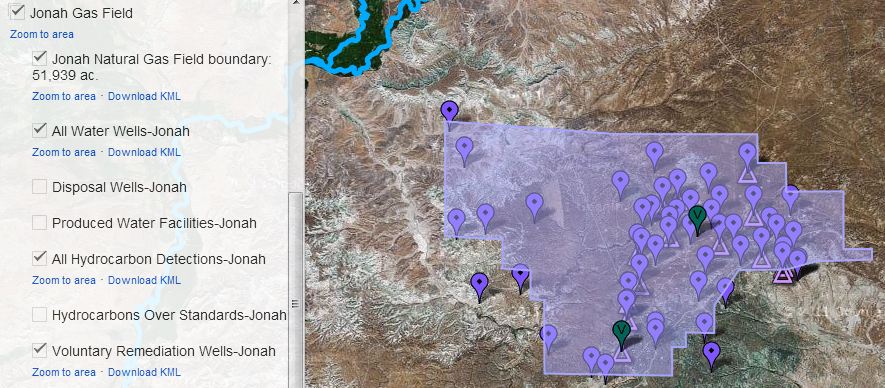 [Encana has about 24,000 acres in the Jonah Field, refer also below]
Sublette County has been in the news a lot because of its air quality problems, which largely stem from natural gas production. But there's another issue too: Pollutants have been showing up in water wells. Wyoming Public Radio's Willow Belden reports.
WILLOW BELDEN: The pollutants in question are petroleum products like diesel-range organics and benzene. They first started showing up in water wells in the Pinedale Anticline gas field in 2006. That prompted the Bureau of Land Management and the Department of Environmental Quality to call for extensive testing, and the following year, they detected hydrocarbons in 85 wells. Several were at concentrations exceeding the DEQ's limit for what's safe to drink. Since then, there have been dozens of detections each year, and each year, a handful exceed the legal limit. But nobody knows where the pollutants are coming from.
Merry Gamper is a scientist with the BLM. She says her agency is working with DEQ to try to find answers. But that's hard to do, because no testing was done before gas development started.
MERRY GAMPER: It's very difficult for us to come in after the fact and say, "It's this or it's this or it's this." We did a lot of investigative chemistry; there's a lot of geochemistry, a lot of analysis involved. … It does become a little bit of forensic science.
BELDEN: Gamper says the hydrocarbons could have come from drilling mud, or from water or condensate that's comes up when you extract natural gas, or from any number of other sources. And the sources could be different for each well.
Until there are answers, DEQ is trying to make sure that the pollution gets cleaned up. Jules Feck is a project manager for DEQ's Voluntary Remediation Program, or VRP. She says if a well shows hydrocarbons over the legal limit, they talk with the company that owns the well.
JULES FECK: We say to them that they can either join the VRP voluntarily, or clean up the contamination under an administrative order. … That's where we say, "Well, you need to clean this up," because we have a non-degradation policy for groundwater in our state, and we have cleanup standards that must be met.
BELDEN: Feck says companies have been very cooperative about joining the Voluntary Remediation Program.
FECK: I have issued five liability assurances, where they have cleaned up to our standards.
BELDEN: But in other wells, the contamination has not gone away. Feck says that means there's an ongoing source of pollution.
The BLM and the DEQ both emphasize that most of the hydrocarbon detections have been in industrial wells, not drinking water wells. And most detections have been very low, under the legal limit. But some say that's not reassuring enough. Craig Thompson is a professor of engineering and earth science at Western Wyoming Community College, and he used to run the water quality lab there. He says Sublette County residents who get their drinking water from wells should be worried.

CRAIG THOMPSON: I'm bothered when someone passes off a groundwater source as, "Well this is just an industrial well" and, "This level of pollutant is below the action level." What they don't say in either one of those is, "This is pollution, and it could be a real problem. And we don't know what's going on. We don't know where it's coming from, and we don't know where it's going."
BELDEN: According to the BLM, industrial wells, stock wells, and domestic wells are all tapped into the same aquifer. The domestic wells are much shallower than the industrial wells, but Thompson says that doesn't necessarily mean they're safe.
THOMPSON: Benzene is a serious, serious pollutant. This is a carcinogenic compound that causes cancer. … My concern is simply that none of these pollutant levels should be in any of this groundwater, whether they're using it for industrial purposes, for domestic purposes, or for stock watering.
BELDEN: Area activist Linda Baker with the Upper Green River Alliance has additional concerns. She points out that groundwater and surface water are connected in the area.
LINDA BAKER: We are at the headwaters of the Colorado River, and what we do to our water here affects seven million downstream users. So we have a responsibility to keep that water clean and to send it downstream clean.
BELDEN: So far, there's been no evidence that surface water has been affected. Still, Baker is concerned that regulatory agencies are not taking the issue seriously enough. She's frustrated that after six years of detections, DEQ and BLM still have no answers about the source of the contaminants. And she's upset that some wells haven't been cleaned up yet. But Deborah Harris, who deals with groundwater pollution control for DEQ, says to be patient.
DEBORAH HARRIS: We do take this very seriously. Just the fact that it has taken a long time does not mean that … the agencies are not taking it seriously.
BELDEN: DEQ and BLM have drilled special monitoring wells, to help them determine the extent to which the aquifers are affected. They've been doing more rigorous hydrologic mapping, to figure out how groundwater moves through the region. And they expect to complete their low-level hydrocarbon report – which will specify the sources of the contaminants – in June. Once that's out, the BLM says they'll consider adopting new policies to prevent future pollution. For Wyoming Public Radio, I'm Willow Belden. [Emphasis added]
[Refer also to: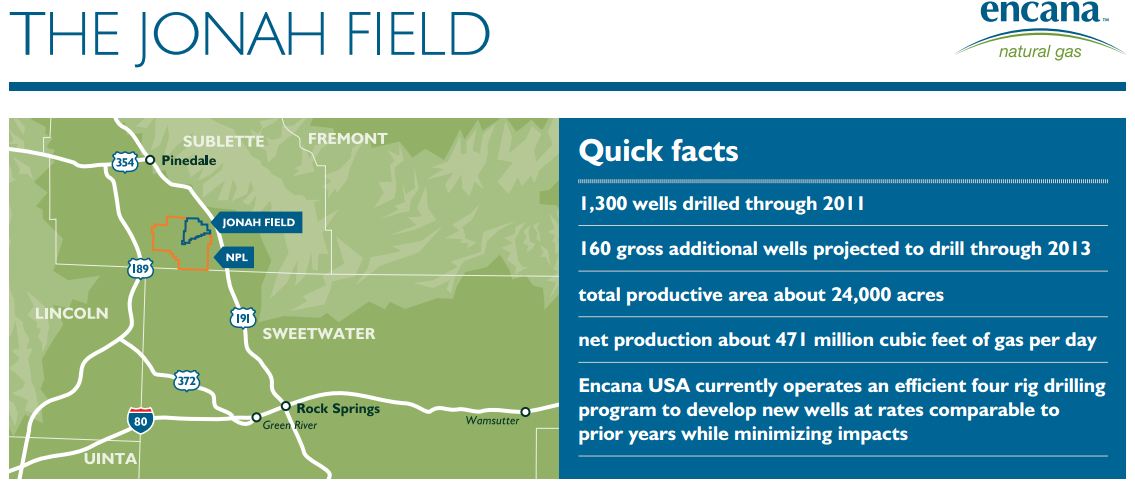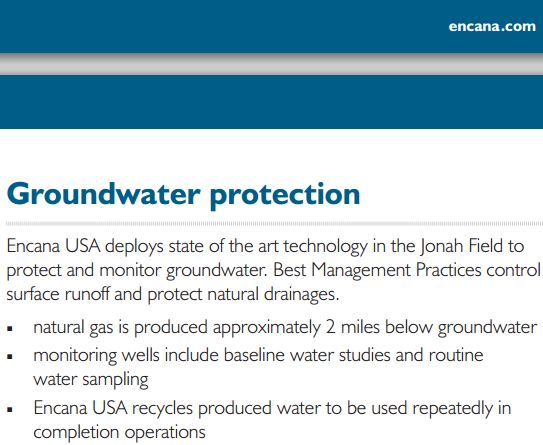 Source of two Encana snaps: Encana: The Jonah Field