Fracking operator faces record $8.9M fine for alleged water contamination
by Wallace McKelvey, June 16, 2015, pennlive.com 
Pennsylvania regulators plan to levy a record fine against a shale gas operator that reportedly failed to correct a well that leaked methane into nearby water supplies.
[Will the new NDP government charge Encana for illegally fracing Rosebud's drinking water aquifers, diverting water without a permit under The Water Act and contaminating water wells with natural gas, then covering it up and refusing to release the data?
Is it possible to defrac frac'd drinking water aquifers?
Is it possible to remove the toxic chemical additives Encana injected into Rosebud's drinking water aquifers?
Is there any Canadian government department courageous and integral enough to stand up to the bully, law-violating Encana and remove Ex-Encana, Ex-Cenovus, Ex-CAPP Chair Gerard Protti from Chair of the Alberta Energy Regulator?]
Range Resources, the Texas-based company that drilled the first Marcellus Shale well in 2004, faces a $8.9 million civil penalty stemming from a leaking gas well in Lycoming County. It follows a pair of multi-million-dollar fines against drilling companies last year.
"(Range) has the responsibility to eliminate the gas migration that this poorly constructed well is causing," said state Environmental Secretary John Quigley, in a written statement. "Refusing to make the necessary repairs to protect the public and the environment is not an option."
In a written statement Tuesday, Range denied that methane found in nearby groundwater has any connection to its wells. It has appealed an order issued by the state Department of Environmental Protection citing its failure to correct the leaking well.
"We believe we've complied with DEP's requests and while we have a disagreement about this situation, we are very confident in the mechanical integrity of the well and we are equally confident that the environment and community is not at risk," the Range statement, provided by a spokesman, read.
According to the DEP, drilling at the well began in February 2011, with fracking operations taking place that June to extract natural gas from rock buried deep underground. A later investigation showed that methane had contaminated a nearby stream and private water wells fed by groundwater.  [Like the regulator found Encana caused in Colorado, receiving a record fine (with Encana paying the fine but denying causing the contamination)?]
In 2013, the DEP issued a violation against Range for the leak, reportedly stemming from a defective cement casing at the well. The problems, however, have persisted and "dead spots" have emerged in the surrounding area with gas escaping through the soil, according to the DEP.
[Dead Spots on Ernst's property near her gas contaminated water well after Encana frac'd the aquifers that supply it: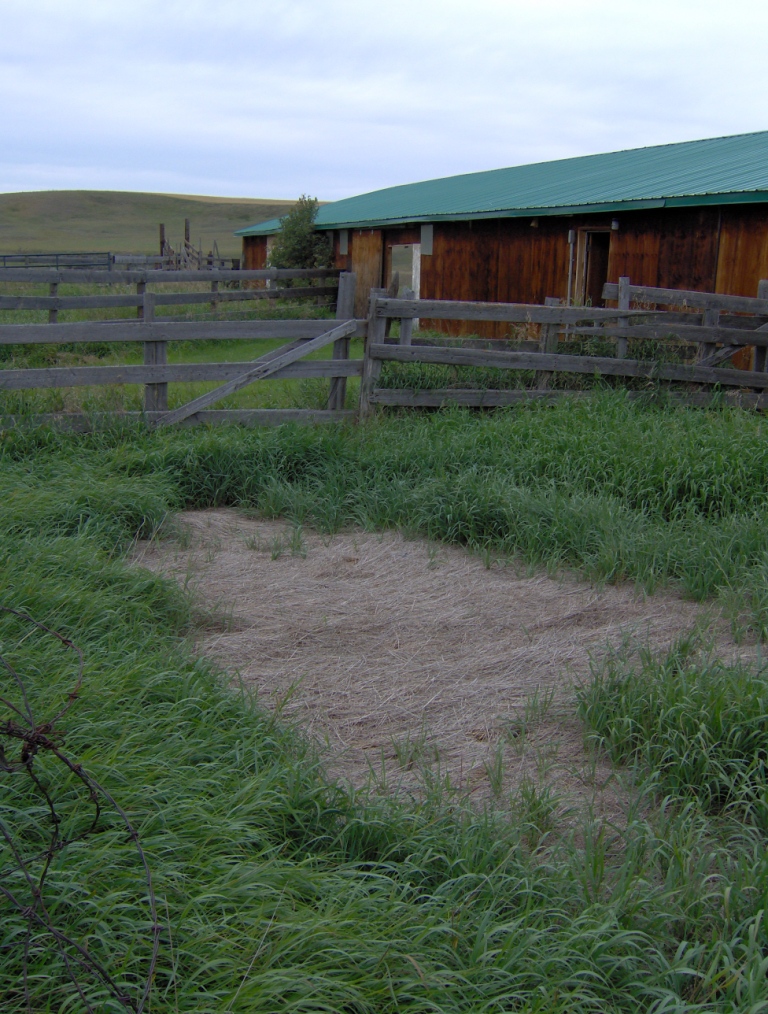 Ernst's methane, ethane, etc contaminated water well is in the barn]
Nearly two years later, the DEP issued another order calling the continued gas migration "unlawful conduct and a public nuisance." It required that Range submit and implement a plan to address the problem.
The DEP reportedly rejected a plan submitted by Range because it's fix involved putting the same well into production without completing the necessary repairs.
Quigley, who was confirmed by the Senate earlier this month, said the fine makes it clear that the DEP takes its responsibility to protect citizens and the state's natural resources seriously. Like many of his predecessors, Quigley has pledged to balance those duties with economic development.
"Clean water is an important part of a strong economy and Range Resources owes it to the people of Lycoming County and surrounding areas to make the repairs necessary to immediately stop the discharge of natural gas to the waters," Quigley said. [Emphasis added]