Excellent Must Read by Law Prof Martin Olszynski: Everything You Wish You Didn't Need to Know About the Alberta Inquiry into Anti-Alberta Energy Campaigns Oct 17, 2019, ablawg.ca
Debunked: Vivian Krause's Tar Sands Campaign conspiracy narrative by Markham Hislop, May 14, 2019, energi.medi
A data-based dismantling of Jason Kenney's foreign-funding conspiracy theory by Sandy Garossino, October 3rd 2019, National Observer
Vivian Krause dropped as keynote speaker at business communications conference by Hamdi Issawi with files from Brennan Doherty, Oct 25, 2019, Star Edmonton
EDMONTON—A business communications conference scheduled to take place in Banff Monday has removed controversial writer and researcher Vivian Krause as its keynote speaker.
According to an older version of the schedule for the International Association of Business Communicators (IABC) Canada West Conference, Krause was slated to deliver a presentation Monday morning on how to "communicate effectively in high-stakes, emotionally charged situations."
Based on her research, Krause has repeatedly claimed that activist groups opposing the construction of Alberta pipelines have been backed by foreign funds — a conclusion that has been criticized by industry and environmental experts.
In an email statement to Star Edmonton, Jonathan Tremblay, IABC Canada West Chair, said the conference committee had been working with Krause for several months to learn more information about her proposed presentation, and how it would benefit the audience and connect to the theme of the conference — in this case, using data in communications strategy.
"Clarifying that connection was one of our largest concerns with Ms. Krause's presentation," Tremblay said. "We've found it challenging to connect with Ms. Krause despite repeated efforts. With the date quickly approaching, we decided to offer the spot on our agenda to another presenter."
Krause, an independent researcher and blogger, claims her work has shown that a variety of U.S. organizations gave Canadian environmental groups money as part of a movement known as the Tar Sands Campaign to block construction of the province's pipelines. Krause uses Canada Revenue Agency filings, U.S. tax information and publicly available strategy documents to paint a picture of a major Canadian environmental movement bankrolled by U.S. charitable foundations.
Vivian Krause @FairQuestions
Well, I'm sad to say that yesterday, @iabc_cwr cancelled my invitation to be the keynote speaker at their conference on Monday.
I wish the IABC a successful conference & all the very best with it's important work. #IABCCanWest19 https://twitter.com/iabc_cwr/status/1186373909999968256 …
IABC CWR @iabc_cwr
We look forward to seeing you at #IABCCanWest19 in #Banff @SparrowIntranet – will you be joining in any of the cool activities we have planned in addition to the interesting speakers, sessions and workshops? https://iabccanada.ca/en/optional-activities/ … https://twitter.com/SparrowIntranet/status/1186320477783908352 …
12:41 PM – Oct 25, 2019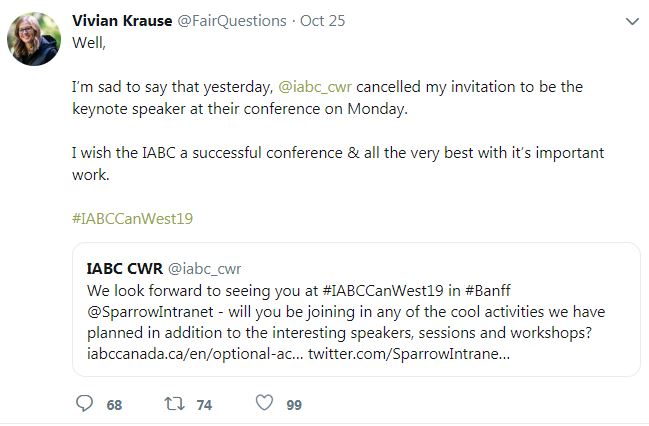 However, experts and environmental organizations reached by Star Calgary say Krause's conclusions not only ignore the international nature of environmental philanthropy, but leave out the fact that Canadian environmental organizations receive most of their money from Canadians.
Some of Krause's work has trickled into the political sphere, with Premier Jason Kenney pledging during his provincial election campaign to fight back against what he said are foreign-funded interests spreading misinformation and attacking Alberta's oil and gas industry. He later started Alberta's energy "war room," an initiative he said was aimed at combating perceived misinformation about the energy industry in the province.
Jody MacPherson, a communications professional in Calgary and longtime IABC member, said she was concerned when she learned of plans to feature Krause as a keynote speaker.
After brushing up on Krause's work online, MacPherson said she decided not to attend the conference and reached out to event organizers to express her concerns with Krause's work and relevance to the event, which is supposed to give communications professionals an opportunity to learn about best practices in their craft.
"The first thing that stood out to me was the political nature of it, and my association is supposed to be strictly neutral on politics," MacPherson said. "As a member of the association, I really felt that it wasn't appropriate to have a political speaker."
Adding that she was reconsidering renewing her membership if the IABC continued with plans to feature Krause, MacPherson said she's chosen to remain a member, given the organization's decision to remove Krause from the line up.
Instead of Krause, Kelly Steward of Swoop Airlines is expected to deliver a presentation on using data for marketing and communications strategy.
Star Edmonton reached out to Krause to respond to the conference organizer's decision. She was not available for comment before publication, but noted on Twitter that her invitation to be the keynote speaker had been "cancelled." She said she wished the association a successful conference.

Join the social conversation, use #iabccanwest19, follow us on Twitter @iabc_cwr or on Facebook.
Tracks: CS = Communication Skills; L&S = Leadership & Strategy; M&B = Marketing & Branding; R = Reputation; E = Engagement
There are many things to explore in and around Banff, see our list of things to do. Including, learning about the history of Banff Park.
8:00 a.m. – 6:30 p.m. Registration open
9:00 a.m. – 12:00 p.m. SCMP/CMP Exam
Pre-Conference
8:30 a.m. – 12:00 p.m.
Workshop A: Linking Research to Results: Market Research Master Class (R), Greg Lyle, President, Innovative Research
Workshop B: Communicator as Coach: How a Coach Builds Stronger Teams and Relationships (L&S), Catherine Ducharme, Director, & Peter Reek, President, Smart Savvy Academy
Workshop C: Storytelling using Proprietary Data: The Lifeblood to Powering your PR and Content Marketing (M&B), Sarah Gooding, Communications & PR Manager, Unbounce
1:00 – 4:30 p.m.
Workshop D: DIY Internal Communications Audit (CS), Priya Bates, ABC, SCMP, MC, IABC Fellow, President, Inner Strength Communication Inc.
Workshop E: How to Get Leaders to Listen to Us (L&S), Angela Sinickas, ABC, CEO, Sinickas Communication Inc.
Workshop F: Hearing From Who Cares: Stakeholder Engagement & the Communicator's Role (E), Dr. Rebecca Sutherns, CEO, Sage Solutions
Optional Activity – Cave & Basin National Historic Site: meet at 2:00 p.m. to go as a group, or go any time on your own.
6:00 – 8:00 p.m. – Opening Reception
6:45 a.m. Morning Running Group meets in Lobby
8:00 – 9:00 a.m. Registration Opens & Networking Breakfast
9:00 – 10:00 a.m. Opening Keynote
Diggin' on Data: Driving strategy with data-informed insights, creative intuition and egoless agility
The sheer volume of available data in today's hyper-connected communications landscape can be daunting, or even dull. But it doesn't have to be.
Kelly Steward of Swoop Airlines shares an applied perspective on putting data to work in your MarComm strategy, informing business decisions, understanding audiences and course correcting when things don't go according to plan.
Speaker: Kelly Steward, Leader, Marketing, Swoop Inc.
10:00 – 10:30 a.m. Networking Refreshment Break
10:30 – 11:45 a.m. Concurrent Breakout Sessions
Believe in the Impact of Measurement on Reputation and Engagement: A Case Study (R)Speakers: Deb Tomlinson, Executive Director, Association of Alberta Sexual Assault Services (AASAS) and Joni Avram, Principal, Cause & Effect Marketing
Expert Advice: Working with Subject Experts to Create a Data-driven Social Media Campaign (CS)
Speaker: Tracy Tang, Leader Digital Engagement, Island Health
Five Attributes of an Inspiring Communications Leader (L&S)
Speaker: Catherine Ducharme, Director, Smart Savvy Academy
11:45 – 12:30 p.m. Lunch
12:30 – 1:15 p.m. Birds of a Feather Networking (Optional)Birds of a Feather Networking is an easy way for attendees to connect with their peers around specific communication or business topics, sectors, geographic issues, leadership challenges – or whatever is top of mind for you. Grab your lunch and simply join a topic table. There's also the option of taking your discussion outside for a casual stroll around the village for some fresh air and fresh ideas. Topic/table moderators provided.
1:15 – 2:30 p.m. Concurrent Breakout Sessions
Applying Design Thinking for Marketing Communication (E)
Speaker: Jason Fiske, Manager, Content Marketing and Social Media, Farm Credit Canada
Table Talk: Strategic Conversations to Keep Your Seat at the Table (L&S)
Speaker: Priya Bates, ABC, SMCP, MC, IABC Fellow, President, Inner Strength Communication Inc.
Four Game-Changing Questions for Communications Planning (L&S)
Speaker: Dr. Rebecca Sutherns, CEO, Sage Solutions
2:30 – 3:00 p.m. Networking Refreshment Break + Dine Around sign up closes
3:00 – 4:00 p.m. Keynote: Tomorrow's Career Transition Starts Today: A Life-long Career in Communications is Unrealistic
According to a Workopolis survey, 73% of Canadian don't believe they'll stay in the same vocation for their entire career. In fact, based on the current trend, we can expect to hold up to 15 jobs over our careers. So, will your next career transition happen to you or be intentionally planned by you? As a former professional communicator and now a leadership consultant and coach, Eileen will lead this interactive session that is all about you: taking stock of your career trajectory, assessing which 'non-communication' skills you need to add to your repertoire now, soul-searching about what's holding you back from making a change, and the purposeful steps you can take now – whether your next career shift is one or ten years away. Come with questions, experiences and perspectives and be prepared to engage with Eileen and fellow participants in a fun and likely humorous end-of-day session.
Speaker: Eileen Dooley, Principal and Executive Coach in the Leadership Practice at Odgers Berndtson
4:15 – 5:15 p.m. Bonus Session – IABC Certification Information and Q&A Session
6:00 – 8:30 p.m. Dine Around (departs lobby at 6:00 p.m.)
8:30 – late! Wild Bill's Saloon – line dance event, Sponsored by Smart, Savvy & Associates
9:00 p.m. Banff Ghost Tour – Hallowe'en in Banff
6:45 a.m. Morning Running Group meets in Lobby
8:00-8:45 a.m. Breakfast & Keynote
The Achiever Fever Cure
Best-selling author Claire Booth will share highlights from her book The Achiever Fever Cure: How I Learned to Stop Striving Myself Crazy. The presentation will candidly address the insecurity and self-doubt so many leaders feel but few discuss. Drawing from personal experience and her own survey research of the habits of high-achieving North American professionals, Booth will offer perspectives and tools to create a more joyful and purposeful life, one that is also good for business. This presentation will blend compelling anecdotes, data and practical strategies for confronting the inner critic and self-doubt. Booth's presentation is a timely wake-up call for our high stress culture, inviting achievers to stop being so caught up in striving and instead lead with presence, authenticity, vulnerability and joy.
Speaker: Claire Booth, Founder & CEO, Lux Insights, Vancouver, BC
9:00 – 10:15 a.m. Concurrent Breakout Sessions
Unlocking the Keys to Cross-Cultural Communication for our Leaders (L&S)
Speaker: Angela Sinickas, ABC, CEO, Sinickas Communications, Inc.
It's Yammer Time! Transforming Culture Through Social Collaboration (CS)
Speaker: Shauna Lowry, ABC, Director, Transformation Communications and Engagement, & Megan Bierwagon, ABC, Manager Employee & leader Communications, Suncor Energy
Who Trusts? Who Doesn't? And Why it Matters. The Edelman Trust Barometer 2019 (R)
Speaker: Bianca Boyd, Interim GM Edelman Calgary, Edelman Canada
10:15 – 10:45 a.m. Networking Refreshment Break
10:45 a.m. – 12:00 p.m. Concurrent Breakout Sessions
Utilizing Google Algorithms to Work for You (M&B)
Speaker: Sarah Van Dusen, Founder/CEO, Sarah Van Marketing
Winnipeg Jets Whiteout Street Parties (M&B)Speaker: Rob Wozny, Vice President, Communications & Content, True North Sports + Entertainment
Stakeholder Research and Digital Analytics: Building a Case for an Integrated Digital Content Strategy (L&S)
Speaker: Adam Brayford, SCMP, Manager, Communications, Bananatag
12:00 – 1:30 p.m. Master Communicator Presentation & Networking Lunch
1:30 – 2:45 p.m. Concurrent Breakout Sessions
Video Strategy Masterclass: Strategy and Tactics That Deliver a 10:1 ROI (CS)
Speaker: Stephanie O'Brien, President & Founder, Carmella Consulting
Employee Net Promoter Score – The Simple Engagement Tool Leaders Love (E)
Speaker: Lydia Tay, Manager, Employee Engagement & Development, Purdys Chocolatier
NEW! Staying Strong: Crisis Management Lessons Learned in the Midst of the Humboldt Broncos Tragedy (CS)
Speaker: Grant Bastedo, APR, Principal, Takt Communications
2:45 – 3:00 p.m. Networking Refreshment Break
3:00 – 4:00 p.m. Closing Keynote – Telling Canada's Story: From Journalism to the Arts. Life lessons from the Newsroom to the Concert Hall
From serving as the first female Washington correspondent for CTV National News during 9/11, Montreal Bureau Chief during the 1995 Referendum on Quebec Sovereignty, to the Executive Director of Communications at the National Arts Centre in Ottawa, Rosemary Thompson has been telling the Canadian story through the arts and journalism for decades. Today, at the Banff Centre for Arts and Creativity, Canada's largest post graduate arts school, she is raising the profile and raising the funds necessary to keep one of Canada's most cherished arts organizations thriving.
Hear Rosemary's personal journey across Canada, and across stories that have changed our country. She'll share her hard lessons learned, her take on the current state of journalism, and how journalists and communicators can work more effectively together and her aspirations for our profession.
The conference, keynote and breakouts sessions will take place at the Banff Park Lodge, Banff, AB.
Refer also to: