Watch the leak clip at link:
U.S. energy companies are scrambling to reduce methane emissions—both unintended and deliberate—that equate to exhaust from 69 million cars a year and contribute to global warming by Rebecca Elliot, August 8, 2019, Wall Street Journal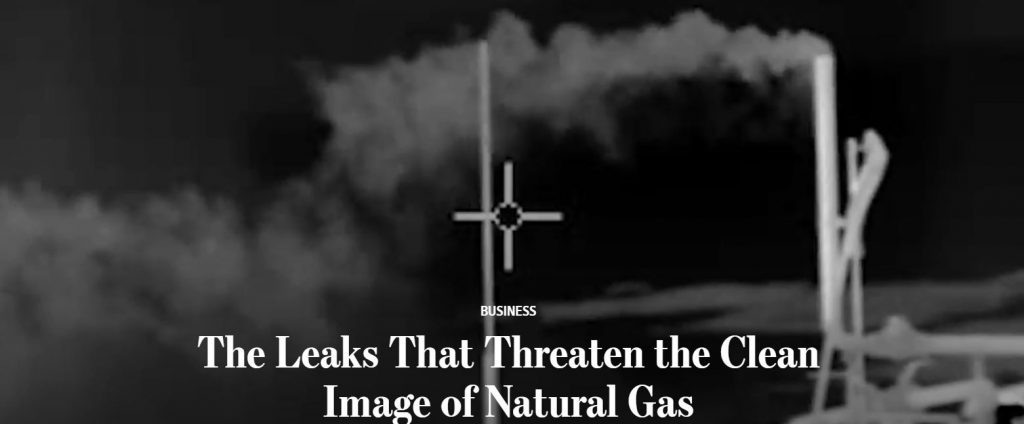 Natural gas is released into the atmosphere at an Energy Transfer LP compressor station in Reeves County, Texas. VIDEO: EARTHWORKS
Energy companies are producing record volumes of natural gas, thanks in part to the U.S. fracking boom. They have ambitious plans to make the cleaner-burning fuel a big part of the global energy mix for decades to come by sending tankers of liquefied gas around the world.
But growing public concern over leaks and intentional releases of gas and its primary component, methane, threaten to derail the dominance of gas in the new energy world order. …
The Intergovernmental Panel on Climate Change, a United Nations body, says methane is even more potent than the estimates the EPA uses. By its calculation the annual releases would be equal to those of about 94 million cars, or roughly a third of the nation's registered vehicles.
About 2.3% of the natural gas produced in the U.S. escapes directly into the atmosphere due in part to leaky equipment or intentional discharges, according to the Science study, which analyzed 2015 emissions. (Some discharges are legally permitted.) At that rate, it would have amounted to about $7.6 million worth of gas lost each day last year.
Another roughly $4.5 million in U.S. gas went up in smoke each day in 2018, World Bank data show, as energy companies burned fuel they couldn't move to market or chose not to ship because the cost of doing so would have exceeded the price the gas would fetch in some regions. Many companies drill primarily for oil and treat the gas released in the process as a byproduct. …
Leaking and flaring are a global problem. As gas displaces coal for electricity production in the U.S. and other countries its side effects are drawing more attention, not just from environmental activists but investors fretting about how gas will compete over the long term against renewable energy sources such as wind and solar, which are dropping in price.
The U.S. lacks stringent rules to limit methane emissions, and President Trump's administration has moved to relax existing federal requirements for monitoring and fixing leaks. Still, from oil giants to the independent drillers powering the shale boom, companies are scrambling to rein in emissions over concerns from their executives, shareholders and environmentalists that gas waste could undermine the argument for gas as the "bridge fuel" to a cleaner future of renewables.
"It is clearly an issue not only for BP but for the entire energy business," said David Lawler, chief executive of BP PLC's U.S. onshore business.
An Eye in the Sky
Methane is invisible to the naked eye, so companies detect leaks with infrared cameras and lasers. That can be a tall task—the gas can seep out of countless places, from wells to pipelines to storage facilities.
As a result, energy companies are increasingly supplementing manual inspections with aerial monitoring to survey large swaths of land checkerboarded with oil and gas infrastructure.
In West Texas, BP has begun monthly flights over its wells by a drone equipped with methane-detection equipment. The flights generate data on the location and size of leaks that BP uses to identify faulty equipment and direct repairs.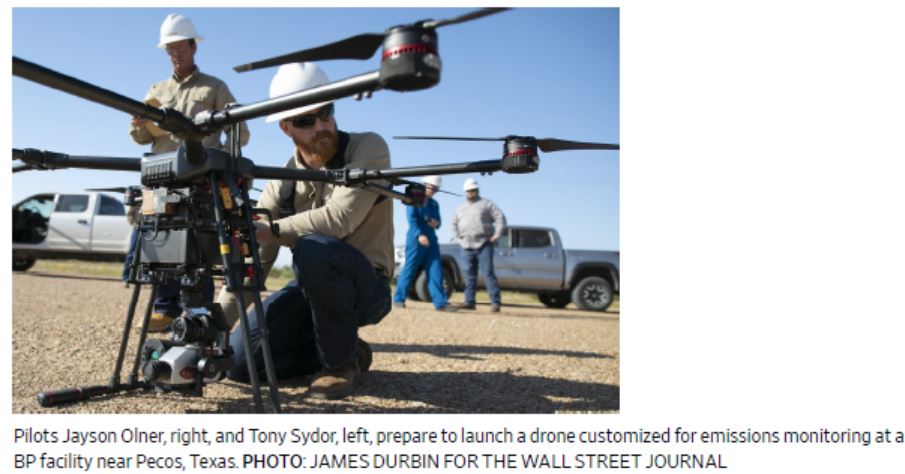 Oil and Gas Companies' Methane Problem
The company also is looking to cut back on flaring, which many companies do in the Permian Basin of Texas and New Mexico because they lack access to pipelines to move the product to market.
About 18% of the gas produced on BP's acreage in the Permian was either flared or released directly into the air during this year's first quarter, compared with an average of 5% across the region, according to a Rystad Energy analysis of public data. That period includes two months in which BHP Group Ltd. , the prior owner, was operating the wells.
BP is investing in a new gas-gathering and compression system that will allow it to send more gas to customers instead of burning it away.
"We all have to get better," said Brian Pugh, chief innovation officer for BP's U.S. onshore business. The company said it has already hit its target of limiting methane emissions, both unintended and intentional, to 0.2% of the total gas it sells. BP, like many of its peers, doesn't include emissions from assets it doesn't operate in its figures.
Building Fewer Trouble Spots
Another way companies can reduce leaks is by rethinking facilities so they have fewer potential places for gas to escape. …
Crunching the Data
As more companies monitor methane emissions, it is spurring the formation of startups focused on leak detection and management.
Kairos Aerospace, a Mountain View, Calif.-based company, specializes in identifying larger methane releases by flying small planes about 3,000 feet above the ground. Together, the planes typically traverse more than 150 square miles a day in the Permian. Kairos sells the data to operators below, such as shale driller Pioneer Natural Resources Co. …
The Leak Police
One reason companies are stepping up monitoring is that environmental activists are watching, using technology to record leaks as they seek to boost public awareness of methane emissions.
Sharon Wilson, an organizer for the advocacy organization Earthworks, visits the Permian almost every month to monitor leaks from oil and gas sites, using a hand-held infrared camera. She submits the footage as evidence in state regulatory complaints against energy companies and often posts it on YouTube.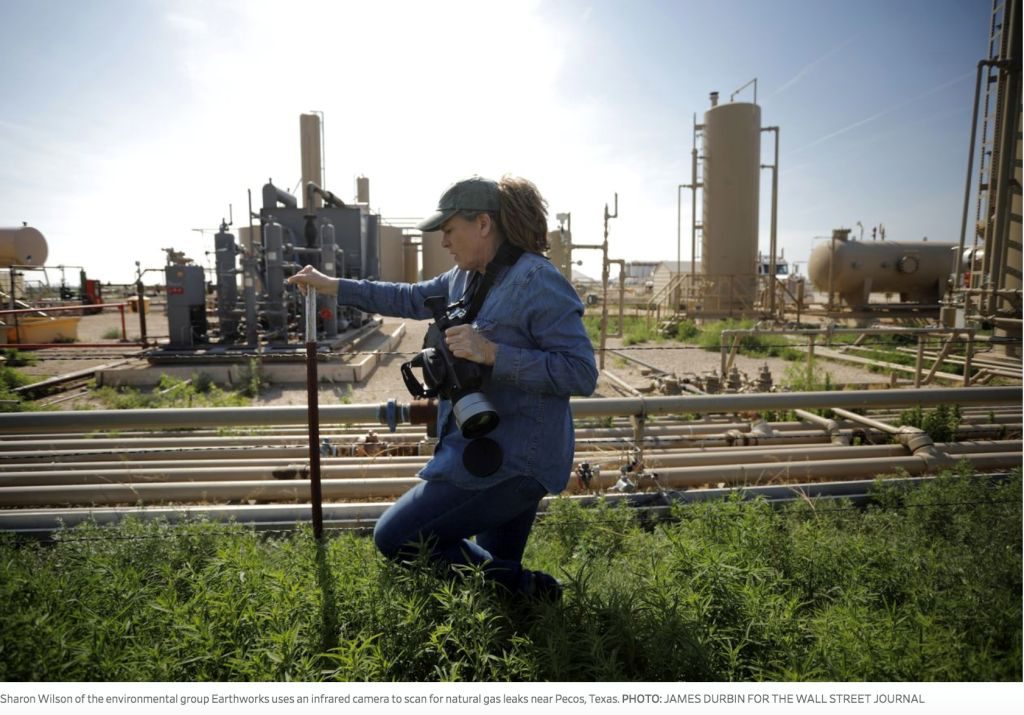 "Nobody's watching, so they [the companies] can take all the shortcuts they want to," Ms. Wilson said during a recent monitoring trip through the Permian. Still, the activists believe they are having an impact.
Earthworks has filed more than 100 complaints in Texas and New Mexico since the beginning of 2018. State regulators issued violations or compelled operators to make repairs or install new equipment in fewer than 10% of the instances as of July, according to estimates by the group. …
Refer also to:
Frac Fraud on the Rise: Sixth man admits role in altering emission control devices on trucks used in Marcellus Shale gas fields