The Alberta Unconventional Gas Tour March 7 – 9, 2006 Sponsored by The Alberta Surface Rights Federation, Warburg-Pembina Surface Rights Group, Pine Lake Surface Rights Action Group, Butte Action Committee, Livingston Landowners Group, The Pekisko Group, The Parkland Institute and The Land Advocate
Richard Secord LLB (Alberta Lawyer), Tweeti Blanchet (New Mexico Rancher), Gwen Lachelt (Director Oil and Gas Accountability Project) and Jessica Ernst at Camrose, Alberta March 7, 2006, 9:30 PM – 4 PM
Tweeti Blanchet, Gwen Lachelt and Jessica Ernst at Pigeon Lake (Ma Meo Beach Hall), Alberta March 7, 2006, 7 – 9 PM
Richard Secord LLB, Tweeti Blanchet and Gwen Lachelt at University of Alberta, Edmonton Alberta March 8, 2006
Tweeti Blanchet and Gwen Lachelt at University of Calgary, Alberta March 9, 2006
Tweeti Blanchet, Gwen Lachelt, Mike Dawson (Geologist with Canadian Society of Unconventional Gas) and Jessica Ernst at Nanton, Alberta March 9, 2006, 7:00 PM – 9:00 PM
Tweeti Blanchet and Gwen Lachelt and Jessica Ernst at Trochu Alberta March 8, 2006, 7 – 9 PM
Over 600 Alberta landowners attended this event. During standing ovations, industry, government and regulator representations in the audience gave themselves away by not standing, each ovation.  ERCB spokesman Darin Barter repeatedly insisted to media and the public that only Americans were on the tour.
What Lies Beneath, Herald Special Report by Renata D'aliesio and Tony Seskus, Front Page and Pages A6-A9 of the Calgary Herald, November 15, 2006 with three subsequent multi-page reports.
"Earlier this year, hundreds of anxious residents packed town halls to try to understand what the industry will mean for them." Am I a landowner or am I a guinea pig?" rural resident Jessica Ernst told one meeting of landowners in March. … The flyer was provocative. "Profit zones or sacrifice zones?" its bold letters screamed. From the southern prairie town of Nanton to the capital of Alberta, rural community halls and big-city classrooms were abuzz with worry last March about a type of natural gas called coal bed methane, or CBM. "Hear the real truth about CBM's impact on farmlands, water and quality of life!" Hundreds of people flocked to the town hall forums. …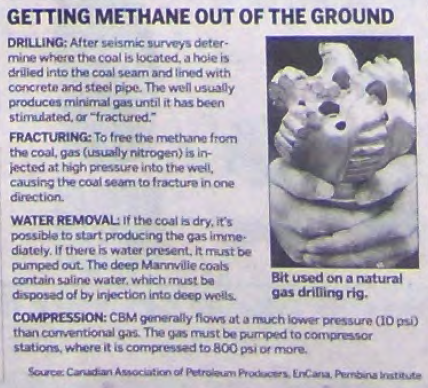 As debate intensifies, industry officials and government regulators assure Albetans that the pace of development is thoughtful, well-managed and, above all, safe. … Furthermore, they stress, there's no evidence coal bed methane is causing water woes or other major problems – and all development has been done according to existing provincial regulations. … Government and industry say they're addressing countryside concerns. But documents obtained through the Freedom of Information legislation suggest the government passed on a chance to tackle some of the thorny issues years before. Fifteen years ago, the government and Alberta's energy regulator established a task group to monitor coal bed methane activity and recommend regulatory policies and practices for the future. In closed-door meetings, the group was made aware of some of the concerns Albertans have today, according to documents obtained by the Herald.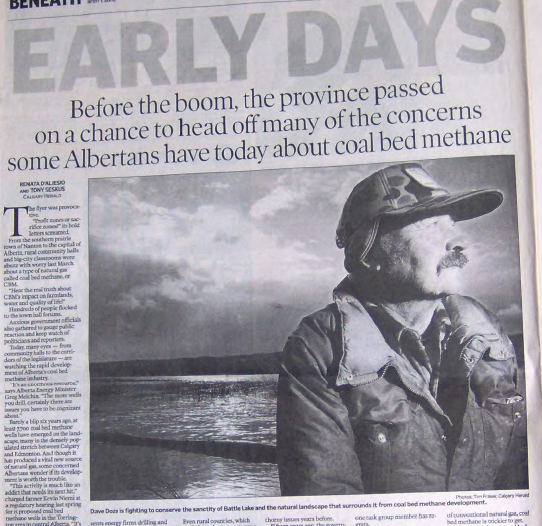 At a meeting in November 1993, an industry expert told the group he expected coal bed methane development to begin in earnest in the province within five years. But the task group disbanded in September 1995, the documents show, with no public record of making a single recommendation to guide coal bed methane's future in Alberta. Seven years later, coal bed methane took off, and at least one task group member has regrets. "I guess if we would have really been thinking ahead, we should have realized the coals in Alberta are shallow and those are the ones that would be developed first – and that there would then be an effect on shallow groundwater supply," says Harold Keushnig, retired manager of the provincial energy regulator's gas department. "We , the industry, maybe should have thought about that at an earlier stage." …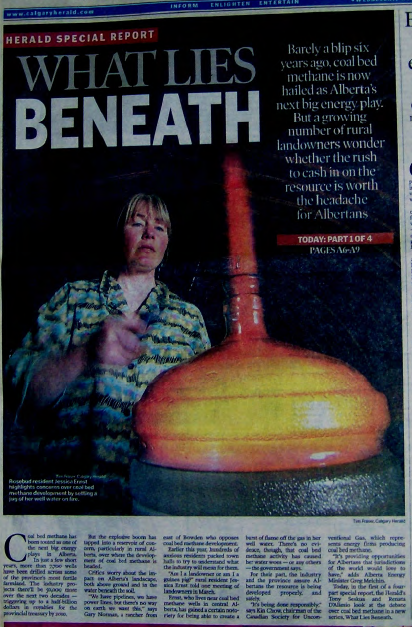 The group existed for four years, but a request to the Alberta Energy and Utilities Board, the province's energy regulator, for a copy of recommendations, reports or meeting minutes yielded only a 13-page educational pamphlet. "They did not make any recommendations," says Brenda Poole Bellows, an EUB spokeswoman. …in 1995, the regulator decided to disband the task group, citing limited coal bed drilling, existing regulations, and an expectation the development wouldn't increase significantly in the next few years. It's an easy leap to make that it shouldn't have been disbanded, but we had, and continue to have, very strong regulation related to shallow gas and coal bed methane," says regulator spokesman Darin Barter. "And the knowledge gained from that group has been very valuable." … "We still haven't done an official test site to educate" the public and industry, [Ken Sinclair] says. "It was everybody do their own thing and keep it hush-hush and go forward."
Today, hundreds of coal bed methane executives and experts are gathering at Calgary's Telus Convention Centre for the eighth annual unconventional gas conference. … "Gassy wells are a common occurrence in Alberta and have been for decades," says Chow of the Canadian Society for Unconventional Gas. … [Yet, industry, its lobby groups and regulators know that most historic water well records in Alberta state "Gas Present: No"]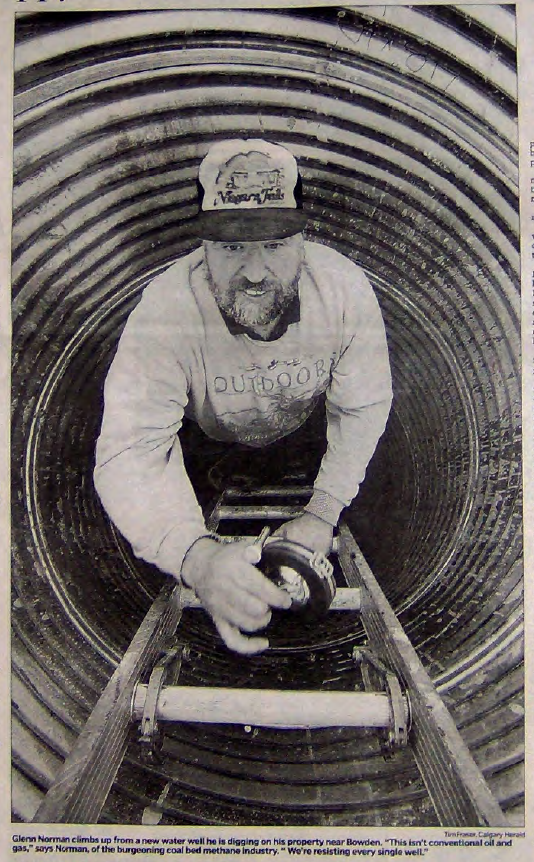 "We're resisting every single well."
There weren't enough chairs to accommodate everyone who came in March to a community hall in Trochu to hear a talk about coal bed methane advertised in the provocative flyer. … At the event in Trochu, Ernst received a standing ovation from landowners in the audience as she detailed her struggles…. Though it's difficult to gauge exactly how widespread such a sentiment is, evidence obtained from the Alberta Energy and Utilities Board through a freedom of information request found a wide range of issues were boiling below the surface. …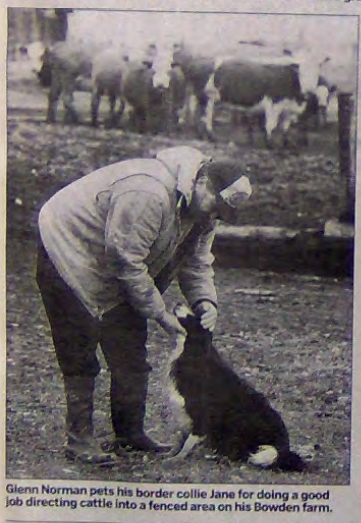 This spring [2006], the Canadian Association of Petroleum Producers created a [voluntary] "best management practices"…. In part, it encourages companies to involve the public in all stages of development and provides guidance on how to minimize environmental effects. And the EUB is running two pilot pilot projects that will look at the ways to address cumulative impacts of all petroleum developments in a region.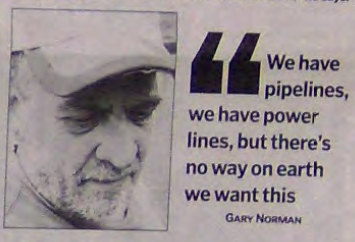 Source of clippings: What Lies Beneath Herald Report
[The ERCB was heard telling the press that the regulator paid for, organized and put on the tour, which is untrue, the citizenry did. This post is dedicated to Gary Norman]