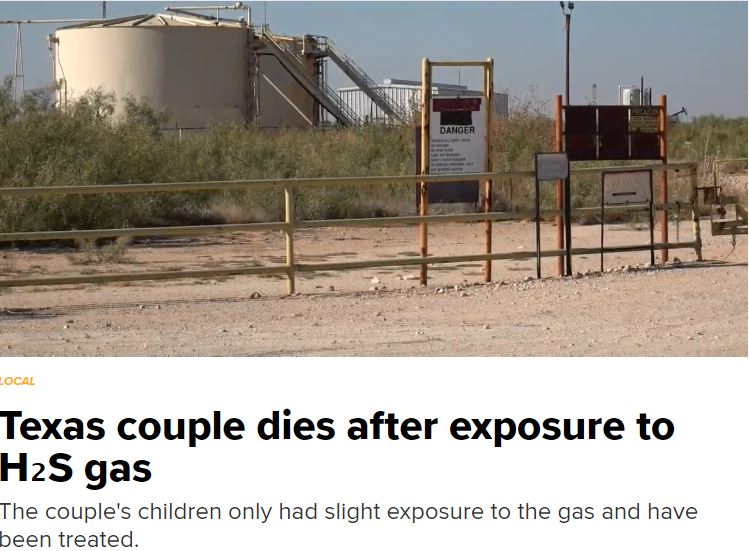 Lawsuit filed against Aghorn Oil & Gas 4 days after H2S gas killed father and mother of three children by KOSA, Oct 30, 2019
Houston-based lawyers Mo Aziz and Karl Long of Abraham, Watkins, Nichols, Sorrels, Agosto & Aziz, John K. Zaid and Joe I. Zaid of John K. Zaid & Associates, and Johnathan Silva of J.D. Silva & Associates, PLLC announced today they are suing Aghorn Operating, Inc., Aghorn Oil & Gas, Inc., Gilliam's Aghorn Energy, Inc., and Sentinel Transportation, LLC on behalf of the families of Jacob Dean and Natalee Dean.
The father and mother died Saturday night from H2S poisoning at a pump house site, according to the Ector County Sheriff's Office.
They have three children – a teenager a six-year-old and a 9-year-old. The two youngest stayed in the car while Natalee went to check on Jacob at the pump house. Investigators say that decision saved their lives.
"The primary concern of the family is to determine what caused the death of these young parents and safeguard the interests of their children," Silva said.
"Our goal is to get a temporary restraining order to preserve all the appropriate evidence and begin our independent investigation into this matter," according to attorney John Zaid.
Gas company employee, wife die after Hydrogen Sulfide gas poisoning, Jacob and Natalee Dean died after being poisoned by hydrogen sulfide gas by Amber Stegall, October 28, 2019, KCBD
A husband and wife died as a result of H2S (Hydrogen Sulfide) gas poisoning late Saturday night, according to the Ector County Sheriff's Office.
Deputies say 44-year-old Jacob D. Dean responded to a call from Aghorn Energy to check a pump house located at 2216 W. 49th in Ector County.
When Jacob's wife Natalee did not hear from him in a timely manner, she went to the pump house he was working on to check on him.
Reports say she took her 9-year-old and 6-year-old children in the car with her.
The investigation shows she arrived on location, got out of the vehicle, left the kids in the car and walked up to the pump house where she was overtaken with the H2S gas exposure.
An Aghorn Energy supervisor called law enforcement to have officers check the location since he had not heard a status report from the employee.
When deputies and EMS arrived, they noticed the Hydrogen Sulfide gas.
Since the children stayed in the car and were away from the pump house, both only had a slight exposure to the gas.
The children were removed from the scene by EMS, were decontaminated and taken to the hospital for further treatment.
The children were turned over the grandparents . Investigation continues into this matter.
Hydrogen Sulfide (H2S) Hydrogen sulfide is a colorless, flammable, extremely hazardous gas with a "rotten egg" smell that occurs at low concentrations, and nausea, headaches and death occurring at higher levels. Some common names for the gas include sewer gas, stink damp, swamp gas and manure gas. It occurs naturally in crude petroleum, natural gas, and hot springs.
Texas Oilfield Worker Killed by Poisonous Gas; Wife Dies Checking on Him by Associated Press, October 30, 2019, Insurance Journal
A 44-year-old Texas oil company worker died after being overcome by poisonous gas at a pump house, and his 37-year-old wife also was killed by the fumes when she went to check on him.
The Ector County Sheriff's Office says Jacob and Natalee Dean died Saturday night after inhaling hydrogen sulfide gas at an Aghorn Energy pump house in Odessa. Deputies say the company dispatched the husband to check on the facility. When he didn't return as expected, his wife tried to reach him by phone but got no answer.
She drove with their two children, ages 6 and 9, to the pump house and was overcome by the colorless, highly corrosive gas when she entered the building. The children were left in the car and weren't harmed.
Texas couple dies after exposure to H₂S gas, The couple's children only had slight exposure to the gas and have been treated by Kirsten Geddes, October 28, 2019, kens5.com
ECTOR COUNTY, Texas — A husband and wife are dead as a result of H₂S gas poisoning on October 26.
According to the Ector County Sheriff's Office, Jacob Dean, 44, was called out by Aghorn Energy to the 2200 block of W. 49th Street to check a pump house.
When he had not returned home after some time, his wife, Natalee Dean, 37, started calling her husband. Knowing the location of the house, she decided to drive out and check on him.
Natalee brought the couple's two children in the car with her.
Once Dean arrived at the pump house, she exited the vehicle and left the children inside the car. She then walked up to the house and was overtaken from exposure to the gas.
A supervisor at Aghorn Energy called law enforcement after he had not heard from Dean in some time.
The Ector County Sheriff's Office and EMS arrived at the scene and found H₂S gas present at the house. Both Jacob and Natalee Dean died as a result of exposure to the gas.
Since the children were left inside the vehicle, they only had slight exposure to the gas. Both were taken to Medical Center Hospital and treated, and are now in the custody of grandparents.
The sheriff's office is investigating.
For information on H₂S gas, including how to protect yourself from exposure, you can reference this handout from OSHA.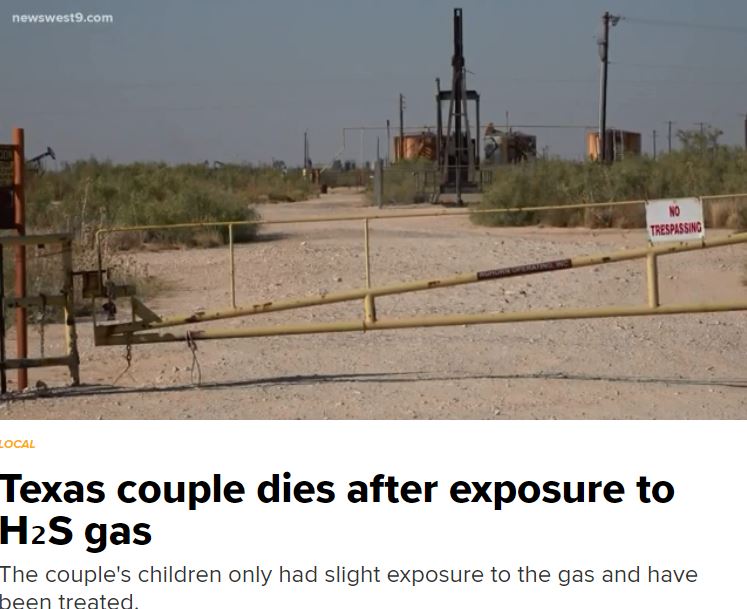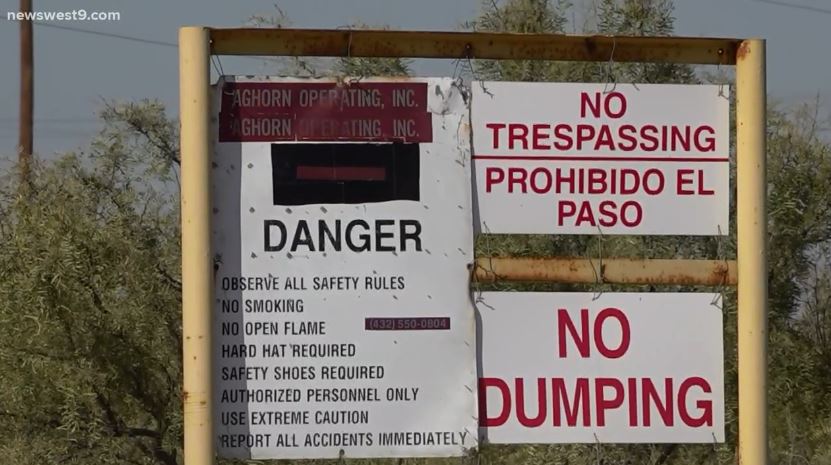 !!!
Sour Gas damages the brain, even at very low levels:
1. Exposure to levels below 10 ppm permanently damage the human brain
2. Harm from levels below 10 ppm by Worksafe Alberta
3. Occupational Safety & Health Administration (OSHA) LOW LEVEL HEALTH HARM WARNINGS:
Sour Gas Concentration (ppm)/Symptoms/Effects
0.01-1.5 ppm/Odor threshold (when rotten egg smell is first noticeable to some). …
2-5 ppm/Prolonged exposure may cause nausea, tearing of the eyes, headaches or loss of sleep. Airway problems (bronchial constriction) in some asthma patients.