The case for public accountability by Angela K. Evans, October 22, 2015, Boulder Weekly
Jessica Ernst won't back down and she won't settle. And for that, the Canadian has drawn international attention for her ongoing multimillion dollar lawsuit against oil and gas company Encana for its alleged gross negligence while fracking natural gas reserves near her home between 2001 and 2004. She is also suing regulating agencies Alberta Environment and the Alberta Energy Regulator (formerly the Energy Resources Conservation Board). That's also how she became the subject of journalist Andrew Nikiforuk's new book Slick Water, and as part of the Nov. 1 book release, Nikiforuk will be speaking in Denver and Fort Collins, Oct. 28 and 29 respectively.
Nikiforuk first met Ernst in 2004 while writing an article for Canada's Globe and Mail about the impact of natural gas drilling on rural communities.
"When I first met her, I actually didn't really know what to make of her," he says. "She is a very dynamic character."
This first meeting, followed by the unfolding events of Ernst's fight against not only Encana but also her government, which culminated in the ongoing lawsuit filed in 2007, inspired Nikiforuk's latest work. The author has written about the oil and gas industry throughout North America for more than 20 years, winning several national journalism and book awards along the way.
"I think Jessica Ernst is a unique and different kind of citizen. She's not an activist, she's not an environmentalist… She's an individual who has had enough and is standing her ground," Nikiforuk says. "Most people who live in the Rocky Mountain West understand individuals who are capable of that kind of courage and ultimately that's what this story is about. It is about the courage of one woman."
Ernst's history with the oil and gas industry also makes her legal battle unique. Prior to the lawsuit, Ernst helped some of North America's largest oil and gas companies such as Encana, Murphy Oil and Chevron among others, gain approval from Canada's National Energy Board for pipelines and other infrastructure as an environmental consultant. She conducted wildlife impact assessments, mediated with First Nations tribes and knows Canada's oil and gas regulations inside and out.
"That's the first thing that intrigued me about her, was the fact that here is somebody employed by the industry and dependent on the industry," Nikiforuk says. "In fact, Encana was her most important client, and [she] decided to actually question her client's practices in the local community and also the effectiveness and accountability of the provincial regulator."
As a landowner in the rural area known as Rosebud in Alberta, Ernst was first disturbed by Encana's operations when the company installed a compressor station near her home, which generated so much noise that she was unable to sleep. But everything escalated as the company expanded operations. Ernst's original 2007 statement of claim in the lawsuit accuses the oil company of negligent practices that led to the fracturing of a nearby aquifer and contaminated groundwater supplies by releasing methane and other pollutants. She claims the drilling breached numerous laws, including the province's Water Act and its Oil and Gas Conservation Act.
The statement also accuses the provincial regulators of failing to protect public interest by permitting Encana to drill so close to Rosebud and then refusing to perform adequate testing and falsifying data. Plus, Ernst claims, the regulators violated her charter right to freedom, comparable to America's constitutional right to freedom of speech, by refusing communication with her as she persisted.
Despite government and industry attempts to have the case dismissed, Ernst continues her legal fight. She hasn't been awarded any contracts by industry clients since 2011, living off savings ever since. She has poured roughly $350,000 of her own savings into the lawsuit, minimally supplemented by donations from landowners throughout Alberta. Also, 15 percent of the royalties from Slick Water will benefit the lawsuit.
"She's not about to sign any agreements and go away here, and I think that's what really makes her case so dramatic from a North American perspective, because most landowners don't have the means to keep on fighting and don't have the kind of determination that she has," Nikiforuk says. "Most ordinary people would have said, 'What the hell, I'm getting outta here.' … But for Jessica, her past has informed her and in many ways strengthened her in such powerful ways that she's not going to do that; she's not going to walk away."
Nikiforuk writes about how Ernst has used her past experiences, including childhood rape and sexual abuse, as motivation to continue fighting when others would have given up.
"The repeated sexual abuse that she endured as a child, has really forged her into this very resolute, persistent, justice-seeking individual, and an individual who understands the cycles of abuse and who wants to break that cycle," he says.
Although some have dubbed Ernst the Erin Brockovich of fracking, Nikiforuk likens Ernst to Rachel Carson, the American marine biologist who questioned the use of synthetic pesticides, was dubbed by the chemical industry as an alarmist, and testified in front of Congress regarding pesticide use in the 1960s, which eventually led to the banning of DDT. Her book Silent Spring is considered a major catalyst of the modern environmental movement.
Currently, Ernst's case is waiting to be heard by Canada's Supreme Court. She's challenging a 2014 Appeals Court decision that the Alberta Energy Regulator was not liable to civil lawsuits because of an immunity clause in the Energy Resources Conservation Act. The other parts of Ernst's lawsuit involving Encana and Alberta Environment are not on hold until the Supreme Court makes its decision, which is expected next year.
Although Nikiforuk suspects the Canadian Supreme Court will rule in favor of Ernst (and the lawsuit will proceed, resulting in a public settlement that should change the regulation of fracking in Canada and maybe even the rest of the continent), he admits no one knows what the outcome will be.
"In some ways, I think the story needed to be told because it might be another six years before Jessica Ernst is ever able to bring her evidence into court. The book might be the only justice at the end of the day that Jessica Ernst ever sees," Nikiforuk says. "And yes, we don't have a nice clean conclusion at the end of the book, but that's real life. Real life rarely comes with clean conclusions of any kind."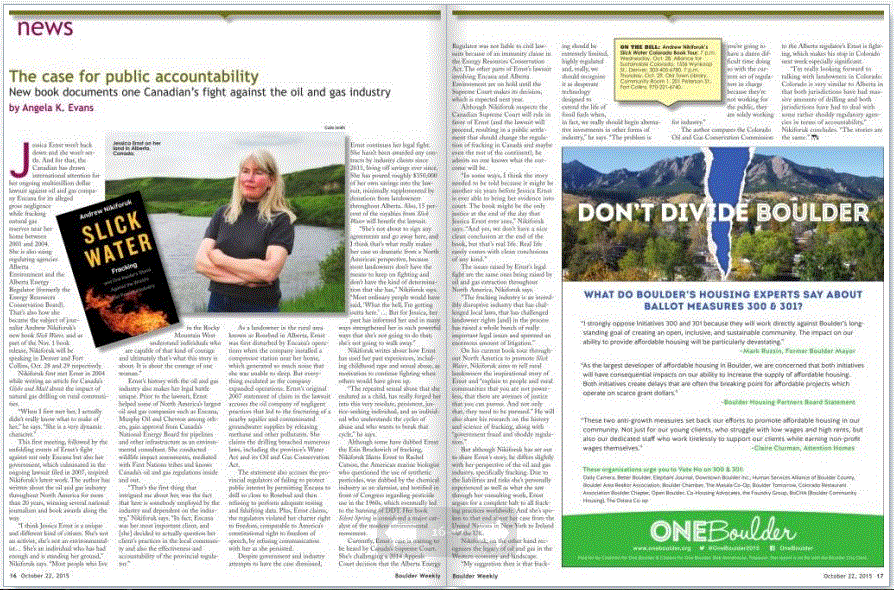 The issues raised by Ernst's legal fight are the same ones being raised by oil and gas extraction throughout North America, Nikiforuk says.
"The fracking industry is an incredibly disruptive industry that has challenged local laws, that has challenged landowner rights [and] in the process has raised a whole bunch of really important legal issues and spawned an enormous amount of litigation."
On his current book tour throughout North America to promote Slick Water, Nikiforuk aims to tell rural landowners the inspirational story of Ernst and "explain to people and rural communities that you are not powerless, that there are avenues of justice that you can pursue. And not only that, they need to be pursued." He will also share his research on the history and science of fracking, along with "government fraud and shoddy regulation."
But although Nikiforuk has set out to share Ernst's story, he differs slightly with her perspective of the oil and gas industry, specifically fracking. Due to the liabilities and risks she's personally experienced as well as what she saw through her consulting work, Ernst argues that fracking cannot be done safely and most importantly can't be made safe with regulations. And she's spoken to that end about her case from the United Nations in New York to Ireland and the UK.
Nikiforuk, on the other hand recognizes the legacy of oil and gas in the Western economy and landscape.
"My suggestion then is that fracking should be extremely limited, highly regulated and, really, we should recognize it as desperate technology designed to extend the life of fossil fuels when, in fact, we really should begin alternative investments in other forms of industry," he says. "The problem is you're going to have a damn difficult time doing so with the current set of regulators in charge because they're not working for the public, they are solely working for industry."
The author compares the Colorado Oil and Gas Conservation Commission to the Alberta regulator's Ernst is fighting, which makes his stop in Colorado next week especially significant.
"I'm really looking forward to talking with landowners in Colorado. Colorado is very similar to Alberta in that both jurisdictions have had massive amounts of drilling and both jurisdictions have had to deal with some rather shoddy regulatory agencies in terms of accountability," Nikiforuk concludes. "The stories are the same."
ON THE BILL: Andrew Nikiforuk's Slick Water Colorado Book Tour. 7 p.m. Wednesday, Oct. 28, Alliance for Sustainable Colorado, 1536 Wynkoop St., Denver, 303-405-6780. 7 p.m. Thursday, Oct. 29, Old Town Library, Community Room 1, 201 Peterson St., Fort Collins, 970-221-6740.