Not Strong Enough: Oil Spill Disaster Preventers by Gayathri Vaidyanathan, July 26, 2013, Discovery
Flames engulfing a drilling rig in the Gulf of Mexico decreased to a small fire yesterday, as officials worked around the clock to bring the well under control. The rig, called Hercules, is stationed 55 miles off the coast of Louisiana. Crews were completing the well when they first lost control on Tuesday morning and natural gas started leaking out. The company, Walter Oil and Gas Corp., immediately evacuated all 44 workers on the rig. The methane ignited later that night. The incident is reminiscent of the Deepwater Horizon rig fire on on April 20, 2010, which exploded while drilling a well in the Gulf. Eleven men died in the explosion. The resulting oil spill, which continued for 87 days and spilled about 5 million barrels of crude, was the largest in the history of the United States. There is a piece of equipment implicated in both the Hercules and Deepwater Horizon accidents: the blowout preventer or BOP. These are massive steel devices 25 feet tall, weighing a 100 tons that use sheer force to choke off a well. The device is the last line of defense when workers lose control of an oil or gas well and fuel is spewing into the air. At that point, the BOP can be activated to seal off the well. It is critical equipment for all wells being drilled, and the Bureau of Safety and Environmental Enforcement (BSEE) requires that companies maintain it very carefully. When it is not maintained, loss of well control can lead to a blowout or an explosion. Companies lost control of their wells three times in the Gulf in 2011, four times in 2012, and five times this year, according to BSEE data. The BOPs were brought into action in some of the cases. …
Here's a list of some of the latest:
July 23, 2013: Hercules rig blew out off Louisiana and 44 workers were evacuated. BSEE and Walter Oil and Gas Corp. are still bringing it under control.
July 12, 2013: a gas well located off Louisiana owned by Talos Energy LLC, began leaking. The spill was contained with minimal damage, but no one's life was in danger.
Nov 16, 2012: a Black Elk Energy platform located off Louisiana exploded and caught on fire as workers were welding a pipe. Three men died.
March 26, 2012: the Elgin platform owned by Total SA in the North Sea off Scotland leaked natural gas for 52 days before it was brought under control.
Jan 16, 2012: A Chevron rig blew out off the coast of Nigeria, killing two men. The resulting fire burned for 46 days and the spill was the largest in the nation's history.
Hercules: Rig sustained 'extensive damage' by Luke Johnson, July 24, 2013, Upstreamonline
US independent Walter Oil & Gas was operating the 250-foot mat-supported rig South Timbalier Block 220 in the Gulf when it lost control of a gas well on Tuesday morning. A cloud of gas vapour caught fire after dark and a section of the rig collapsed on Wednesday morning. Forty-four people were evacuated and there were no injuries reported. … Walter has hired Wild Well Control to help regain control of the gas well. Among the options are drilling a relief well, in which case Hercules plans to "promptly" mobilise the Hercules 200, a 200-foot mat-supported cantilever unit, to start drilling. … Separately, recent comments made by Hercules executive vice president Jim Noe which were critical of federal regulatory oversight of offshore drillers are getting renewed scrutiny in the wake of the latest blowout. The Houston Chronicle dug up a quote made in April by Noe, who is also the executive director of the Shallow Water Energy Security Coalition, an advocacy group comprising E&P companies, drillers and service firms that was formed in the wake of the post-Macondo deep-water drilling moratorium. "Ramping up the issuance of incidents of non-compliance for often trivial infractions is no substitute for technically substantive oversight – and threatens to take our eye off the ball on what is really important: what's going on at the drill floor and in the well," the group said three months ago.
Noe clarified the statements in a follow-up interview with the Chronicle on Wednesday, saying "the underlying rationale for regulating Gulf energy activity has never been questioned". However, Democratic Senator Ed Markey said the latest incident suggests more oversight is needed. "A new drilling well blowout in the Gulf of Mexico is raising continued questions about whether offshore drilling safety has improved, and whether new measures are needed to hold drilling companies accountable for natural gas leaks," he said in a statement.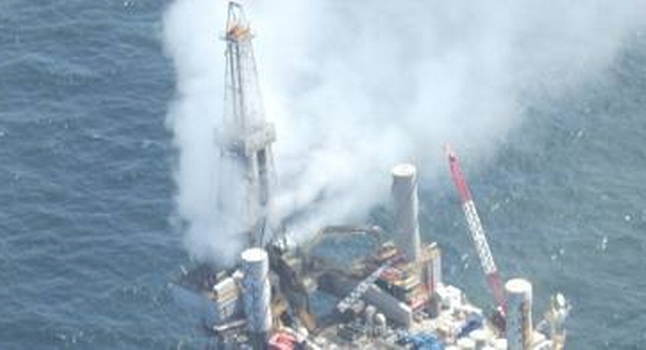 Hercules rig leaking methane that later ignited, BSEE
WATCH 1 injured when casing ruptures during fracturing at Corsicana gas well owned by Halliburton by Jason Trahan, July 25, 2013, WFAA8
At about 6 a.m. Thursday, a casing ruptured in a gas well near SE County Road 3100 near Eureka just outside Corsicana, said Eric Meyers, Navarro County emergency management coordinator. One person was injured in the incident but the person's condition is unknown, he said. About four gallons per minute of a combination of injection fluid and drilling mud are leaking from the well, he said. The fluid is being captured in a nearby retention pond, he said. The well was about 75 percent completed when the incident occurred and crews are working to cap the site, Myers added. There was no fire and no natural gas is leaking above ground from the well, he said. The Texas Commission on Environmental Quality is en route and the Railroad Commission is on site. Obrien Energy owns the well. [Emphasis added]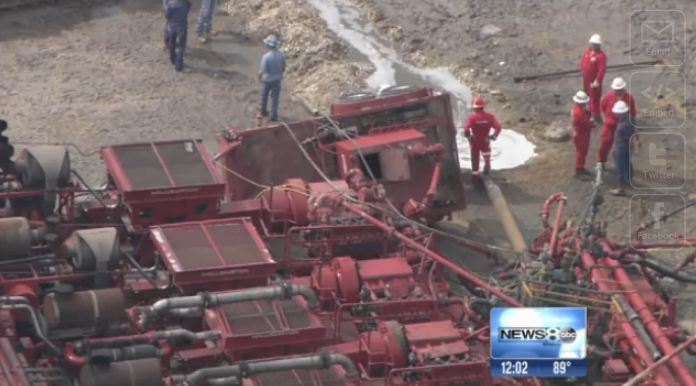 Texas death: Man killed in blast at fluid tank truck site by Kathrine Schmidt, July 25, 2013, Upstreamonline
A 50-year old man was killed instantly Wednesday morning in Bridgeport, Texas when an explosion rocked an empty oilfield tank truck he was working on, police said. Jose Landeros, 50, of Chico, Texas was working to fix a leaky hatch on a vehicle at Bridgeport Tank Trucks when a spark from a cutting torch appears to have set off an explosion at around 8 am, according to Bridgeport Police Chief Randy Singleton. "What we believe is that he did in fact got the hatch loose and then fumes or vapors or built-up gas ignited and blew up," Singleton said. "The explosion blew him back about 67 feet from where he was working."
Explosion: five hurt in North Dakota by Luke Johnson, June 20, 2013, Upstreamonline
At least five men were injured in an explosion at an oilfield site in North Dakota, according to reports. The explosion occurred on Tuesday morning near the town of Alexander in McKenzie County about 30 miles south of Williston, the Bismarck Tribune reported. The five workers were apparently removing the cover of a tank when fumes were ignited by an electric drill sometime before 9am local time, the newspaper said, citing law enforcement authorities. The victims were employees of Trustland Oilfield Services, based in New Town, North Dakota. A dispatcher for the company confirmed the incident but said he had no details about what happened.The McKenzie County Sheriff's Department did not respond to repeated requests for information. … One of the victims, identified as 54-year-old Mike Fowler, was airlifted from the site to be treated for his injuries. His condition on Wednesday was not known. Four other victims were transported to hospital by private vehicle. Their conditions were also unknown. … It could not be immediately determined which company operated the wellsite, or what was happening at the time of the accident.
One worker dead after collapse, local officials say by Kathrine Schmidt and news reports, June 20, 2013, Upstreamonline
One worker is dead and another injured after a partial rig collapse at a drillsite in Howard County, Texas….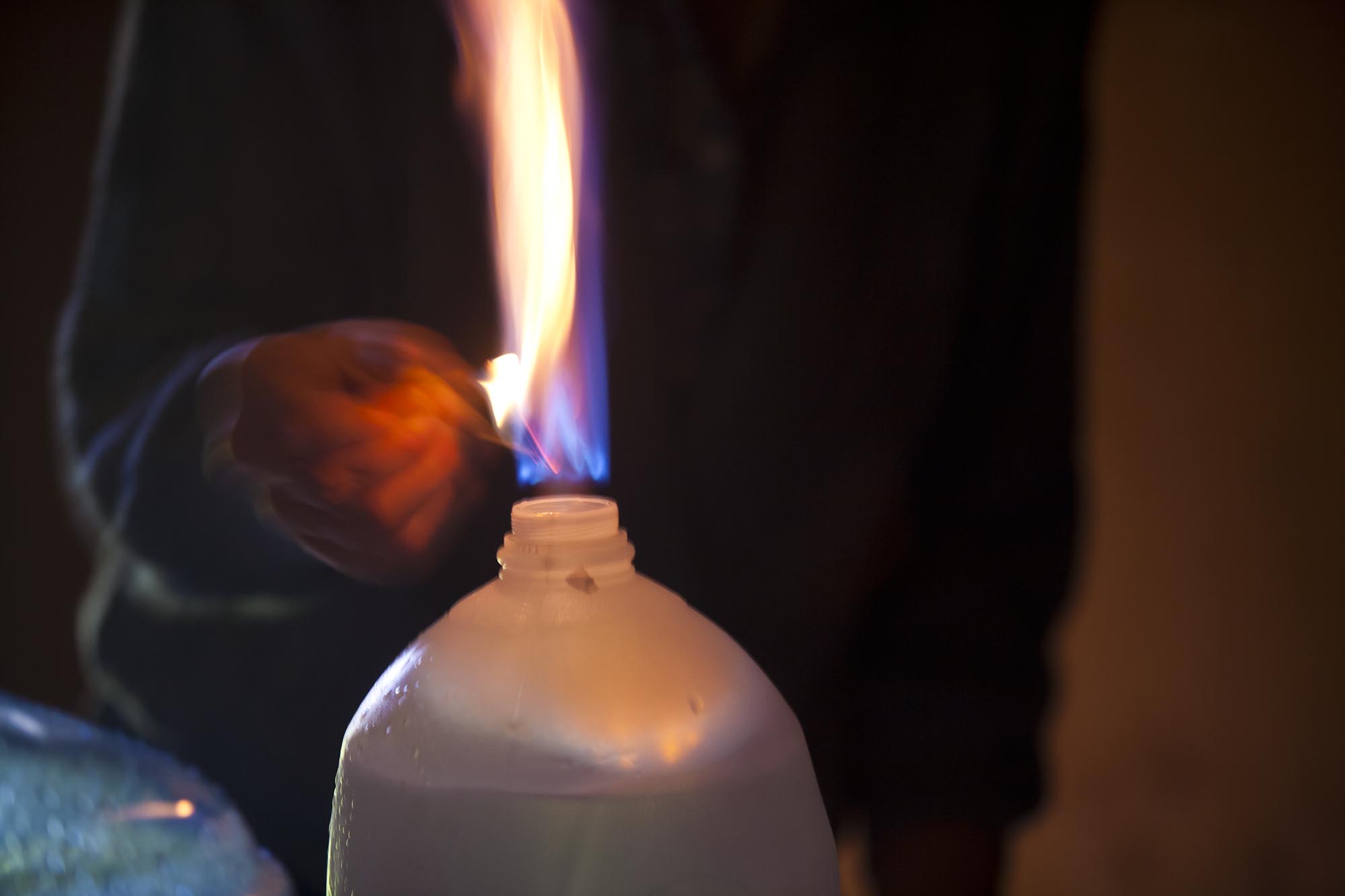 June 2013 – Ernst contaminated well water.
New Mexico man dies after rig fall by Kathrine Schmidt, June 5, 2013, Upstreamonline
A rig worker died Monday after falling from a rig platform at a New Mexico drillsite….
Worker in Antero explosion dies from injuries by Luke Johnson, June 20, 2013, Upstreamonline
One of five men injured in an explosion at an Antero Resources drilling site in West Virginia earlier this month has died, according to reports. Local media identified the deceased as 45-year-old Tommy Paxton, who expired on Tuesday as a result of burns sustained in the 7 July blast. He was being treated in the burn unit of West Penn Hospital in Pittsburgh. Four other workers have also been treated at the hospital following the explosion near New Milton, West Virginia, in Doddridge County. At least three others were initially listed in serious condition. The victims were employees of three different companies: Nabors Industries, C&R Downhole Drilling and Willowbend Investments. It was not clear which company Paxton worked for. … The blast occurred during flowback operations as workers were landing production tubing to put the Hinterer-1H well onto sales, Antero said previously. Two tanks containing brine and hydraulic fracturing fluid were destroyed in the fire, he said. Some pumping equipment was also damaged. The well was being drilled on the Ruddy Alt pad near New Milton, West Virginia. Early reports suggested that a malfunctioning pump was been involved in the blast, though evidence was not conclusive.
Rig worker dies in Kansas accident by Luke Johnson, June 21, 2013, Upstreamonline
One worker was killed and another injured at a drilling site in Trego County, north-west Kansas, according to reports.
Two dead following West Virginia blast by Luke Johnson, April 8, 2013, Upstreamonline
Two workers injured in an explosion at a Magnum Hunter-owned compression station in West Virginia have died, according to reports.
US well blowout kills two by Noah Brenner, April 11, 2013, Upstreamonline
Two men died and three others were injured during a blowout on a well operated by Anadarko Petroleum in the Permian basin in the US….
1 dead in Bolivar well explosion by Joe Mizer, July 16, 2012, Times Reporter
One person was confirmed dead from an oil- and natural gas-well explosion Monday morning, but authorities will need additional time to provide positive identification of the victim and an exact cause of the explosion that sent flames and an oil holding tank high into the sky and created a blanket of intense heat that could be felt across the street. The explosion, believed to have occurred about 9:30 a.m., was in Lawrence Township at a site about two miles south of Bolivar in the vicinity of Bolivar Group Home at 10071 State Route 212, near the Wilkshire Hills subdivision. Dr. James Hubert, Tuscarawas County coroner, said late Monday that the victim's name won't be released until identity is confirmed through the use of dental records. Hubert said once the victim's dental records are acquired and examined by a specialist, he should be able to confirm the victim's identity by the end of the week. The victim, believed to be a 19-year-old male, was painting at the well site, according to Bolivar Fire Capt. [Emphasis added]
Rig crumples at drill site in Wheeler County, TX by Luke Johnson, April 5, 2012, Upstreamonline
Chesapeake well blows out in Oklahoma by Noah Brenner, January 6, 2012
A rig drilling for a Chesapeake Energy unit in Oklahoma burned Thursday night after hitting a shallow gas pocket and suffering a blowout before key safety equipment was rigged up, the company said.
Encana natural gas well burst kills one, injures three in Colorado by Jameson Berkow, August 16, 2012, Financial Post
Between 2003 and 2010, the most recent year for which data were available, the U.S. Bureau of Labour Statistics recorded a total of only three fatalities related to the process across the United States. … No Encana employees have lost their lives on the job since 2009, according to the company's 2011 corporate responsibility report. Two contractors and one Encana employee were killed while working for the company that year. … It is the second time in as many months Encana has felt it necessary to review its own corporate practices. … Last week, Chesapeake disclosed it had become the subject of a criminal anti-trust investigation by the U.S. Justice Department related to its alleged collusion with Encana. The Canadian company is also believed to be subject to the same investigation.
January 22, 2007 – A worker was taken to hospital and treated for shock when an Encana rig crashed near Rosebud Alberta because of an underground blow-out, reportedly at the depth of the community's drinking water supply. "The preset casing drill rig lost circulation at 72 metres while drilling the surface casing hole and tipped over. … The company lost circulation and the pressure build pushed the preset casing drill rig over due to shallow depth of the rig at the time." EnCana Rig Crash January 22, 2007
Accident at Encana well in Colorado kills one worker, injuries three by The Canadian Press, August 16, 2012, Calgary Herald
DENVER – An accident at one of Encana Corp.'s natural gas wells in Colorado has killed one worker and injured three others. The "high-pressure gas release" took place as the four men were bringing the well onto production Wednesday afternoon, said Doug Hock, a spokesman for Encana's U.S. division. [Emphasis added]
May 9, 2006 – Bruce Jack's methane and ethane contaminated water well, photo taken day of the explosion. The explosion happened during sampling by two industry gas-in-water testers. The Alberta government and energy regulator (ERCB, now AER) continue to allow companies to drill and frac the area.
May 9, 2006 – Bruce Jack in hospital. Bruce and the two industry gas-in-water testers were hospitalized with serious injuries.
[Refer also to:
Halliburton Pleads Guilty To Destroying Evidence In Connection With Deepwater Horizon Oil Spill
Battered Encana appoints former BP exec Doug Suttles, who reportedly covered-up the extent of the Deepwater Horizon disaster, as new CEO ]